Stihl Chainsaw Models
This post may contain affiliate links so I earn a commission. 

If you're looking for some of the best Stihl chainsaw models on the market today, but you're not sure which saw to choose, you've come to the right spot!
Chainsaws are powerful, versatile tools that not only make cutting a years worth of firewood quick and easy, they're also very dangerous if used incorrectly.
So, you will need to choose a saw that's properly sized for the project you have in mind, and you also need to choose a saw that fits your experience level.
For example, will you be using the saw to just clean up some downed limbs and brush after a recent storm?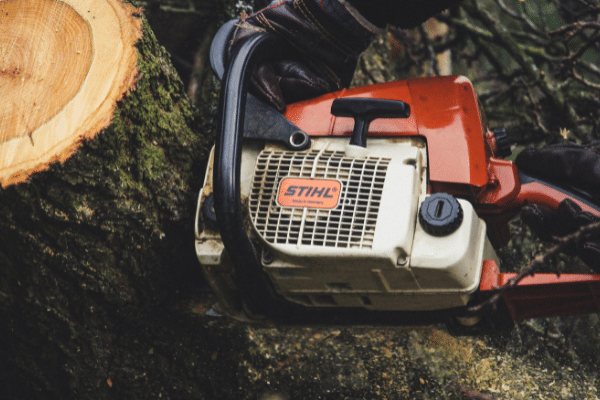 If so, then you'll probably want to choose a smaller, more lightweight saw that's less powerful and easier to handle without becoming fatigued.

Will you be cutting large diameter trees for lumber and firewood?
If so, a larger, more powerful saw that uses a longer bar would be a better option.
To learn more, let's take a closer look at various Stihl chainsaw models to find out why many professionals consider them the best chainsaws you can buy.
The History Of Stihl Chainsaw Models
Founded by Andreas Stihl in 1926, Stihl has become the number one selling brand of gasoline powered, handheld outdoor power equipment in America.
Sure, there's always mixed opinions on who makes the best chainsaw such as Stihl vs Husqvarna chainsaw or even an Echo vs Stihl chainsaw, but many professionals will agree Stihl is a leader in the industry.
What started out as a vision by Andreas Stihl in Waiblingen, Germany has now become a globally recognized name that employs over 12,000 people along with 400 expert engineers and designers.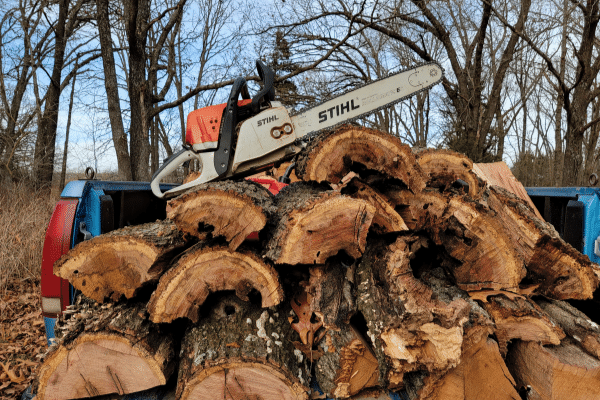 In 1927 the company made a brief move to Bad Cannstatt, near Stuttgart but the building was damaged during the war, so they moved back to Waiblingen where the company remains today.

The 1930's were a productive time for Stihl as the company grew at a rapid rate, launching the first gas driven two-man chainsaws.
In 1959 Stihl introduced the revolutionary, lightweight, one-man chainsaw named the Contra.
This gearless chainsaw that could be operated by a single person revolutionized the forest industry.
The lightweight chainsaw featured a chippertooth chain and a diaphragm carburetor that allowed the saw to be operated in any position without the need for adjustments.
In the 1970's Stihl changed its logo from a forestry driven image to the iconic logo we all know and recognize today.

This new logo now represents the broad range of power equipment offered by Stihl, instead of just chainsaws.

In 2009 Stihl entered into the world of cordless power tools.
Now, a simple charge of a lithium ion battery can power Stihl chainsaws, trimmers, blowers and even a variety of lawn mowers.
Stihl Chainsaw Models - Proper Maintenance
Starting a Stihl chainsaw is pretty easy if you take good care of your machine.
Simple, routine maintenance like cleaning out the air filter or changing the spark plug will allow the saw to run to its fullest potential.
However, if you're still experiencing problems and you don't want to take the chainsaw to a costly repair shop, check out these tips if your Stihl chainsaw will not start or if your Stihl chainsaw won't stay running.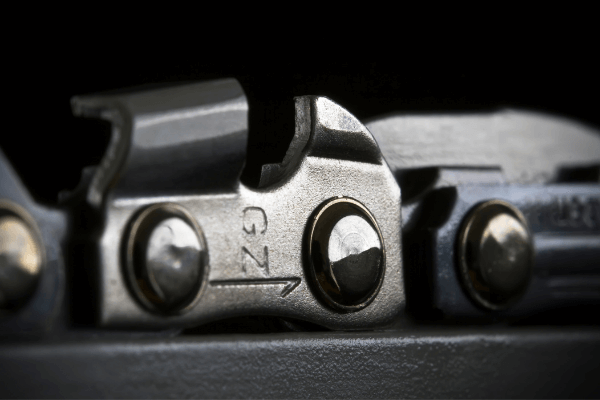 There's an old saying that a dull tool is the most dangerous tool in the shop.

A dull chainsaw chain is no exception to this rule.
When your chain is dull, you have the tendency to push down on the saw instead of letting the saw do the work for you.
This can lead to fatigue, a loss of balance if you slip, or even chainsaw kickback.
There's a lot of ways to sharpen a chainsaw, and a lot of professionals love a hand filed chain.
However, taking a round file and sharpening a chainsaw chain by hand at the correct angle can be difficult if you don't do it every day.
So, Stihl created the handheld Stihl chainsaw sharpener.
Stihl Easy File Chainsaw Chain Sharpener
The 2-in-1 chainsaw file quickly sharpens the chain by sharpening the teeth and the depth gauge in a single step, making it perfect for the occasional user.
When using the sharpener, just make sure the file size is the correct size for your chain.
This handy device takes all of the guess work out of keeping your chainsaw chain sharp and it works great!
Stihl Chainsaw Reviews - What's The Best Model?
When it comes to choosing the best Stihl chainsaw ever made, you definitely have a broad selection of fantastic chainsaws.
From the popular MS 261 that's perfect for cutting firewood and homeowner use, to the new Stihl fuel injected chainsaw that uses electronically controlled fuel injection for increased performance, you're sure to find a model that's perfect for you.
To learn more, click on one of the links below to find a full review of various Stihl chainsaw models.
The Best Stihl Chainsaw Models - Overall
There's a reason why Stihl is considered the number one brand in chainsaws and outdoor power equipment.
The company produces a quality product that's great for both professionals and everyday household use.
If you're looking to upgrade an old saw, or purchase your very first chainsaw, Stihl is a great choice and you won't be disappointed with your decision!