About Me and This Site
This post may contain affiliate links so I earn a commission. 

Well, I think it's only fair that if you read the information written on this website you should know a little bit about me, my family and my lifestyle.
My name is Nick Greenway and I have two children.  
I work in law enforcement and have made a career out of helping people and serving the community.
I live in a quiet rural area of northern Michigan where we enjoy hot summers (well at least what we consider hot) and cold, cold (did I mention cold) winters full of lots of snow.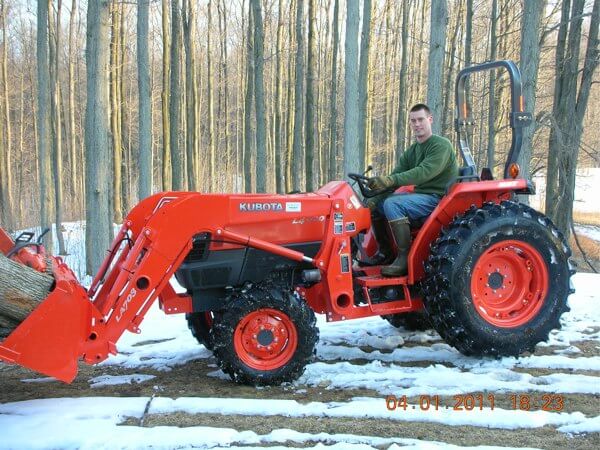 So why create a website about firewood?
Easy....it's a passion and lifestyle we live and enjoy. We have a simple life focused on living comfortably while doing it at an affordable cost.
We heat our home completely with firewood. Yes, we have propane as a backup fuel source but we have not used it in over 10 years now. We started burning firewood as a way to save money.
We purchased an outdoor wood furnace and have never looked back. 
Now, we continue to find the most economical, practical ways to harvest firewood to heat our home. 
We also look for energy saving techniques to help reduce heat loss and lower our energy bills.
I began focusing on this website as a way to pass along information to anyone who may benefit from it.
I don't know everything..... and the topic of firewood is definitely a topic of different opinions. 
What I offer is real, honest information and opinions on products and techniques I feel are valuable and important. 
Have a method or idea that works better?  Great!
Share it with me and I will add your tip or recommendation to the website for others to enjoy!
I truly appreciate you taking the time to review our website. It has been a great experience and something I enjoy working on every day.
About This Site
I am far from a computer wiz. Yes, I know a little bit about computers but I have never created a website before, so I had no idea how to start.
I searched online about the various programs and tools other people have used to start their website and came across one common theme, SBI! or Solo Build It.
Now....first of all I'm a researcher. I do my homework and teach myself as much as possible before I just jump into anything. Second.....I'm not a salesman.
I would never recommend or sell anything I don't use myself or would not recommend to my family or closest friends. With that being said.....
Solo Build It! is absolutely amazing.
It has taught me everything required to operate a professional, well published, content rich website on a topic I love. 
Do you have an idea? Are you an entrepreneur at heart? Want to create your own website? Start by looking into Solo Build It!  You won't be disappointed.