Stihl Farm Boss Chainsaw
This post may contain affiliate links so I earn a commission. 

If you're thinking about buying a new chainsaw, or simply upgrading to a newer or more powerful model, the Stihl Farm Boss chainsaw is definitely an option worth considering.
After all, choosing the best chainsaw for your needs is an investment in both time and money.
There's a reason Stihl is the number one selling brand of outdoor power equipment in the United States.
A high quality chainsaw, like those offered by Stihl, can last for decades.
In this article, we will review the Stihl MS 271 to give you a better understanding of its features and benefits compared to other popular saws on the market.

So, read on to find out if the Stihl Farm Boss is right for you!
What Does "Farm Boss" Mean?
The Stihl Farm Boss is more clearly defined as the Stihl MS 271 Farm Boss.
Stihl replaced their model MS 270 with this more advanced chainsaw with added features and technologies not seen in the 270.
"Farm Boss" is an interesting term in describing this chainsaw.
Right off the bat, you can assume that this chainsaw is going to be a powerhouse, but what does Farm Boss really mean?
Stihl has categorized their chainsaws into three main user categories over the past few years.

The saws fall into either a homeowner classification, farm or ranch usage, and then lastly the professional user.
Farm Boss designates their mid-user model of chainsaw.
The Farm Boss chainsaw is a powerful chainsaw that can be equipped with a longer bar that can tackle larger logs or trees.
Basically it is designed for people who need more power than the average homeowner would.
Stihl Farm Boss Chainsaw Specs
Not everyone needs a professional grade chainsaw, but they do want a saw that is faster and more powerful than the ones meant for homeowners.
The Stihl MS 271 Farm Boss is designed for these people.
It falls into the mid-user grade along with other Stihl chainsaws like the MS 311, MS 291, and MS 391.
Features And Benefits Of The MS 271

There are many features and benefits to consider when looking at the Stihl MS 271.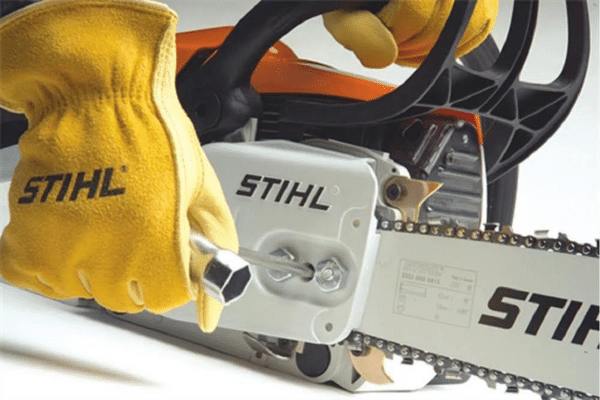 Some of the most important features include the anti-vibration system, which helps reduce operator fatigue and leads to fewer accidents, and the side chain tensioner, which makes it easy to keep the cutting chain at proper tension.

The air filters are also longer lasting, meaning they need to be cleaned and replaced less often, and the bumper spikes help keep the saw attached to the wood while cutting.
Chain brakes are a safety feature that can save you from accidents.
Front handguards protect your hands and arms from getting hurt.
They also stop your fingers from getting pinched.
Automatic oilers put the right amount of oil on the chain to make it last longer.
Stihl Farm Boss saws have all these features, which is why they are popular among people who own them.
What Size Bar Can You Put On The MS 271?
The Stihl MS 217 Farm Boss can be purchased with a bar length ranging from 16"-20" long.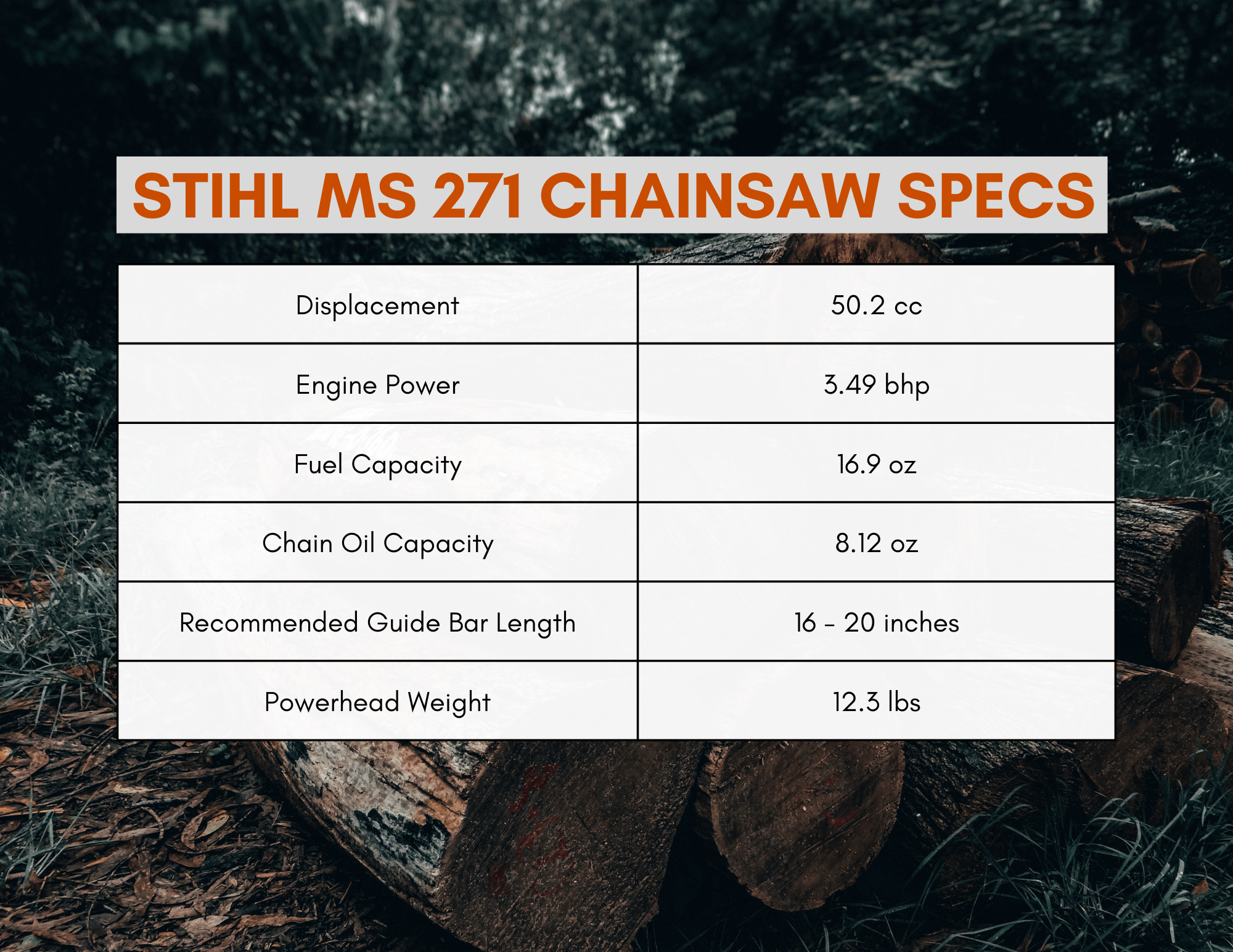 Deciding which bar length is best, just depends on what you plan on cutting.
Obviously, larger logs or trees will require a longer bar and chain.
I really like to use an 18" or 20" bar on a chainsaw compared to the 16".
A 16" bar just seems too short for a lot of larger trees that we cut into firewood, so I always choose a saw that has a longer bar.
The 271 is a fairly lightweight saw with a powerhead weight at only 12.3 lbs.
It comes with a .325 gauge Oilmatic cutting chain.
How Many CC's Does The Farm Boss Stihl Chainsaw Have?
The Farm Boss comes with a 50.2cc engine which for many users will provide plenty of cutting power.
This particular engine has proven to be a very fuel efficient and high performance addition to the 271.
Pros And Cons Of The Stihl Farm Boss
The MS 271 has many benefits.
It is very durable, fuel efficient, and big enough to cut larger diameter woods.
The highly efficient gas engine delivers up to 20% more run time in between refueling while exhaust emissions are only half of the 271's predecessor, the 270.
The anti-vibration system is another great feature, reducing operator fatigue resulting in a much safer saw to run.
A side tensioner for the cutting chain is also an added benefit for ease of keeping the chain at proper cutting tension.

That said, the MS 271 chainsaw may not have enough power for some people.
It is a mid-level saw and might not be suitable for bigger logs or timber.
You may need to get a professional grade chainsaw if you want something with more power.
It is important to note that the MS 271 is only available through dealers and not online, which might be an issue for people who do not live close to a populated town.
If this is the case, you could try looking for used 271s on eBay or other online sites.
Alternatives To The Stihl Farm Boss Chainsaw
There are several alternatives to the Stihl Farm Boss chainsaw.
The most popular alternative is the Stihl MS 261, which is a highly efficient and well-cutting saw.
Going into other brands of chainsaws, Husqvarna offers a few alternatives to the Stihl MS 271.
The Husqvarna 450 and 450 Rancher offer the same size engine as the Stihl MS 271 to deliver compatible cutting power, as well as comparable costs when buying new.
Echo also has a comparable chainsaw in the CS-590 which comes with a slightly larger 59.8cc engine.
Stihl MS 271 Farm Boss - Overall
After reviewing the Stihl MS 271 Farm Boss and going into specific details regarding its benefits and downfalls, we have concluded that this Stihl chainsaw is a great choice.
The 271 is a highly efficient, fairly lightweight saw capable of handling bigger cutting jobs as well as the smaller projects.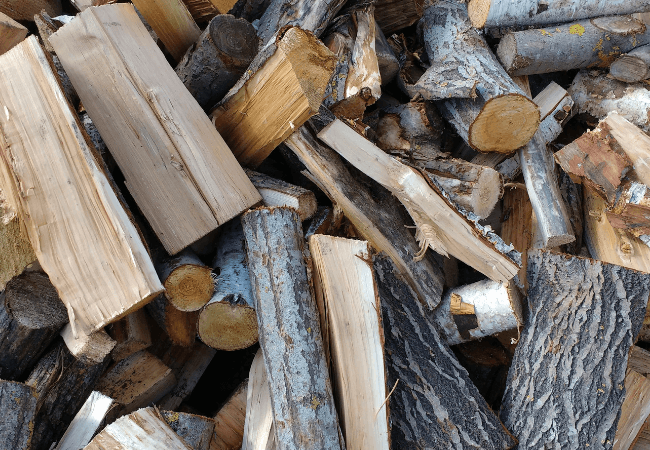 As with any power tools and especially in chainsaws, it is always best to determine what your specific needs are.

Do you need more power?
More durability?
Is this particular saw going to be too heavy to use?
A final thought is that even though you may feel you don't need a saw this size right now, look ahead into future needs.
Many people think that it is best to buy a chainsaw that is a little bigger and more powerful than what you think you need.
This is because it is human nature to always "overwork" any tool we own.
In this event, you will be prepared.
Whatever you choose - happy cutting!