Stihl MS 310 Chainsaw
This post may contain affiliate links so I earn a commission. 

If you're like most homeowners, there are certain tools and pieces of equipment that you just can't do without. 
For many people, a chainsaw is one of those items.
If that's the case for you, then you'll want to take a look at the Stihl MS 310 chainsaw. 
This chainsaw is perfect for homeowners who need a powerful tool that can handle a variety of tasks.
With its high power-to-weight ratio and low emissions, the MS 310 delivers performance that's hard to beat.

So if you're in need of a new chainsaw, keep reading below to find all the benefits this saw has to offer!

Why The Stihl MS 310 Chainsaw Is A Great Choice
The Stihl MS 310 is a versatile and powerful chainsaw that is well suited for a variety of applications.
It is equipped with a special air filtration system that helps to reduce fuel consumption and extend the life of the saw. 
The MS 310 also has a low-emission engine that produces minimal noise and vibration.
This makes it ideal for use in residential areas.
Additionally, the saw features a safe and easy-to-use chain brake system that helps to prevent accidents. 

Overall, the Stihl MS 310 is a great choice for anyone who needs a reliable and durable chainsaw.
Features And Benefits Of The Stihl MS 310 Chainsaw
A powerful saw, the Stihl MS 310 is one step up from the Stihl Farm Boss.
It is a 59cc 4 HP chainsaw that can be found with a 16, 18, or 20-inch bar.
The manufacturer recommends not using anything shorter than a 16" bar and nothing longer than a 20" bar although some reviewers have stated using a 24" bar or larger.
It has a 13 lb powerhead weight with a power to weight ratio of .307 HP per pound.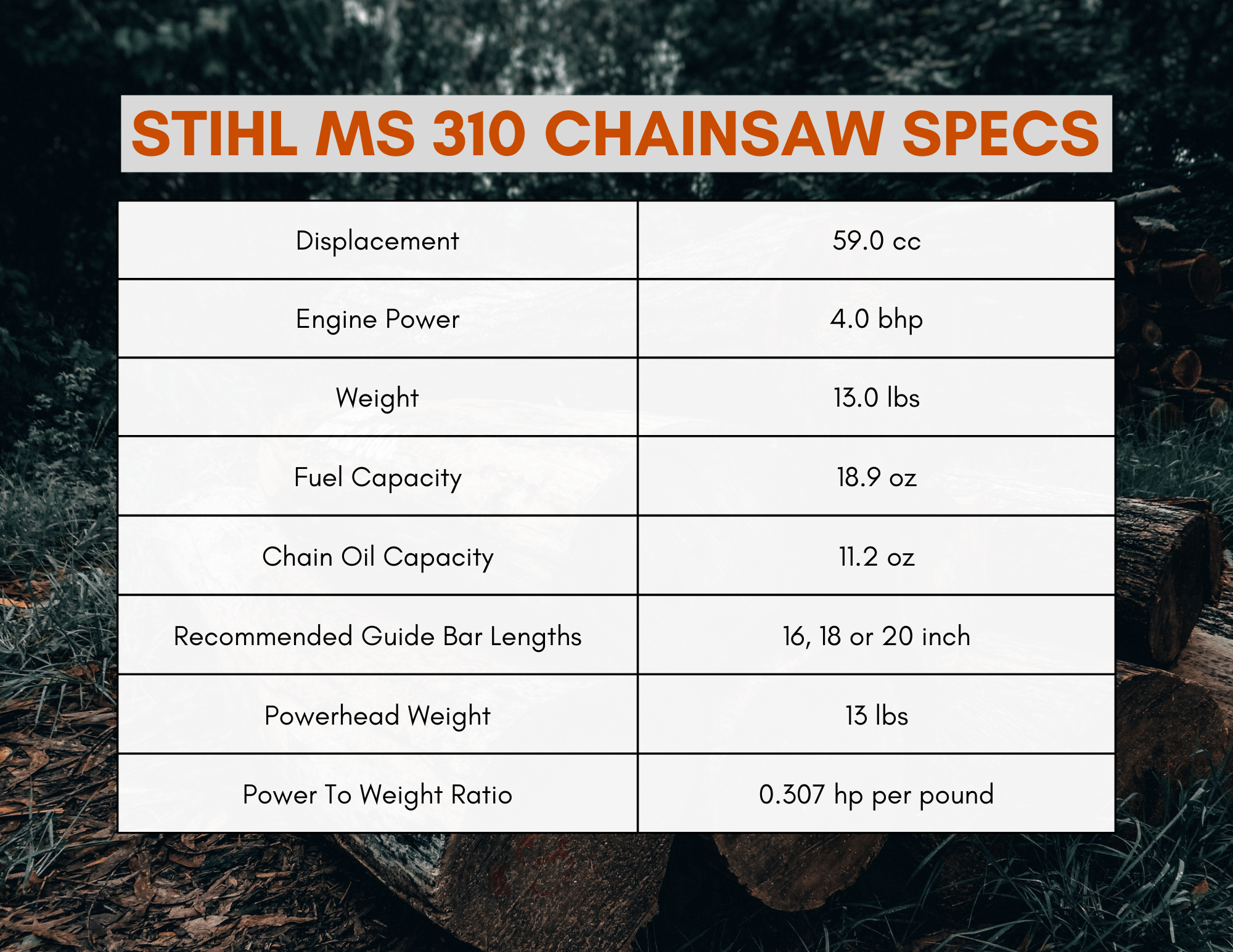 While it's an older saw, the Stihl MS 310 chainsaw still has some of the following features and benefits:

Better control with built-in bumper spikes
Quickstop chain brake system that can help stop a spinning chain fast
Injury-prevention features like a front handguard
Polymer casing to prevent snagging and dragging
Excellent power-to-weight ratio
Air filter is easy to access, clean and maintain
Anti-vibration system makes longer periods of work more comfortable
How To Use The Stihl MS 310 Safely
The Stihl MS 310 is a powerful chainsaw that can be used for a variety of tasks, from felling trees to trimming branches.
However, it is also a potentially dangerous tool, and it is important to use it safely. 
Before using this saw or any saw, always read the operator's manual carefully.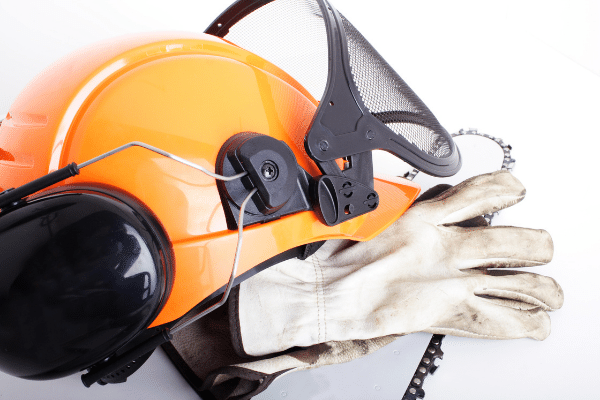 Make sure you understand how to start the saw and stop it in an emergency. 

Always wear appropriate safety gear, including gloves, goggles, and hearing protection. 
And be sure to stay aware of your surroundings - watch out for obstacles, stray branches, and falling trees.
Stihl MS 310 Chainsaw Pros And Cons
When it comes to choosing a chainsaw, there are many different features and factors that you need to consider.
This powerful chainsaw boasts several impressive pros, including its high power output, easy starting system, anti-vibration system, ergonomic design, and more. 
However, this chainsaw also has some notable cons, such as its relatively high price tag.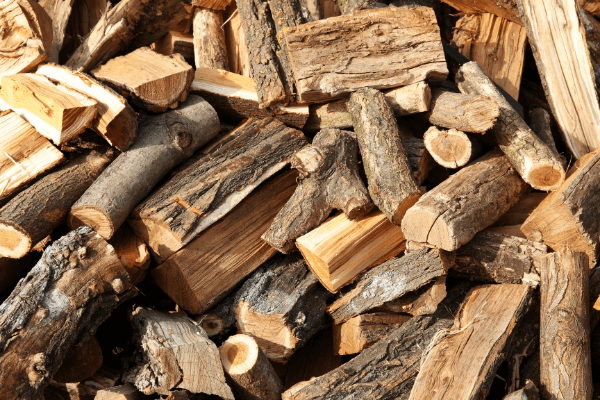 Lots Of Safety Features

The Stihl MS 310 is loaded with safety features.
Though it's a powerful multi-use saw, it has features like bumper spikes to give you better control and a front handguard to prevent injury from kickback. 
There are safety features in place to extend your saw's longevity, too, like a carburetor preheat shutter that helps when working in extreme summer or winter temperatures. 
Increased Comfort Levels
This saw isn't the heaviest out there - so while that means it might not be quite as well suited to heavy-duty tasks, it's also more comfortable to use because of that reason.
There are lots of built-in features that are designed with user comfort in mind.
For example, it has a handle that is ergonomically angled.
This might not seem like much of a benefit when you first look at the saw, but after a few hours of working with it, you'll understand what we mean.
This handle is integral to your overall comfort levels!

It also has an anti-vibration system.
This is a feature you'll find on most newer chainsaws but definitely not most older ones.
It helps to make working with your chainsaw for longer periods of time a bit more comfortable.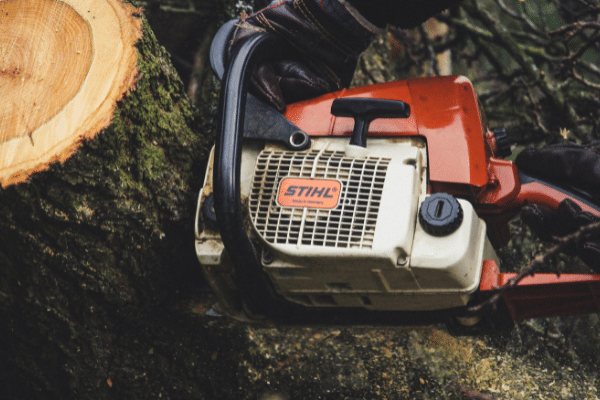 Easy Maintenance 

Though this saw requires regular maintenance, it's relatively easy to do.
The spark plug is protected but it's easy to access.
The air filter is also easy to get into.
Since this saw has an adjustable automatic bar and chain oiler, you should find that some of your maintenance chores are reduced - but they're still there. 
Hard To Find New
It's difficult - if not downright impossible - to find this saw new.
It is no longer being manufactured by Stihl, but if you're lucky enough to find it used, you're going to pay almost the new price.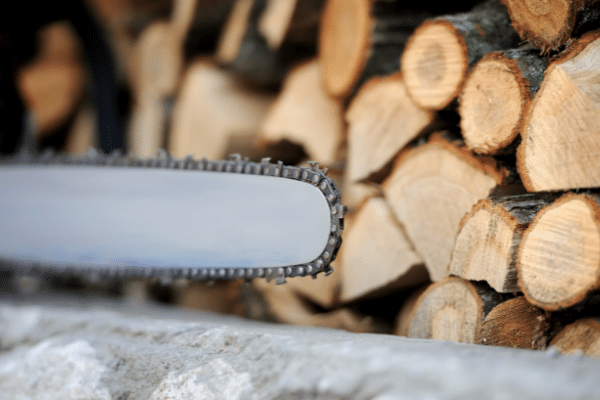 Can Be Sluggish
This saw isn't the most powerful one out there - and while it's definitely not undergunned in most cases, you may find that it has the tendency to be a bit sluggish.
Where To Buy The Stihl MS 310 Chainsaw - Online And In Stores
Online shopping is generally the way to go.
Many popular e-commerce retailers carry a wide variety of models, with prices that tend to be lower than stores, especially for larger items like chainsaws.
Not to mention the fact that this saw is nearly impossible to find in stores unless you're looking at a shop that specializes in used chainsaws.
With all that in mind, the Stihl MS 310 chainsaw is a great option for those looking for a powerful and durable saw.
With the ability to cut through large trees, this chainsaw is perfect for anyone who needs to do some heavy-duty work.
If you're in the market for a new chainsaw, be sure to check out the Stihl MS 310.