Stihl Wood Boss Chainsaw
This post may contain affiliate links so I earn a commission. 

The Stihl Wood Boss chainsaw, also known as the MS 251, is a chainsaw that is easy to use and manufactured to deliver all the power you might expect from a Stihl chainsaw - without compromising or sacrificing comfort or ease of use.
Wood Boss is a term used by Stihl to indicate that the chainsaw was engineered as a homeowner chainsaw - yet that it still had features worthy of the larger saws.
As you might expect, Stihl's MS 251 Wood Boss is a chainsaw designed for homeowner use yet is powerful enough to cut a winters worth of firewood to heat your home.
The 251 is ideal for the felling of small trees, pruning, or cutting firewood.

The fuel consumption is a huge factor in this saw, often coming in at 20% less than other saws of equal power.
A 50% reduction in emission is another quality in this saw, with less overall impact on the environment.
Many of Stihl's products are made in the United States, utilizing both American made and foreign-produced parts.
Features On The Stihl Wood Boss Chainsaw
Stihl's MS 251 Wood Boss has a master control lever that aids starting by combining the choke, throttle lock, and on-off switch all into one easy-to-use lever.
Upon starting, the lever or switch will automatically go to a "run" position.
An Ematic bar reduces oil consumption by up to 50% with the use of a polymer reservoir, which allows the bar oil to be picked up by the passing chain.
Bumper spikes come standard on the 251, which eliminates pull into the log as the cut is started and also provides much more control.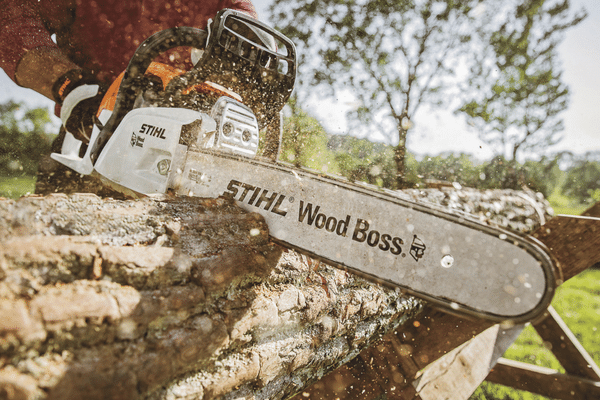 The Stihl Quickstop chain brake system is designed to stop the chain in fractions of a second which is a necessary safety feature, especially in the event of a kickback.

The muffler is equipped with baffles to reduce noise and also a screen to prevent sparks from being thrown from the exhaust.
Plus, a translucent fuel tank allows the user to easily check the fuel level before use.
The housings on the 251 are constructed of a high tech polymer which reduces weight, withstands greater impact, and are resistant to corrosion.
A throttle trigger lockout must be depressed before the throttle can be activated.
An inboard chain brake makes the saw sprocket easier to remove while requiring less maintenance.
Another notable feature is that the automatic bar and chain oiler delivers the proper amount of oil to the chain while cutting.
This feature eliminates waste and allows the user to focus on cutting and not chain lubrication.
A decompression valve helps in cold weather starting by reducing compression in the combustion chamber during cranking.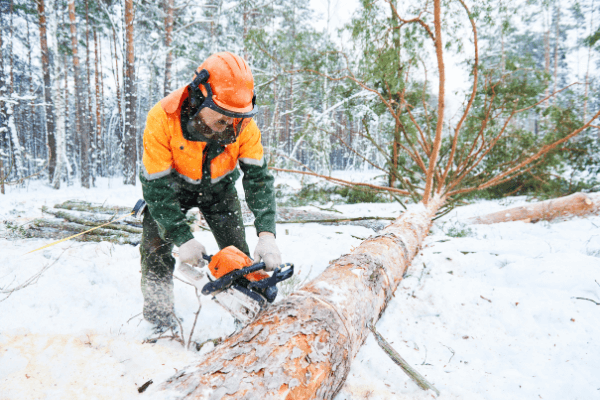 This valve also reduces the amount of effort needed to pull the starter cord.

Finally, the IntelliCarb Compensating Carburetor installed on the 251 Wood Boss automatically adjusts the fuel/air ratio as the air filter begins to become partially clogged.
This feature allows the saw to run continuously at a maximum capacity.
How Many CC Is A Wood Boss Chainsaw?
Standard on the Stihl 251 is a 45.4 cc powerhead engine which delivers 2.95 horsepower.
Stihl Wood Boss Bar Size
The Wood Boss comes factory equipped with an 18 inch bar.
The bar is sized to accept a cutting chain which is 0.063 gauge with a .325 pitch.
When reading reviews of bar size, some say the 251 can accommodate up to a 20 inch bar yet others felt the maximum length to be 18 inches.
I've always felt the 18 inch bar was long enough to handle any log, or firewood that I wanted to cut up and I've never really had the need for a 20 inch bar.

Also, as bar lengths increase, often there can be a slight loss of power.
This is due to the increased travel of the chain.
How Much Does A Stihl 251 Wood Boss Cost?
Most retailers seem to be priced between $349 and $389 which makes this chainsaw a very affordable new chainsaw.
Used 251's can be found on Ebay or other online sites for as low as $269, depending on condition.
Just remember, new Stihl chainsaws are only available through authorized dealers which means you can't just order one online from Amazon or similar online marketplace.
You'll need to find a local dealer in your area to purchase a new saw.
Pros And Cons Of The Stihl Wood Boss Chainsaw
Comfortably and ergonomically designed, the MS 251 is designed to be lightweight, yet is powerful enough to tackle the felling of smaller trees, pruning, and cutting firewood.
Adding to the many features and benefits listed above, the 251 can accommodate bar sizes from 16-20 inches, yet it maximizes power that many like with the factory-specified 18 inch bar.
Electronic ignition aids in starting the Wood Boss, a notable benefit, and toolless fuel caps are a definite plus on the 251, with a retainer clip locking the cap securely in place.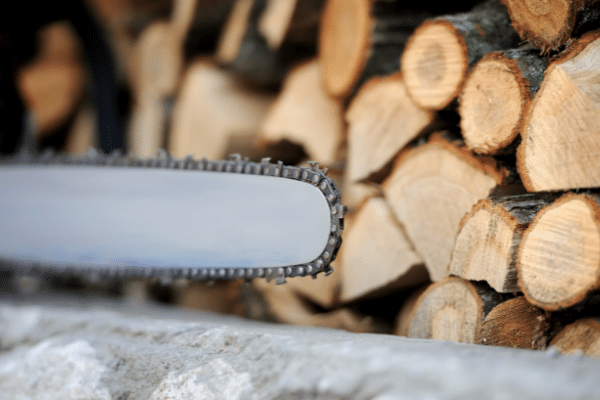 Anti-vibration features are also beneficial.

These are helpful in reducing operator fatigue, which often results in fewer accidents.
In researching problematic features of the 251, one to note is cold weather starting.
Many users have found that cold weather starting was an issue.
Being a lighter model of Stihl, it also isn't designed for continuous heavy duty use.
This can lead to more time in the repair shop.
And finally, being a gas powered saw, the Wood Boss isn't necessarily the most "environmentally friendly" with the emissions from the exhaust.
Stihl Wood Boss Chainsaw - Overall
The Stihl MS 251 Wood Boss chainsaw is a great option for those looking for an affordable chainsaw that still offers features found on more expensive saws.
With its easy start system, anti-vibration system, and chain brake, the MS 251 provides safety and convenience for users.
While it may not have all of the bells and whistles of some other saws, it does offer good value for the price.
If you are in the market for a new chainsaw, the Stihl MS 251 Wood Boss chainsaw is definitely an affordable saw to consider.