We hope you love the products and ideas we recommend!  As a reminder, we may receive a small share of the sale. Click here for more information.

How To Build A Fire
Whether you're a hardcore survivalist or simply someone who enjoys sitting around a fire pit, everyone should know how to build a fire.
If you ask a handful of people "What's the best way to build a fire?" Chances are you will get a lot of different answers.  You know what....that's fine because there isn't one single correct answer.
Most of us probably learned fire building techniques from watching our parents build a fire in the fireplace or lighting a campfire.  
Let's face it, camping wouldn't be nearly as fun if there wasn't a fire!
In fact, most of our finest memories probably involve sitting around a hot fire at a campground with family or friends. Telling jokes and stores and cooking a delicious campfire meal is all part of the experience.
Even though you might have one favorite fire building technique, there's more than one way to build a fire.......actually there's a lot of them!
Fire Building Techniques - Make A Fire
No matter what style or fire building technique you choose, using seasoned firewood is essential. Seasoned firewood burns cleaner, safer and better than firewood that contains moisture.  
Nothing is more frustrating than trying to light a fire with wet firewood.....it just won't burn no matter what you do.
Once you have a supply of dry, seasoned firewood, try using one of these fire building techniques for your next fire: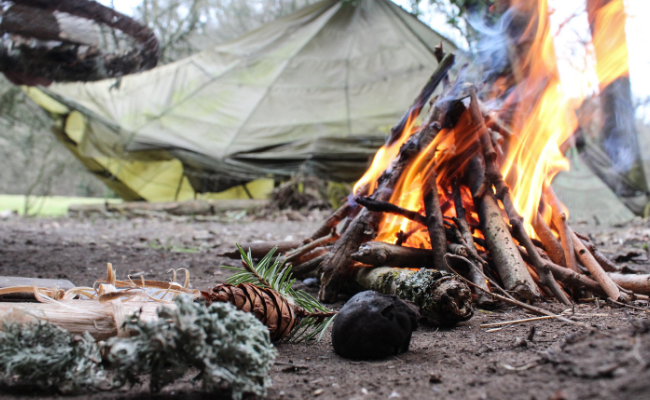 Top Down Fire - Although it seems backwards, the top down fire or self feeding fire is one of the most effective and efficient ways to build a fire. They work great in a fireplace and they're safer to burn than other traditional style fires.
Teepee Fire - Probably one of the best ways to build a campfire.  Learn how to build one here.
Log Cabin Fire - A great fire that's really versatile for both a fireplace and outdoor gatherings.
Lean-To Fire - Similar to the teepee fire, the lean-to fire works really well.
Star Fire -  A useful fire when you don't have a lot of extra wood.  One of the most utilized fires during the old West and a great fire for cooking over because it's easy to control.
Swedish Fire Torch - Also known as a Swedish candle or Swedish log stove, it's unique because it only uses one piece of wood.  
How To Build A Fire - Different Options
Have you ever wondered what the difference was between a campfire and a bonfire?  Find out here in our Campfire vs Bonfire article.

A fireplace is common in a lot of homes throughout the world, but what's the best way to start a fire in your fireplace?  Learn how to start a fire in a fireplace here.
If you're looking for a safe and easy way to start any type of fire, try the Campfire Can fire starter kit!  With enough premium fire starters to build over 40 fires, it makes starting your next fire a breeze, leaving you more time to relax!  Perfect for camping trips, fireplaces, wood stoves and BBQs, this portable can holds everything you need to start a fire in one convenient place.  Just grab the Campfire Can and go!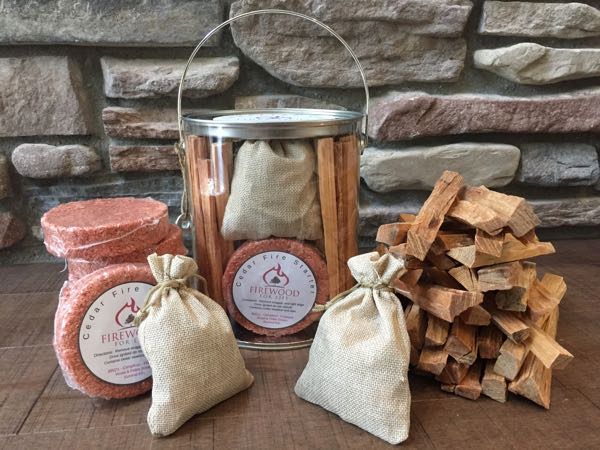 Campfire Can Fire Starter Kit
Do you have an old, dirty fireplace you don't use very much and it's an eye sore in your living room?  Try sprucing it up with some decorative logs. This article will teach you how!
A fireplace tool set is a great investment for anyone who needs to tend a fire in a wood stove or fireplace.  This review features the Northwoods Gladiator 5 piece tool set.  It's a great tool set that not only looks nice, but it's inexpensive and works great.
During a recent renovation project we decided to build a new fireplace mantel out of some cement retaining wall caps instead of choosing wood. The project turned out great and best of all…..it was affordable. Read here for our free plans to build a fireplace mantel.   
Don't have a fireplace but enjoy camping?  Click here to learn how to build a campfire.  After you're done relaxing around your campfire read this important article that describes the proper way to extinguish a campfire.
Overall - How To Build A Fire
Learning how to build a fire is not only a gratifying experience but it also adds excitement to an outdoor event and it might even save your life if you're ever stranded outside in the cold.
Try using one of these fire building techniques on your next fire.....or try them all!