Battery Powered Chainsaws
Best Battery Powered Chainsaw
This post may contain affiliate links so I earn a commission. 

The best battery powered chainsaws represent a new breed of chainsaws in a world that has been traditionally dominated by gasoline powered engines.
In the past, outdoor power tools have been powered by loud, 2-cycle engines that require proper gasoline mixtures and maintenance to keep them running to their fullest potential.
Now, Lithium-Ion batteries and brushless motors found inside cordless chainsaws have revolutionized how we cut firewood, clean up brush and prune trees around our homes.
Battery powered chainsaws are not only quiet, but with a chain speed similar to a gas powered saw, they're ready to finish your job quickly and efficiently with a simple pull of the trigger.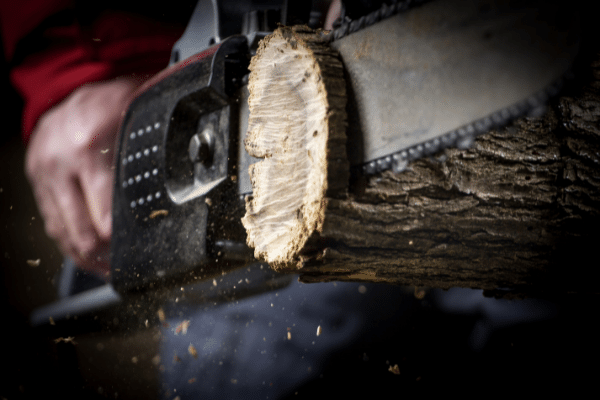 No carburetors to adjust, no spark plugs to change, just slide in a fully charged battery and add some bar oil and you're ready to cut.

Sounds pretty appealing right?
So how do you know which model or brand is best for you?
Let's dive into this topic a little deeper to determine the best battery powered chainsaw for your needs, and which model will suit you best.
Gasoline vs Electric Chainsaw - Which Is Better?
Are electric chainsaws any good?
The simple answer is yes, but it just depends on what you plan on using it for.
When considering the purchase of a new chainsaw you should think about how often you'll need to use it and what projects you need to complete.
Electric chainsaws are great, but if you plan on heating your home with firewood you'll want to choose a gas powered saw because they're more powerful and you won't have to worry about stopping and waiting for your battery to recharge.
However, if you don't use your chainsaw on a weekly basis and only need to cut some occasional campfire wood, or a few branches that blow down during a storm, a battery powered saw might be the perfect choice.
A lot of popular lawn and garden tools have made the switch to battery powered operation.
String trimmers, leaf blowers and even push mowers can effectively run on modern batteries.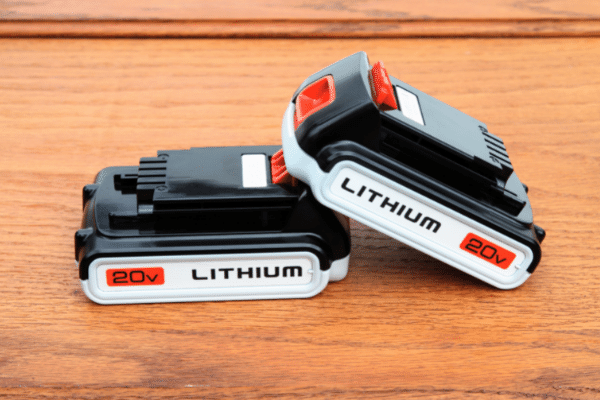 Battery power offers convenience and maintenance free power that gasoline engines just can't compete with.

If you've ever let a gasoline engine sit over the winter without adding fuel stabilizer you know exactly what I'm talking about.
A gummed up carburetor will not only effect the engines performance, but it's messy and labor intensive to clean.
Brushless electric motors eliminate the need for adding or mixing fuel and changing the engine oil, something that the average homeowner can appreciate.
So, now that we've determined who can benefit from the best battery powered chainsaw, let's look at some of the top models you can choose from.
Best Battery Powered Chainsaws
Below you'll find some of the best battery powered chainsaws on the market today.
Although this list is not in any specific order, just click on one of the highlighted links to learn more about the saw and whether or not it's the right choice for your needs!
Stihl Battery Powered Chainsaw
The Stihl battery powered chainsaw is available in 5 different models ranging from the MSA 120 C-B which is the smallest battery powered saw in their line, to the MSA 220 C-B which is the largest battery powered saw in the Stihl lineup.
No matter what outdoor power tool you're shopping for, Stihl is a leader in the industry for power, performance and dependability.
While many loggers and professional arborists will agree Stihl makes the best gas powered chainsaws, their battery powered lineup is equally impressive.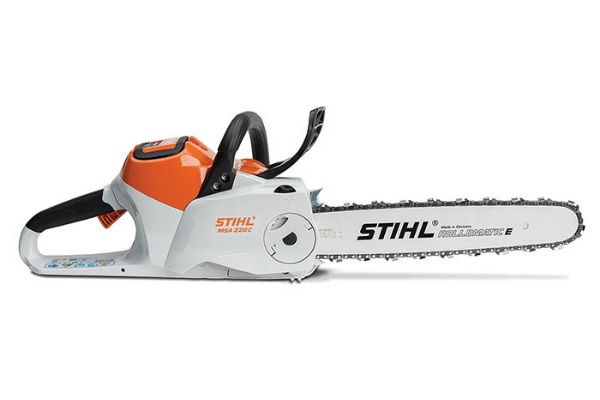 The MSA 120 C-B is their smallest saw designed for suburban homeowners.
Weighing only 8.4 pounds it's very lightweight and can make up to 100 cuts on a 4 inch diameter piece of wood on a single charge, which is more than enough to clean up some branches or cut up some weekend firewood.
If you're interested in felling or limbing a tree, consider Stihl's largest battery powered saw, the MSA 220 B-C.
With a 16 inch bar, this saw is great for larger projects that most smaller battery powered saws would not be able to handle.
Dewalt 20v Chainsaw
The Dewalt 20v chainsaw is another top competitor as the best battery powered chainsaw.
I've owned their Lithium-Ion tools for years and I'm very impressed with their performance.
This Dewalt cordless chainsaw uses a high-efficiency brushless motor for extended runtime and motor life.
It also has a tool free chain tensioning system, which makes adjusting your chainsaw chain really easy.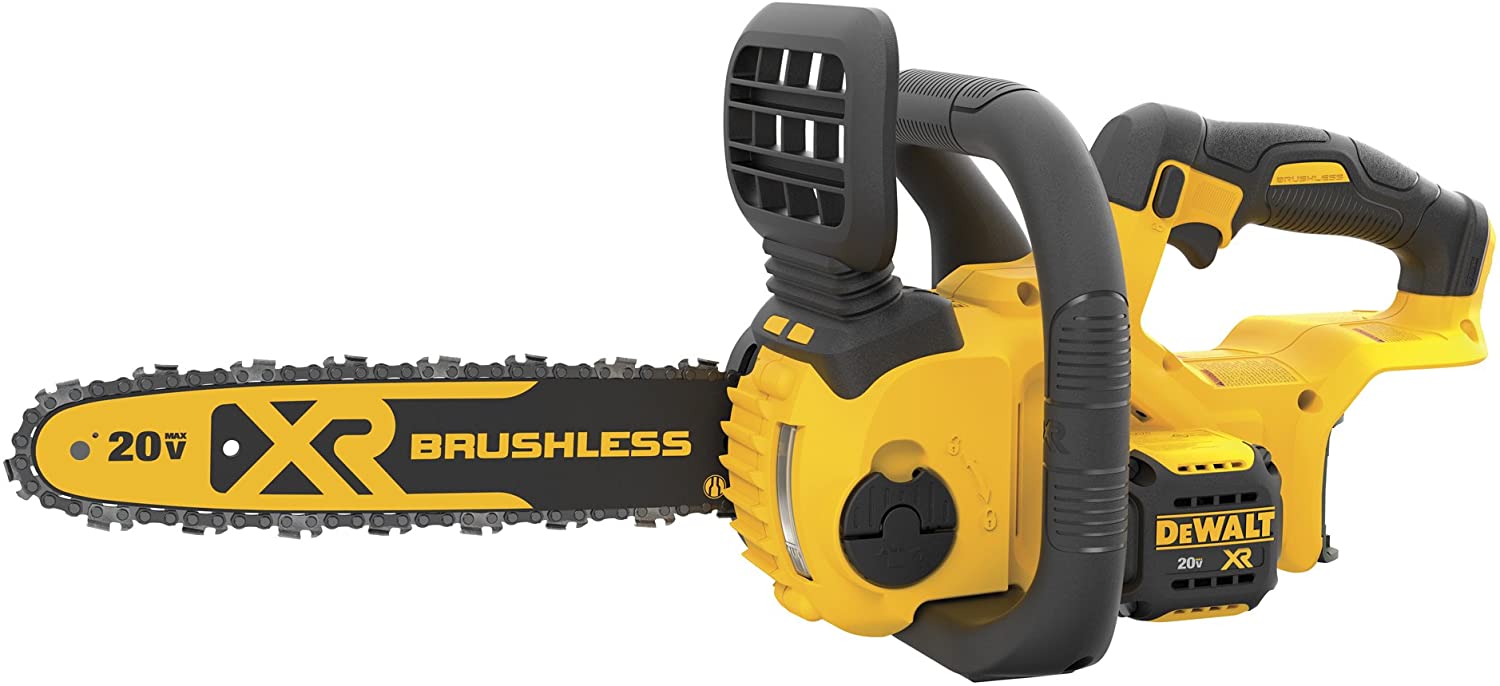 With a 12 inch bar, you won't be able to tackle large logs, but for everyday pruning or limbing of small trees, this saw is lightweight and user friendly.
Plus, it's part of the 20V Max system of tools so the battery will be interchangeable with other tools in the lineup.
Ryobi 40v Chainsaw
The Ryobi 40v chainsaw is a fantastic product and it's surprisingly powerful for its size.
Just like the other battery powered models, this saw is much quieter, lighter and requires less maintenance compared to a gasoline powered saw.
The lack of mixing gasoline and the smells associated with it, along with the instant on/off operation, makes this saw perfect for small projects around your home.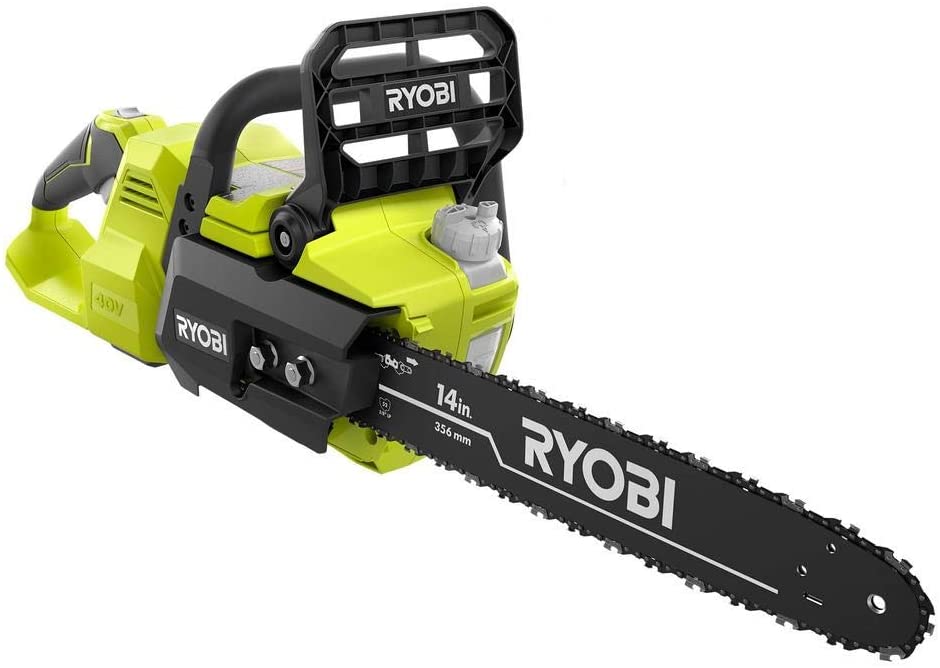 The Ryobi comes with a 14 inch bar which is a few inches longer than the Dewalt, allowing you to cut trees up to 6 inches in diameter.
Even though the saw is battery powered, you'll still need to use bar oil to keep the chain properly lubricated, but it's really easy to do.
With a chain speed that's comparable to a gas powered saw, the Ryobi is a powerful saw at a great price.
Milwaukee M18 Chainsaw
The Milwaukee M18 chainsaw is often rated the best battery powered chainsaw on the market today.
The 16 inch bar along with the cordless brushless motor generates the power and performance of a gasoline engine that's up to 40cc, while allowing you full control with the variable speed trigger.
Although it's more expensive than the other best battery powered chainsaws on our list, you'll get a professional grade saw that will tackle just about any project around your home.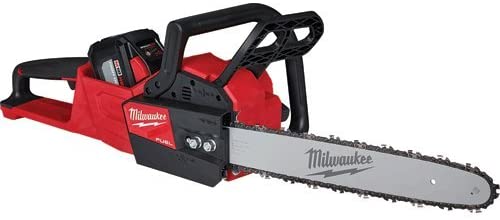 If you're looking for a top of the line electric chainsaw that has the power and performance of a gasoline saw without all the headaches associated with a gasoline engine, this saw is definitely one to consider.
Worx Electric Chainsaw
Although you can purchase a corded model, the battery powered Worx electric chainsaw uses two 20v batteries to power the 14 inch bar.
The Worx saw has a really handy battery level indicator, so you can see how much battery power you have left to help determine how many more cuts you can make before you need to charge the battery.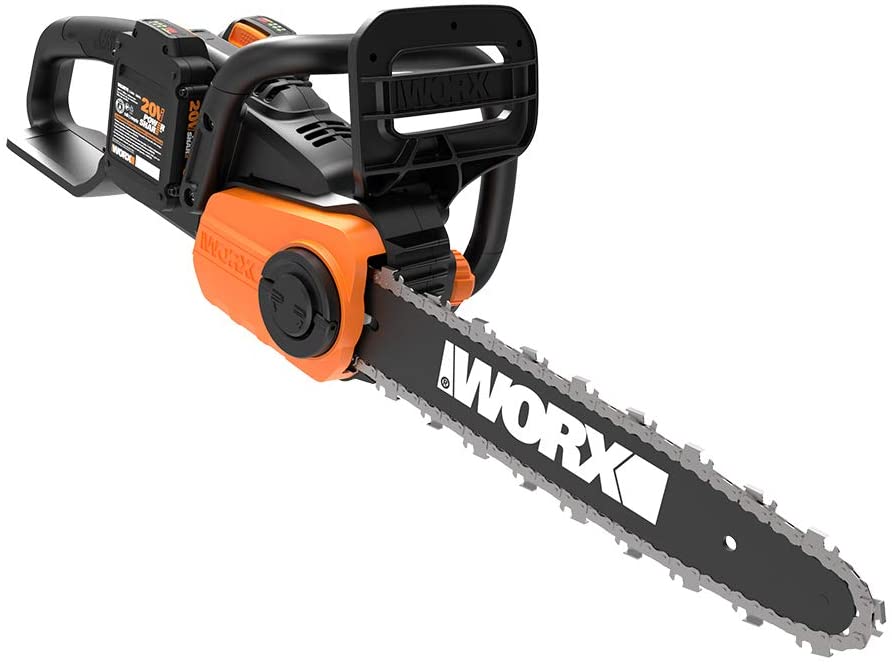 The saw also has a tool-free chain tightening system which eliminates the need for special tools, while giving you the proper chain tension every time.
To help prevent accidental cutting, the saw is equipped with a chain brake system that nearly instantaneously stops the chain in case of an accidental kickback.
If you're looking for a lightweight and portable chainsaw for use around your home or property, the Worx is something to consider.
Remington Electric Chainsaw
Although the Remington electric chainsaw is a corded model and not battery operated, it does have a very unique feature so we decided to put it on our list.
The 8-amp electric powered saw can convert from a extendable shaft pole saw to a regular chainsaw.
The long reach of the pole saw can cut limbs up to 10-15 feet in the air, depending on the height of the user, which makes pruning trees quick and easy!
One major complaint with this saw is that it will occasionally leak bar oil from the saw when it's not in use.
This is actually a common problem with both gas and electric chainsaws.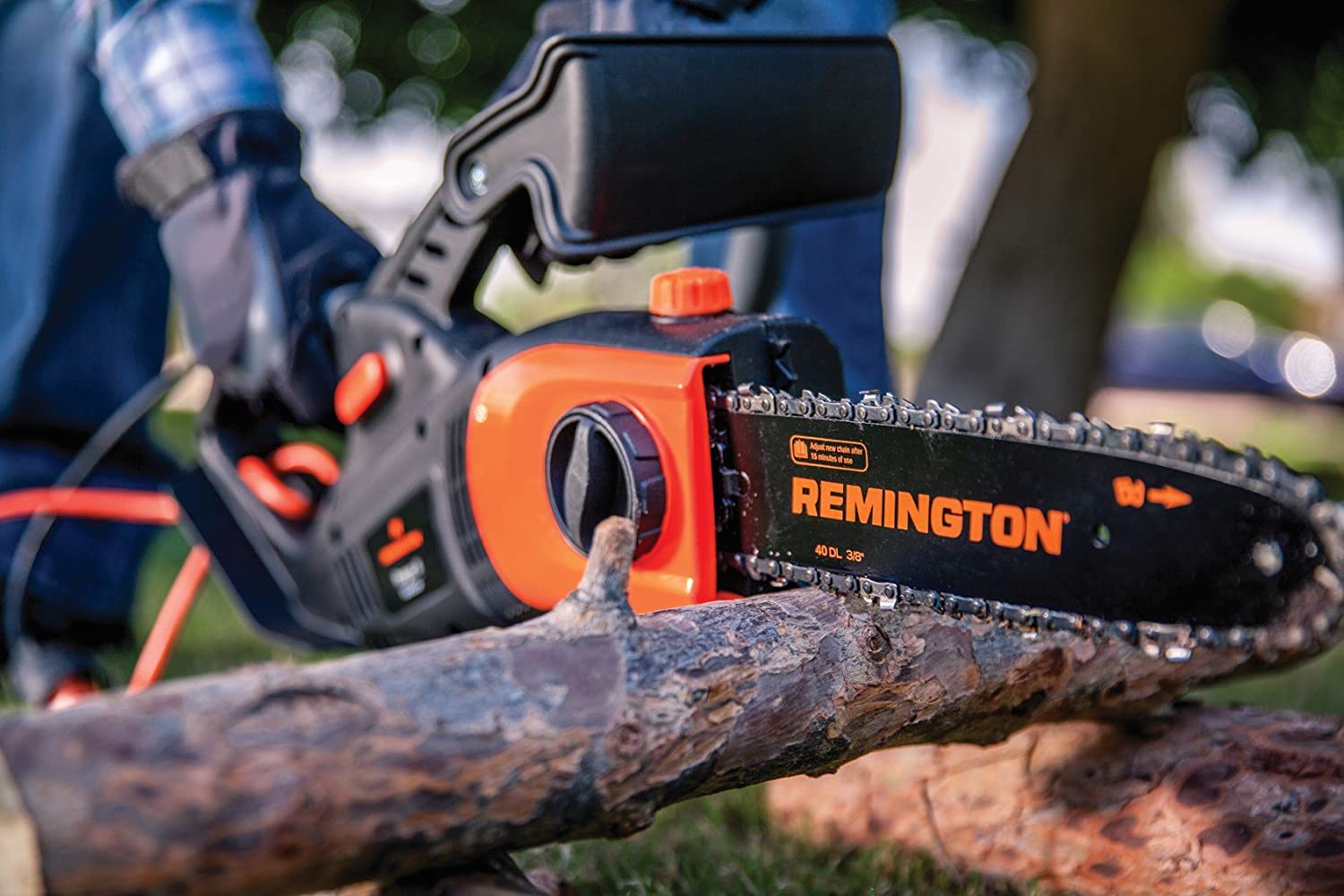 I'll normally store my gas powered Husqvarna saw on cardboard to prevent leaking bar oil from staining my concrete floor.
Remington recommends loosening the saw chain when you're not using the saw to to help eliminate this issue.
If you need a medium duty saw that has the option to convert into a pole saw, the Remington electric saw may be the right saw to use around your home.

Just remember that this saw is powered by an electric motor which means you'll need to keep it plugged in while you're using it.
This can limit the range, depending on how many exterior outlets you have, and how long your extension cord is.
Greenworks Chainsaw
The Greenworks chainsaw is available in a variety of different sizes ranging from a 24v with a 10 inch bar, to a 80v with an 18 inch bar.
I really like the Greenworks Pro 80v 18-inch brushless chainsaw.
The brushless motor supplies two times more torque, longer runtime and quiet operation.
This is one of the best battery powered chainsaws if you're looking for gasoline performance with the convenience of a battery.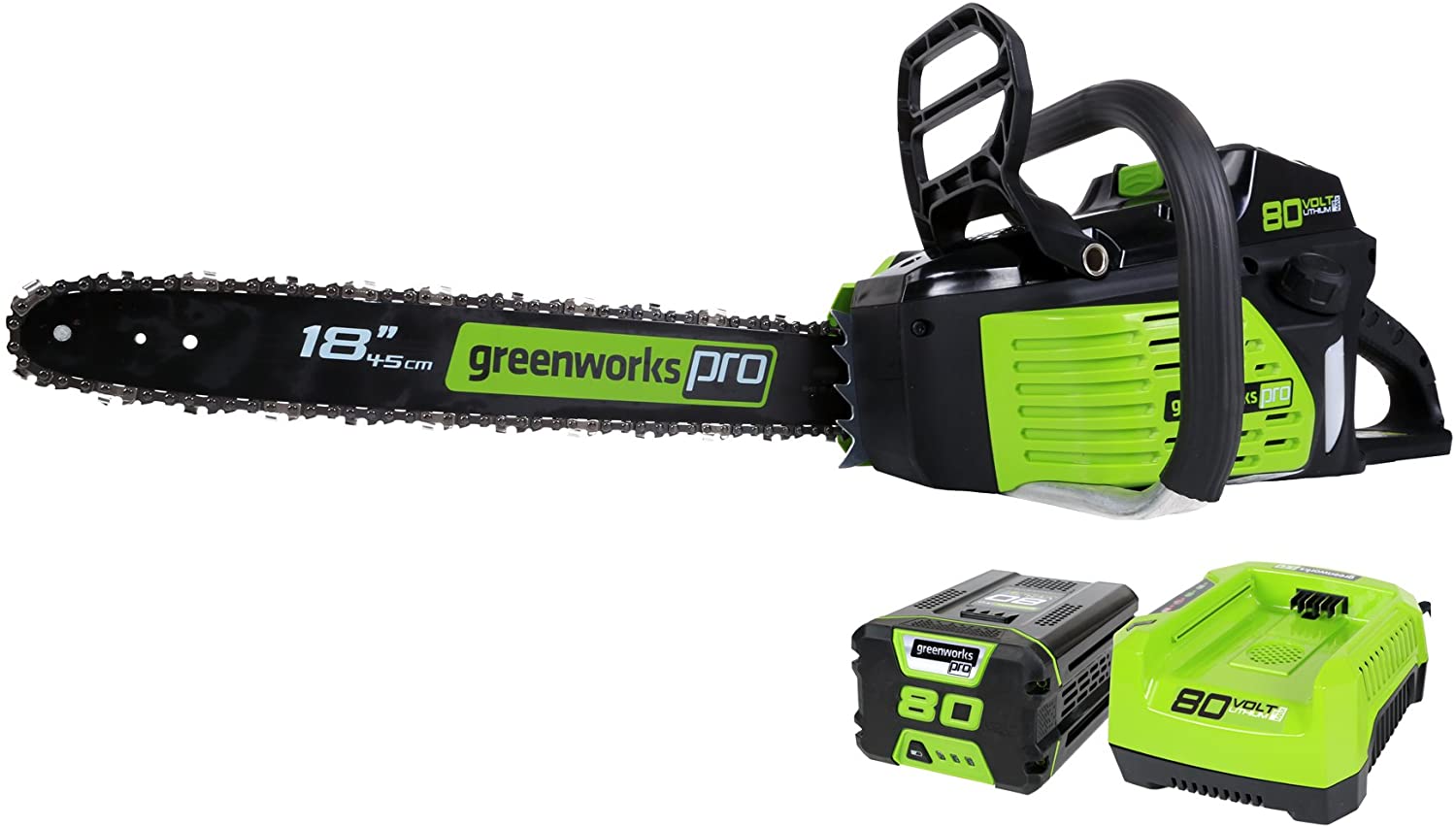 There's also a lot of gasoline type features on the saw, like the pro-style side mounted chain tensioning system, automatic oiler with a transparent window so you can tell how much bar oil you have remaining, and the inertia-activated chain brake for added safety.
One of the drawbacks with this saw (like many other electric chainsaws) is that the bar oil tends to leak out when it's not in use.
Greenworks recommends draining the bar oil out of the saw when it's not in use which will solve the issue, but it's a potentially messy step that most of us don't want to have to take.
However, if you're looking for a powerful electric chainsaw that has the performance of a gas saw, the Greenworks chainsaw is a great choice.
Makita Electric Chainsaw
The Makita electric chainsaw uses a 36v brushless motor to power the optional 16 inch bar and chain.
Just like all of the other electric saws on our list, you'll enjoy zero emissions along with the convenience of instant performance without the maintenance associated with a gasoline engine.
The variable speed trigger and high chain speed offers the cutting performance comparable to a 32cc gasoline powered chainsaw.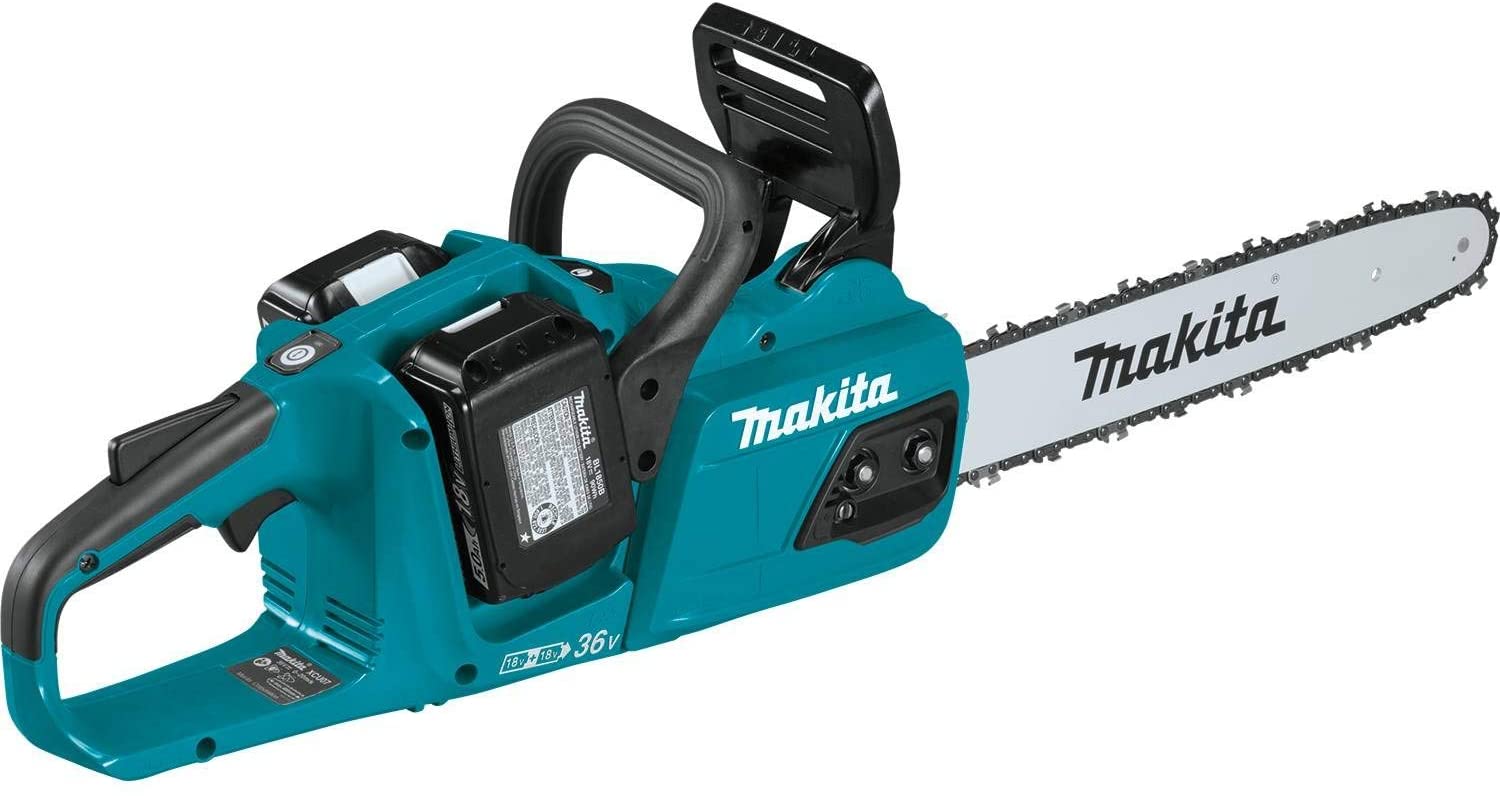 The saw is also lightweight and perfectly balanced which makes it easy to use for long periods of time.
There's also a couple of really handy safety features built into the saw that prevents overloading and overheating the saw.
Makita has been a quality named tool with a track record of great performance and this saw is no exception to the rule.
Ego Chainsaw
The Ego chainsaw is a great choice for someone who loves the option of 1 battery powering a variety of different tools in the Ego Power+ lineup.
The 56 volt ARC lithium battery can be interchanged with all Ego Power+ tools giving you the power of a gasoline engine without all the noise, gas and fumes associated with a 2 stoke engine.
Worried about waiting for the battery to recharge?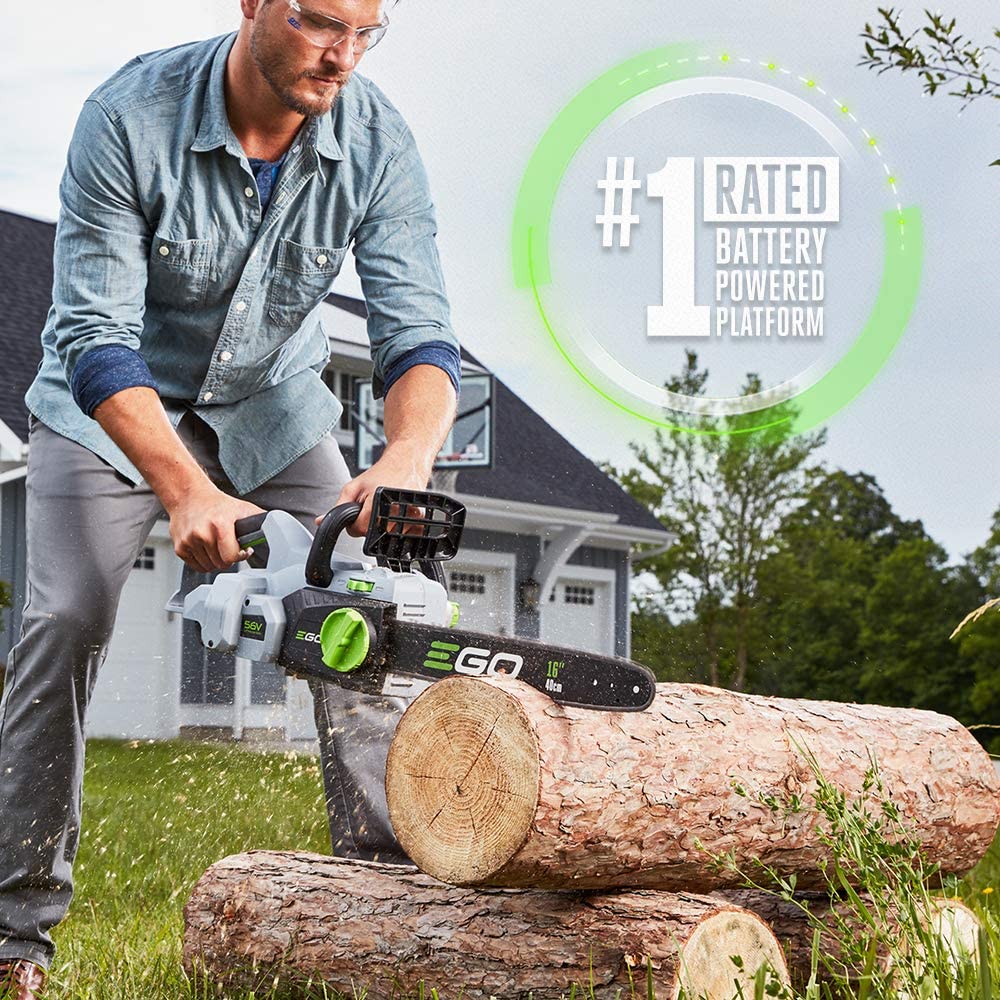 Ego has one of the fastest recharge times in the industry, allowing you to recharge a 5.0 Ah battery in as little as 40 minutes.

Rated one of the best battery powered chainsaws on Amazon, the EGO chainsaw is a great choice for pruning, storm cleanup, and cutting firewood.
Husqvarna Battery Powered Chainsaw
The Husqvarna battery powered chainsaw weighs just 8.4 pounds and is powered by a 40v brushless motor.
The easy to use, tool free chain tensioning system allows you to make quick adjustments to the chain as you work.
Just like a majority of other electric chainsaws, the Husqvarna 120i cordless saw is great for trimming brush, limbs and small logs.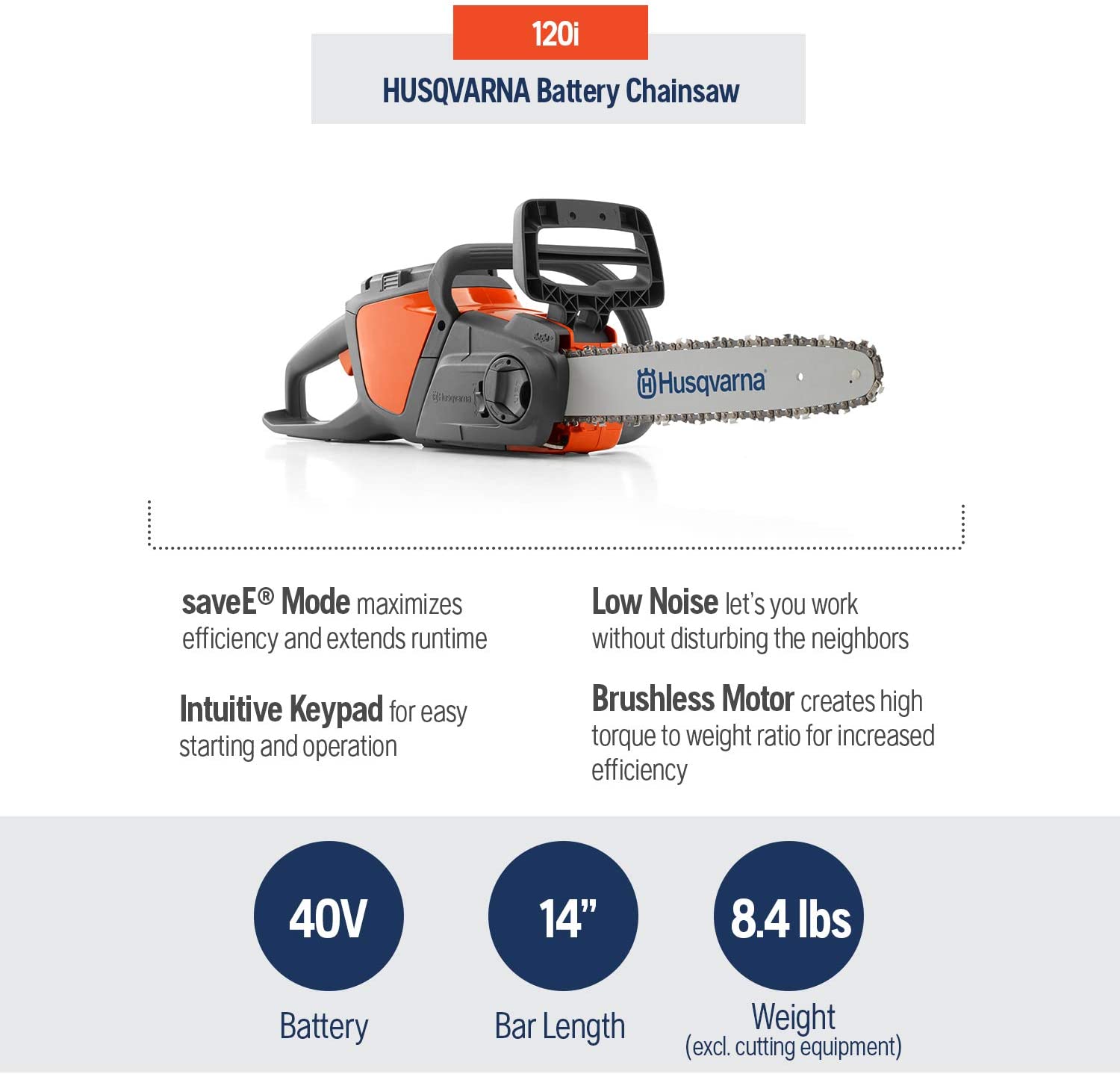 It won't perform as well as a gasoline powered saw on large rounds of hardwood, but that's a tradeoff for the reduced maintenance and instant on/off performance of the battery powered motor.
As you research the best battery powered chainsaw, remember that most of these saws have interchangeable batteries that work with other tools in the manufacturers line.
For example the same Husqvarna battery may also power a Husqvarna hedge trimmer or blower.
This allows you the option to buy the saw with or without a battery, which changes the price of the saw.
If you don't have any other battery powered products, make sure you choose the option that includes a battery and charger, not just the saw itself.
Best Battery Powered Chainsaw - Overall
When shopping for the best battery powered chainsaw, you can clearly see there are a lot of great options to choose from.
Whether you're loyal to a specific brand and want the battery to be interchangeable with other equipment, or you have a specific weight, price point or bar length in mind, choosing the best battery powered chainsaw is not always an easy decision.
However, with a little research and understanding of what you'll be using the saw for, you can choose an excellent tool that's sure to make your outdoor chores a lot easier.