Stihl Pruning Chainsaw - GTA 26 Mini Chainsaw Review
This post may contain affiliate links so I earn a commission. 

If you have some light limbing or heavy pruning to do, you'll need the right tool for the job and the Stihl pruning chainsaw might be the perfect option.
There's a reason Stihl is the number one selling brand of chainsaws worldwide.  
In this review, we'll go over the features of the Stihl GTA 26 mini pruning chainsaw and give our thoughts on its performance.
This small yet mighty chainsaw is the perfect blend between a pole pruner and a battery powered chainsaw, making it one of the most user-friendly Stihl chainsaws on the market.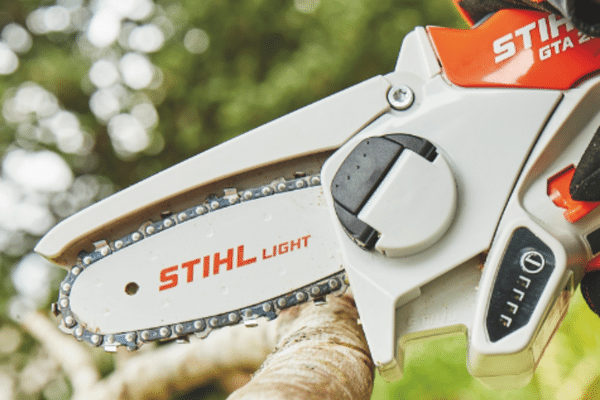 Let's take a closer look!

Is The Stihl GTA 26 Any Good?
The Stihl GTA 26 is a miniature chainsaw with a 4" blade that is officially classed as a handheld garden pruner.
It is very lightweight, at around 3.1 lbs with the battery attached, making it easy to maneuver and control.
The Stihl pruning chainsaw is powered by the Stihl 12V AS 2 battery which delivers a chain speed of 26.3 feet per second.
Although most battery powered chainsaws have an automatic chain oiler, the Stihl GTA 26 requires manual oiling.
This really isn't a big deal though, since you won't be cutting large pieces of wood or cutting for long periods of time.
All things considered, this is a great chainsaw for small jobs around the garden like trimming branches and twigs.
It's also very easy to use and maintain, which makes it ideal for anyone who doesn't have a lot of experience with this type of tool.
How Much Does The Stihl GTA 26 Cost?
Stihl's 12V garden pruner is a great value at $149.95.
You get the tool, a battery, charger, bar, chain, oil, and carry case.
The battery charges quickly and lasts for up to 25 minutes, although I think 15-20 minutes of use is average before the battery needs to be recharged.
The ergonomic design makes it comfortable to use.

The carrying case is well-made and keeps everything organized.
We recently used the Stihl pruning chainsaw on some storm damage cleanup where several large oak trees were blown over.  
This small handheld pruner worked perfect for removing oak branches that were pressed up against a cabin in an area that needed a little more cutting control as opposed to a large, gas powered saw.
I was very impressed by how fast and powerful this little saw was!
Features And Benefits
The Stihl GTA 26 is a battery-powered pruner that is designed for easy and convenient trimming of hedges, shrubs, and small trees.
The unit includes a carrying case and blade sheath for safety and protection, and features a safety trigger, guard, battery indicator (giving you an idea of how much battery power you have left), and easy to grip surfaces for safe operation.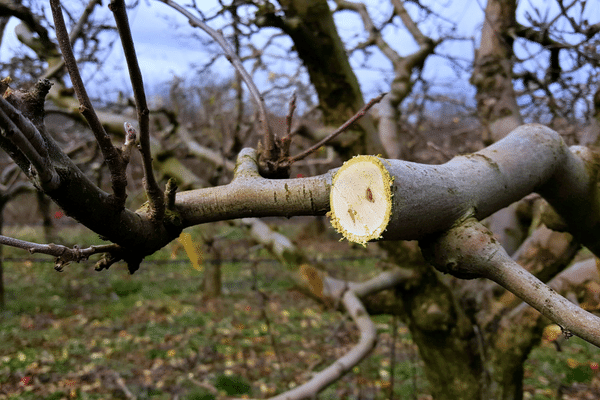 The Stihl GTA 26 cuts quite well and is much easier to use than traditional pruners.

It even comes with a tool-free bar and chain replacement option (you can loosen the wingnut by hand) and a built-in LED light so it's easy to see what you're doing.
How Long Does A Stihl GTA 26 Battery Last?
With a capacity of 2.6 Ah, the Stihl GTA 26 battery offers up to 25 minutes of run time on a single charge, although like we stated earlier, I think 15-20 minutes is more realistic.
When not in use, the battery can be stored on the included charger, which is designed to keep the battery charged and ready for use.
For best results, the battery should be stored in a cool, dry place out of direct sunlight.
Pros Of The Stihl Pruning Chainsaw
The Stihl pruning chainsaw is a versatile tool.
Let's take a look at some of its most significant benefits.
Power And Performance
The Stihl pruning chainsaw packs a lot of power for its size.
It's a lightweight saw that is easy to maneuver, making it ideal for cutting through small branches and twigs.
It has a small 4-inch bar that ensures that you'll be able to make clean cuts without putting too much strain on your arms.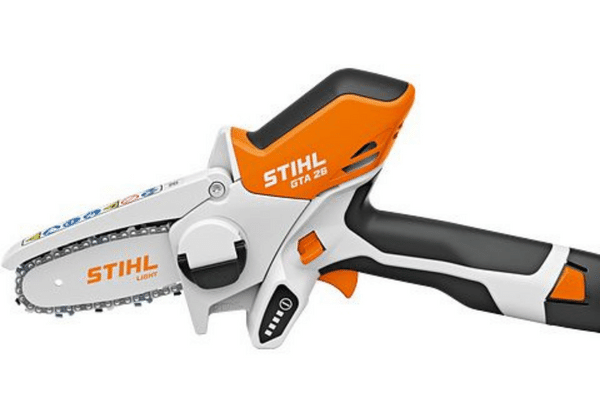 While this definitely isn't the saw you would want to use to cut down massive trees, it's perfect for light work around the yard. 

You're not going to get exhausted using this saw!
But if you do happen to get tired, the anti-vibration technology will help reduce fatigue. 
We just love using this powerful little saw because it's fun and easy to use.
You'll whack through three-inch branches quickly and easily, helping you make light work of any backyard pruning tasks. 
We found that it worked perfectly on a small lot, helping to cut back some hedges and medium sized branches.
We experienced minimal fatigue and zero lag time, which was surprising coming from a battery-powered saw.
Bonus Accessories Included With The Saw
The GTA 26 is a great little pruner that comes with a few bonus accessories.
The carry case is sturdy and closed with a Velcro closure.
It also includes a removable chain scabbard and oil.
The battery charger is top notch and the Stihl AS 2 battery (10.8V) is top of the line.
Safety Features
Although the small bar and lightweight battery on this pruning saw might make you think that it doesn't pose a lot of risks to the person using it, the reality is that it's possible to hurt yourself using any kind of saw - even a small saw.
Fortunately, Stihl is always thinking ahead and has some awesome built-in safety features that any homeowner will love.
For one, there's a protective guard over the top of the chain.
This glides upward and pops back into place once your bar is clear, helping you out and keeping you safe in case you happen to lose focus while you're working.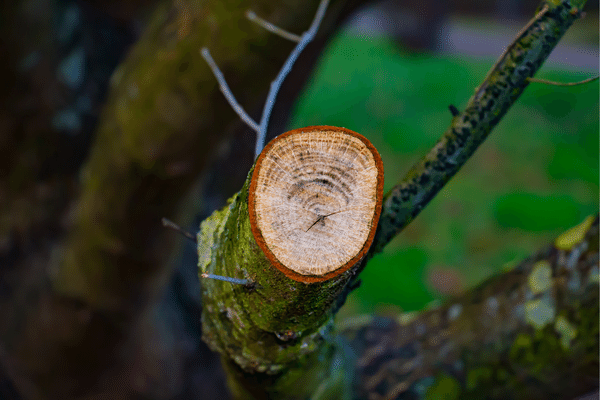 It also has an ergonomic grip (more on this below) that we find super comfortable to use - but it goes beyond the comfort.
Having a comfortable grip, along with the ability to one-finger trigger the operation of the saw, means you're less likely to drop the saw or have poor form due to fatigue. 
Comfortable To Use
Stihl pruning chainsaws are a popular choice for many homeowners and professionals.
One of the main reasons for this is that they are lightweight and compact, making them easy to maneuver and operate. 
In addition, they feature an ergonomic design that reduces fatigue, and their low vibration levels help to minimize the risk of injury.
Another big selling point is their high power-to-weight ratio, which makes them ideal for cutting through thick branches with ease. 
Cons Of The Stihl Pruning Chainsaw
The Stihl pruning chainsaw is a handy tool for anyone who needs to do some light pruning or trimming.
However, there are some drawbacks to using this particular model.
First, the saw requires manual oiling, which can be time-consuming and somewhat messy.
It's just another step to remember when you're using the saw as opposed to an automatic oiler that would take care of the job for you.
Second, the saw uses a unique chain size that can be difficult to find in stock at local hardware stores.
Finally, because the saw is designed for a specific purpose, it's not as versatile as a standard sized chainsaw, but it definitely makes a welcome addition when used along side of your favorite saw.
Who Is The Stihl Pruning Chainsaw Right For?
The Stihl GTA 26 pruning chainsaw is a great choice for anyone in need of a new saw that can take care of trimming up a few branches at ground level, or to tidy up a shrub that's been neglected for years.
It's perfect for home DIYers or anyone who doesn't have a lot of storage space, as it's much smaller and lighter than full-size chainsaws.
It's also a great choice for anyone who's intimidated by larger models due to safety reasons.
Just remember though, although this saw is small, it packs a lot of cutting power which means it can seriously hurt you if you're not careful.
While it's not suitable for heavy-duty projects, it's more than capable of handling most light pruning and trimming jobs.
So if you're in the market for a garden chainsaw, the Stihl pruning chainsaw is definitely worth considering.