Using A Chiminea
This post may contain affiliate links so I earn a commission. 

Using a chiminea is easy if you follow a few basic steps....But what is a chiminea and how do they work?
Chiminea's are basically an outdoor, portable fireplace.
Recently they have become very popular in both urban and rural settings where they're placed on a patio or lawn creating a warm, interesting focal point for outdoor activities.
The chiminea originated centuries ago in Mexico by tribesman where they were first used for baking bread and generating heat. Constructed from clay and mud, the chiminea quickly became a very useful tool.
Now, the popular chiminea can be found near gardens, patios and decks throughout the United States and the United Kingdom.
Chiminea Construction
The traditional chiminea has a bulb shaped, pot belly base that rises up to to the chimney, or neck.
Although the traditional chimineas are constructed from clay, cast iron and cast aluminum models are now available.
Read here to learn about the different types of chimineas which include: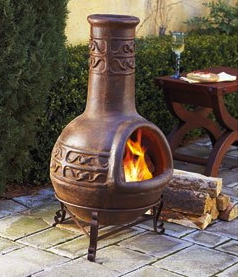 Larger clay chiminea's are generally constructed in two separate pieces....the base and the neck.  After construction, the base and neck are joined together forming one seamless piece.
The joint between the base and the neck can be very weak and could break. Never pick up a chiminea by holding on to the neck and the base.
This will put to much strain on the joint between the two pieces.
Chiminea Care
A chiminea can be fragile and no matter how careful you are it may break or crack. To help insure the chiminea will give you years of warmth and satisfaction, it's important to properly maintain it.

A cover can be purchased to protect your chiminea from rain, ice, snow and the blistering sun.   Find out how a chiminea cover could extend the life of your chiminea and prevent unwanted cracks.

Is your clay chiminea kiln dried, painted and sealed or has it only been air dried and left untreated? Knowing the difference and understanding how to properly treat your chiminea is important.
Read here to learn about maintaining a chiminea.
Building A Fire
A chiminea is known for creating a lot of heat from a small fire. After all, the base of a chiminea is relatively small and can only handle small pieces of wood.
A chiminea is not designed to have a huge, roaring fire. Doing so may damage the unit. Read here to find out the best types of chiminea wood and how to start a fire in a chiminea.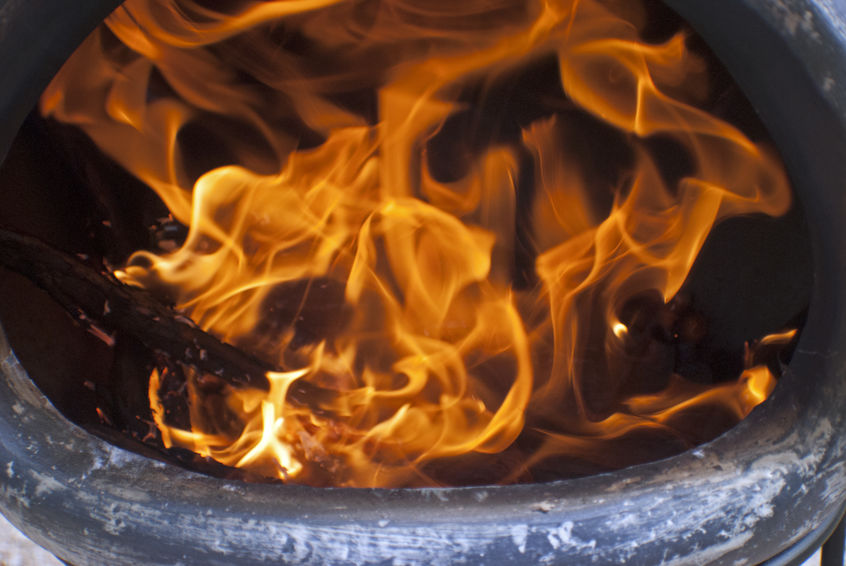 As with anything related to fire....dangers always exist. Read here for our chiminea safety tips.
Using A Chiminea - Overall
Whether your using a chiminea for the occasional backyard gathering, as a patio heater or just as a decorative piece, they can bring you years of enjoyment in almost any setting.