Stihl MS 170 Chainsaw
This post may contain affiliate links so I earn a commission. 

The Stihl MS 170 chainsaw is a great, lightweight and well balanced chainsaw designed as an entry level saw for cutting firewood.
Although it's considered a hobby saw when compared to other larger chainsaw models, the MS 170 packs a lot of power for its size, and it's very affordable.
Priced at around $200, this saw gives the average homeowner the ability to own a quality, brand name chainsaw that will last several years.
There's a reason why Stihl is the number one selling brand of chainsaws in the United States.
They're rugged, easy to start, easy to maintain, and they're built to last.

So, is the Stihl MS 170 the perfect small chainsaw for you?
Let's look at the saw a little closer to find out!
Stihl MS 170 Chainsaw Specs
The Stihl MS 170 is the perfect chainsaw for homeowners looking for a lightweight, compact saw at an affordable price.
With the powerhead weighing just 8.6 pounds, the saw is perfect for limbing trees, clearing brush, occasional contractor work and spring pruning.
If you've ever used a heavy, bulky chainsaw before, you know that the weight of the saw can make you fatigued really fast.
Once fatigued, it's a lot easier to get injured, which is why running a smaller, lightweight chainsaw has its benefits.
Equipped with a 16 inch bar, the MS 170 is capable of cutting trees that are 12"-14" in diameter, but I think 10" diameter trees are better suited for this saw.
With a fuel capacity of only 8.5 oz, the saw has a relatively small fuel tank (which we will address later in this article).
The two stroke engine is easy to start, but just like any other small engine, it's important to use clean, high quality mixed gasoline to ensure the carburetor stays clean and doesn't get gummed up.
If you don't plan on using the saw very much, I recommend purchasing the Stihl premixed fuel that's compatible for all 2 cycle engines that require a 50:1 mixture.
Sure, this option is more expensive than mixing the fuel yourself, but this premium non-ethanol fuel takes all of the guess work out of mixing oil with the fuel, plus your Stihl chainsaw will run a lot better when you use it.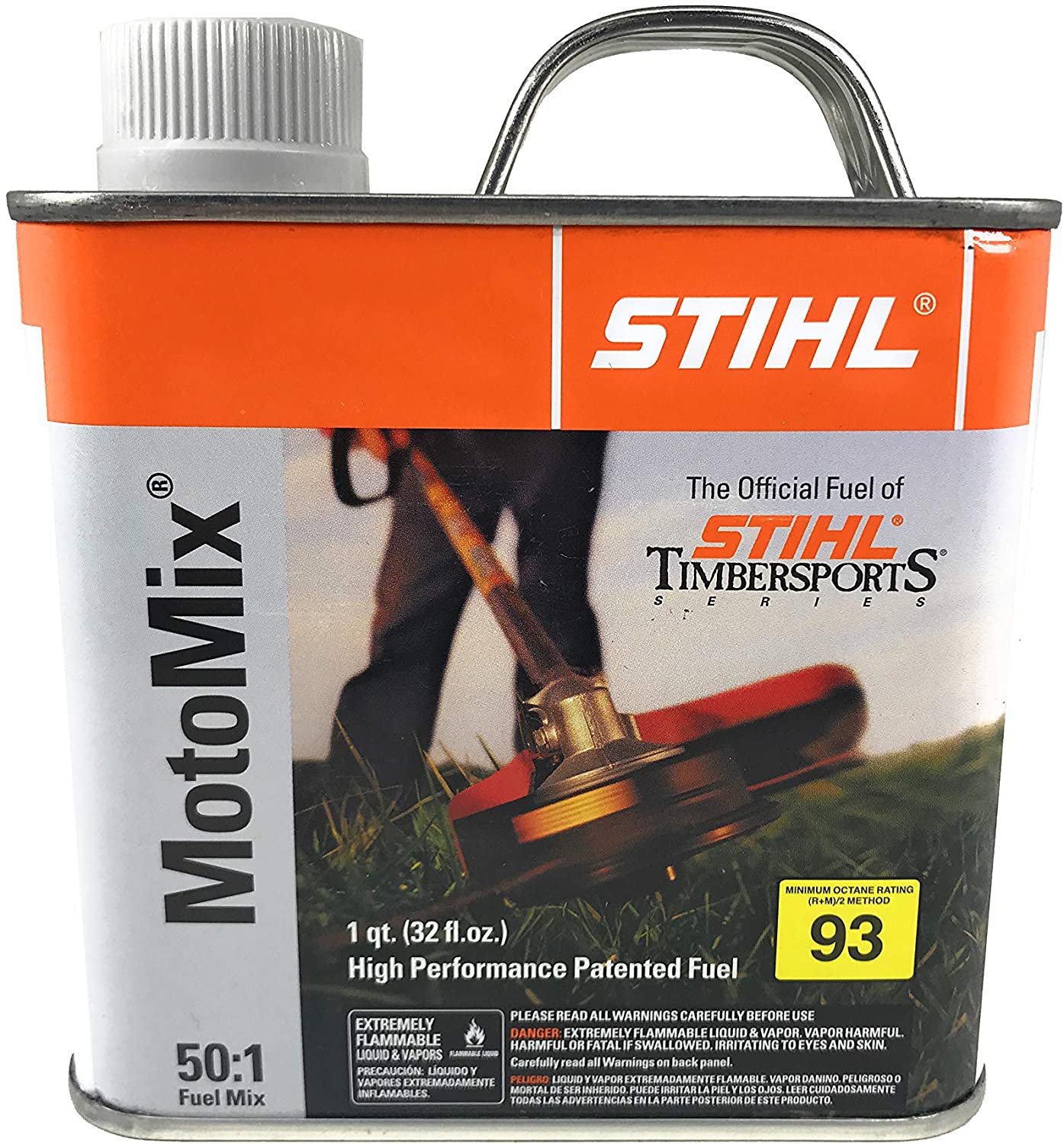 Stihl MotoMix Premixed Fuel 50:1
Since the premixed fuel contains no ethanol, it has the ability to stay fresh in your equipment during long storage periods, which is perfect for someone who only needs to use the chainsaw occasionally.

Stihl MS 170 vs Stihl Battery Powered Chainsaw
In the past few years, battery powered chainsaws have become very popular.
They're powerful, they don't require any messy fuel and they're quiet, making them ideal for urban settings.
Although the batteries are expensive, they can be an affordable option if you have a "set" of tools that are all the same brand, making the batteries interchangeable.
The Stihl lineup of battery powered chainsaws is very impressive.
For example, the Stihl MSA 220 C-B is currently the largest battery powered chainsaw that Stihl makes.
With a powerhead weight of just 6.4 pounds, it's a lot lighter than the gasoline powered MS 170.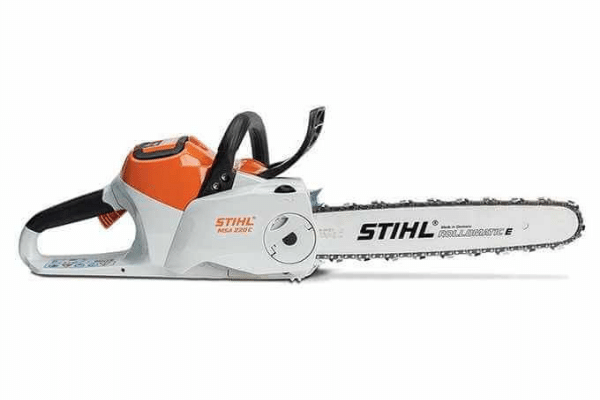 Plus, the electric motor is smooth and quiet, reducing vibration and fatigue.

The MSA 220 C-B also comes with a 16 inch bar, which is comparable to the MS 170.
As the world slowly switches to battery powered devices, battery powered chainsaws will continue to grow in popularity.
Modern technology has made these electric saws just about as powerful as a gasoline model, without all of the maintenance that goes along with a small engine.
If you don't plan on owning multiple Stihl battery powered tools, than a battery powered chainsaw might not be the best choice for you.
However, if you plan on making the switch to batteries, this is a great option for someone who needs a chainsaw that works by simply inserting a fresh battery and pulling the trigger.
Stihl MS 170 Chainsaw - Pros
Perhaps the biggest advantage of the MS 170 is its price.
For just a few hundred dollars you have the option to purchase a Stihl chainsaw that's sure to last you for many years.
Like we mentioned before, this saw is a hobby saw that's really lightweight, but its still has plenty of power for a majority of your household needs.
The saw is perfect for a contractor who only needs a chainsaw on certain jobs, or even someone who loves to camp and wants to cut up their own campfire wood at the campsite.
It's also a great secondary saw for limbing trees.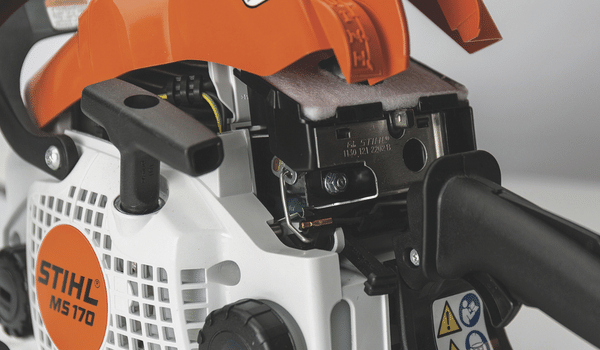 After the tree has been cut down, this smaller saw really prevents fatigue when compared to using a larger, heavier saw.

The Stihl MS 170 chainsaw is also great for beginners who may not have a lot of experience with a chainsaw.
While it has all of the same safety features as a larger saw (like a chain brake and antivibration handle) it's a lot easier to control, reducing the possibility of a dangerous kickback.
The weight distribution of the saw is great.
It feels well balanced in your hands, making it enjoyable to operate for long periods of time.
Stihl MS 170 Chainsaw - Cons
If you're looking to cut large diameter trees, or if you plan on cutting a lot of firewood to heat your home, the Still MS 170 chainsaw is not for you.
As we mentioned earlier, it's designed for smaller projects and occasional use, so if you need to cut a lot of firewood, a larger saw like the Stihl MS 250 chainsaw would be a better choice.
Also, with a fuel capacity of only 8.5 oz it goes through a tank of gas really fast.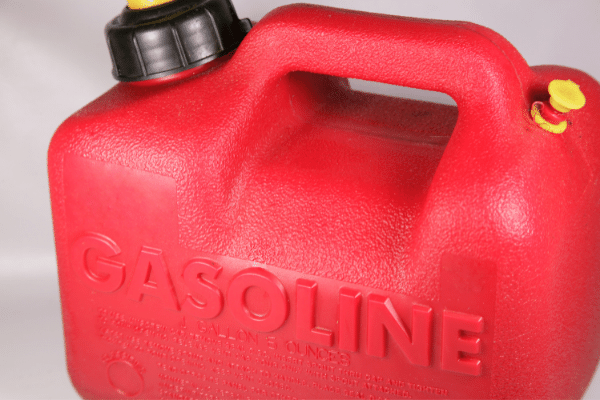 Sure, the smaller tank size is designed to limit the overall weight of the saw, but if you plan on doing a lot of cutting, you'll find yourself filling up the fuel tank a lot.

Also, the MS 170 does not have the toolless fuel cap and bar oil cap like a majority of other Stihl chainsaws.
Without the toolless caps, you'll need to bring your scrench or a straight screwdriver into the woods with you in case you can't unscrew the caps.
Although this doesn't sound like a major problem, it is rather inconvenient when trying to remove a gas cap that doesn't want to come off.
Another thing that most users don't like about the MS 170 is the chain tensioner.
The Stihl MS 170 chainsaw has a front mounted chain tensioner which is located in an awkward spot that increases the risk of hitting your hand or knuckles on the chain when you adjust it.
Other models have a side tensioner, or a toolless tensioner, which are both easier to use.
Stihl MS 170 Chainsaw - Overall
Overall, if you're looking for a smaller saw that can handle a majority of tasks around your home, the Stihl MS 170 chainsaw is a great choice.
It's low price makes it an affordable option for anyone who's looking for a high quality, name brand Stihl chainsaw.