Husqvarna Chainsaw Reviews
This post may contain affiliate links so I earn a commission. 

These Husqvarna chainsaw reviews are designed to help you choose the best chainsaw to get the job done safely and effectively.
Whether this is the first time you've ever purchased a chainsaw, or you're simply adding another saw to your collection, you don't want to be disappointed.
Husqvarna is a well known and highly respected brand of chainsaw.
They're well built, very dependable and if properly maintained, will last a long time.
However, choosing the best Husqvarna chainsaw isn't always easy.
For example, will you be using the saw to cut a full winters supply of firewood, or do you just need a smaller saw to do some light pruning or storm cleanup?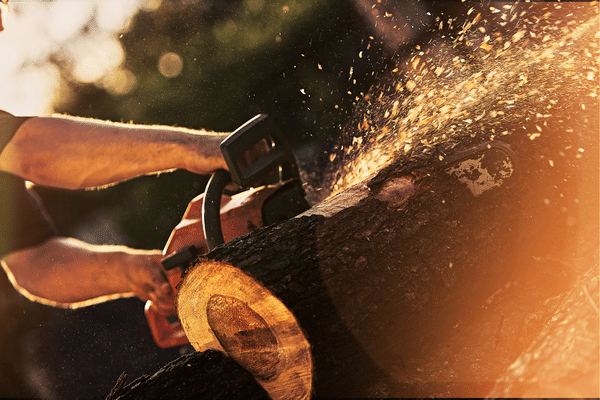 As with most tools, you generally get what you pay for.
So choosing a saw that's within your budget is important, but you also want to choose a saw that lives up to your expectations.
To learn a little more, let's take a closer look at the Husqvarna brand and what their saws have to offer.
The History Of Husqvarna Chainsaws
Husqvarna is a Swedish company that began producing chainsaws in the 1950s.
Originally a weapons foundry, Husqvarna developed into one of the worlds leading chainsaw manufactures.
Sure, there will always be a debate about which company produces the best chainsaw.
Is there a clear winner when comparing an Echo vs Husqvarna chainsaw?
Or should you choose a Stihl chainsaw instead?
That's an age old debate that will probably never have a definitive answer.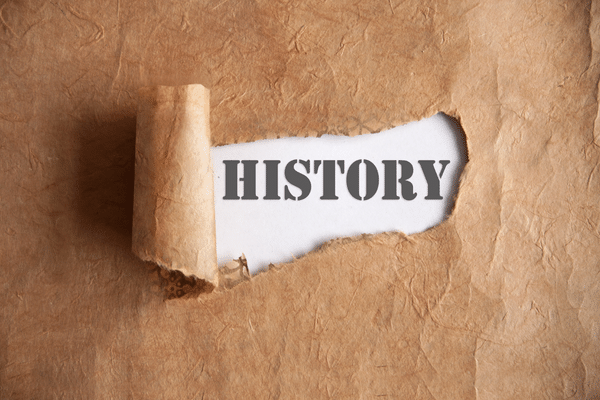 At the end of the day, brand loyalty plays a huge factor in the saw you ultimately purchase.

Husqvarna introduced its first chainsaw, the Husqvarna 90, in 1959.
Saws produced during this time were heavy, lacked modern safety equipment, and are a distant memory from the saws we associate with today.
As the years progressed, automatic oiling systems were introduced along with magnesium crankcases, which not only decreased weight, but also allowed the saw to operate more efficiently and effectively.
Modern Husqvarna chainsaws now feature technology like the X-Torq engine, which provides better fuel efficiency and reduced emissions that are better for the environment.
Today, the company continues to innovate and develop new products and designs, improving the reliability and performance of their chainsaws.
Maintaining A Husqvarna Chainsaw
Just like any other small engine, if you want your chainsaw to run, you have to take care of it.
If your Husqvarna chainsaw will not start there's a few simple things you can do yourself before taking it to your local repair shop.
Most issues are caused by fuel that's been left in the saw for an extended amount of time causing it to coagulate, or break down into a gel that's no longer a useable fuel source.
To prevent this, don't leave fuel in your saw for longer than 30 days and only use a mixture of high quality gas and oil (50:1) that doesn't contain a lot of ethanol.
Does your saw start, but quickly stall or refuse to idle?

Check the air filter to make sure it's not clogged or dirty.
Chainsaws need to "breathe" and a dirty air filter is generally the culprit for a saw that doesn't want to idle.
To fix this you can simply clean out your air filter with compressed air, or you can buy a new air filter for a relatively low price.
Also don't forget to change your spark plug.
Depending on how often you use your saw, changing the spark plug after every 100 hours of use, or once a year is recommended.
Replacing the spark plug is a very inexpensive way to keep your saw running at its optimal performance.
No matter how well your saw runs, keeping the chain sharp not only makes cutting faster, it's also a lot safer.
There's an old saying that a dull tool is the most dangerous tool in the shop.
This is because it causes more fatigue and makes you overcompensate by adding unnecessary pressure or force.
To make things easy, check out this article that details sharpening a Husqvarna chainsaw.
Finally, if you're new to operating a chainsaw and you simply want the know the proper way to get your new saw started, this article explains how to start a Husqvarna chainsaw.
Husqvarna Chainsaw Reviews
Now that we've covered some chainsaw basics, lets get to the Husqvarna chainsaw reviews!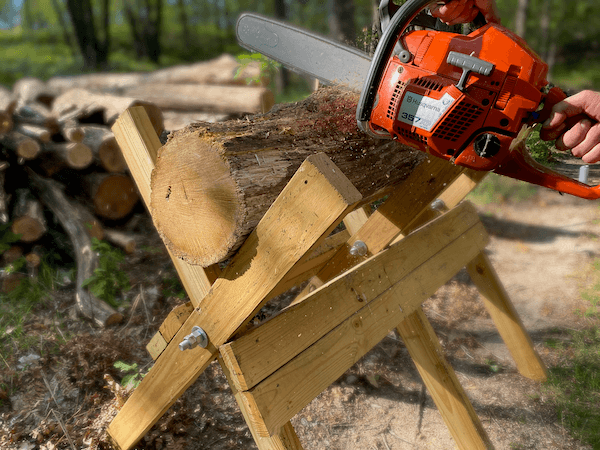 Click on a link below for a full review of some of the most popular chainsaw models that Husqvarna has to offer.

Husqvarna XP And Rancher Models
As you look over the lineup of chainsaws that Husqvarna has to offer, you'll see "XP" listed at the end of some of their professional models.
This designation referrers to Extra Performance, resulting in more horsepower, better power-to-weight ratio, higher maximum RPM, and a special power band.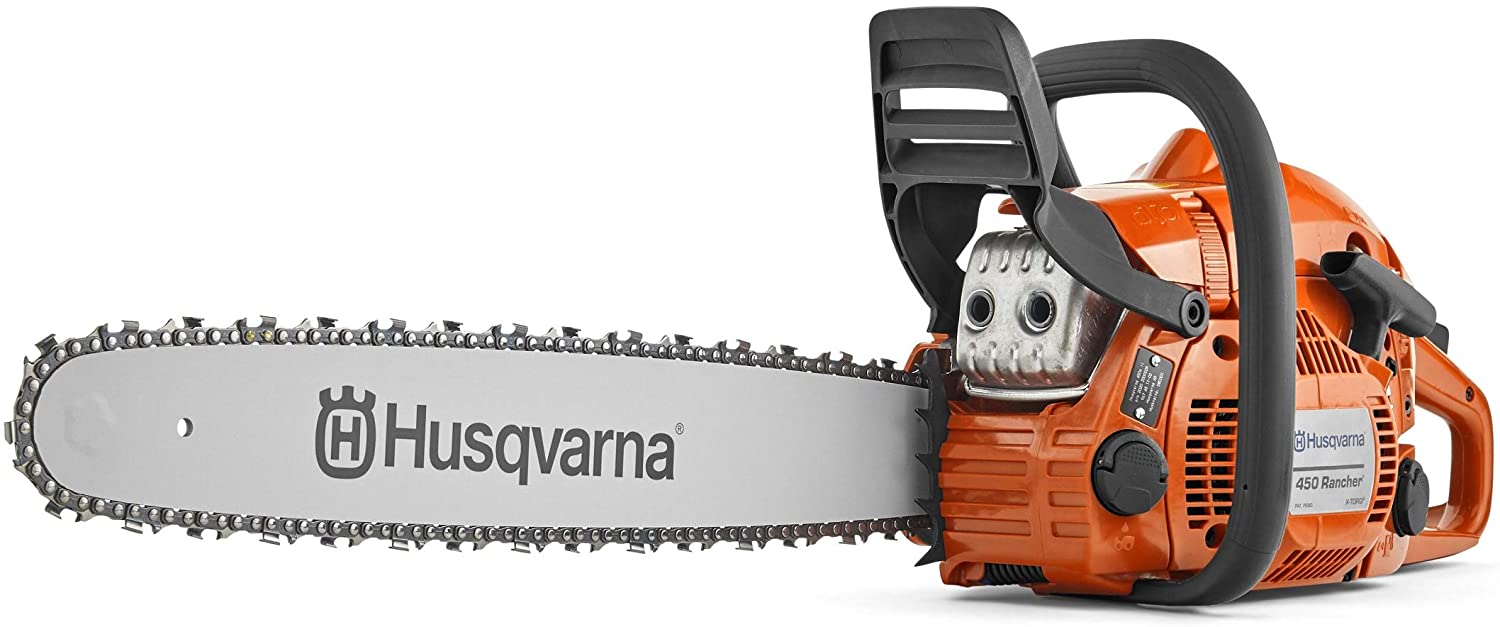 Designed for skilled users, XP saws are impressive.

To learn more, click on one of the links below for a detailed review, along with some of the popular Rancher models.
Additional Husqvarna Chainsaw Reviews
Finally, if you're just searching for a specific size, or specialty saw these reviews cover some basic Husqvarna models for everyday tasks along with some specialty models designed for limbing trees during arborist work and even cutting concrete.
Husqvarna Top Handle Chainsaw
Husqvarna Concrete Chainsaw
Husqvarna Chainsaw Reviews - Overall
Husqvarna has proven itself as a leader in the chainsaw industry.
I've owned Husqvarna saws for years and I wouldn't hesitate recommending them to anyone.
From large, professional grade saws, to smaller models designed for household use, you're sure to find a saw that's perfect for you and your budget.