Stihl MS 290 Chainsaw
This post may contain affiliate links so I earn a commission. 

The Stihl MS 290 chainsaw has been one of the best selling chainsaws in the Stihl lineup, and it's easy to see why.
The Stihl company, founded in 1926 by Andreas Stihl in Baden-Wurttemberg, Germany, has been a leader in the chainsaw field since 1930.
Stihl developed a hand-held chainsaw that could easily be used by just one person....a huge improvement over the cumbersome and heavy two-man saws of the past.
Andreas Stihl was committed to quality and workmanship with all his products which has become a hallmark of the company throughout the years.

The Stihl MS 290 was originally manufactured from around 2000-2012.
A working man's chainsaw, the MS 290 is a tough, rugged machine with plenty of power.
It rightfully earned its nickname, the Farm Boss.
Those qualities have made the Stihl MS 290 a popular tool for landscapers, farmers, ranchers, foresters, and more.
Should You Buy A Stihl MS 290?
As a company, Stihl has a habit of retiring older models and introducing new ones.
Even though Stihl is no longer manufacturing the Stihl MS 290 chainsaw model (which has now been replaced by the Stihl MS 271), it is still a sought-after piece of equipment.
Fortunately, there are still plenty of used Stihl MS 290 models available that, despite their age, run great, especially if they have been properly maintained.
Parts for the Stihl 290 Farm Boss are also fairly easy to find online.
When it comes time to add another chainsaw to your arsenal of outdoor power tools, take your time and do your research.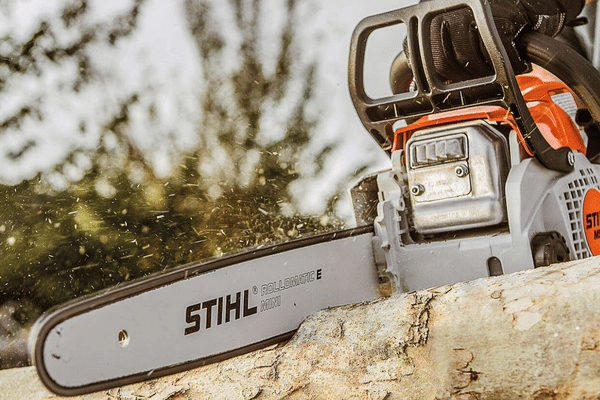 Each model of chainsaw brings something different to the table.

Your goal is to find the right chainsaw that can handle your work load.
Conversely, you don't want to over buy and get a chainsaw that is larger and more powerful than what you need.
The Stihl MS 290 Farm Boss has many of the well-thought-out qualities that fit the needs of farmers and ranchers, as well as others.
For starters, the Farm Boss has an ideal power-to-weight ratio that makes handling a breeze.
In addition, Stihl has added an anti-vibration system on the MS 290 so the user can keep working all day long without getting that 'beat up' feeling.
Stihl MS 290 Farm Boss Specs
For folks who need to get down to work, the Stihl MS 290 is an able companion.
Before you make your purchasing decision, you should try to find out how much use the Farm Boss chainsaw has seen and how often it has been maintained and serviced.
This will give you some insight into its longevity.
You should also research the power, safety features, ease of maintenance, and cost.
How Powerful Is A MS 290 Chainsaw?
The Stihl MS 290 Farm Boss has an engine power of 3.8 brake horsepower and an engine displacement of 56.55 cc.
It has a compression of between 100-110 psi and a recommended bar length between 16-20 inches.

Manufactured using die-cast magnesium and injected mold polymer, the Stihl MS 290 weighs only 13 pounds without fuel so it is lightweight enough to haul out to your job site with the rest of your gear but packs enough power to get the job done.
Safety Features On The MS 290
The safety of its users is a top priority for Stihl, therefore several safety features were built into the Stihl MS 290 chainsaw.
One of those is the anti-vibration system that Stihl developed to minimize user fatigue, so the operator experience is more comfortable and enjoyable.
In addition, the Stihl MS 290 Farm Boss is equipped with Stihl's own Quickstop chain brake system.
This safety feature allows for the sudden stopping of the chain, either if the user activates the stop by hand or if a kick back is detected.
The Farm Boss also includes Stihl's patented Master Control Level system, a single lever that operates the choke and starts the throttle.
This easy-to-use feature reduced the potential for injury.
Stihl MS 290 Chainsaw Maintenance
In general, the Farm Boss is easy to service and maintain for a person with a basic knowledge of mechanics.
Routine upkeep on the chainsaw includes changing the spark plugs, air and fuel filters which is pretty common for any small engine power tool.
How-to guides for each of these tasks are included in the owner's manual of the Stihl MS 290.
If your used Farm Boss didn't come with an owner's manual, don't worry.
You can find the Stihl MS 290 chainsaw owner's manual here.
In addition, there are plenty of YouTube videos that provide step-by-step instructions for doing basic maintenance on your Stihl.
If you don't feel up to the task, chances are high that there is a small-engine repair shop in your area.

You can drop your chainsaw off and ask them to do the work for you.
The Stihl MS 290 has the company's IntelliCarb Compensating Carburetor which is designed to compensate for partially clogged or blocked air filters to keep the correct RPM.
It pulls air from the clean side of the filter to allow the user to continue working longer before having to replace the air filter.
Likewise, the Ematic Lubrication System ensures proper lubrication of the bar while using less oil than traditional chainsaw lubrication methods.
It works by delivering oil via two ramps to the sliding faces of the bar and chain.
This method can reduce the amount of oil by as much as half and drastically cut down on the need for maintenance of the lubrication system.

The Farm Boss also has a side-access chain tensioner that gives the operator an easier access point through which to access the chain to make adjustments.
How Much Should A Stihl MS 290 Farm Boss Cost?
In the early 2000s, a brand-new Stihl MS 290 cost around $400.
It is rare to find a new one these days.
The majority of the models on the market today are used.
Pricing depends greatly on the condition of the chainsaw.
You can expect to pay around $250 for a well-maintained Farm Boss that is in good, working condition.
Stihl MS 290 Chainsaw - Overall
The MS 290 is a great saw that has proven it can last for decades, and the used models offered today are very affordable.

With enough power for even the toughest tasks, it's considered the ideal saw for the average homeowner who needs to cut firewood, fell trees or clear brush.