Stihl Top Handle Chainsaw
Stihl Top Handle Chainsaw
This post may contain affiliate links so I earn a commission. 

If your cutting needs are a bit more "specific" than what is delivered by a typical chainsaw, a Stihl top handle chainsaw might be a better fit.
When compared to a standard rear handled chainsaw, top handle saws are much lighter, easier to maneuver in tight spaces, and a lot easier carry when climbing a tree (which is why they're also called climbing saws).
Let's face it....no one wants to lug a heavy, 20 inch chainsaw 50 feet up in a tree!
It's important to have the right tools for the job, and choosing the best chainsaw is no exception.
In this article, we will review some of the best top handle chainsaws on the market today, and decided whether or not they're worth the extra money.
What Is A Top Handle Chainsaw Used For?
Top handle saws are definitely better suited for certain tasks.
Arborists, or tree surgeons, as they are sometimes called, find that top handle chainsaws can be extremely beneficial in that they are lightweight and can often be run with one hand, freeing up the other hand to assist the user in climbing or limbing small branches.
Top handle chainsaws are designed with the more professional user in mind, such as the above mentioned arborists.
In general, many people seem to like top handle chainsaws because they are versatile and powerful.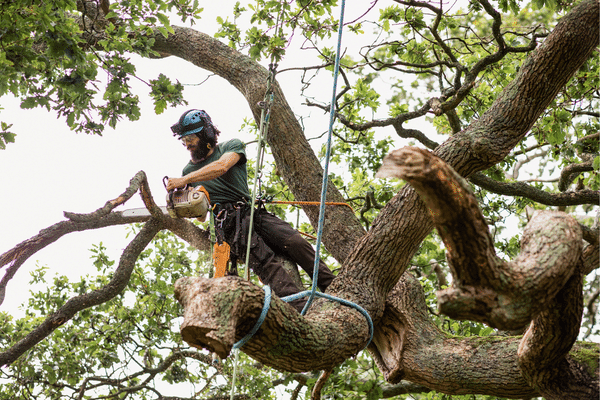 Professionals say they are great for small jobs, and homeowners find them useful for cutting small branches and limbs.

It is important to remember that these saws can be dangerous because they are so powerful for their size.
This power, along with its lightweight design and lack of rear handle for support can promote chainsaw kickback, so it is important to be careful when using them.
Which Stihl Top Handle Chainsaw Should You Buy?
What chainsaw should you use for professional arborist work?
Stihl offers several models of chainsaw, but you need to look for a "T" along with the model number to make sure it is a top handle chainsaw.
The MS 194 T and MS 201 T C-M are two models that are popular among arborists because they are fuel efficient and have great performance.
Stihl MS 201 T C-M
The MS 201 T C-M (which replaced the Stihl MS 200 T in 2012) is our pick as the number one choice in Stihl top handle chainsaws.
Stihl considers the 201 T C-M the "ultimate arborist chainsaw" for good reason.
The power to weight ratio on the saw is amazing, making it great for limbs over 6" in diameter.
The saw easily handles a 14"-16" bar and it's fuel efficient design is an added benefit.

Fuel efficiency is important to many arborists because fueling, especially when working many feet up in the air, isn't a simple task.

The 201 uses Stihl M-Tronic technology which adapts to changes in altitude and air temperature, as well as a dirty air filter.
Basically, the M-Tronic system eliminates the low and high speed adjustment screws on the carburetor.
Although many users have had zero issues with the M-Tronic system, some users report issues with the saw running once it's hot, or when using the saw in a warm environment.
So, many die hard Stihl users prefer the older MS 200 T, but they're becoming very hard to find.
Stihl MS 194 T
The Stihl MS 194 T is smaller than the 201 T C-M and it's designed for a homeowner who's looking for a top handle saw, or a professional who only needs a top handle saw occasionally.
The MS 194 T costs less than the larger, more powerful MS 201 T C-M, so if you're looking for a high quality saw with a budget, the smaller 194 T might be a better choice.
However, it's important to remember that top handle saws are expensive when compared to a similar sized rear handle chainsaw, so regardless of which model you choose, it's going to cost more.
Overall with its power to weight ratio and ease of maneuverability while in a tree, the MS 194 T is an amazing saw.
Pros and Cons Of Stihl Top Handle Chainsaws
Stihl top handle chainsaws are designed for one-handed use and climbing.
They are well balanced and very powerful for their size.
This makes them easier to maneuver in tight spaces, which is beneficial for arborists who often have to work in areas with many limbs and obstructions.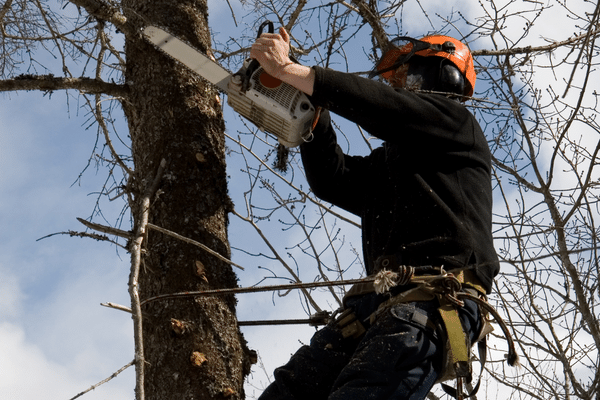 The advanced technology in Stihl's top handle chainsaws has come a long way in recent years, with features like improved fuel efficiency, power and durability.

One of the main drawbacks of top handle chainsaws is that they are not very safe.
They are powerful, so they can be dangerous if you're not careful.
They also tend to be more expensive than regular chainsaws.
This is because they are designed mainly for professional use.
If you're a homeowner that's looking for a lightweight saw for occasional pruning or storm cleanup, a smaller  rear handle chainsaw like the Stihl MS 170 might be a better choice.
What to Consider When Shopping For A Stihl Top Handle Chainsaw

If you're thinking about buying a chainsaw, it's a good idea to talk to people who know about them.
Since new Stihl chainsaws can only be purchased in store, from an authorized dealer, you can speak directly to the dealer to find out what kind of saw might be best for you.
There are different types of saws available, so think about what kind of work you'll be using it for.
If you're just starting out, an electric or battery-powered Stihl might be a good choice.
When you are choosing a Stihl, it is important to consider the safety features.

There should be an adequate chain brake as well as the saw being well balanced and comfortable to hold.
Another factor to consider is how easy the saw is to use.
This includes how easy it is to start, as well as the location of the controls.
It is also important to choose a saw that has the right amount of power for your needs.
A powerful saw can be difficult to control, so make sure you are careful when making your selection.
Can You Use A Top Handle Chainsaw On The Ground?
There are different opinions on this, but the more accepted view is that you should not use a top handle saw on the ground.
People feel that this can lead to people sawing with one hand, which can be dangerous.
However, some people feel it is acceptable to use a top handle chainsaw on the ground if you are careful and use common sense.
I only like to use a Stihl top handle chainsaw while I'm off the ground, which is what they're intended to be used for.
For ground work, choose a smaller rear handle chainsaw like the Stihl MS 180 which will give you more control while operating the saw.

Alternatives To The Stihl Top Handle Chainsaw

There are many different chainsaw manufacturers, but Stihl and Husqvarna are two of the most popular.
Echo, Shindaiwa and other companies also make top handle chainsaws that are popular among professional users.
Echo CS-2511T
Echo CS-2511T weighs just 5.2 pounds making it one of the lightest top handle saws on the market and it can be fitted with a 14 inch bar.
Echo CS-2511T Top Handle Chainsaw
Even when compared to top selling brands like Stihl or Husqvarna, Echo saws are very dependable and they're affordably priced.

In fact, many arborists who are looking for a small top handle saw consider the CS-2511T one of the best saws you can purchase.
Just like all top handle saws, this model is very short in length which places the chain close to your body, which is why top handle saws should only be used by experienced operators.
Husqvarna T435
Equipped with an X-Torq engine for a higher level of fuel efficiency, the T435 is a favorite among tree care professionals.
With a great power to weight ratio, the saw feels well balanced in your hands, weighing only 7.5 pounds.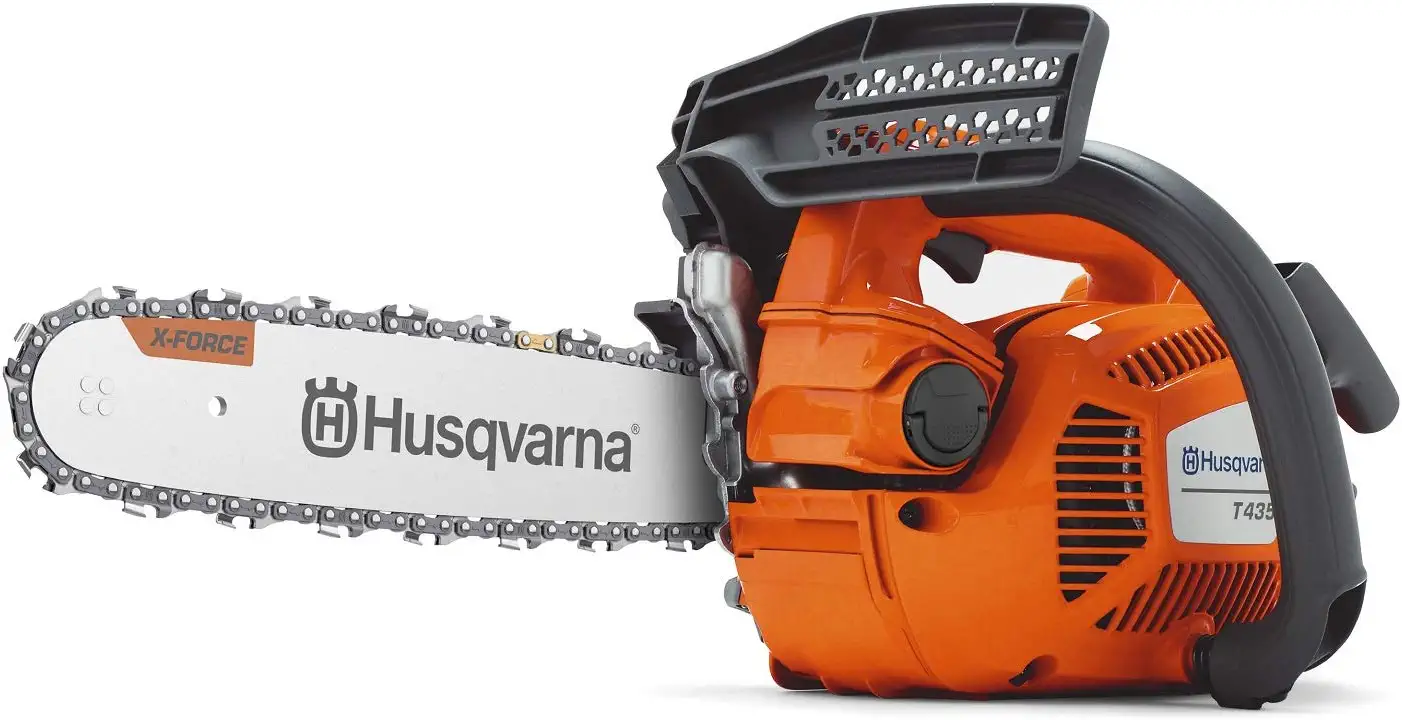 Husqvarna T435 Top Handle Chainsaw
The saw is also priced very affordably, making it perfect for someone who only needs to use a top handle saw occasionally.
Stihl Top Handle Chainsaw - Overall
Although they're not for every application, a top handle chainsaw is a game changer when your in a tree and need to operate your saw with only one hand.
Their lightweight design incorporated with professional power allows you to tackle even the largest jobs with ease.
The saws listed above are some of the best options available on the market today!