Best Stihl Chainsaw
This post may contain affiliate links so I earn a commission. 

If you're looking for help choosing the best Stihl chainsaw for your specific needs, you're in the right place!
Stihl chainsaws are known to be some of the best in the industry, and they're a must-have tool for just about any homeowner.
Whether you're clearing fallen branches, cutting firewood, or performing routine maintenance on your trees, a quality chainsaw can make all the difference.
But with so many models to choose from, how do you know which one is right for you?
Let's take a look at some of the top Stihl chainsaws designed specifically for homeowners.

What To Consider When Shopping For The Best Stihl Chainsaw
There are many factors to consider when shopping for the best Stihl chainsaw.

It's important to understand the differences between each model and the features they offer.
From bar size and handles, to weight and fuel sources, there is a lot of information to consider before making your purchase.
Let's take a look at what you should know before buying a Stihl chainsaw.
Bar Size And Handles
The bar size is one of the most important factors to consider when looking for the best Stihl chainsaw for your needs.
The bar size determines how much wood can be cut in one pass, so it's important to choose a saw that matches your needs.
Typically, larger bars can cut thicker logs than smaller bars, but they may also require more power and be heavier.
Additionally, you should think about where you will be using your chainsaw; if you need something lightweight or easily maneuverable, then you may want to opt for a shorter bar.
When evaluating different models of Stihl chainsaws, it's also important to pay attention to the handles on each saw.
Most models have ergonomic handles designed for comfort during use, but some have more features than others such as vibration control or adjustable handles that make them easier to use in tight spaces.
Weight Of The Chainsaw

The weight of a chainsaw will affect how easy it is to use and transport from place-to-place.
Lighter saws are usually easier on the arms and shoulders since they don't require as much effort when using them over extended periods of time.
Heavier saws tend to offer more power but can be tiring after prolonged use due their weightiness.
It's important to keep in mind that lighter saws typically won't last as long as heavier saws since they don't have as much power behind them when cutting through tough logs or branches.
Fuel Source
Stihl chainsaws are available in both gasoline-powered and electric models, with each offering its own advantages and drawbacks depending on your needs.
Gasoline-powered models tend to offer more power than electric models but require regular maintenance such as changing spark plugs or cleaning out fuel tanks in order for them to run properly.
Electric models are usually quieter than gas-powered ones but require an outlet nearby or a fully charged battery in order to work properly.
Price
Finally, price is always an important consideration when shopping around for any type of tool, and this includes chainsaws!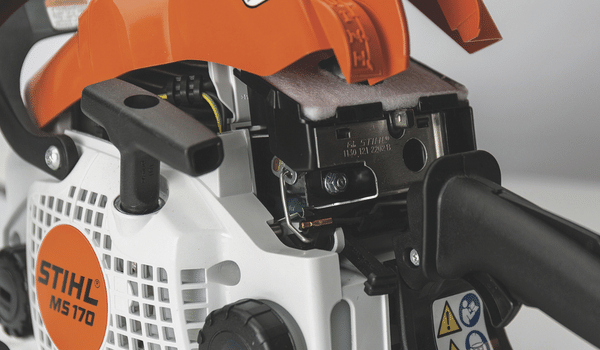 Cheaper models tend not to feature all the bells and whistles that higher-end models do such as electronic ignition systems or air filters which help reduce emissions while running.
Higher-end models may also include additional safety features such as chain brakes which can help prevent serious injury during a chainsaw kickback.
Ultimately, it comes down to how much money you are willing (or able) to spend on a new chainsaw—so make sure you weigh all these considerations carefully before making your decision! 
What Is The Best Chainsaw Stihl Makes?
There are a lot of different chainsaws on the market these days.
So, which one is the best?
To answer that question, it really depends on what you need the chainsaw for.
Let's take a closer look at some of the best options!
Best Stihl Chainsaw For Cutting Firewood: Stihl MS 250
When it comes to cutting firewood, you want a chainsaw that is powerful and efficient.
The Stihl MS 250 is a great option.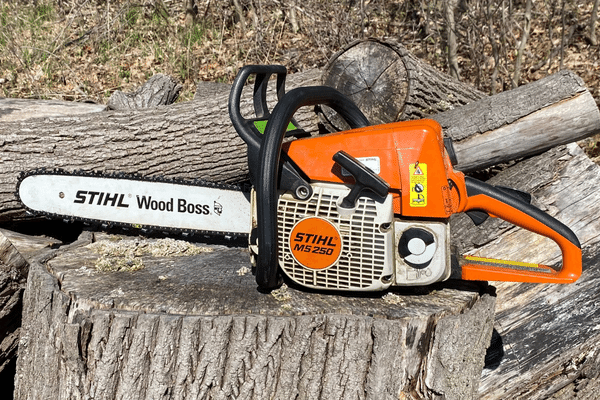 It has a 45.4-cc engine that provides plenty of power, and it also has a low vibration design that makes it more comfortable to use.

The easy-start electronic ignition system makes it simple to get the saw started, and the easily accessed chain tensioner helps to keep the chain in good condition.
The only downside to this saw is its price tag – but for many users, the quality and performance are worth the investment.
Best Stihl Chainsaw For Homeowners: Stihl MS 180 C-BE
The Stihl MS 180 C-BE is one of the best chainsaws for homeowners on the market.
It features a 16 inch bar length and a 31.8-cc engine, making it powerful enough to handle most cutting jobs around the home.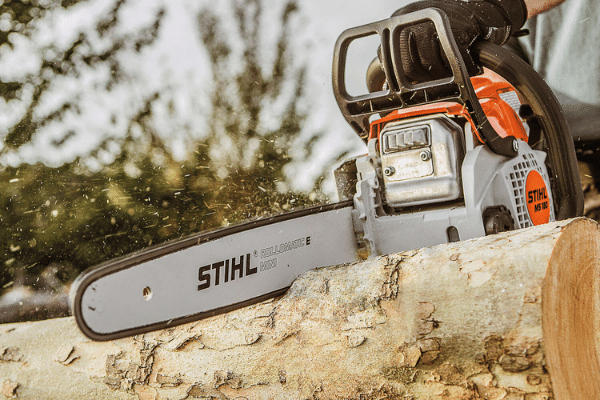 It also includes Stihl's Easy2Start technology, which makes it easier to start the saw compared to traditional gas-powered chainsaws.

The saw also has an anti-vibration system that helps to reduce operator fatigue.
Finally, the saw includes a tool less chain adjuster that makes it easy to keep the chain properly tensioned.
While the MS 180 C-BE is one of the more expensive chainsaws on the market, it is well worth the price for its combination of power, features, and durability.
Best Farm And Ranch Stihl Chainsaw: Stihl Farm Boss MS 271
The Stihl Farm Boss MS 271 is a powerful and durable chainsaw that is perfect for farm and ranch use.
It features a long 18-inch cutting bar, making it ideal for cutting through large trees and logs.
The 50.2-cc engine is powerful enough to handle even the toughest jobs, and the ergonomic handle ensures comfortable and easy operation.

Additionally, the anti-vibration system reduces wear and tear on the saw, making it built to last.
However, some users report that the saw is harder to start than other models, and it is one of the more expensive chainsaws on the market.
Best Stihl Chainsaw For Logging: Stihl 500i
Stihl has been making quality chainsaws for over 90 years, and the 500i is one of their best models yet.
This saw is perfect for logging, with a 20-inch bar and a powerful 55.5cc engine that can handle even the biggest trees.
The anti-kickback system ensures that the saw doesn't kick back when cutting, while the low-emission engine is friendlier to the environment.

The saw also features an easy-start system, which makes it simpler to get started on a job.
Best Electric Stihl Chainsaw: Stihl MSA 140 C-B
If you're looking for a powerful, yet lightweight electric chainsaw, the Stihl MSA 140 C-B 12 in. 36 V battery chainsaw is a great option.
This saw has a 12-inch bar length and is powered by a 36-volt battery, making it ideal for cutting through medium to thick branches.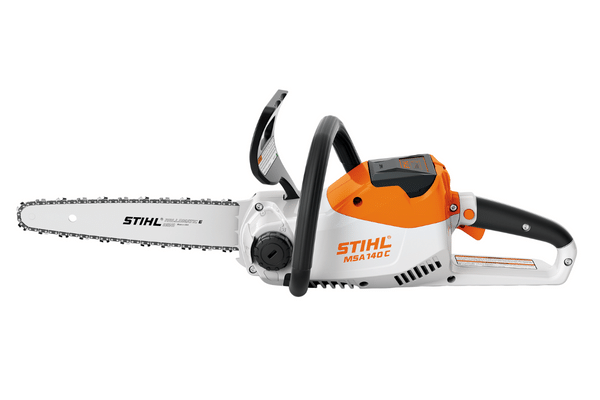 It also features a push-button start, so you don't have to worry about pulling a cord to get it started.

And because it's electric, there are no exhaust fumes to worry about.
The saw also has a safety-chain brake that helps to prevent kickbacks and accidents.
However, one downside is that it is one of the more expensive electric chainsaws on the market.
And because it's battery-powered, it doesn't have the same cutting power as a gas-powered saw.
But overall, the Stihl MSA 140 C-B 12 in. 36 V battery chainsaw is a great option for those looking for an electric chainsaw with plenty of power and features.
What Is The Best Stihl Chainsaw For The Money? - Stihl MS 170 Gas Chainsaw
The Stihl MS 170 is a gas-powered saw that's perfect for small to medium jobs around the house.
It has a 16-inch bar and weighs just 8.6 pounds, making it easy to maneuver.
The MS 170 also features a carburetor cleaning system that makes it easy to keep the saw running smoothly.

And if you're worried about vibration, the MS 170 has an anti-vibration handle that helps reduce fatigue.
Plus, the saw is equipped with an automatic lubrication system that keeps the chain well-oiled and extends its life.
The only downside of the MS 170 is its small gas tank, but overall, it's a great saw for the money.
What Is Stihl's Most Powerful Chainsaw? - Stihl MS 881
Loggers, arborists, and anyone else who cuts a lot of wood know that having a powerful chainsaw is essential.
That's why Stihl, a leading manufacturer of chainsaws, introduced the MS 881.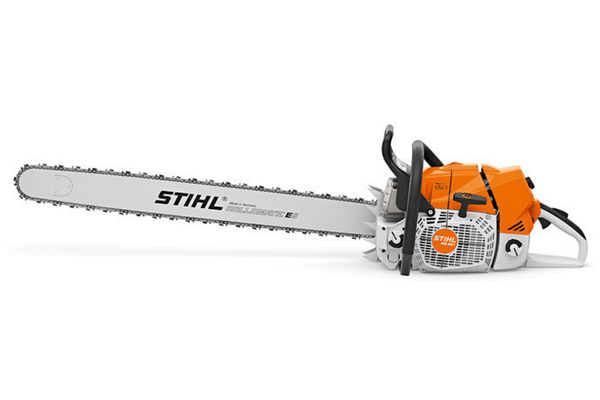 It can handle bar lengths up to 41 inches!
This saw is designed for heavy-duty use, and it delivers up to 30% more power than Stihl's previous model.
The MS 881 is also 20% more fuel efficient, so you can work longer without having to stop to refuel.
In addition, it features a new anti-vibration system that reduces fatigue and allows for more precise cuts.
With its powerful engine and advanced features, the MS 881 is the most powerful chainsaw on the market today.
The Best Stihl Chainsaw - Overall
Choosing the best Stihl chainsaw for your needs can be tough, but we hope this overview has helped give you some insight into what each model offers so you can find the perfect fit for your home projects or activities.
From lighter jobs to heavy-duty cutting tasks, there's sure to be a Stihl chainsaw out there that will suit your needs perfectly!
So whether you're just starting out or have been using chainsaws for years now, make sure to check out these top models before making your decision!