Stihl MS 461 Chainsaw
This post may contain affiliate links so I earn a commission. 

If you're looking for a high-quality chainsaw that can handle any job, you should check out the Stihl MS 461 chainsaw.
This saw is perfect for homeowners, farmers, and professionals alike. 
With its powerful engine and durable construction, the MS 461 can handle even the most challenging tasks. 
So if you're in need of a reliable chainsaw, be sure to consider the Stihl MS 461.
You won't regret it!
Stihl MS 461 Chainsaw Features And Specs
Looking for a chainsaw that can handle any cutting job? 
Check out the Stihl MS 461. 
With its powerful engine and versatile features, this chainsaw is ready to take on whatever you throw at it. 

This saw is the successor to the MS 460 and is perfect for professional arborists, foresters, and other workers in the agricultural sector.

It has a low-emissions stratified charge engine, improved air filtration, and a 4.5 kW engine. 
It weighs around 15 lbs and comes with all kinds of helpful features, including a controlled-delivery oil pump.
Here are some of the other specs and features of the Stihl MS 461 chainsaw:
Efficient Engine
The Stihl 461 chainsaw is a top-of-the-line model that offers superior performance and durability. 
Powered by a fuel-efficient engine, this chainsaw is designed for heavy-duty use.
Easy To Start

With the patented Stihl ElastoStart system, this chainsaw is easy to start. 
No jerky stresses when starting, since the damping element in the specialized starter grip will absorb and release force for smooth starting.
Super Air Filter System And Automatic Chain Oiler

The Stihl 461 chainsaw is a powerful and versatile tool that can tackle a wide range of tasks.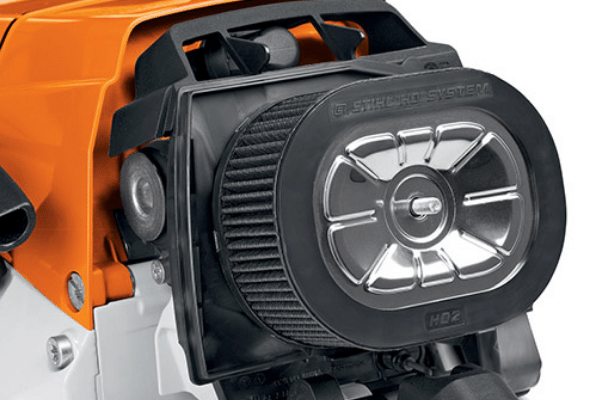 It features a super air filter system that helps to keep the engine running smoothly and efficiently, and an automatic chain oiler that ensures the chain is always properly lubricated.

Anti-Vibration System 

The Stihl 461 chainsaw is built with quality in mind.
It features an anti-vibration system that helps to reduce operator fatigue, and the ergonomic design makes it easy to use.
The saw also has a number of safety features, including a chain brake and an emergency stop button, which is pretty standard on today's modern chainsaws.
Pros And Cons Of The Stihl MS 461 Chainsaw
The MS 461 is one of Stihl's most powerful chainsaws, and it definitely lives up to the billing. 
This saw can handle any job you throw at it with ease. 
It's well-balanced and easy to use, making even large cuts a breeze. 
The only major downside is that it's a bit on the expensive side, but trust us - it's worth the extra money.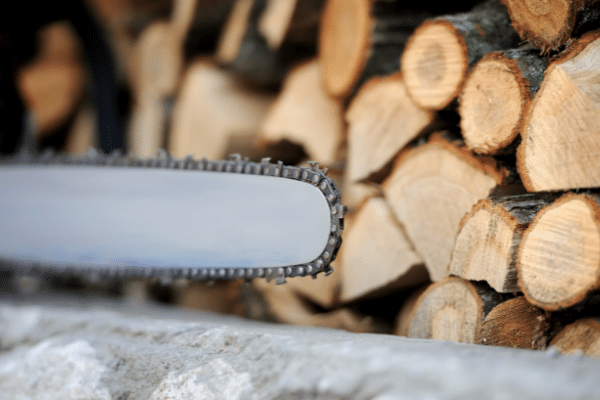 If you're looking for a high-quality chainsaw that will last you for years to come, then the Stihl MS 461 chainsaw is definitely worth considering.

Here are a few more pros and cons to consider in your search.
Pro: Powerhouse Of A Saw
The Stihl MS 461 chainsaw is one of the most popular models on the market, and it's no wonder why. 
This powerhouse of a saw is designed for the most demanding tasks, and it's built to last. 
It can be fitted with a bar of up to 32" making it one of the heaviest-duty saws on the market.
Pro: Uses Less Gas
Thanks to its innovative engine design, the MS 461 uses less gas than other saws in its class, making it a more efficient choice for projects that require extended use. 
It has up to 20% less usage, in fact!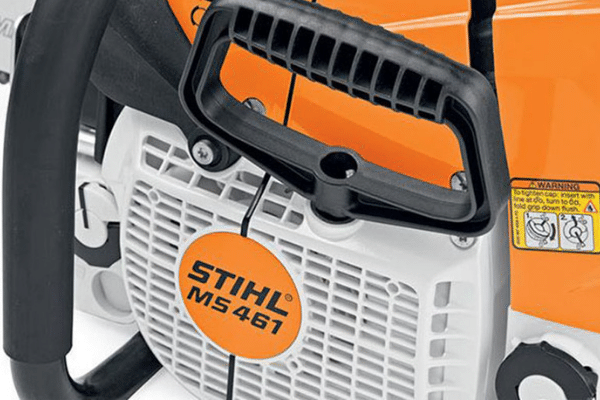 Pro: Easy To Start

The Stihl MS 461 chainsaw is a heavy-duty saw that is suitable for a variety of applications, from felling large trees to cutting firewood.
It features a low-emission, fuel-efficient engine that makes it relatively easy to start, even in cold weather.
In addition, the MS 461 has a number of other features that make it an attractive option for both professional and amateur users. 
As mentioned earlier, this saw is one of the most heavy-duty you'll find.
It's a top pick for professional foresters who need a reliable saw to carry through the woods.
Con: The Saw Is Heavy 
If you're looking for a heavy-duty saw, you're going to have to pay the price somewhere - and in this case, that comes in the form of its weight.
This saw is extremely heavy, which might make it difficult to handle for extended periods of time. 
Con: High Cost
One of the biggest drawbacks of this saw is its cost.
At nearly $1,500 for a brand new saw, it's far from the cheapest option out there.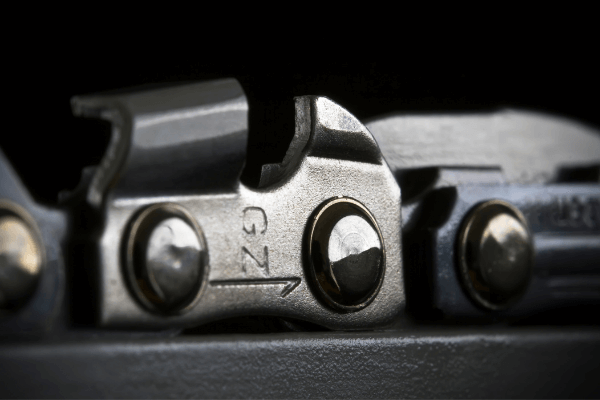 Con: Chain Has A Tendency To Slip
One additional downside of this saw is that the chain has a tendency to slip. 
This can be frustrating for users, as it can cause the saw to stall or veer off course. 
Additionally, if the chain slips while the saw is running at full speed, it can pose a safety hazard. 
As such, it is important to be aware of this potential issue before purchasing the MS 461 and to remember to tighten and tension the chain often while you're using it.
What Is The Difference Between A Stihl 460 And A 461?
Two of the most popular models in the Stihl lineup are the 460 and the 461. 
Both saws offer excellent performance and durability, but there are some key differences between them. 
The Stihl 460 is a mid-range saw that is well suited for general purpose use, while the 461 is a high-end saw that is designed for demanding applications.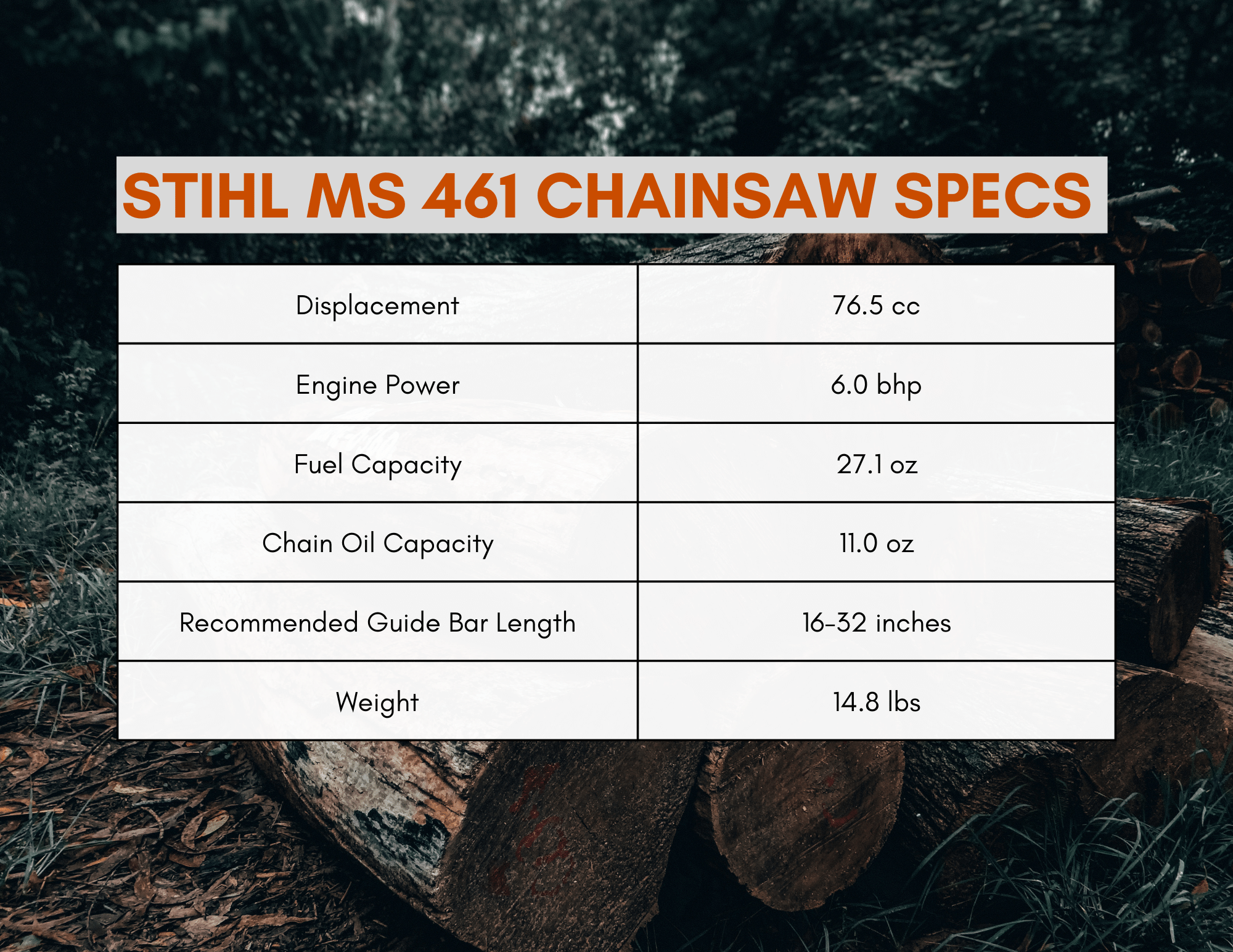 The 460 has a shorter bar and lighter weight, making it more maneuverable and easier to operate.

It also features a lower power output, which makes it less likely to cause kickback. 
The 461, on the other hand, has a longer bar and higher power output, making it better suited for heavy-duty cutting jobs.
It also has a slightly heavier weight, which gives it more inertia and makes it easier to cut through thick wood.
Did Stihl Discontinue The 461?
The Stihl 461 is a popular model of chainsaw, known for its durability and power.
However, some consumers were disappointed to discover that the 461 was no longer available for purchase on the Stihl website. 
While it is true that the company has discontinued the 461 model, it is still possible to find this chainsaw through authorized dealers or online retailers.
In addition, customers can still purchase parts and accessories for the 461 through the Stihl website. 
As a result, while the 461 is no longer in production, it remains a popular choice among consumers who value quality and performance.
How Much Is A Stihl 461 Worth?
So, how much is a Stihl 461 worth?
The answer depends on a number of factors, including the condition of the saw and the seller.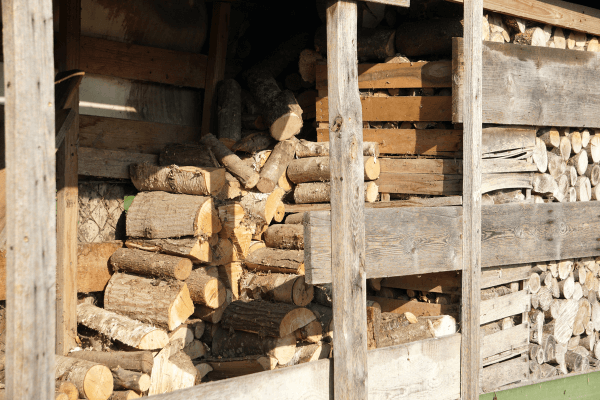 However, you can expect to pay anywhere from $500 to $1,000 for a used Stihl 461 in good condition.

If you're looking for a new model, you can expect to pay closer to $1,200 to $2,000.
Of course, the price will also vary depending on where you live and the current market conditions.
In general, the Stihl MS 461 chainsaw is a great investment for anyone who needs a powerful and reliable chainsaw.
It's worth considering if you're looking for a high-quality saw that will last for many years.