Stihl Vs Husqvarna Chainsaw
Stihl vs Husqvarna Chainsaw
This post may contain affiliate links so I earn a commission. 

Deciding between a Stihl vs Husqvarna chainsaw can be a difficult choice, especially since they're the two most popular chainsaw manufacturers.
Both companies produce exceptional products at a reasonable price.
In recent years, there's been a lot of tailgate talk over which chainsaw is the best.

Below, we will present arguments for both chainsaws.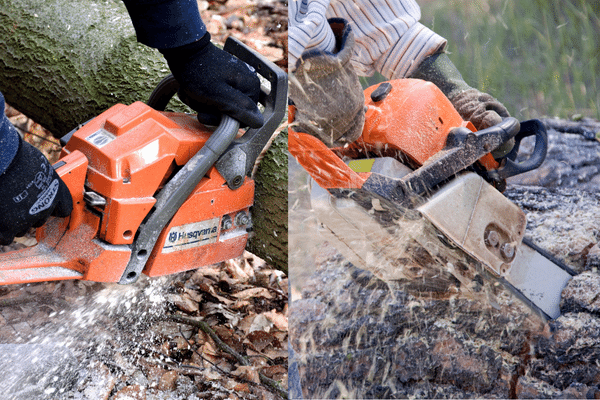 That way, as a potential buyer, you can be better informed about which one is right for you before you make the purchase.
What Chainsaw Is The Most Reliable?
Many factors go into determining the reliability of a chainsaw.
Let's face it....we all want a chainsaw that starts easily, idles down and doesn't stall, and makes fast, efficient cuts. 
When considering reliability of both chainsaws, it seems that many homeowners lean toward Stihl, while professional loggers seem to feel Husqvarna is the more reliable chainsaw.
Brand loyalty is also a major factor to consider.

For example, I've used Husqvarna chainsaws my whole life and love them.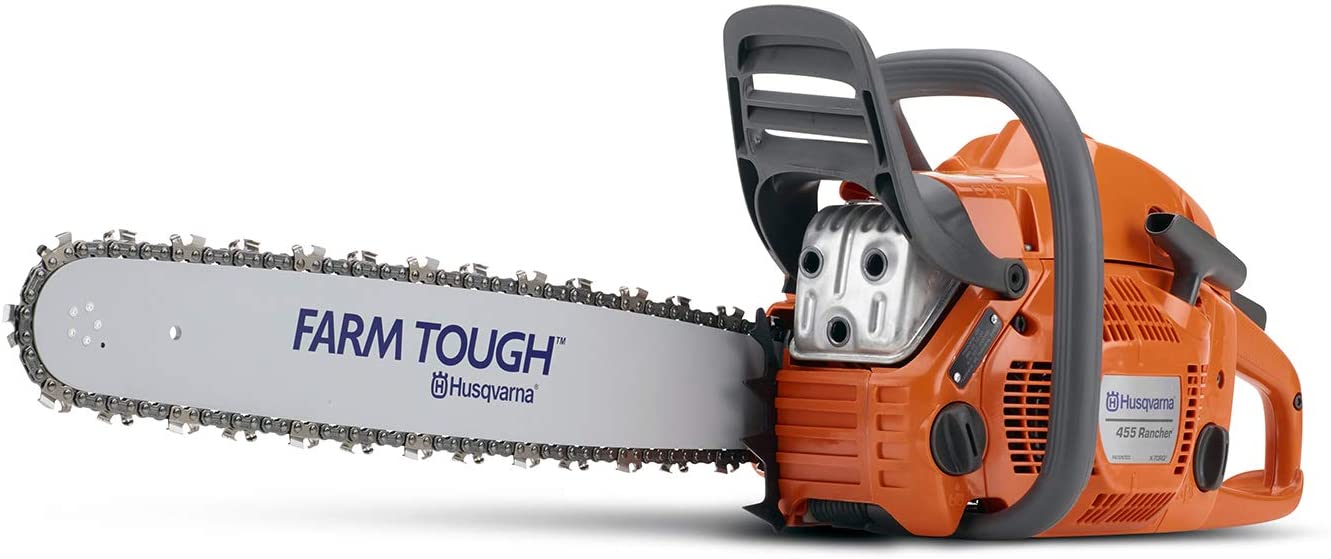 I have no doubt, the next chainsaw I purchase will be a Husqvarna saw, just because I'm familiar with how they operate.

My neighbor on the other hand has always used Stihl, and would never buy a Husqvarna saw.
So, does that mean one is better than the other?
Probably not, and at the end of the day it really just depends on personal preference.
There are a myriad of factors that go into these opinions, which we'll take a closer look at below.

What To Consider When Purchasing A Stihl vs Husqvarna Chainsaw
Many considerations should go into the purchase of any new chainsaw, regardless of whether it is a Stihl or Husqvarna.
Listed below are just some of the many considerations to take into account before purchasing your next chainsaw.
Product Availability
Stihl restricts the sales of their new chainsaws to their dealerships, sometimes creating a problem in finding a Stihl dealership close to where you live and work.
Husqvarna, on the other hand, can be found in various hardware and home improvement stores.
It is also sold at a variety of farm and garden stores, making it easier to find (and therefore more convenient) for many users.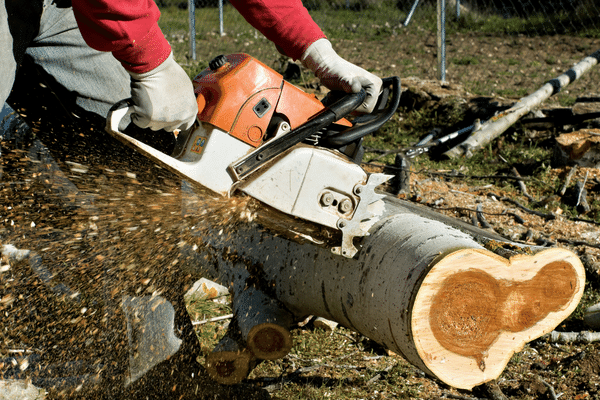 Warranty On A Stihl vs Husqvarna Chainsaw

On a purchase of a new Stihl, the warranty covers 90 days for homeowner casual use.
The saw manufacturer extends just 30 days to the professional user.
That said, you can often purchase extended warranty packages for up to three years provided that certain conditions are met.
Husqvarna offers a one year warranty with its XP line of saws, along with extended warranty packages.
These are available for up to four years.
There is a six year plan on parts only.
Husqvarna's extended warranties come with certain stipulations and conditions as well, much like Stihl's do.
Price Of A Stihl vs Husqvarna Chainsaw
Stihl seems to dominate in this category as well.
Overall, Stihl is generally priced a bit lower than Husqvarna when looking at comparable chainsaws that both companies make (in regard to engine sizes, power, features, etc).
The design specifications are mostly responsible for this price variation.
For example, Stihl typically has smaller fuel tanks and guidebars.
Obviously, these cost less to manufacture, meaning those cost savings are passed on to the buyer.
Another factor affecting pricing is that Stihl uses a plastic crankcase, resulting again, in lower manufacturing costs.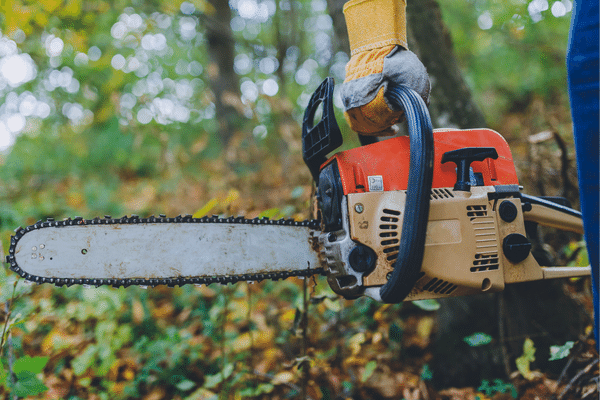 Design And Build

Husqvarna takes this category for the win.
Although this is somewhat of a subjective category, many users agree that Husqvarna has better air injection systems, vibration dampening, more efficient safety features, and better fuel efficiency features.
These are just some of the factors in the design of Husqvarna saws that put them ahead of Stihl.
Automatic Chain Lubrication
Husqvarna offers a specialized bar and chain for automatic chain lubrication.
Therefore, it is superior in the chain lubrication category, using less oil than Stihl.
Reduction Of Kickback
Husqvarna was given better reviews than Stihl when it came to the reduction of kickback.
Husqvarna's advantage is created by the chain brake system.
Plus it requires only a downward motion of the thumb to stop the saw, which is a more natural movement than that required by Stihl chainsaws.
Product Range

While both Stihl and Husqvarna offer many models, Stihl seems to have a wider line of chainsaws.
These offer more options in engine and bar sizes.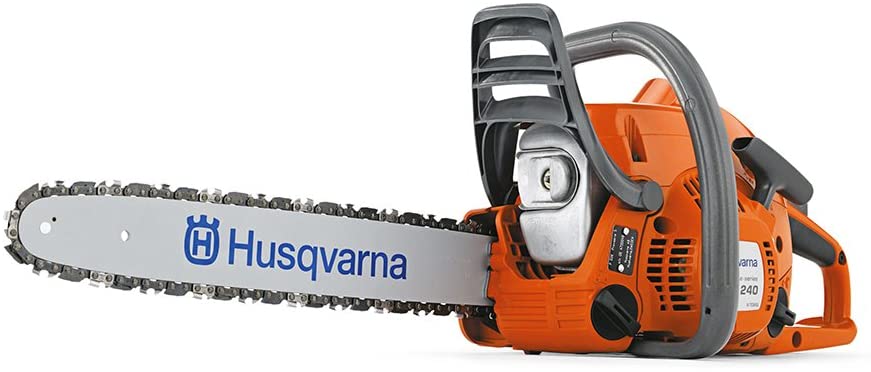 Emissions Reduction

Husqvarna chainsaws, again, have a slight edge in the reduction of emissions.
The Husqvarna company has advanced technology over Stihl, which has reduced fuel use and resulted in fewer emissions.
Stihl vs Husqvarna Chainsaw Bar Sizes
Stihl shines here, coming in ahead of Husqvarna with more bar sizes offered to buyers.
Potential Uses
Stihl, according to some, is better designed for a mid range user.
Being lighter in weight, Stihl appeals to many homeowners.
Because of this, it has a more varied list of potential uses, from firewood, to brush cutting or trimming, to the felling of trees.
Many models of Husqvarna are considered to be more suited for professional use.
They are ideal in the felling of large trees and bucking larger diameter firewood.
Best Chainsaw Models To Consider
When you do decide to buy, which models in each brand may be best for you?
The answer to this question will vary greatly depending on your particular usage.
Are you a homeowner just cutting a bit of firewood or are you a professional logger?
For homeowners, Stihl offers many suitable models.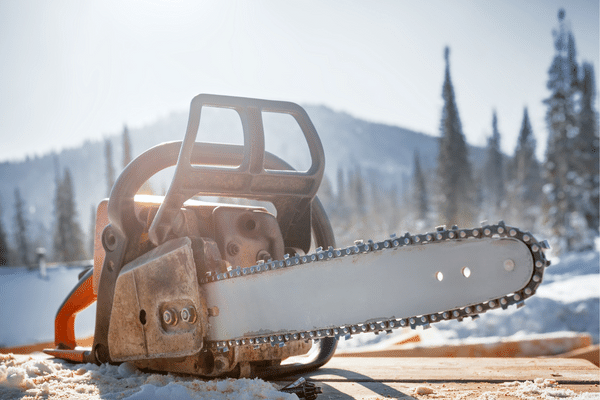 Bar lengths range from 12-18 inches with both gas powered and battery-powered models to choose from.
Most favored in Stihl's gas-powered line are the MS 170, MS 250, MS 271, and MS 251 among others.
Stihl's most popular battery-powered saws are the MSA 140 C-BQ and MSA 120 C-B.
Stihl's MS 362 and MS 271 Farm Boss seem to be best sellers among those looking for a saw primarily used to cut up firewood.
Professional users who favor Stihl chainsaws will typically select the larger more powerful chainsaws.
Stihl's MS 661 C-M, MS 462 C-M, and the MS 661 R C-M are the more heavily purchased chainsaws in the Stihl line for professional use.
Husqvarna's line of homeowner-use chainsaws that most often purchased include the 440, 435, and the 450R.
In the battery-powered category, the 540i XP is considered to be the top model for home use made by Husqvarna.
Also offered are the 535i XP and the 120i models.
Which Starts Easier Stihl Or Husqvarna?
Stihl offers the ErgoStart system, which helps the saws start much easier while reducing kickback damage.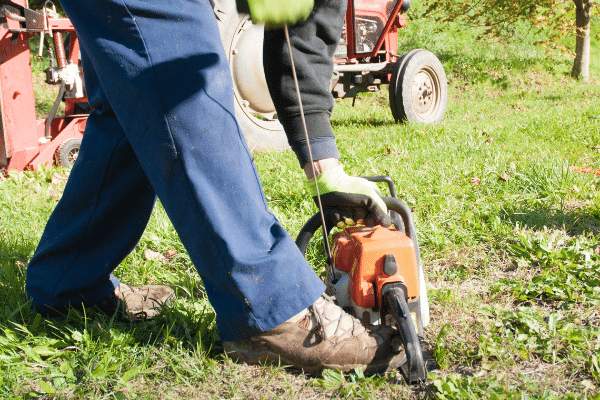 Yet Husqvarna also has a quickstart feature in its line of saws, resulting in a fast and easy-starting chainsaw.

Therefore, Husqvarna and Stihl seem to be nearly comparable in ease of starting.
Stihl vs Husqvarna Chainsaw - Overall
There are many different opinions about who makes the best chainsaw.
Some people might prefer Husqvarna because it is faster and has a better warranty.
Other people might prefer Stihl because it is lighter and has a larger range of products.
You should do your own research and make your own decision based on what you need or want in a chainsaw.
Many sources agree that Husqvarna makes the best chainsaws (sorry Stihl!) but both of these brands are top choices for anyone looking for a new chainsaw, whether for personal or professional use.