Firewood Equipment Reviews
This post may contain affiliate links so I earn a commission. 

Good...honest....firewood equipment reviews. Who could ask for more?
Thanks to new technology, information is just a click away.
We can research, review and analyze almost anything before we buy it, including the equipment used to cut, process and burn firewood.
Before I buy anything, I find myself researching the product online to see what others have said.
I like to know what works, what's a waste of money and what other people recommend.
Field tested reviews..that's what I like to see.
Have you ever bought something, brought it home and used it only to become disappointed and frustrated?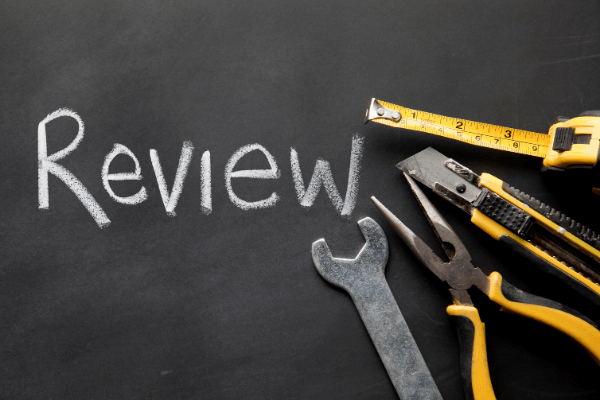 Of course, everyone has bought something that just wasn't what you hoped it would be.
Wouldn't it have been nice to find out more about the product before you brought it home or placed that online order?
You bet!
So, we've compiled a list of items to help give you as much knowledge as possible before you decide to buy.

Read below to find a list of items related to the gathering or use of firewood.
The list will continue to grow as new product reviews come in so make sure you check back to see what's new!
Equipment Reviews
Having the right tools for the job is the secret to both harvesting and using firewood.
The right tools can make a daunting task seem achievable.
Chainsaws, wood splitters and other firewood equipment can be expensive, so don't just go out and buy something you haven't researched.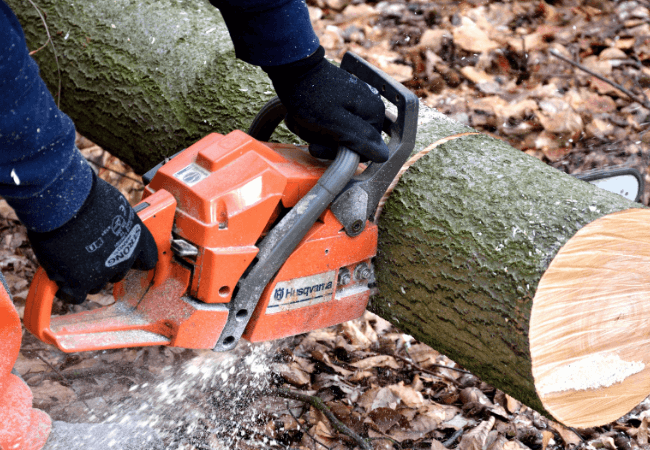 These reviews are designed to give you quality, first hand, field tested opinions of the tools we think are useful when heating your home with firewood.

Firewood Equipment Reviews - Tools For Splitting Firewood
Fiskars Splitting Axe Review  - Fiskars makes a great product and they've created one of the best splitting axes on the market today.  

The x27 Super Splitter axe is amazing.  
I love its long 36 inch handle length because it keeps the axe head away from your body.
It's also extremely lightweight when compared to a 8 or 10 pound splitting maul.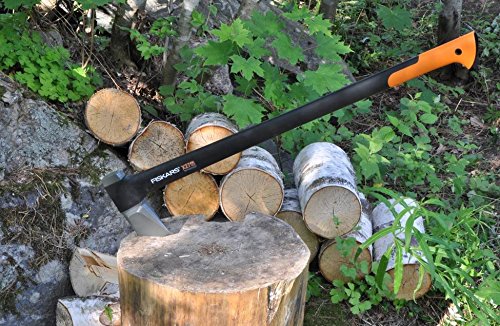 Weighing only 6.3 pounds the lightweight design reduces fatigue when splitting firewood, but it works equally as well, if not better than a heavy maul.

If you split firewood by hand or just need to bust up a large firewood round in the woods, the x27 is a great choice.
Fiskars Hatchet Review - Keeping up with the exceptional Fiskars quality, the hatchet produced by Fiskars is a welcome addition to any home.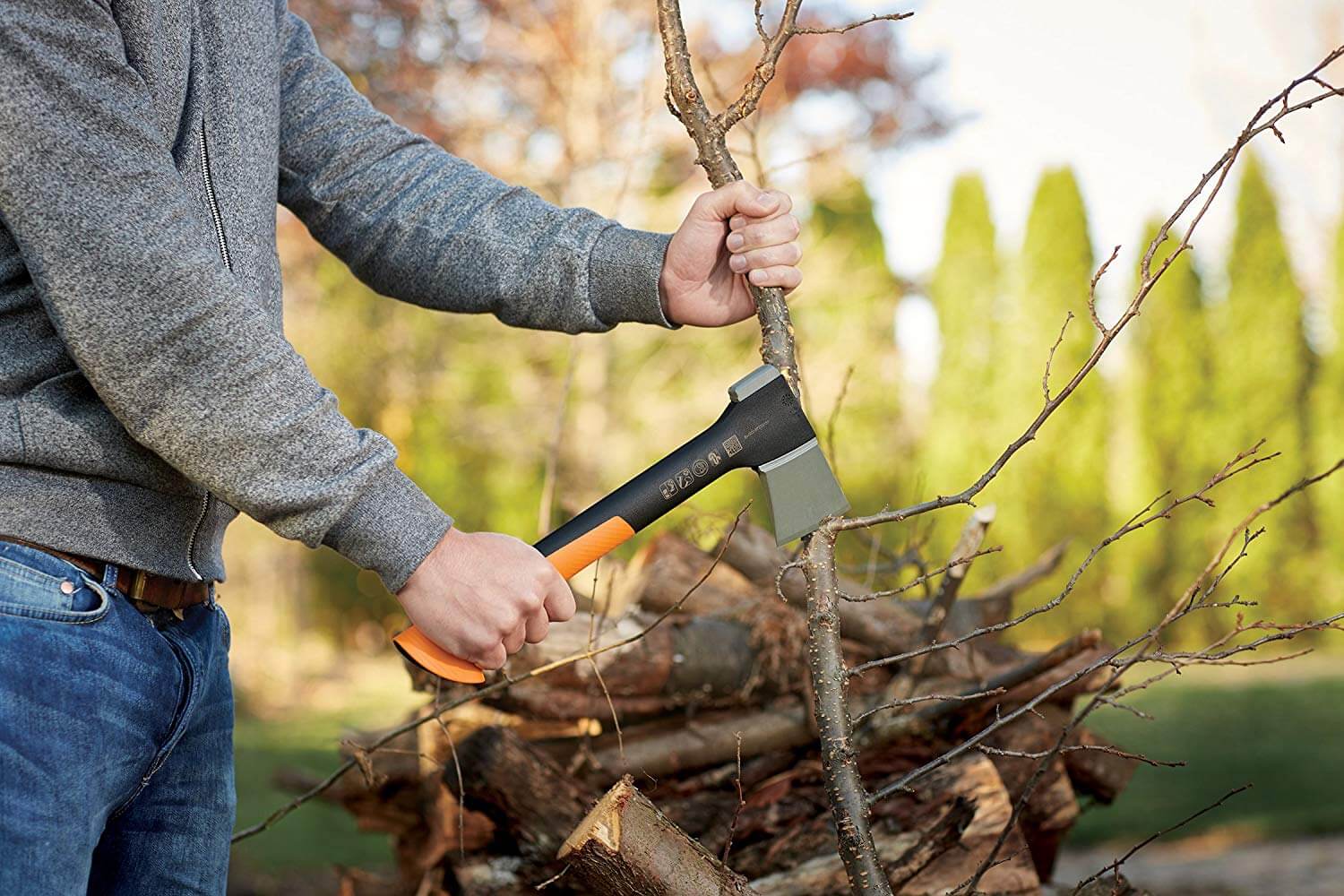 This hatchet works great for splitting kindling, but it's also great for any chore that requires a sharp and durable hatchet that holds a great edge.
I personally love the length of the handle and how balanced it feels in your hand.  
I've owned several different hatchets and this is by far my favorite.
Huskee Log Splitter Review - Let's face it, there's no shortage of hydraulic logs splitters to choose from.  
With so many different options it can make choosing the "perfect" splitter a difficult task.
Is the Huskee log splitter the best log splitter you can buy?
No, there's definitely bigger and better machines....but you'll pay a lot more for them.
For a log splitter that will cost under $1000 it's a great option for the average homeowner.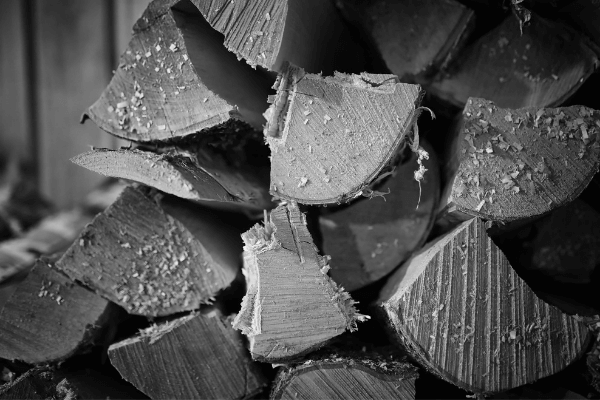 With a quick cycle time and an option to split vertically or horizontally, the Huskee log splitter will split just about anything you can throw at it.  

I would not hesitate to buy this machine again, and for someone who's split far too much firewood by hand, this hydraulic log splitter will save you weeks of processing time.
Dirty Hand Tools Log Splitter Review - Another great hydraulic wood splitter is produced by Dirty Hand Tools.
Priced at around $1000 it's relatively cheap compared to some of the larger wood splitters, but this machine will split just about anything you can lift on the splitter.
Plus, it has the option to split vertically which is really nice for large rounds of wood that are too heavy to pick up.
I like the setup of the hydraulic hoses a little better on the Dirty Hand Tools splitter as opposed to the Huskee because they're offset and don't allow a falling log to damage them.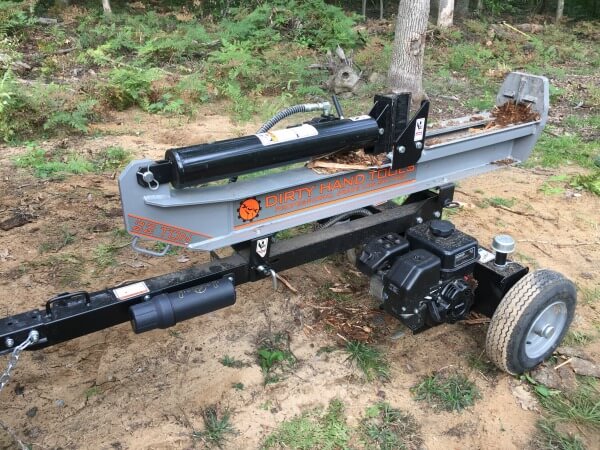 The splitter has worked really well without very many issues.  
Although, if you're going to buy a wood splitter I don't recommend towing it behind a vehicle any more than you absolutely have too.

Since the units are lightweight, they bounce a lot when towed behind a vehicle.  
This bouncing caused a small crack to form in the axle which also serves as the hydraulic fluid reservoir.  
If you have the option, I recommend rolling the splitter onto a trailer and hauling it that way to reduce stress on the machine.
Hults Bruk Splitting Axe Review - Manufactured in Sweden, The Hults Bruk splitting axe not only works great for splitting firewood, it's a beautifully crafted piece of art.
The axes are hand forged with an American hickory handle with linseed oil applied to it for protection.
The axe looks so nice, you almost don't want to use it!
Weighing only 4.5 pounds it's a lot lighter than the Fiskars x27 and it's also shorter.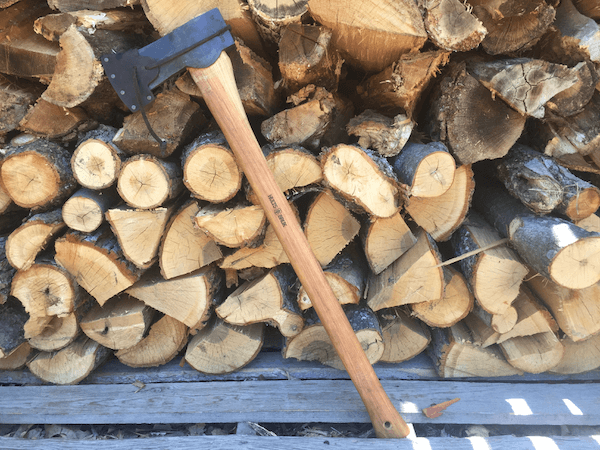 For smaller or shorter users, the Hults Bruk is a better choice than the Super Splitter if you don't want a axe that's too long.
Firewood Equipment Reviews - Tools For Cutting Firewood
Husqvarna Chainsaw Review - The age old debate of the "best chainsaw" will never end.  

Whether you're a Stihl person, Husky lover or just like a Poulan saw, we all defiantly have our opinion of what we like.
However, if you're looking for a dependable chainsaw at an affordable price, the Husqvarna 345 is a great choice.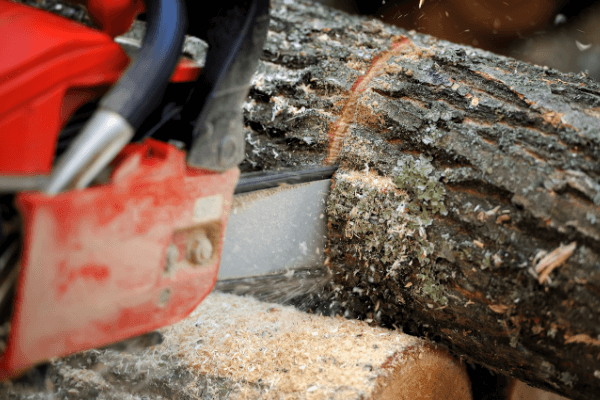 I've owned this saw for over 10 years and it still runs and cuts great.  
Sure, I've replaced the chainsaw bar and sprocket a few times, but for a chainsaw that costs under $300 it's a great investment.

The saw is really powerful and can keep up with a lot of other larger saws. 
For me, the best thing about the 345 is the lightweight design.  
The lightweight saw reduces fatigue which allows you to cut longer without the risk of hurting yourself because you're tired.
Chicago Chainsaw Sharpener Review - Sharpening a chainsaw by hand is a hard skill to master.  
If you don't use some type of guide or gauge, hand sharpening is difficult, especially if you don't do it everyday.
To make things easier, you can use an electric chainsaw sharpener to quickly and easily sharpen your chainsaw chain.  
The best thing about an electric sharpener is that they're consistent.
You don't need to worry about the angle or the depth changing because it's dialed into the machine.  
It basically takes the human error out of sharpening a chain.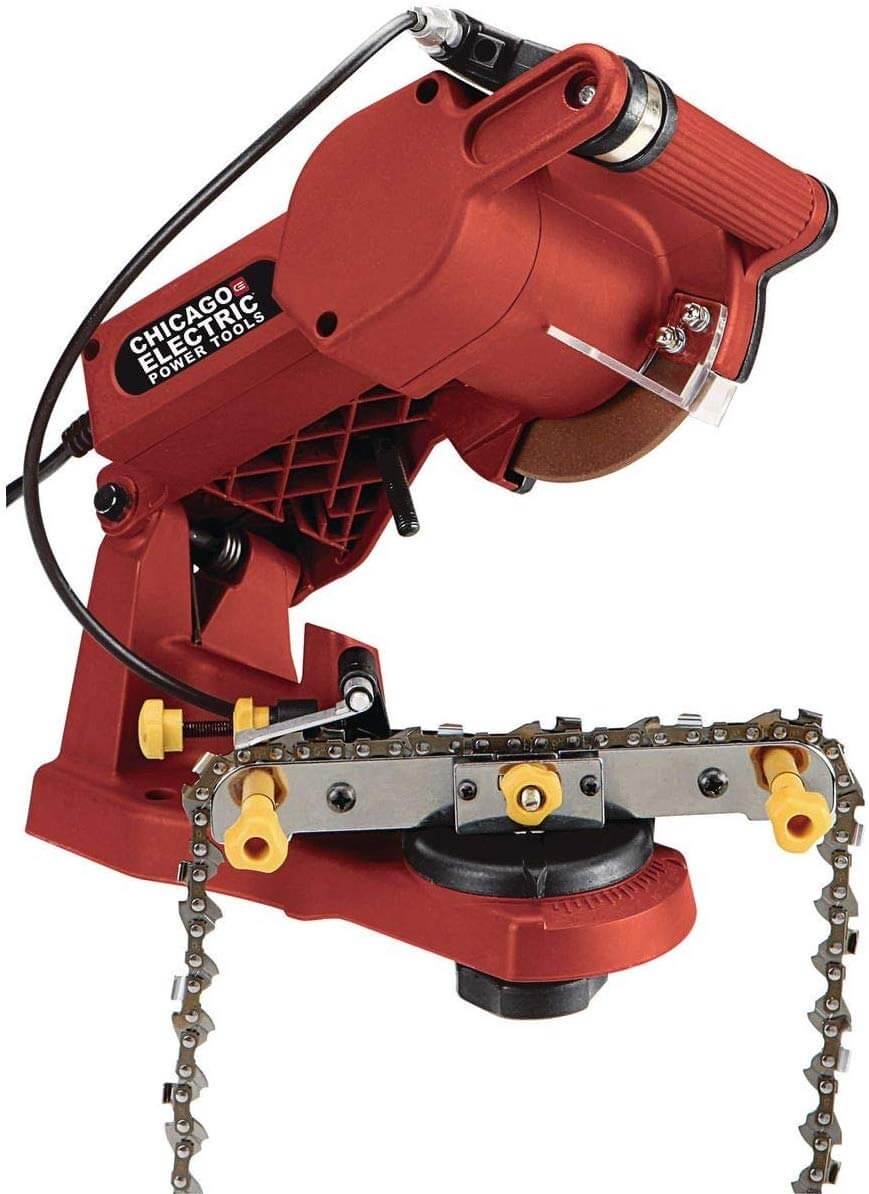 The only real drawback to an electric sharpener is the price.  This is where the Chicago chainsaw sharpener shines!  

With a price point below $40 it's a great choice for the average homeowner who just needs to keep a few chains sharp.
Mingo Marker Firewood Equipment Review -  Depending on the size of your fireplace or wood stove, the length of your firewood is pretty important.
First, there's nothing more frustrating than cutting a piece of wood too long only to find it won't fit inside the firebox of your wood stove.
Second, when you cut firewood too short you're wasting time by making extra cuts and you're also wasting time by continually feeding your fire because of the smaller pieces of firewood.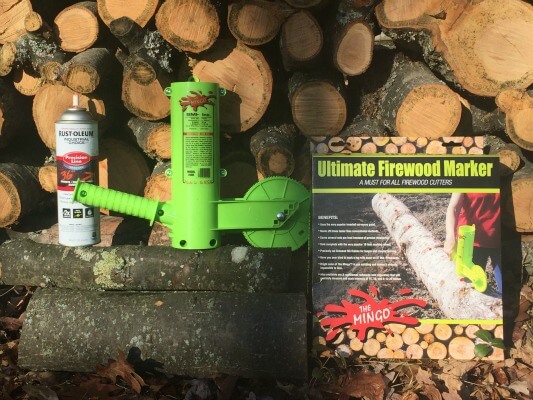 There's a few different products on the market that allow you to quickly measure out your firewood cuts so all of the logs are the same length.
By using a can of paint and a rolling wheel, the Mingo Marker quickly and evenly marks out where you need to make your cut.  
I've found the Mingo Marker works best on long, straight pieces of wood found around the base of the tree.
It's simple to use and if you're a person who loves the look of firewood that's perfectly stacked and all the same length, you'll love this gadget!
LogOX Firewood Equipment Review - The LogOX is a 3-in-1 firewood multi-tool designed to making cutting, lifting and moving firewood faster and easier.
What I love about this tool is the craftsmanship.  
It's really solid and when you compare the LogOX to the Timber Tuff timberjack, there's a noticeable difference.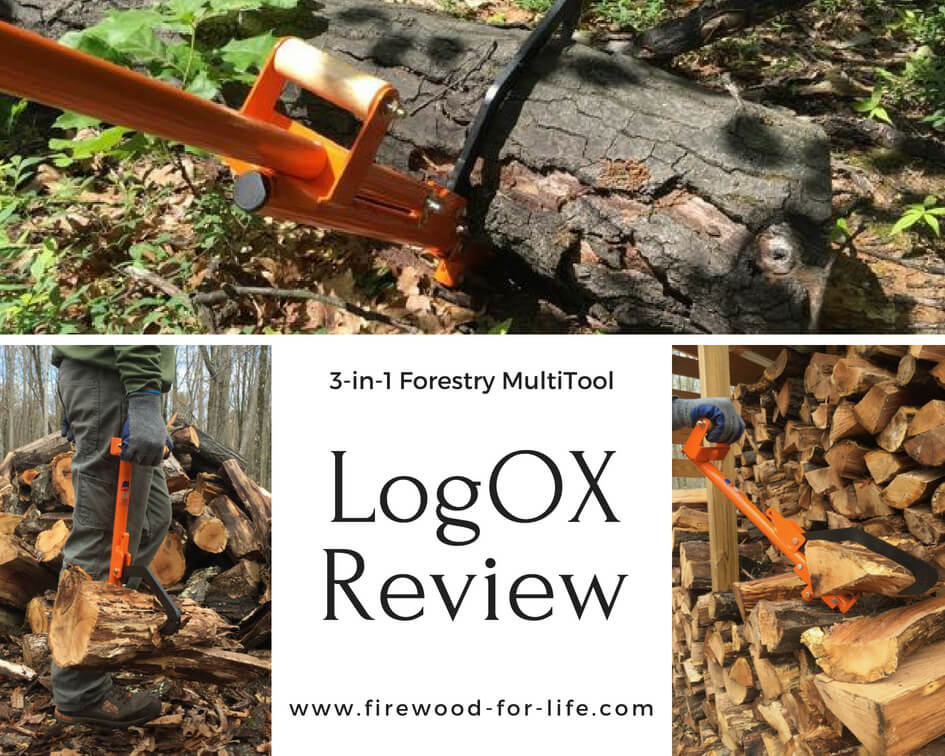 It's considered a 3-in-1 tool because you can use it as a firewood hauler, timerjack or cant hook.
As a 21" log hauler it's basically an oversized set of log tongs, but much more sturdy.
Although I primality use the LogOx as a timberjack, all three functions are amazing.
Firewood Equipment Reviews - Tools For Processing Firewood
Kubota L4400 Tractor Review - Just like chainsaws, if you ask someone what's the best tractor on the market, you're likely to get a lot of different answers.
With the L4400 being one of the largest tractors in the Kubota L model line, it's an amazing machine.  
There's no doubt that Kubota tractors are a big expenditure, but they really hold their value well.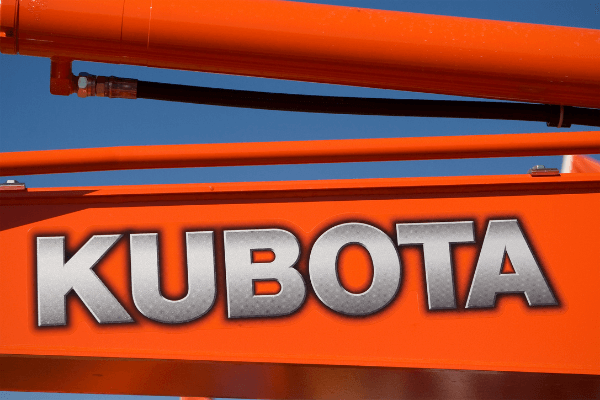 Although having a tractor is not necessary for cutting firewood or heating with wood, they definitely make the job a lot easier.  
I really like the L4400 because of its size and wide wheel base.

I've owned small tractors, like the Kubota L275 that had a very narrow wheel base.  
This caused the tractor to be very tippy and I never felt comfortable hauling anything heavy in the front bucket.
Timber Tuff Timberjack Review - A timberjack is a great tool for rolling heavy logs when you're cutting firewood.
When you're cutting through a large log, the last thing you want to do is cut through the log and hit the dirt with your chain.  
This will quickly dull your chain costing valuable time to sharpen it again.
One popular way to cut large rounds of firewood is to cut 3/4 through the log, then roll the log over to cut the remaining 1/4.  This prevents your chainsaw chain from hitting the dirt.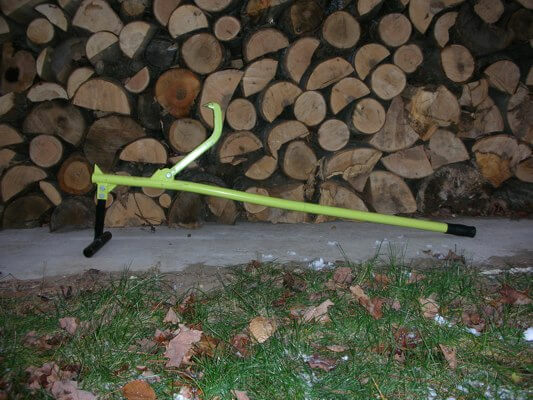 The only issue with this method is the fact that you have to roll a large log completely over so you can finish making your cut.  
A timberjack uses leverage to make rolling the log easy.

However, not every timberjack is the same.  Check out our firewood equipment review on the Timber Tuff timberjack to see if you should buy one or not.
Timber Tuff Log Tongs Review - Log tongs work great for picking up firewood and reducing the possibility of injuring your back.
Although they're only saving you a few inches of bending down, those few inches really make a difference when you consider the multiple times you bend over and pick up a piece of firewood.
I really like to use log tongs when cutting firewood in the winter because they save me from putting my hands in the snow and getting cold, and they grip the wood really well, preventing the chances of the log slipping out of my hands.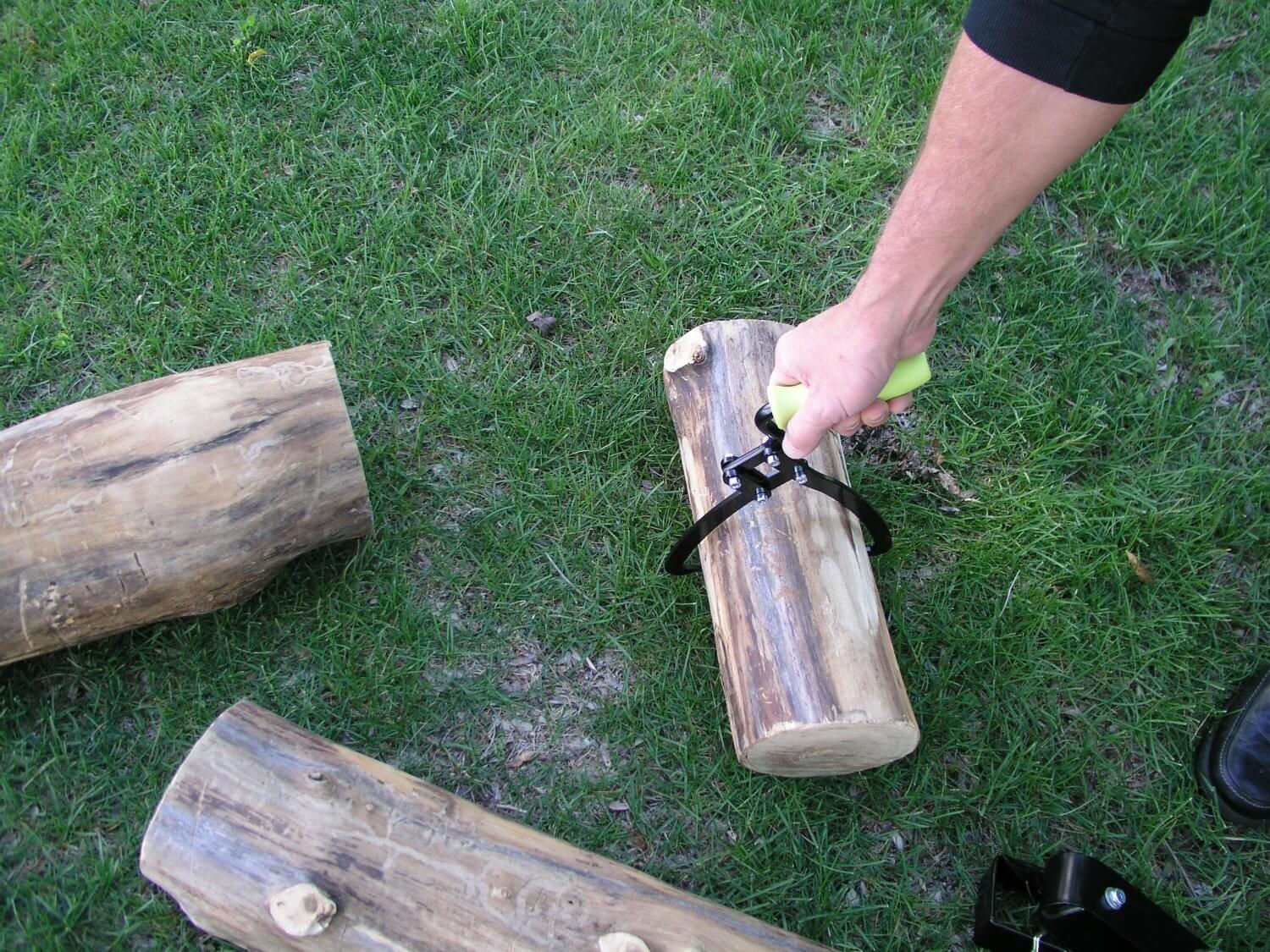 Another thing to consider is insects and rodents.  
It's not uncommon to pick up a log that has a spider or some other insect living just under the bark.

By using log tongs, it creates a buffer zone between you and whatever is living in the firewood.  
There's a few different companies that manufacture log tongs, but Timber Tuff produces a great product at a low price.
Fiskars Axe And Knife Sharpener Review - There's an old saying that a dull tool is the most dangerous tool in the shop.
If you stop and think about it, this makes a lot of sense because when you're working with a dull tool, you try to manually force the tool instead of letting the tool do the work for you.
Whether you need to sharpen an axe or a knife, the Fiskars axe and knife sharpener works great.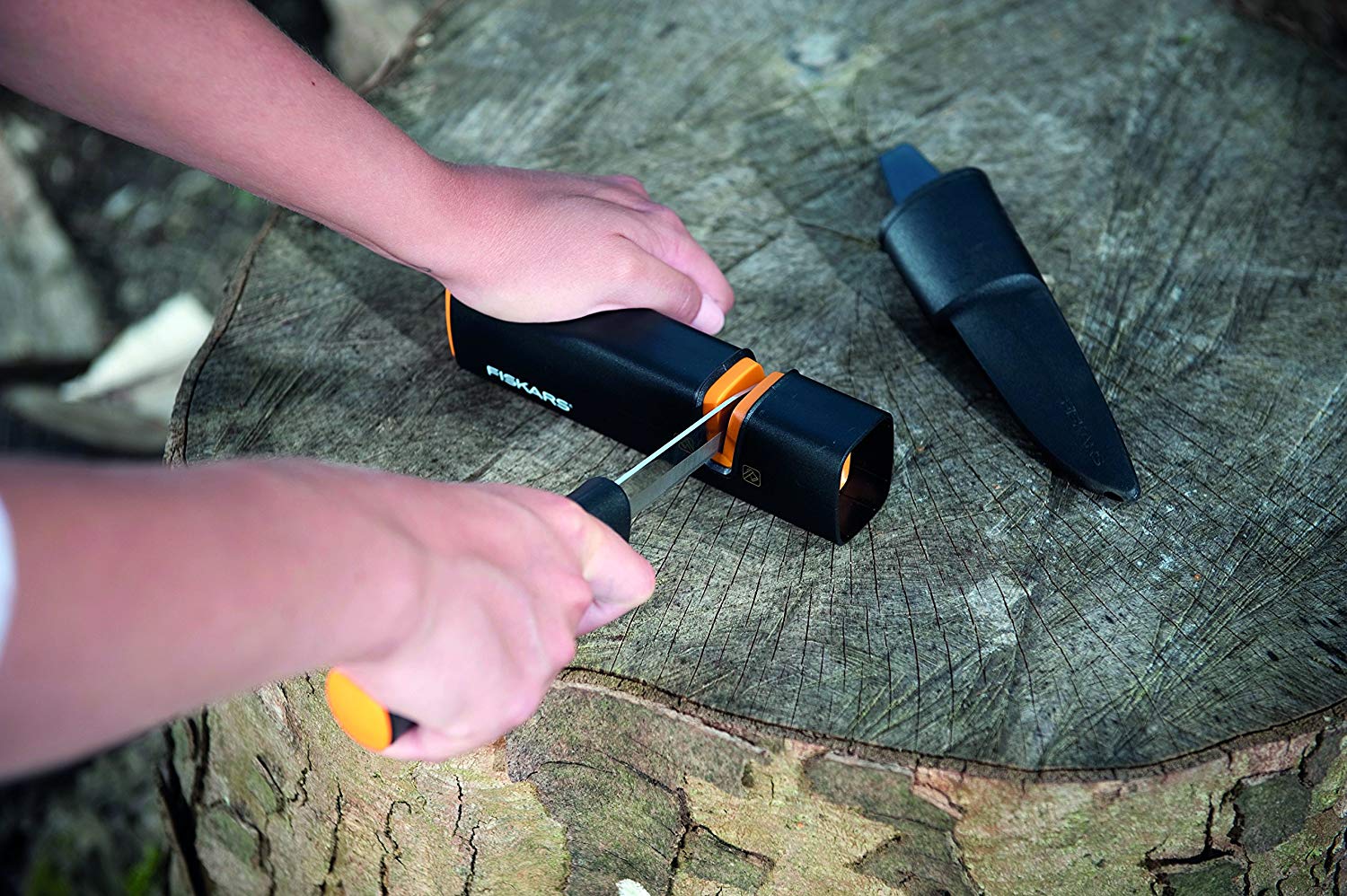 It's really nice to have an all purpose sharpener that you can use to sharpen a deer knife, kitchen knife or your Fiskars x27 splitting axe!

If you're looking for a low cost sharpener that is simple to use, check out the sharpener made by Fiskars.
Bandit Model 65XP Wood Chipper Review - If you've ever had your properly logged or select cut, you know the aftermath can be a huge mess.
Limbs and tree tops appear to be everywhere and it almost looks like a tornado came through your woods.

Don't worry, after a few years everything will start to grow back, but the piles of branches and tops will last a long time.  
To speed up the decomposition process, I rented the Bandit 65 XP wood chipper to chip a bunch of tree tops around a building site.  
I was a little hesitant at first because I've used chippers in the past that required constant attention and you had to manipulate the branches in order to get the machine to pull them in.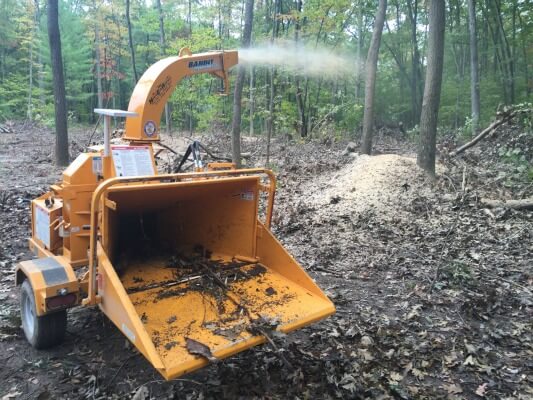 That's not the case with the Bandit chipper!  
I was able to feed a branch or log into the machine and the automatic feed system fed the log without bogging down the machine.

You could literally feed a log and walk away to go grab another one.  
By the time I returned, it was done chipping and I could feed another piece.  
If you have a lot of tops that need to be chipped, the Bandit wood chipper is a great choice.
Firewood Equipment Reviews - Hauling Firewood
WoodOx Sling Firewood Equipment Review - The WoodOx sling offers a new twist on the conventional firewood tote.
In the past, hauling firewood in a tote meant using one hand to haul firewood on one side of your body causing strain to your lower back.  
The WoodOx uses a new concept that disperses the weight evenly across your upper body, eliminating lower back pain.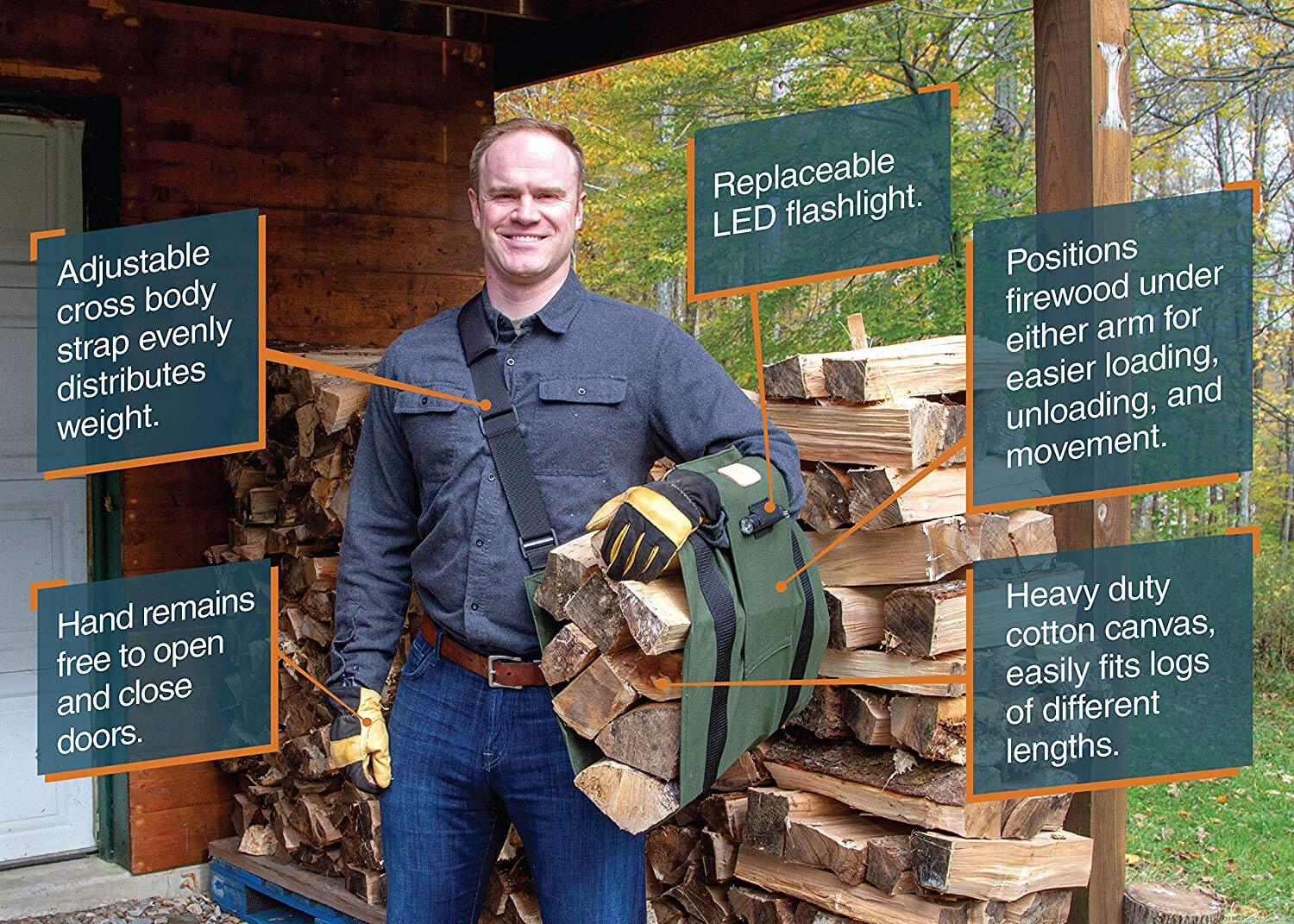 Plus, the sling style design allows both of your hands to be free which is really nice when bringing firewood into your home, as you open and close doors.
Garden Dump Cart Review - If you don't have access to a large tractor or pickup truck, hauling firewood in a garden dump cart works great.
A garden cart allows you to use a lawn tractor to effectively haul large amounts of firewood.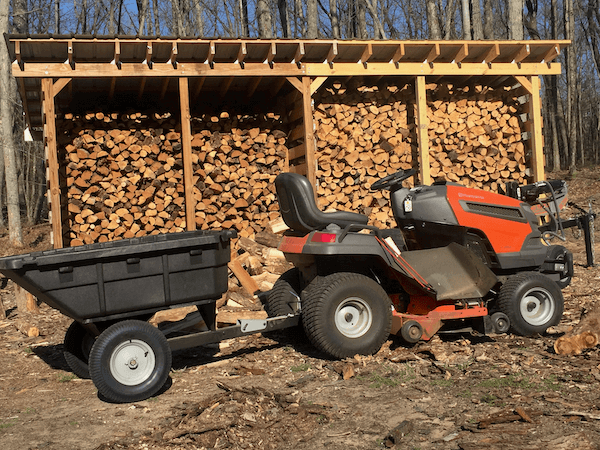 Although they're small, the garden cart can haul a lot of wood at one time, and you can haul it across your lawn without causing damage to your grass.
To learn more check out this firewood equipment review on the Ohio Steel garden cart.
Firewood Equipment Reviews - Starting A Fire
Super Cedar Firestarter Review - When starting a fire, it's important to start a hot, quick fire that doesn't smoke and smolder.
A hot fire heats up the interior walls of your chimney, reducing the chances of unburnt gasses adhering to the sides, forming creosote.
Using a quality fire starter to quickly ignite your firewood is a great way to keep your chimney clean.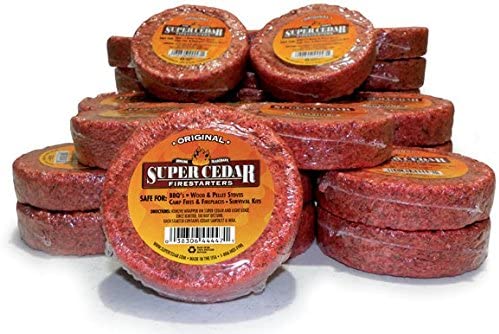 Super Cedar firestarters are made from cedar and highly refined wax to create a fire starter than can burn for up to 30 minutes.
Safe to use in fireplaces, wood stoves and BBQs, these fire starters make starting a fire quick and easy.
Gift Ideas
Sometimes finding gifts for men or women who seem to "have everything" can be tedious and time consuming.  
To make things easier we've created a shopping list that's sure to please that special person in your life.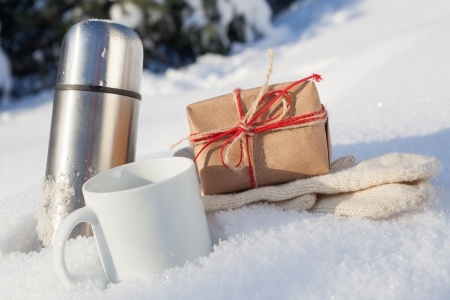 Whether you're Christmas shopping, looking for a birthday present or simply need something to say thank you, read this article covering our top gifts for men.
Do you have a review of a product that others may find useful?
Please let us know by using the form below! We would love to hear your opinion.

Have a review you would like to share?
Have you tried a product you feel makes the processing or use of firewood easer, cheaper or more enjoyable? Share it!
What Other Visitors Have Said
Click below to see contributions from other visitors to this page...

Husqvarna Chain Sharpening Kit Review

I always used to sharpen our chains by hand, no guide, just the file. They were okay, but I knew they could be better. I decided to buy the sharpening …
RuggedMade Log Splitter Review Not rated yet
I bought a 37 Ton RuggedMade log splitter on their website almost two years ago. I did a lot of research prior to making the purchase. Everything I …