Stihl MS 291 Chainsaw
This post may contain affiliate links so I earn a commission. 

If you're considering upgrading an old chainsaw or purchasing your first ever saw, the Stihl MS 291 chainsaw is definitely a saw worth considering.
Whether you're a professional arborist or logger or just need a chainsaw for occasional use around your property, the MS 291 could be a great choice for you.
Read on to find out why!

What Does MS Mean On A Stihl Chainsaw?
Stihl's MS 291 Chainsaw is a gas-powered chainsaw featuring new fuel-saving engines.
These dramatically lengthen the run times while also lowering fuel emissions.
This particular chainsaw is a highly efficient and productive tool for felling trees, bucking firewood and storm clean-up.

What does MS mean on Stihl chainsaws?

Every Stihl chainsaw will have either two or three letters preceding the numbers for each particular saw.
There will either be MS, MSA, or MSE.
The common letters of MS stand simply for the German word of "Motorsage" which simply means "chainsaw."
Interestingly enough, MSA means it is a battery-operated saw and when MSE is indicated, it runs on electricity.
Stihl MS 291 Chainsaw Features And Benefits
Stihl's MS 291 offers many features.
To start with, there is the fact that many of these saws are assembled in the United States from parts obtained domestically and using foreign suppliers as well.
Another outstanding benefit is the Stihl Inc. "Caring for Nature" seals.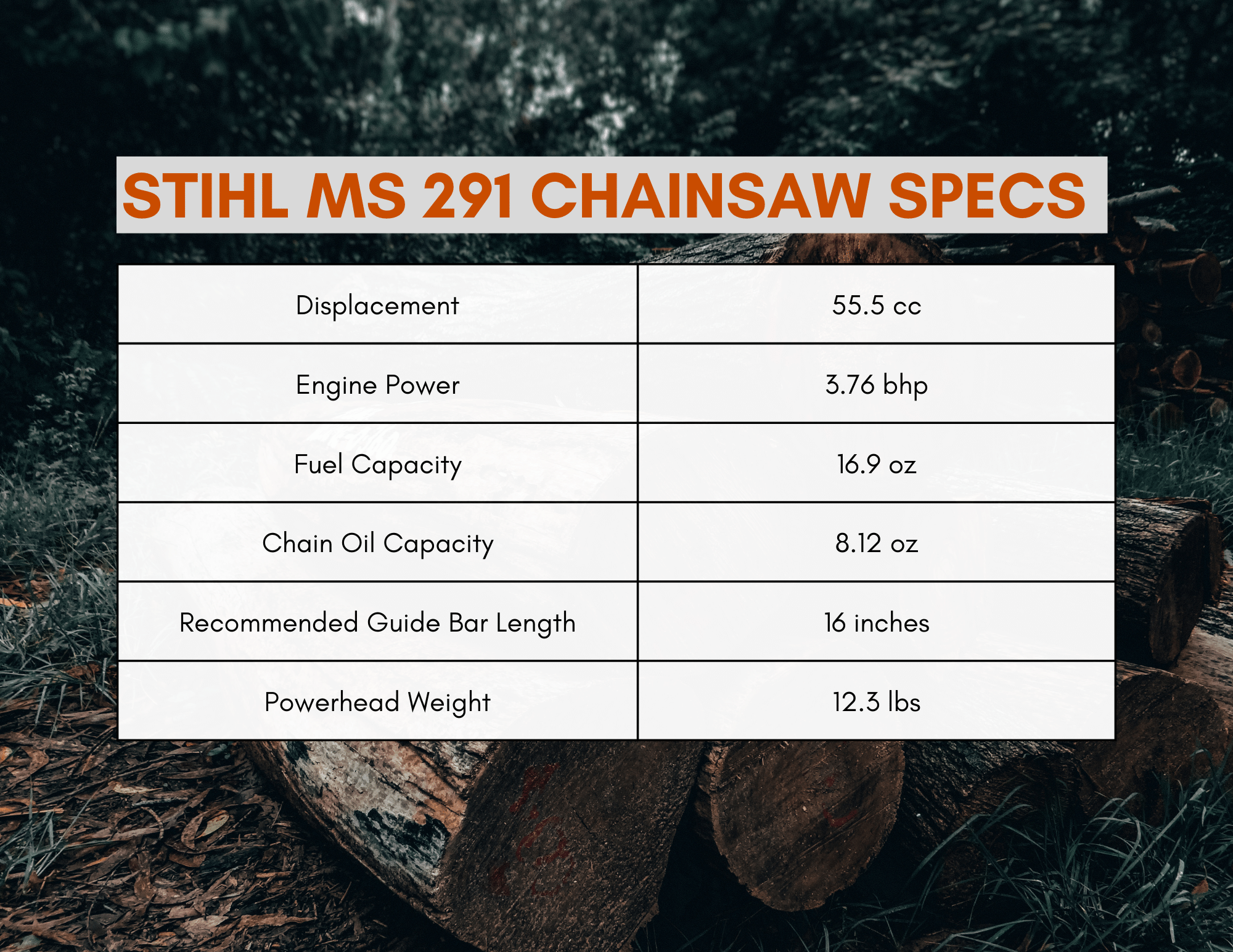 These identify that their powered products are more environmentally friendly producing zero or low exhaust emissions.

Low exhaust emissions, as defined by Stihl, indicate that the emissions are cleaner than EPA and/or carb exhaust emission standards.

Stihl has also developed an anti-vibration system that minimizes the vibrations produced in handheld power tools.
Reduced vibration, in turn, reduces operator fatigue greatly leading to fewer accidents caused by fatigue.
Stihl's pre-separation air filtration system is a huge benefit in that this technology, as air is drawn into the engine, it is first separated by centrifugal force which separates the heavier dirt particles before the air is drawn into the air filter.
Reduction of heavier particles before actually entering the air filter results in less cleaning and maintenance of the air filter.
A side-access chain tensioner is beneficial in reducing the tools needed to perform common maintenance such as proper cutting chain tension.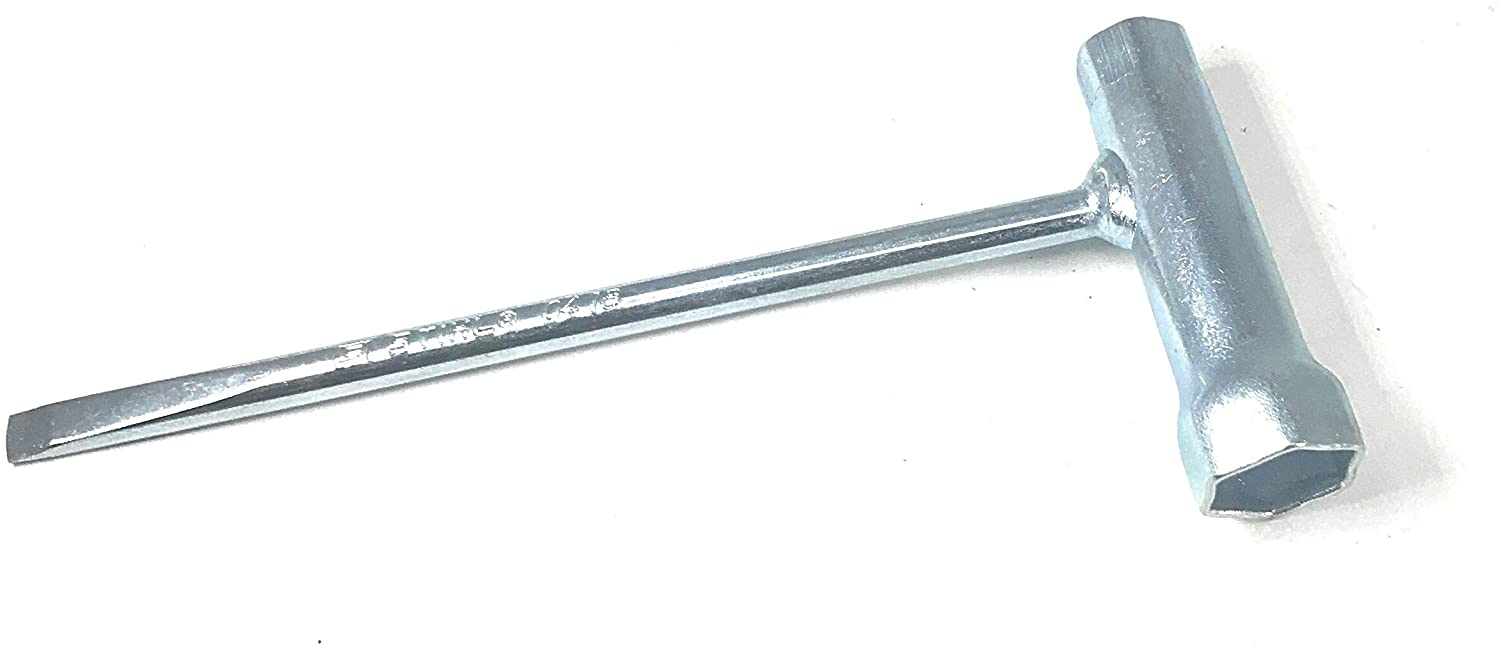 Side access allows chain tightening with a common saw wrench (called a scrench) which nearly everyone using a chainsaw would have with them.

Stihl MS 291 Chainsaw Pros And Cons
The Stihl 291, just like all other handheld power tools, offers many advantages over its electric and battery-operated counterparts (including those of competitive companies).
Gas Power Benefits
The 291 is a gas-powered chainsaw, eliminating the need for electrical cords and of course, electricity.
The 55.5 cc engine delivers more power than an electric or battery-operated saw.
A 55.5 cc engine translates into a horsepower of 3.76 bhp.
Larger Cutting Bar Length
A recommended cutting bar length of 16 inches allows the user to tackle bigger logs, whether it be for firewood, felling of trees, or storm clean-up.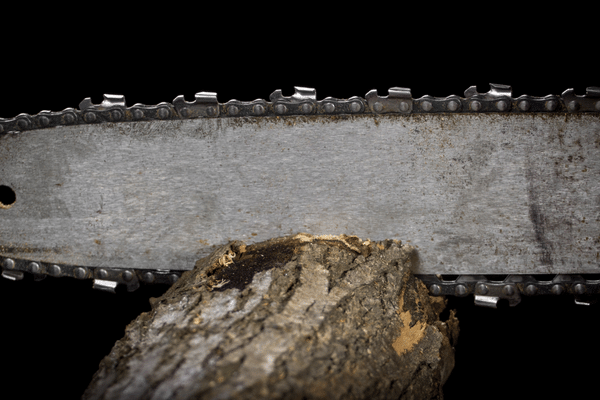 High Fuel Tank Capacity
The 291 has a fuel tank capacity of 16.9 ounces and a chain oiler capacity of 8.12 ounces.
These larger reservoir capacities lengthen the time between refuelings increasing production time.
Heavier Weight
There are many advantages to the Stihl 291, yet as with any tool, there come some disadvantages as well.
The heavy weight of the 291 chainsaw may be a factor for many users.
With the powerhead alone weighing 12.3 pounds, this particular saw may be too heavy for certain operators.
Electric and battery powered saws typically are much lighter to handle, though admittedly less powerful.
Emissions Production
Environmentally speaking, this saw does produce emissions.
Although greatly reduced compared to other gas models, any gasoline-powered engine will have a certain amount of emission.
This is something that is virtually non-existent in electric and battery saws.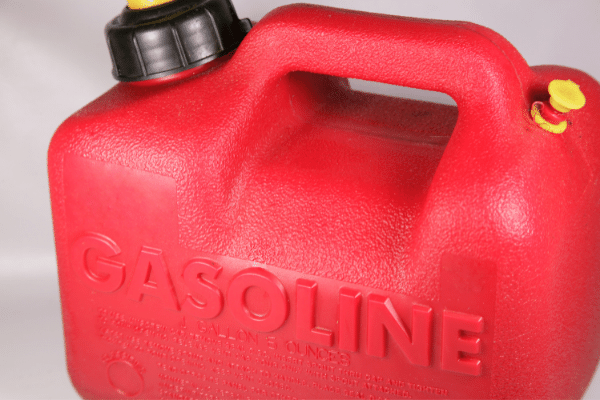 Fuel Storage Considerations
Storage and transportation of fuel and oil can be another drawback as these items need to be transported to any location where the saw will be used and then placed in a safe location when not in use.
Gasoline is a highly combustible fuel that carries with it certain hazards.
These hazards should be carefully observed in the use and handling of the fuel at all times.
Where To Buy The Stihl MS 291 Chainsaw?
As with any outdoor power tool, the Stihl MS 291 chainsaw can be bought in many locations, including online.
New and used 291's can be purchased through online shopping sites such as eBay.
Many local hardware stores such as Ace Hardware carry the Stihl line of products as well.
Finally, small engine repair shops exist in many communities.
These can not only can service your tools but often carry certain brands of new equipment such as Stihl products.

Rental stores also very often will carry chainsaws to rent if your need is only for a short time.
They offer new saws for sale as well.
Costs for the Stihl MS 291 chainsaw seem to stay fairly consistent with prices ranging from $ 529 to $559 for new saws.
Used 291's may be found for as little as $200.
All pricing is dependent upon options purchased and other factors.
What Is The Best Stihl Chainsaw Of All Time?
How do we determine what is the best Stihl chainsaw of all time?
That's a very difficult question to pose because every user has a different need and purpose for their chainsaws.
It all depends on who you talk to.
The  MS 250, MS 170 and MS 180 Stihl chainsaws are top-rated in accordance with factors of overall pricing, and homeowner use.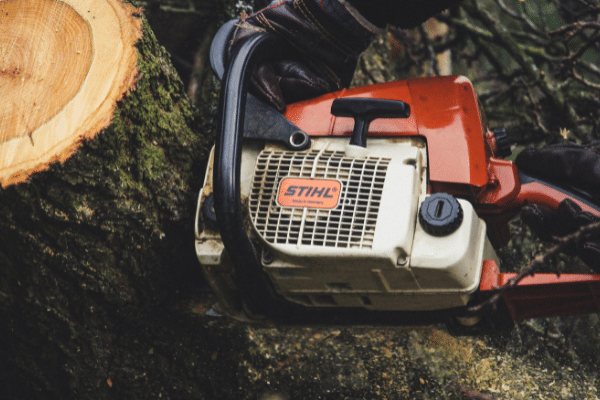 There are some sources that indicate that for arborists (tree surgeons), the Stihl MS 260 and MS 361 were the weapons of choice.

Professional loggers using chainsaws everyday seem to lean towards the MS 460 or MS 362.
Professional chainsaw operators may find that large saws such as MS 362 are ideal for bucking and smaller Stihl saws are better for felling and limbing.
The 291 would seem to fit very well into the category of felling and limbing.
It is a somewhat lighter gas powered saw - but with enough power to get the job done!
Stihl MS 291 Chainsaw - Overall
The Stihl MS 291 chainsaw offers the adaptability of a chainsaw that is large enough to be used in a professional setting, yet is also very suitable for homeowner use.
With the newer technologies in emission reduction, this chainsaw is more friendly to the environment overall.
That's especially true when compared to its counterparts of earlier years.
The Stihl MS 291 is a very durable, adaptable chainsaw for practically any individual.
Happy cutting!!