Stihl 025 Chainsaw
This post may contain affiliate links so I earn a commission. 

You know it's a quality product when it is still a sought-after item twenty years after it was made, and that's the case with the Stihl 025 chainsaw. 
Stihl, a German handheld power equipment manufacturer that specializes in tree trimmers, leaf blowers, and chainsaws, produced the 025 chainsaws between 1991 and 2002 before discontinuing the product in favor of the MS250 model. 
Many chainsaw users still swear by their Stihl 025 models which are still going strong today, more than two decades after they were made. 
Just what was so appealing about the Stihl 025 that makes it one of the company's favorite products?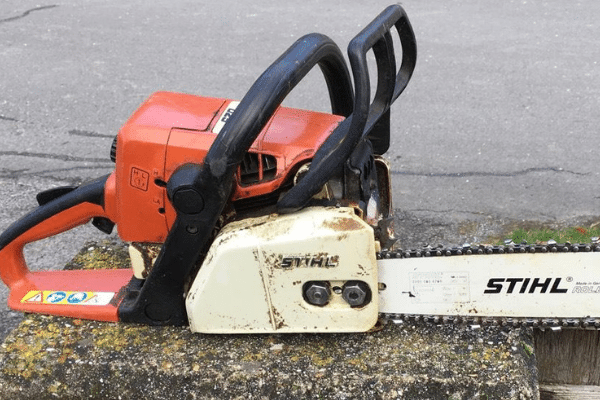 For starters, the Stihl 025 is powerful enough to handle the needs of the average homeowner but lightweight enough to carry into the woods during woodcutting season. 

It was an affordable product, too, which was another reason it was popular among casual chainsaw users.
Stihl 025 Chainsaw - Different Versions
Three different versions of the Stihl 025 were made during its tenure. 
The MS290R-P5 came with a 25-inch bar. 
The other two models, the MS250C-P5 and the MS270C-P5, each have 20-inch bars. 
The 25-inch bar is nice to have, but the 20-inch bar is more than enough for most situations. 
Since you will probably be buying a used Stihl 025, it is important that you know what to look for to make sure you are getting the model you want.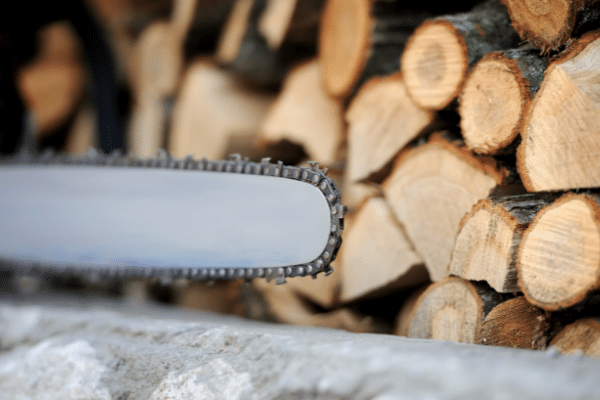 If you look at the fuel and oil tank caps of the chainsaw, you can easily identify it as an older Stihl model. 
These models were made with 'O series' screw-on caps. 
Newer models have flip caps. 
Why Is The Stihl 025 So Popular?
There were many reasons why folks were attracted to the Stihl 025 when it was first introduced. 
Those reasons are still relevant today. 
For example, the Stihl 025 has a slide access to the chain tensioner, which was an improvement over the older front mount tensioners.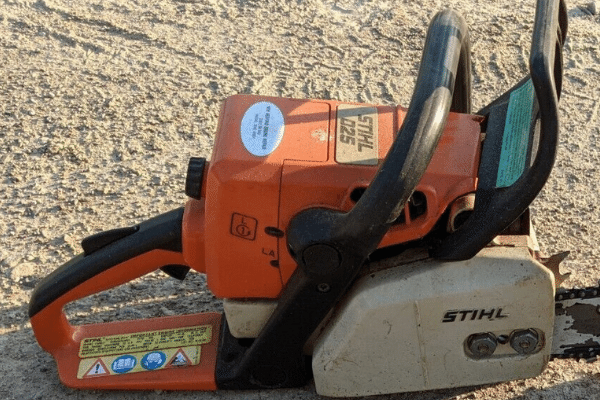 All of the control levers – the on/off, choke, and throttle – can be easily worked with one hand. 

The Stihl 025 had an inboard-mounted chain brake that prevented dirt, leaves, and debris from clogging up the chain. 
The outboard-mounted sprocket made it so much easier to install the bar and chain on the Stihl 025, as compared to previous models. 
Lastly, the two piston rings held the compression longer.
Stihl 025 Chainsaw Review
When shopping for a chainsaw, there are four main considerations: cost, power, usage, and maintenance.
Let's break down the Stihl 025 to see how it measures up in each of these categories. 
How Much Does A Stihl 025 Cost?

Chainsaws can run you anywhere from $100 to well over $500.
Unless you are trying to impress your neighbors, you don't need to break the bank on an expensive chainsaw.
Those big, fancy, pricey chainsaws are really meant for people who need a chainsaw for their work.
The average homeowner can get the job done with a less expensive option.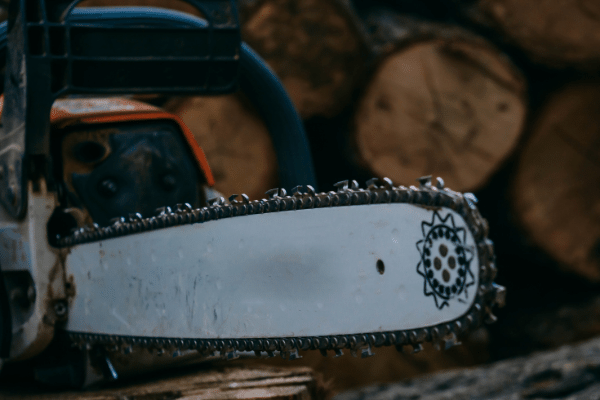 Because Stihl is no longer making the 025 model, you have to find them on your own.

There are online retailers, local small engine dealers, and individuals who buy and sell these particular chainsaws.
For a Stihl 025, a decent price would be around $300. 

How Powerful Is A Stihl 025 Chainsaw?
There is more to a chainsaw than the size of its bar.
The size and power of the engine is equally important.
When looking at chainsaw specs, you will see a cc number and a horsepower number listed.
A brief explanation of these terms might be in order. 
The power of an engine is measured in horsepower.
Originally, horsepower was viewed as the equivalent of the maximum output of one horse, but that unit of measurement is not precise.
There are too many variables.
Today, horsepower is calculated as being equal to torque multiplied by RPM and divided by 5252.

It is a much more accurate formula.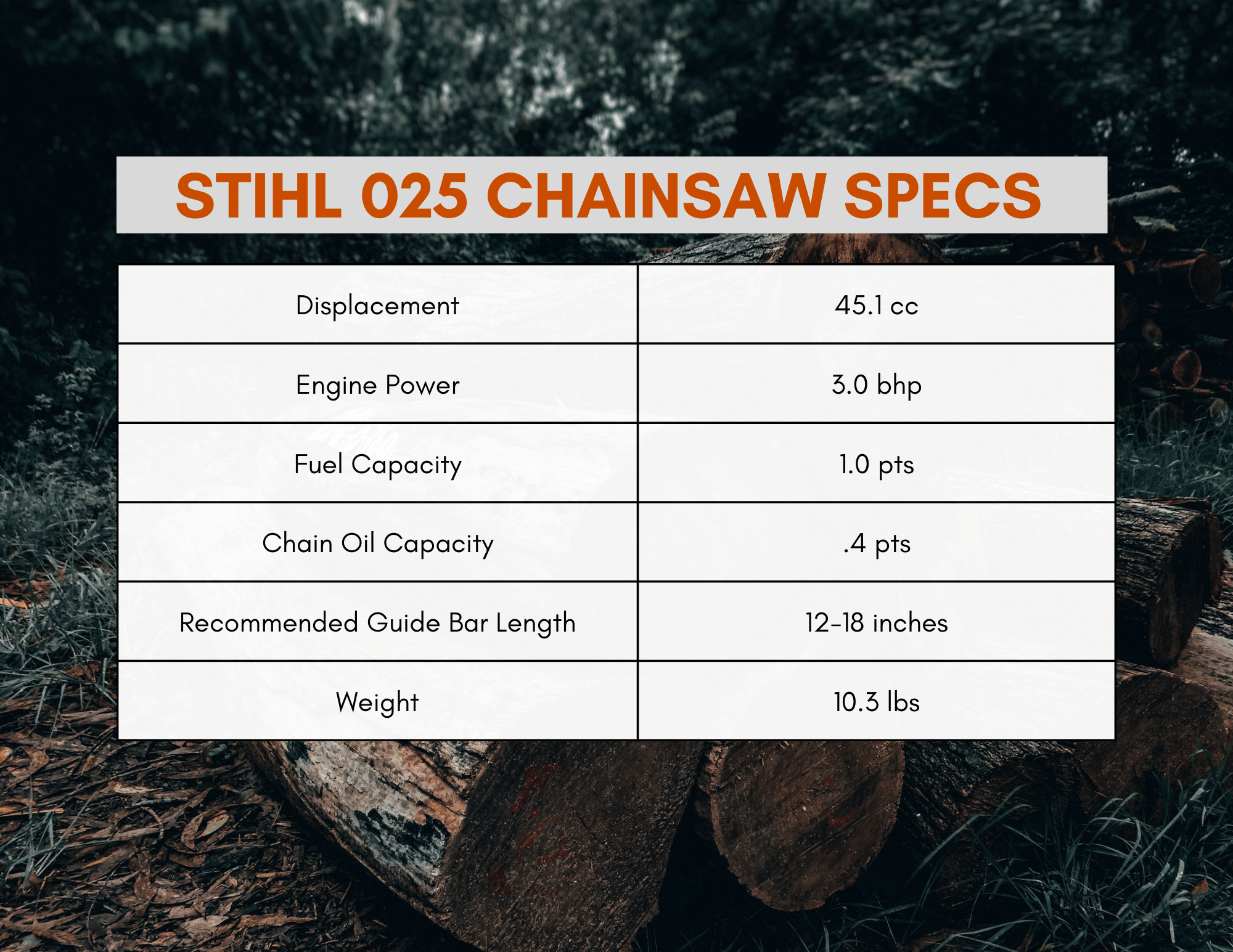 A cc is a term used to measure the size or volume of the engine.

The larger the engine and the higher the volume, the more power an engine has.
The Stihl 025 has a 45-cc engine with 3 horsepower. 

Newer chainsaws that are comparable to the Stihl 025 are often lighter, but fans of the Stihl 025 don't seem to mind the 10.3 pounds powerhead weight.
When the chainsaw was first introduced, its power-to-weight ratio was one of the most attractive features.
Today's chainsaws might be less weighty but the Stihl 025 has proven itself to be an excellent machine.

What's The Best Use For A Stihl 025 Chainsaw?
With a 45cc engine, the Stihl 025 falls into the light to moderate workload.
It is ideal for the average homeowner who won't be using the chainsaw on a daily basis but still needs a reliable chainsaw for yard work.
It is a good machine for cleaning up fallen limbs and branches after a big storm, doing light farm maintenance, and pruning trees.
If you need to drop some smaller trees, it can get the job done.
As for cutting wood, it is a sturdy and reliable chainsaw for the homeowner who needs to cut wood for their occasional summertime bonfires and romantic wintertime fires in the fireplace.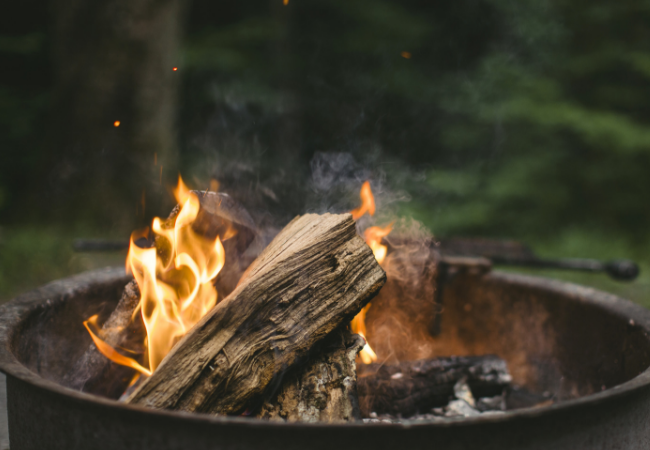 For a homeowner who uses wood as their primary source of heat, a larger, more powerful chainsaw may be in order for cutting that amount of wood.

However, the Stihl 025 is a good backup chainsaw to have in the woods with you.
Sometimes, a smaller chainsaw is more maneuverable and fits better into tight spaces.  
Maintenance On A Stihl 025 Chainsaw
The longevity of Stihl 025 chainsaws is a testament to its quality design and manufacturing, as well as to its ease of maintenance.
The average homeowner can easily check the chain brake and chain tension, as well as the lubrication system.
The air, oil, and fuel filters can be changed by someone with only a cursory background in engine maintenance.
The same goes for the spark plugs.
Maintenance manuals for the Stihl 025 are easy to find online and there are numerous YouTube videos that can take you step-by-step through the basic maintenance and upkeep of your Stihl 025. 

You should have the chainsaw serviced and inspected by a certified small engine repairman on an annual basis (or more frequently, if you use the chainsaw more than normal).

Servicing your chainsaw is not that expensive and a good step to ensuring that your Stihl 025 will remain reliable for years to come. 
Stihl 025 Chainsaw - Overall
Overall, the Stihl 025 is a great chainsaw that has proven itself to be a reliable and powerful saw for its compact size.
Just like many other products manufactured by Stihl, this saw is no exception to the quality and performance expected from such a reputable brand.