Echo vs Stihl Chainsaw
This post may contain affiliate links so I earn a commission. 

Echo vs Stihl chainsaw, which is better?
If you're in the market for a new chainsaw, you may be wondering which brand you should buy.
Both Stihl and Echo are popular choices, but it can be difficult to know which one is the best fit for your needs.
In this review, we'll compare and contrast the two brands, so you can make an informed decision about which chainsaw is right for you.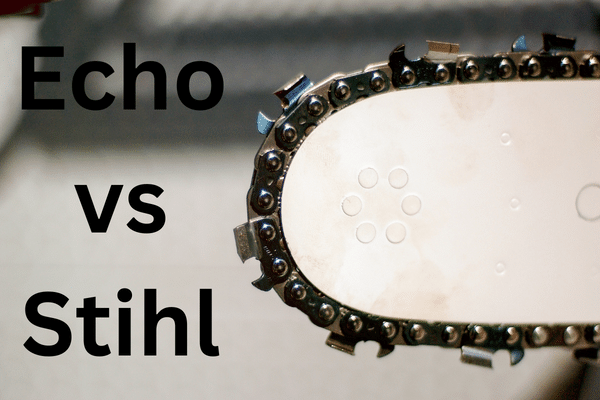 Whether you're shopping for a homeowner chainsaw that's perfect for cutting firewood and fallen limbs, or you're a professional looking to add another saw to your collection, we'll walk you through some of the best options so you're getting exactly what you want in a new saw.

Is Echo As Good As Stihl?
As is the case with any other product, chainsaw manufacturers are highly competitive.
Buying an Echo vs Stihl chainsaw will require you to take many factors into account.
How much are you willing to spend?
Are you a professional user or are your cutting needs more compatible with homeowner use?
Weight and overall saw design will also come into play when you are selecting either an Echo or Stihl chainsaw - and of course, comfort is an utmost important feature for any power tool you plan to use.
What To Consider When Choosing Echo vs Stihl Chainsaw
Below, we'll detail the many considerations that you need to take into account to make a decision between these two brands of saws.
Availability To Purchase
Echo would have to be the winner in this category as they are sold in major retailers and home improvement stores.
Echo chainsaws are readily available at Home Depot, Lowes, and various mom-and-pop hardware stores.
The Stihl company, however, prefers to sell only through their dealerships making it more difficult to buy a Stihl chainsaw.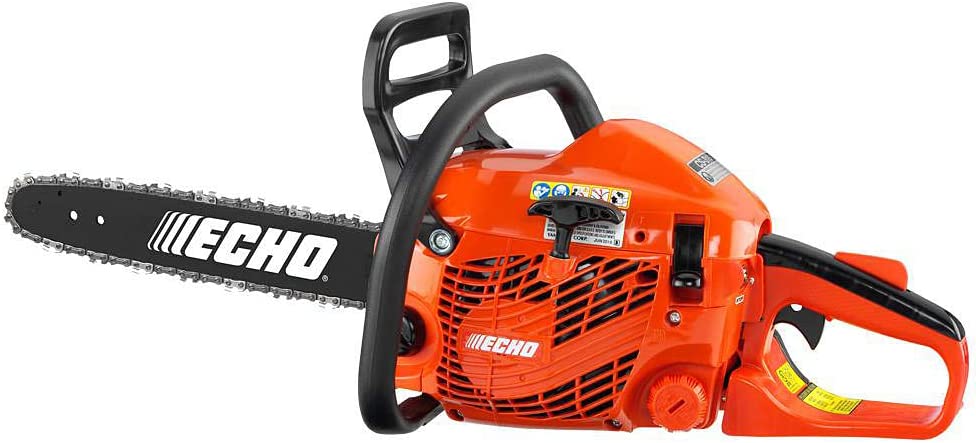 Product Warranty

Stihl offers a one-year warranty as compared to a five-year plan for Echo.
Many people see this as an important aspect.
Typically, with extended warranties, a chainsaw may exhibit more durability and reliability, allowing a company to offer more protection.
Price Of The Chainsaw
Always a major consideration - what are you willing to spend?
Echo and Stihl are comparably priced when comparing apples to apples.
Chainsaws in the same class, when considering engine size, bar length and other qualities, run very close.
Stihl tends to come in just slightly higher in cost.
For example, on pricing, the Echo CS-370 costs approximately $279 dollars in comparison to Stihl MS 210 C-BE saw, costing $270 dollars.
These two brands of chainsaws seem to run fairly close in pricing, as saws are classified in equal categories.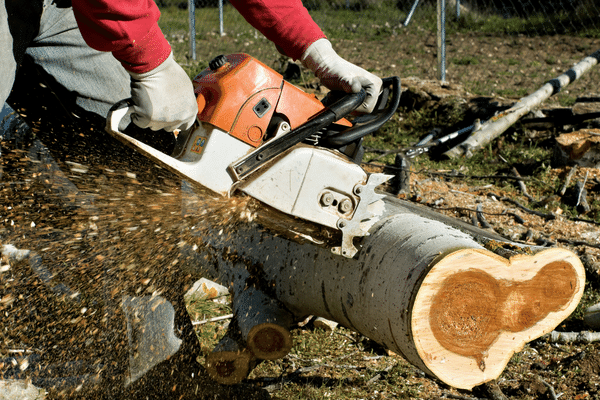 Design And Build

Both Stihl and Echo chainsaw companies feature great design overall.
Both use high-quality materials.
Echo chainsaws are designed to be lighter in weight than Stihl.
This is done by incorporating aluminum into the build of their saws making it a more comfortable chainsaw to operate.
In review of the engines for Echo and Stihl, there really is no comparison between them.
Stihl leads the way in emission reduction and fuel efficiency.
Stihl tends to be more advanced in the technology that is built into the company's line of chainsaws.
Echo, a Japanese company, has been on the market since 1963 while Stihl, a German company, got its start in 1926.
This has allowed for many more years of study and advancement.
Automatic Chain Lubrication
As with most chainsaws on the market today, both Stihl and Echo feature automatic chain oiling on the bar and chains.
Found on nearly all models of both saws, the bar and chain lubrication systems seem to be equal in performance and quality.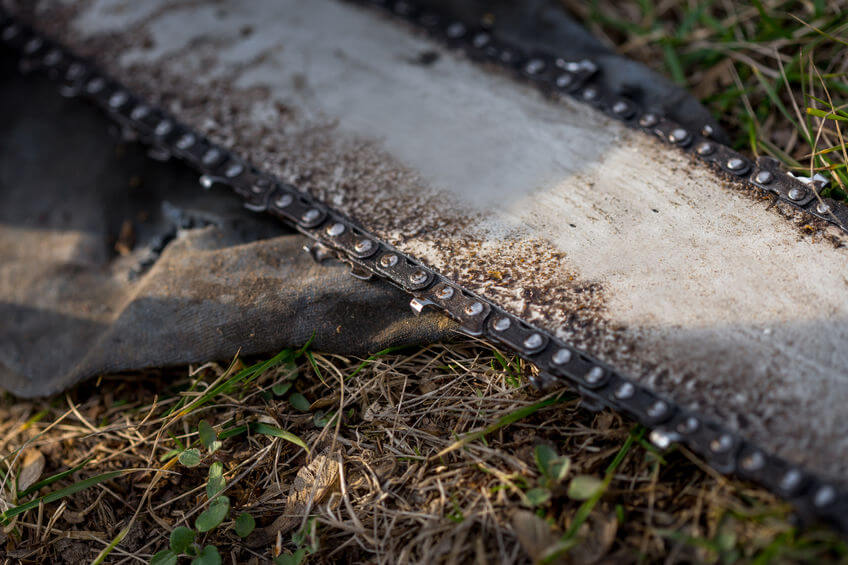 Reduction Of Kickback

Echo offers a feature on many models of their saws called a "kickguard."
This add-on is an attachment to the end of the cutting bar, which prohibits the tip of the bar from making contact with limbs or the ground.
This could cause a serious kickback, so this feature is worth noting.
Echo and Stihl both come with chain brakes, which will activate in a serious kickback when the guard comes up against the wrist.
This guard also serves to protect the hand from flying debris.
Stihl also offers reduced kickback bars and low kickback chains in their line of saws.
Product Range
Echo doesn't carry as large of a range of products in each category as Stihl, yet they do have products in each category of outdoor tools.
Echo and Stihl both offer products such as leaf blowers and string trimmers, among others, in both landscape and outdoor categories.
Emissions Reduction
Echo maintains emission levels and offers low-emission models, such as the CS-621SX, but this is not as high of a priority as power output and functionality.
Stihl works hard to try to reduce emissions from their gas-powered chainsaw, all while offering a complete line of battery-powered saws that produce no emissions at all.
Bar Sizes
Echo offers bar sizes ranging from 12-36 inches, depending on the size of the saw and your cutting needs.
Stihl's range of bar length is more varied, with bars available from 10-60 inches.
The length of the bar on a saw affects how it can be used.
For light-duty applications such as cutting brush or small diameter firewood, many people find a bar that is 10-18 inches long is sufficient. 
Best Chainsaw Models to Consider
In this section, you will find a review of certain models of chainsaws in both Echo and Stihl that would best suit the three categories found below.

Echo vs Stihl Chainsaw - Best Homeowner Models
Stihl offers a variety of homeowner grade chainsaws, including a battery powered MS 120 C-B along with a gas-powered MS 250 and MS 171.
For homeowners, Echo offers CS-310-14, CS-400-18 along with he CS-271T-12.
All of these models are considered homeowner-grade saws, delivering exceptional power and durability at an affordable price.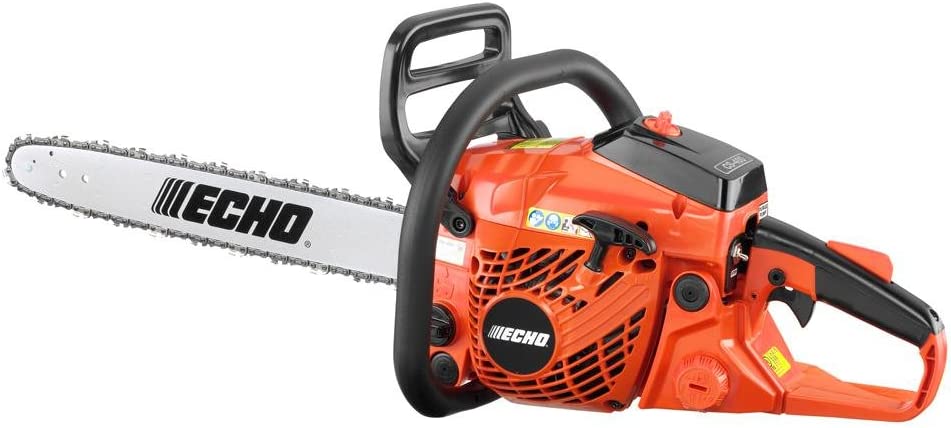 Echo vs Stihl Chainsaw - Best Chainsaw's For Cutting Firewood

Echo carries several chainsaws that are designed to cut firewood, including Echo CS-4910-18, CS-310-14 and CS-400-18.
Stihl also carries saws designed for the firewood pile.
This manufacturer offers the MS 180, MS 250, and also the MS 362.
Echo vs Stihl Chainsaw - Top Choices For Professionals
Echo chainsaws that are designed as professional grade include CS-4510-18, CS-501P-20 along with the CS-4910-18.
Stihl carries several professional-use chainsaws as well.
These include the MS 362, MS 880 Magnum, and MS 661 C-M Magnum.
Which Chainsaw Is Best - Echo or Stihl?
Which chainsaw is the best for you?
This is a question that many people ask, especially professionals who use chainsaws for their livelihood and homeowners who need a reliable chainsaw.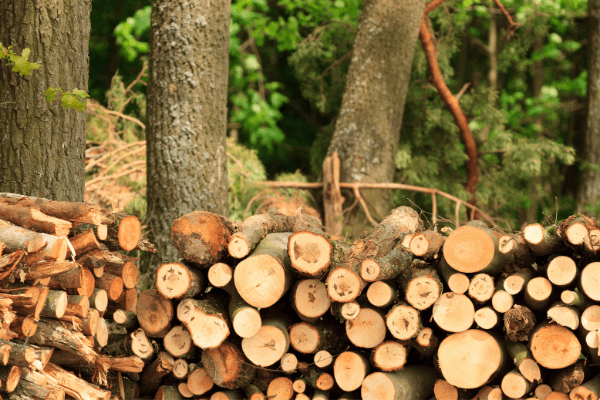 Echo is known for its durability and lighter weight, while Stihl has been producing chainsaws for many more years.

Depending on your location, it may be easier to find an Echo as they are carried in major retail stores such as Home Depot or Lowe's.
Stihl can only be found in registered dealerships.
To determine which chainsaw is best for you, you would have to factor in many different things such as your usage, durability, service and repair options in your area.
Then once you've determined which brand and model of chainsaw suites you best, you'll rest easy knowing you've made the best choice possible!