Husqvarna 450 Rancher Chainsaw
Husqvarna 450 Rancher Chainsaw
This post may contain affiliate links so I earn a commission. 

If you're looking for a reliable and high-performing saw, look no further than the Husqvarna 450 Rancher chainsaw.
This powerful tool is designed for people who want to tackle demanding jobs with ease.
Even if you've never purchased a chainsaw before, there's a very good chance you've heard of Husqvarna.
As one of the most recognizable names in the chainsaw industry, they have a great reputation for providing excellent saws at an affordable price.
The Rancher lineup falls into Husqvarna's mid-range saw, meaning it's designed for homeowners, farmers and landscapers alike.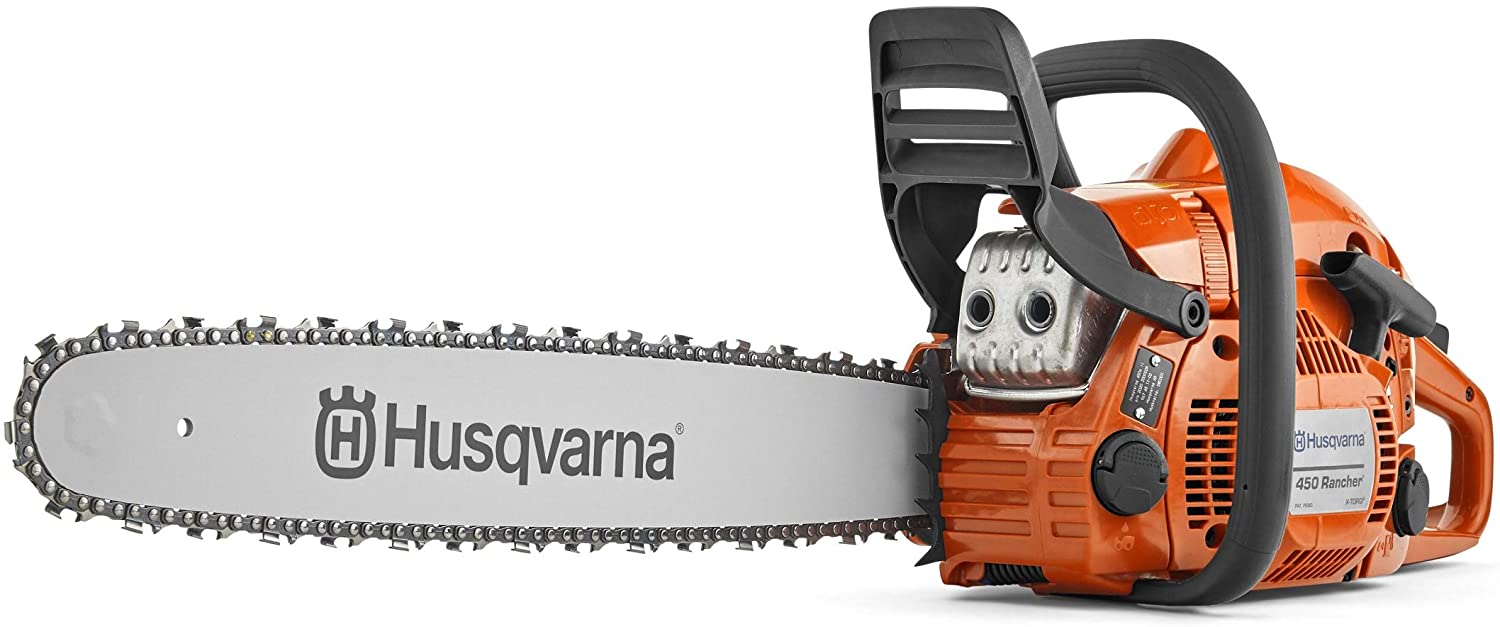 While the pros or full time loggers may choose a saw that has significantly more power like the Husqvarna 562XP or the 372XP, the Rancher series can handle just about any task the average person needs to accomplish.

To learn more, let's take a closer look at the saw and what it has to offer.
Engine Size and Horsepower 
The Husqvarna 450 Rancher chainsaw is powered by a 50cc X-Torq engine that was designed to provide excellent fuel efficiency and low emissions while still producing a lot of power.
With its incredible engine size, it can handle even the toughest jobs in the field - all without making you break a sweat.
So, if you're wondering about the quality of this machine, you can rest assured that you've got a piece of top-notch equipment in your hands.
One of the primary benefits of the engine size is that it can produce up to 3.2 horsepower.
This power, combined with its 20-inch bar length, makes it an ideal tool for cutting large trees and handling some other heavy-duty tasks.
The Husqvarna 450 Rancher will provide the performance needed to complete a lot of cutting projects.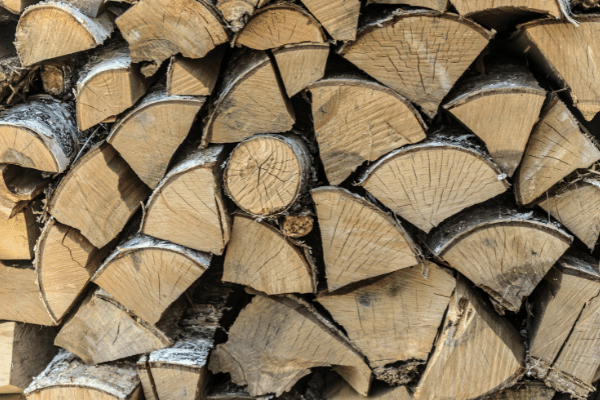 The 450 Rancher engine also has excellent speed control to cater to different cutting needs.

It has an idling speed of about 2,700 RPM, which means it can start quickly, and is perfect for light-duty tasks like trimming or pruning around your home.
However, it has a maximum power speed of up to 9,000 RPM, making it incredibly effective for intense and difficult projects like felling larger trees.
The 50cc X-Torq engine of the Husqvarna 450 Rancher was built with the environment in mind.
It is engineered to keep fuel consumption low, and emissions at a minimum, complying with the strictest environmental regulations without compromising on performance.
Other Features Found On The Husqvarna 450 Rancher
Let's take a closer look at some of the hidden gems of the Husqvarna 450 Rancher that you might not have known to exist.
Felling Marks
If you're a professional tree cutter or even a homeowner who wants to trim trees in your backyard, the Husqvarna 450 Rancher has got you covered.
A distinctive feature of this chainsaw is the felling marks that are etched into the body.
These marks help you aim and cut trees and limbs precisely, making sure that they don't fall in the wrong direction.
Air Purge for Easy Starting
Starting a chainsaw can be challenging, especially if it has been sitting without being used for a while.
The Husqvarna 450 Rancher makes starting the tool a breeze through the air purge feature.
This feature removes unwanted air from the carburetor and fuel system, making it easier to start the saw.
Combined Choke/Stop

Another unique feature of the Husqvarna 450 Rancher is the combined choke/stop control.
The choke function helps to increase the fuel in the carburetor, while the stop control function shuts off the engine.
The combination of both functions in one control lever allows for quick starts and shut-offs, saving you both time and effort.
Snap-Lock Cylinder Cover
Changing a spark plug can be a daunting task if you're working with an older-model chainsaw.
But with the Husqvarna 450 Rancher, you won't have to worry about a thing.
The snap-lock cylinder cover makes it easier to access the spark plug, air filter, and cylinder - meaning maintenance is quick and easy.
Three-Piece Crankshaft
Looking for a chainsaw that's built to last?
The Husqvarna 450 Rancher fits the bill.
This saw comes with a three-piece crankshaft that's designed to withstand the toughest conditions.
It helps to reduce the wear and tear on the engine and ensures that the chainsaw runs smoothly, even under heavy use.
Visible Fuel Level
The last thing you want when you're halfway through a job is to run out of fuel.
The Husqvarna 450 Rancher chainsaw has a visible fuel level indicator, which lets you know how much fuel is left in the tank, so you don't have to stop working to check mid-task.
Low Vibration
Chainsaws can be notoriously uncomfortable to use due to the significant amount of vibration they produce.
However, the Husqvarna 450 Rancher is built to reduce vibration, making it more comfortable to use for extended periods.
This feature also helps to minimize the operator's fatigue, making it ideal for someone who uses the tool all day.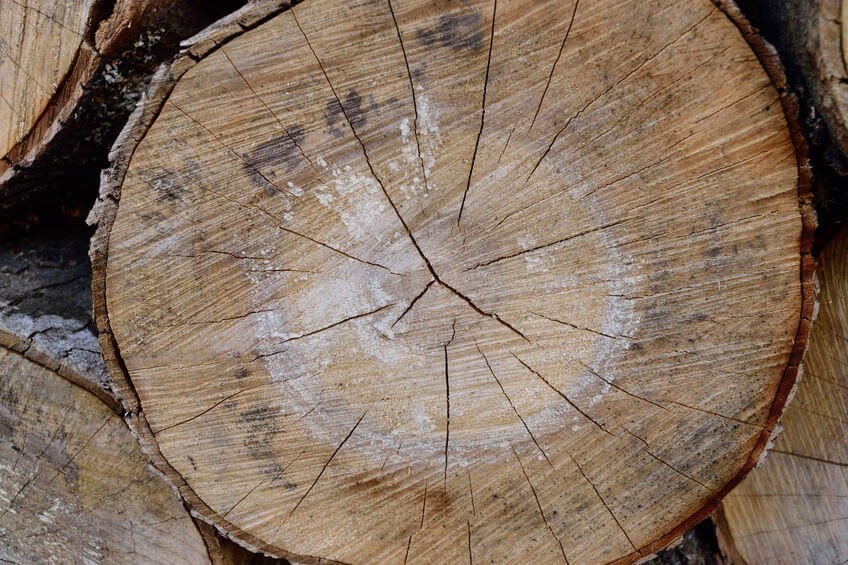 Chain Brake
Accidents can happen, even with the most experienced chainsaw operator.
The Husqvarna 450 Rancher comes with an advanced chain brake that provides a level of safety while working.
The brake stops the chain rotation immediately if it detects any sudden movement or kickback.
Air Injection
One of the most advanced features of the Husqvarna 450 Rancher is the air injection technology.
This feature helps to prevent dust and debris from clogging the air filter, reducing the frequency required to clean it.
It also keeps the engine running smoothly, reducing maintenance needs.
Benefits Of The Husqvarna 450 Rancher Chainsaw
Now that you know some key features of the Husqvarna 450 Rancher, let's take a look at some of its main benefits if you're in the market for a new saw.
Design and Build Quality
The Husqvarna 450 Rancher Chainsaw is a sturdy, durable tool that is built to last.
It is made of high-quality materials, such as magnesium and aluminum, which make it both lightweight and resilient.
The design of this chainsaw is also a standout feature, with a sleek and ergonomic handle that provides maximum comfort and control.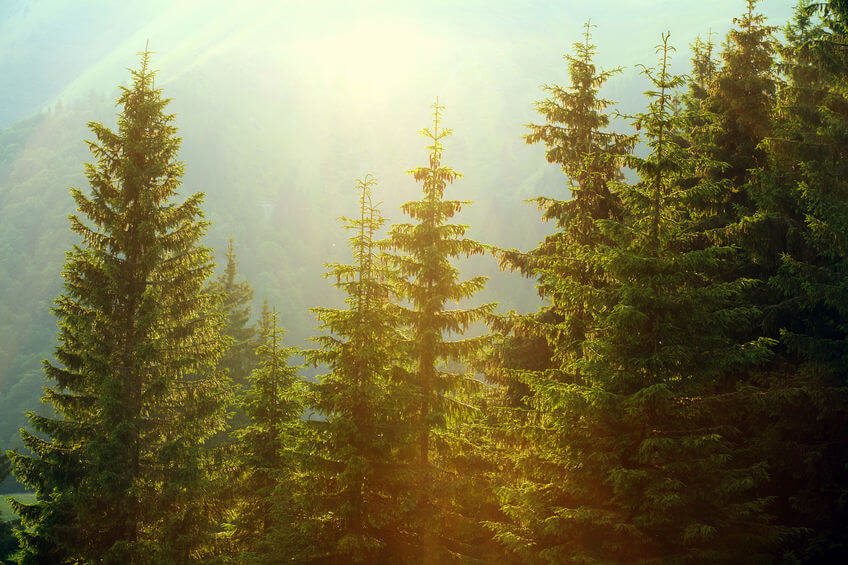 Engine Power and Performance

The Husqvarna 450 Rancher chainsaw is equipped with a powerful X-Torq engine that delivers exceptional performance and fuel efficiency.
This engine is designed to reduce emissions and increase fuel efficiency, making it an environmentally friendly option for those who want to reduce their carbon footprint.
Easy to Use
One of the main reasons people love the Husqvarna 450 Rancher chainsaw is that it's very easy to use.
This chainsaw features a Smart Start system that allows you to start the engine quickly and effortlessly, even if you're a beginner.
Safety Features
Safety is always the top priority when using a chainsaw, and the 450 Rancher has a range of safety features that make it a reliable and secure tool to use.
There's a built-in safety brake that will stop the chain in the event of a kickback, and it's also equipped with an anti-vibration system that reduces fatigue and increases comfort.
Versatile for Different Jobs
Whether you're cutting down trees, trimming branches, or clearing a fencerow, the Husqvarna 450 Rancher chainsaw is versatile enough to handle almost any task.
It has a large cutting bar and chain that can take on large jobs, but it's also lightweight and easy to handle, making it great for smaller jobs too.
Husqvarna 450 Rancher vs Husqvarna 455 Rancher
If you're trying to decide between the Husqvarna 450 Rancher vs the Husqvarna 455 Rancher there's a few things to consider.
First, either saw is a great saw but the 450 is lighter than the 455.
Although it's just a few pounds, the lighter saw is easier to use especially when you're cutting for long periods of time.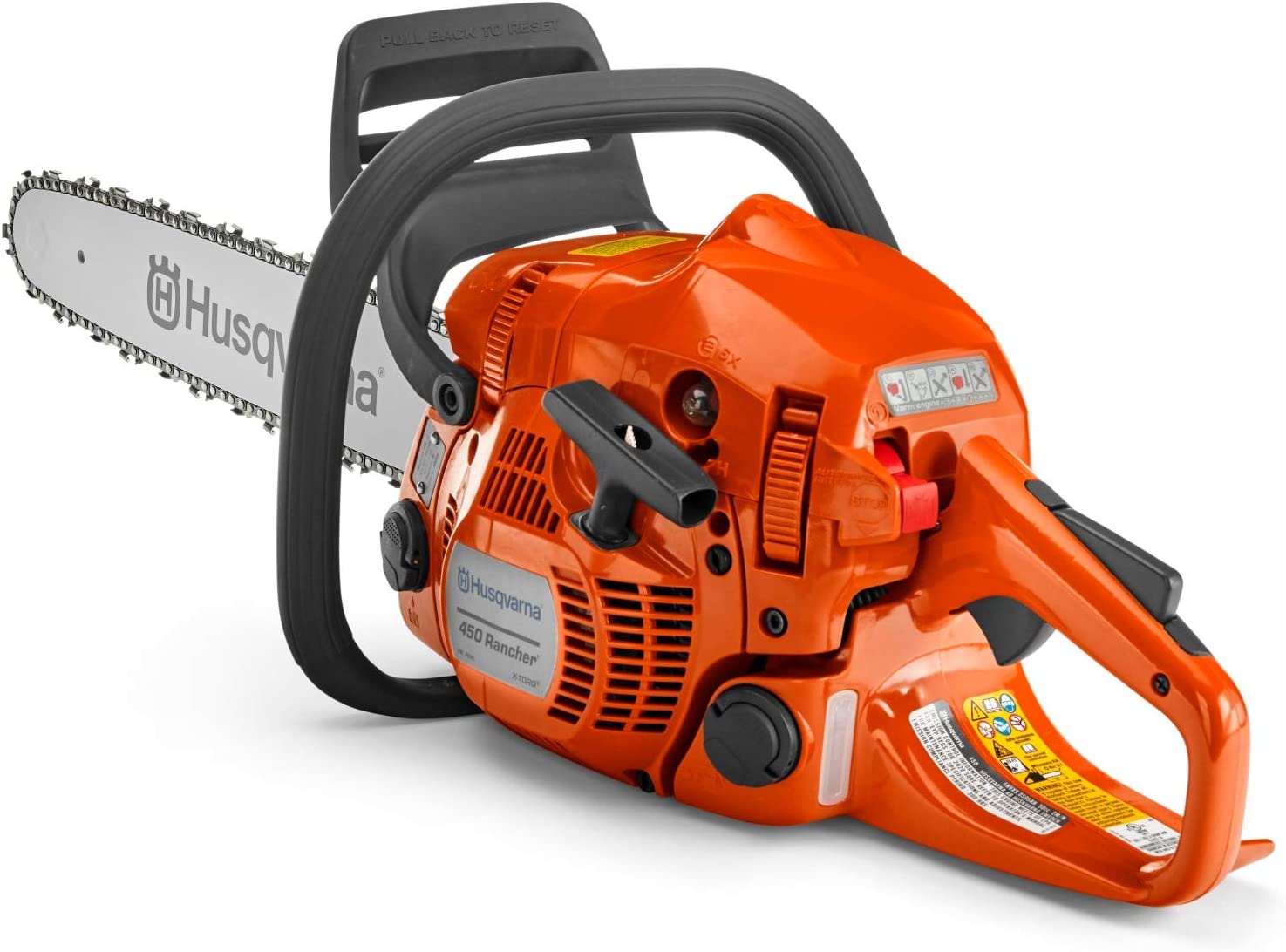 However, the 455 Rancher delivers more power than the 450, so you'll have to deal with a little heavier saw if you want the extra power.

The 455 also has an adjustable oiler on it and the 450 does not.
This doesn't mean the 450 lacks power......in fact the saw is amazing!
It has plenty of power for cutting firewood and just about any other task you need to accomplish.
Although there's always going to be a debate which saw is better, if I had to choose between the two, I would pick the Husqvarna 450 Rancher chainsaw.
It's lighter, cheaper to purchase, and it cuts like crazy!
Husqvarna 450 Rancher Chainsaw - Overall
The Husqvarna 450 Rancher chainsaw is one of the best chainsaws on the market for good reason.
With its powerful engine, easy-to-use design, and wide range of safety features, it's the perfect tool for homeowners, landscapers, and farmers alike.

Whether you're cutting down a tree, pruning branches, or doing some other yard work, the 450 Rancher is the perfect tool to get the job done quickly and efficiently.