Husqvarna 14 Inch Chainsaw
Husqvarna 14 Inch Chainsaw
This post may contain affiliate links so I earn a commission. 

Is a Husqvarna 14 inch chainsaw the perfect saw for you?
Choosing the right chainsaw comes down to a lot of details.
In general, one of the most important aspects of buying the right Husqvarna chainsaw for the job is knowing what bar length you need. 
Your required bar length will vary depending on several different factors including where you're using it and what diameter wood you'll be cutting.
You don't need a 24-inch bar for a job that a 14-incher can get done. 
In fact, having the wrong size bar for the job can be incredibly dangerous.

Having more chain running when you're trimming up high in a tree gives you less maneuverability and can easily lead to an accident.

It's times like this that call for the best Husqvarna 14 inch chainsaw.
What's A Husqvarna 14 Inch Chainsaw Good For?
Choosing a 14-inch chainsaw over the larger sizes provides you with all of the basics that you need from a chainsaw.
While it won't handle massive jobs, you can get most property maintenance done without a problem. 
For example, trimming and pruning trees and bushes around the yard is one of the best jobs for a Husqvarna 14-inch chainsaw.
You have a lot more maneuverability and control with a shorter bar, meaning you're less likely to injure yourself or cut something that you don't want to cut. 
You can also do a lot of cleanup regarding cutting down broken tree limbs with a 14-inch chainsaw.
If you're in an area that gets frequent storms with larger trees around, you may need to go bigger, but if your cleanup jobs are smaller, this will be the best pick for you. 

Plus, why spend a fortune on a 20-inch chainsaw when you could save a ton of money to get the right tool? 
On top of the price, you're looking at a smaller, lighter chainsaw that's way easier to carry around and operate for a longer period of time.
You have more choice to operate them in more confined spaces, which can be necessary for landowners.
So, a Husqvarna 14-inch chainsaw can handle all of the classic jobs, as well as some of the bigger ones if you have the right cutting technique and experience to go along with it.
How To Choose The Best Husqvarna Chainsaw
There are multiple options when looking at Husqvarna 14-inch chainsaws.
Picking the right chainsaw comes down to a few key aspects.
You already know you want a 14-inch bar length, so let's talk a bit about the other specifications to look out for.
Cylinder Displacement
The cylinder displacement refers to the volume of air moved by the piston on the upward stroke.
To put it simply, the higher the number of displacement, the more powerful the chainsaw is.
There's more air moving with each explosion of fuel mixture, driving the piston with more force, allowing you to cut through denser wood. 
Saw Weight

Cylinder displacement typically relates to the overall weight of the saw.
There's more material needed to move more power, which ends up meaning more weight.
If you are wanting to use a saw for longer periods, you need to get a lighter saw unless you have years of experience as a logger carrying around a 15-pound saw all day long. 
Gas or Electric
Another option you'll come across these days is the choice between buying a gas chainsaw, or battery-powered. 
There's a lot of debate over which is better and if the electric chainsaws can really live up to the gas ones, but there's also been a huge amount of development in technology.
A lot of electric chainsaws will give you the power needed for most jobs. 
The biggest thing to consider is battery life.
If you're out on a remote job and need to work all day, you either need a generator to charge the battery or spare batteries which can be expensive. 
In contrast, you can just bring a gas can for your chainsaw and fill up whenever necessary to get right back to work. 
Electric does provide a much cleaner operation and is significantly quieter compared to the roar of a combustion engine.
Husqvarna 14 Inch Chainsaw Options
Here are the options that Husqvarna has to offer when it comes to 14-inch bars.
Husqvarna 120 Mark II
Weighing in at 11 pounds, the 120 Mark II is a great choice for anyone not looking to spend much money, but get a chainsaw that will take care of the day-to-day average tasks.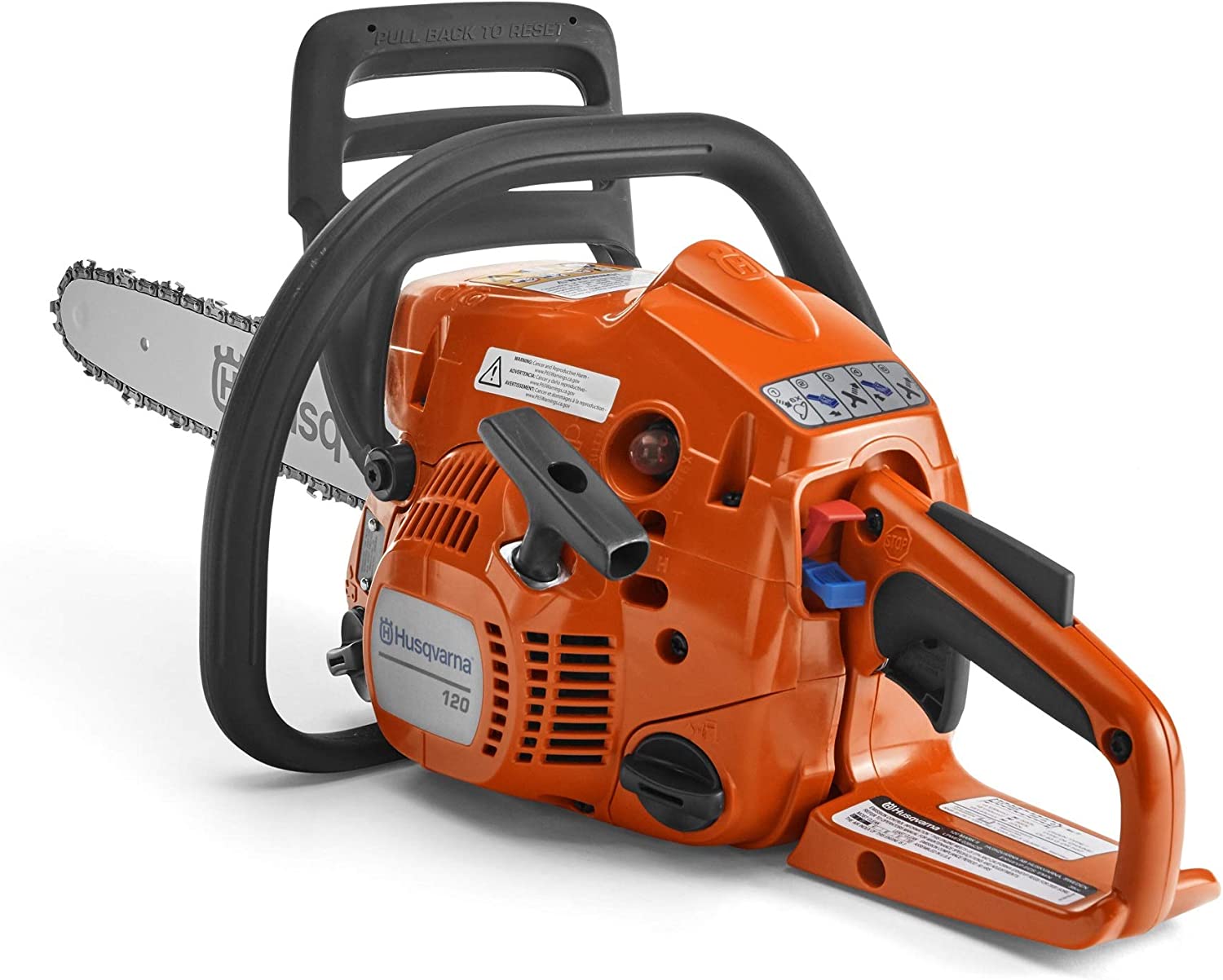 This one is made for tree pruning and hobby work, but still has all of the best tech from Husqvarna.

Husqvarna T435
The T435 will be your next step up from the 120.
It's built to be incredibly lightweight, coming in at a mere 7.5 pounds.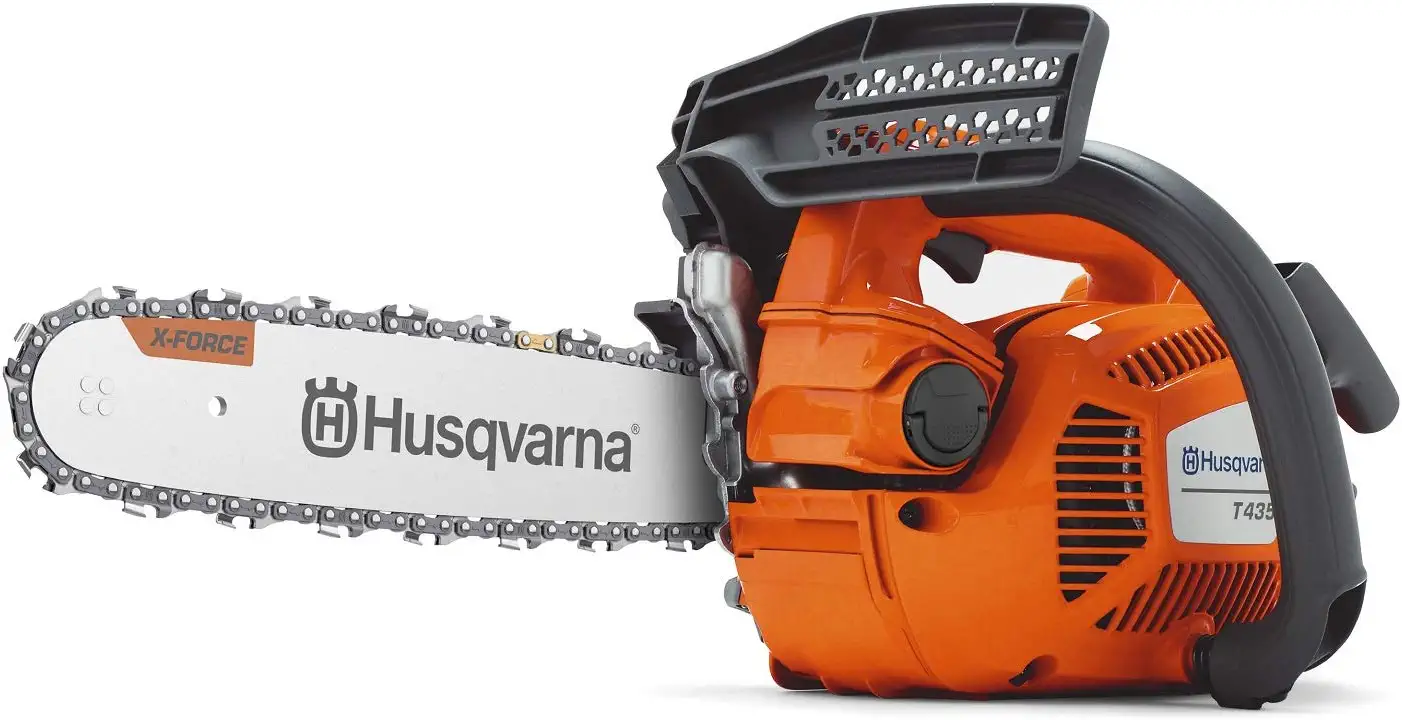 It's a drastic difference from other models, making it a great choice for anyone still wanting the power of the X-TORQ engine but not wanting to lug a huge machine around all day.
Keep in mind the "T" indicates a top handle design which is different than a standard chainsaw setup that has the handle on the back of the saw.
Husqvarna T540 XP II
Designed for professionals, the T540 XP II uses simple starting, ergonomic handles, a belt eyelet, and AutoTune to make this one a comfortable and enjoyable experience to use.
This comes along with all the bells and whistles, along with a ton of power in a small bar.

Husqvarna 120i Electric Chainsaw
The first electric Husqvarna 14 inch chainsaw on our list is the 120i.
This is one of the earlier electric models that they came out with but is still one of the best.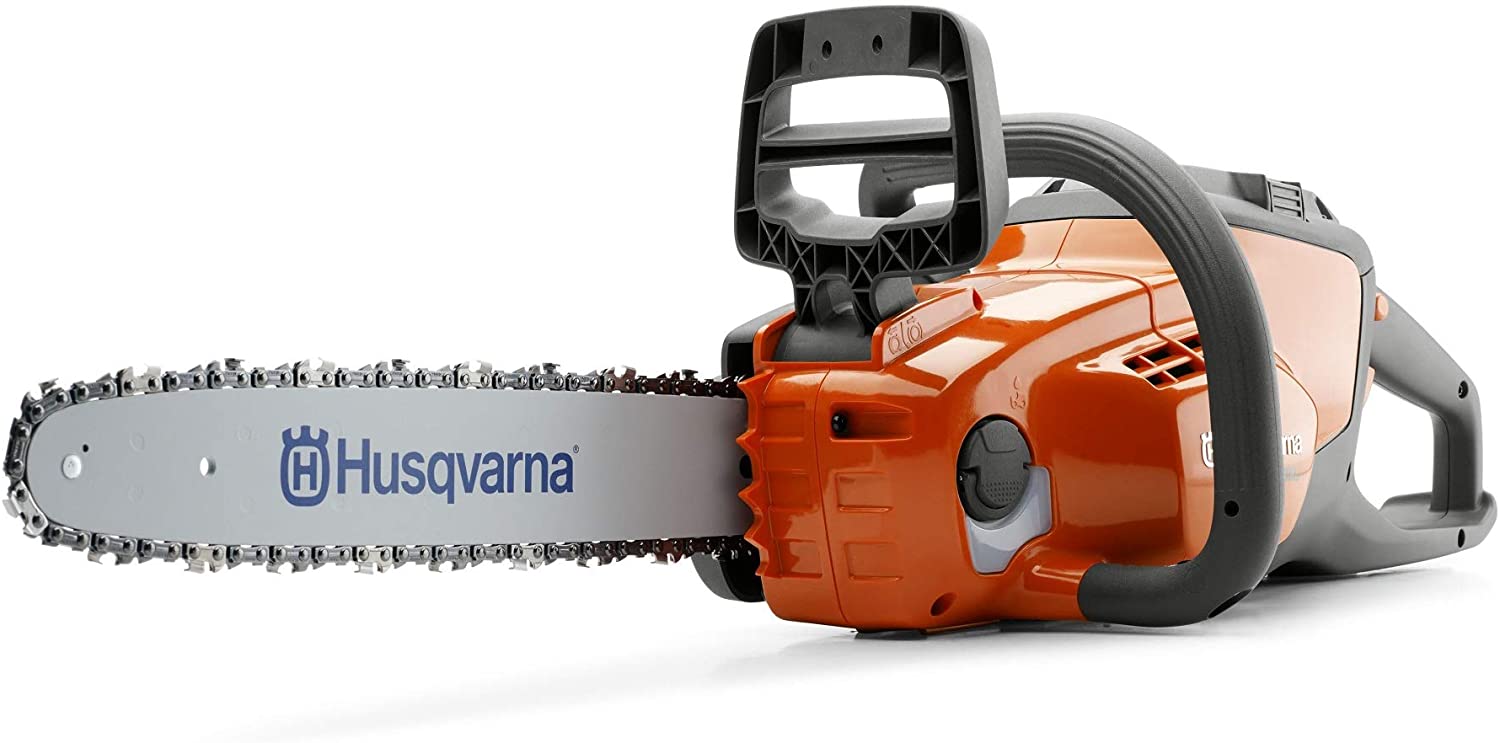 Husqvarna 120i Electric Chainsaw
It weighs right around 11 pounds, comparable to its gas counterparts, and can take on the same jobs. 

Incorporated into the design is a control keypad that will allow you to enter into "save mode" and switch between maximum power and maximum runtime.
Husqvarna 540i XP
The top of the line in electric chainsaws is the 540i XP.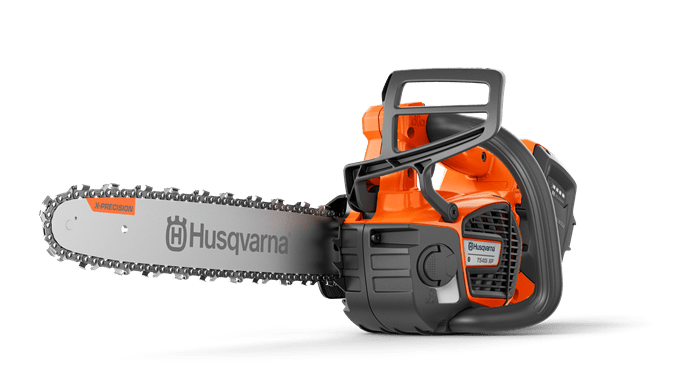 This model is incredibly powerful and efficient and gives you the same performance as a 40cc gas chainsaw.
It's made for professionals who need the stability of a rear-handle saw but want the lightweight option, which this provides at only 6.39 pounds.
Husqvarna 14 Inch Chainsaws - Overall
If you're looking for a lightweight, powerful chainsaw from a reputable manufacturer, you won't be disappointed with a Husqvarna chainsaw.
There's a reason why Husqvarna is one of the worlds best selling chainsaw brands.
Go ahead and give one a try, you won't be disappointed!