Husqvarna 20 Inch Chainsaw
Husqvarna 20 Inch Chainsaw
This post may contain affiliate links so I earn a commission. 

Moving up to a 20 inch bar can be a good move for taking on a bigger job, and a Husqvarna 20 inch chainsaw is a great choice.
When faced with larger trees or logs, you need something powerful by your side and that's what you get with a saw like this.
20-inch bars are entering into the larger side of the spectrum, built for taking down large trees and even bigger jobs.
They aren't the kind of saw to start off with when you're learning.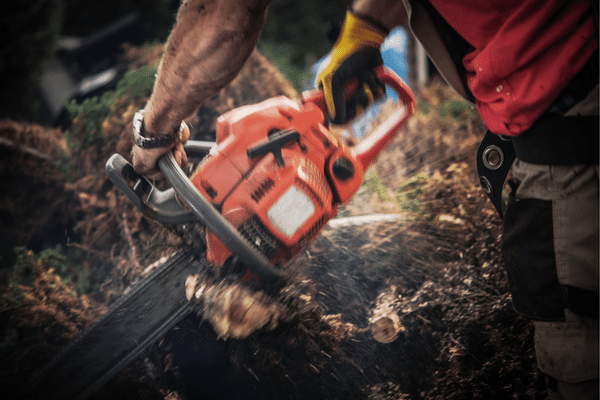 These saws are designed for professional use, or someone who has a lot of chainsaw experience.

If you're in the market, this guide will help you figure out how to choose the best Husqvarna 20 inch chainsaw.
Why a 20-inch Chainsaw?
Choosing a 20-inch chainsaw when you go out will allow you to bring more power and ease to cutting larger-diameter trees.
If you're chopping firewood on a larger scale, you may find a 20-inch bar to be incredibly helpful in bringing down larger trees to then process.
A longer bar is also easier on your lower back when bucking the logs because you don't have to bend over as far when running the saw.
However, these aren't made for taking care of the small yardwork that a 16-inch bar would be better suited for.
With a longer bar and a larger engine, you'll have additional weight.
20-inches of bar makes it a bit harder to handle with the precision you would want for smaller jobs and clearing brush.
How To Choose A Husqvarna 20 Inch Chainsaw
Deciding what Husqvarna chainsaw you should buy starts off with knowing what you're going to be using it for.
It also means knowing the type of trees around you.
For example, harder woods like locusts will need something more powerful than a softer tree, like a poplar. 
Before making the big investment, you should take the time to understand what you want to get out of the saw.
Below are a few things to take into consideration when browsing between different saws on the market.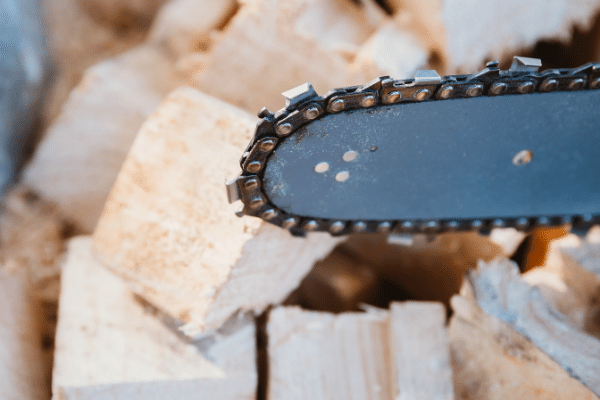 Power

With the larger bar, you're likely to be taking on bigger jobs that may require a higher degree of power as well.
An engine with higher horsepower will help you cruise through trees that can challenge your lower-end saws. 
Power is also represented by engine displacement.
This refers to the volume of the cylinder that's pushing the piston and driving the engine.
The larger the displacement, the more power the saw will have.
Maintenance
Unless you're well-versed with chainsaws, maintenance can take up a huge amount of time when you're using them a lot.
Fortunately, there are newer developments that make chainsaw maintenance an easier task that only needs to happen occasionally.
Cleaner, more efficient chainsaws like Husqvarna's X-Torq engine reduces fuel consumption by up to 20% and emissions by up to 60%.
Another advancement in technology, AutoTune, uses a computer chip inside the saw which controls the fuel to the engine, reducing emissions and fuel consumption.
Some saws are equipped with a centrifugal air cleaning system which helps remove larger dust and debris particles before they reach the air filter.
This allows for a cleaner air filter that requires less cleaning or maintenance.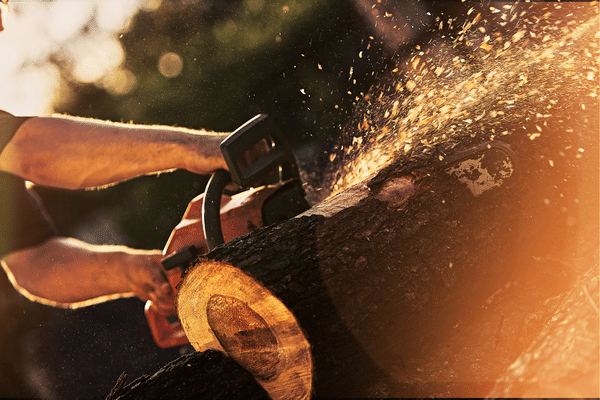 Electric vs Gas

A big decision that you need to make these days is choosing between an electric chainsaw or a gas one.
There are some major benefits of going with either one, but they also come with individual drawbacks. 
For example, an electric chainsaw won't put off a ton of exhaust fumes, which can be great for when you don't want to breathe in all of those toxins.
They also require a lot of time to recharge batteries, so extended use can be more difficult than with a gas tank that you simply refill.
What's Your Budget?
Of course, determining your budget is important when looking for the right chainsaw for your personal use.
There are some that will cost you thousands, but you can also get a good saw for under $500 as long as you're willing to make a few sacrifices in other areas.
The Best Husqvarna 20 Inch Chainsaws
Husqvarna 450 Rancher
The 450 Rancher is one of Husqvarna's best 20-inch chainsaws built for those taking care of land that can present bigger jobs.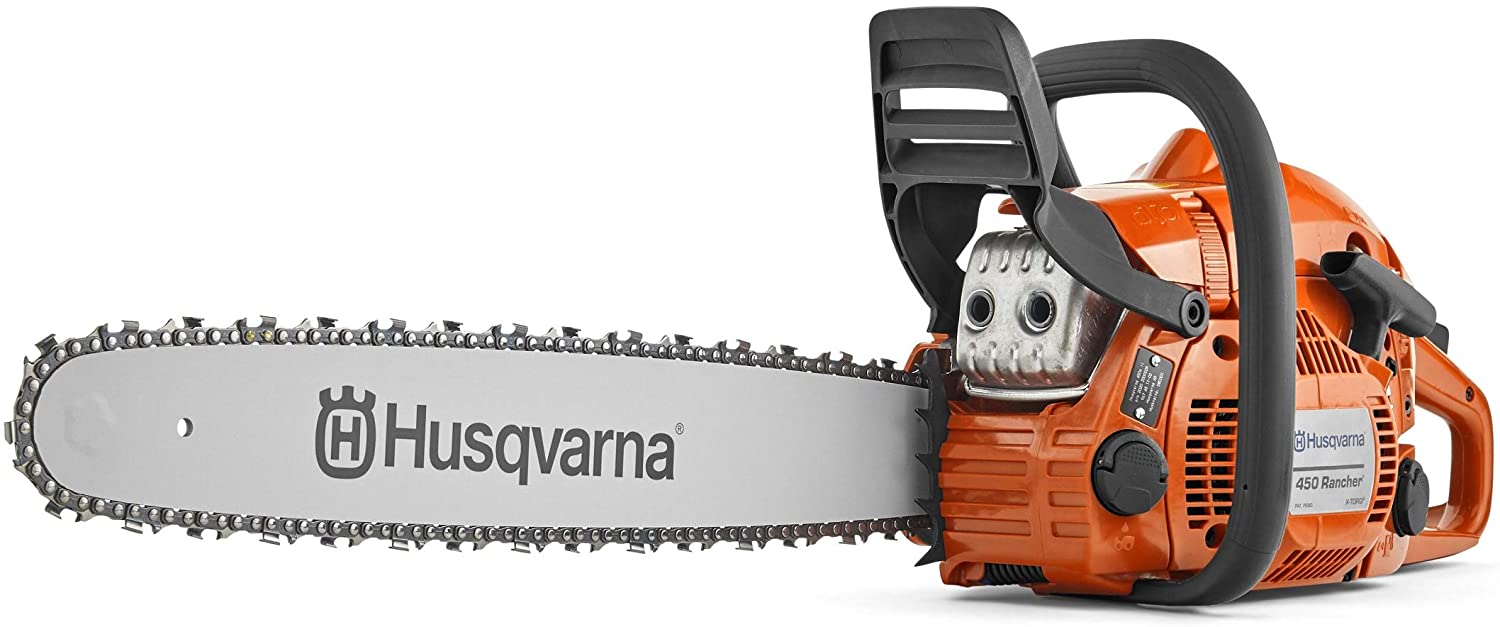 This one is the base level of saw, without any bells and whistles, but still packs a bigger punch with a bar to match.

We see this as the best Husqvarna 20-inch chainsaw for those wanting to save some money without needing the option to extend the bar length.
Husqvarna 455 Rancher
The 455 Rancher takes the capability of the 450 and bumps it up a notch with just a little bit more power, making it a great choice for those doing any professional work.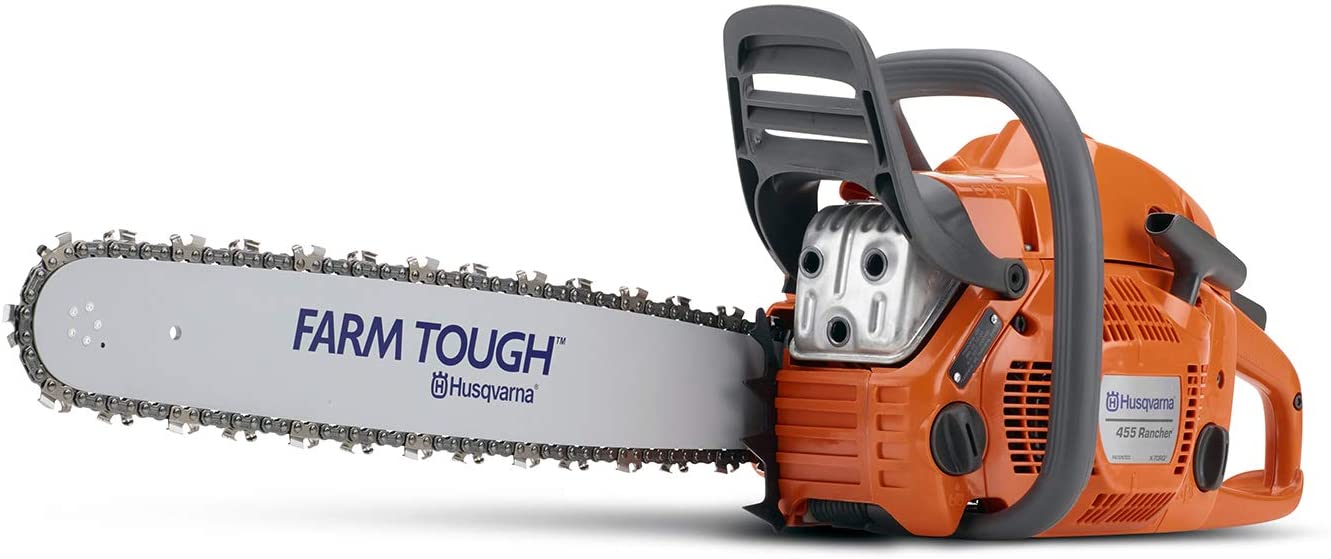 That little bit of power can make the difference between how much effort you need to put in throughout the day.
Husqvarna 562XP
The 562XP is made to be put to the test with a bar range of 18 inches up to 28 inches.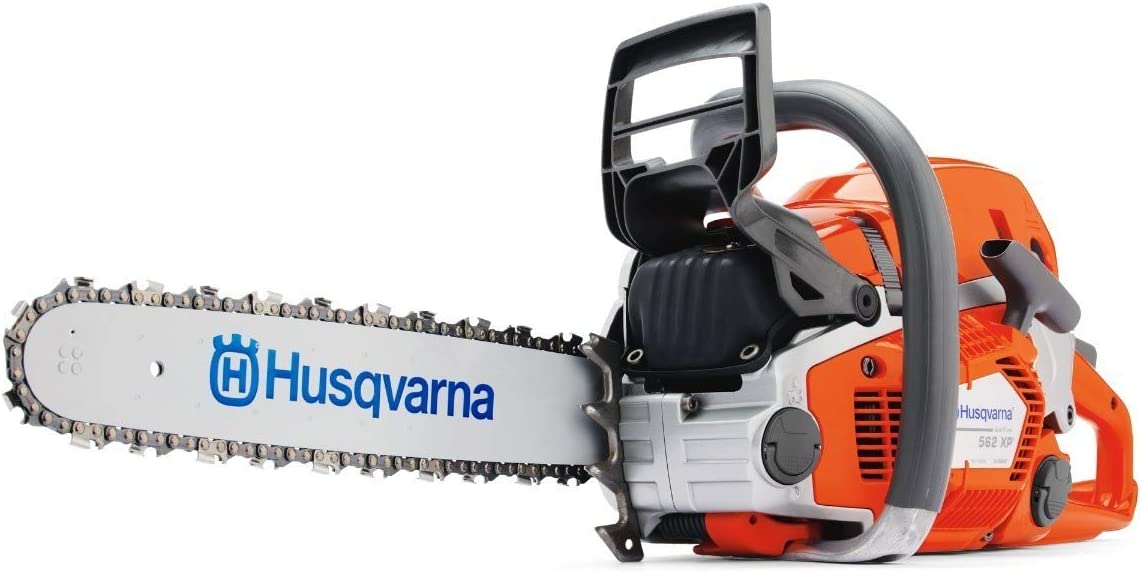 This makes it a great choice for landowners or professionals that need the choice to switch bars out and take on bigger trees when the time comes, but it isn't the primary use. 
All of the traditional Husqvarna technology is built in and ready to make using this saw comfortable and easy all day long.
Husqvarna 585 
The 585 is one of the bigger saws that uses a 20-inch bar as the smallest option.
With a cylinder displacement of 5.25 cu in, there is a lot of power packed into this motor to help take down a massive tree when needed.
With the 585 you can work your way up to a 36-inch bar without issue. 
The robust design and advanced air filtration make this the best choice for anyone taking on heavy-duty tasks that needs a saw capable of taking on bigger jobs without any challenge.
Husqvarna 592XP
5.66 cubic inches of cylinder displacement is one of the defining features of the most powerful saw on our list of the best Husqvarna 20-inch saws.
The 592XP is the absolute best of the best in the category, making its way all the way up to be used with a 36-inch bar as well. 
No matter the job you have, this saw is going to be ready to take it on.
While it will cost you a pretty penny, you get what you pay for and will likely never have to buy another saw again.
Even when there's a problem that comes up, the saw diagnoses itself and helps you to figure out what's going on so it can be fixed more efficiently, getting you back to work faster.
Husqvarna 20 Inch Chainsaw - Overall
The Husqvarna 20 inch chainsaw is a powerful and reliable tool for any homeowner or professional who needs to handle heavy-duty cutting tasks.
Whether you need to cut firewood, or tackle larger logging projects, a Husqvarna 20 inch saw offers the power, durability, and ease of use you need to get the job done quickly and efficiently.
So, if you're looking for a quality chainsaw that can handle a variety of tasks, look no further than Husqvarna.