Husqvarna 18 Inch Chainsaw
Husqvarna 18 Inch Chainsaw
This post may contain affiliate links so I earn a commission. 

Moving up to a Husqvarna 18 inch chainsaw can be an absolute game changer when you want to complete bigger jobs that require a longer bar and a bit more power.
An 18-inch bar is exactly what you need when you're taking care of larger trees on a consistent basis.
The length is right in the middle of a shorter bar and a longer one, which makes this a good pick for anyone that's a beginner or an expert working on regular jobs.
In fact, my favorite Husqvarna saw is equipped with an 18-inch bar, and I find myself using this length more than anything else.
So what's the best model to choose?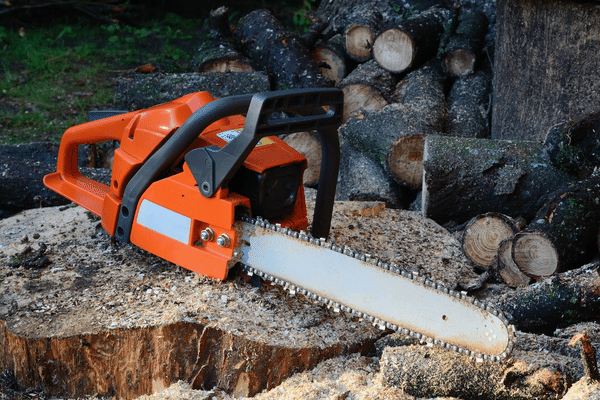 Husqvarna chainsaws come in a large variety of options, making it easy to get exactly what you want.

It really just depends on what you're looking for in a chainsaw.
To learn more, let's take a closer look at some factors to consider, and ultimately the best saw for you.
How To Choose A Husqvarna 18 Inch Chainsaw
Electric or Gas?
Nowadays, picking between an electric chainsaw and a gas one can be a difficult decision.
Electric chainsaws have come a long way since they were first introduced and the battery life has gotten longer while the saw has become even more powerful. 
There are a lot of electric chainsaws that are tough competition for their gas counterparts, so in the end, this comes down to personal preference and use. 
For example, if you're working in a remote area for a long chunk of the day, you may want a gas chainsaw so you can easily refill the tank any time you run out.
A battery pack needs time to charge, and an outlet to charge it from. 
Gas chainsaws are better for those longer jobs while electric chainsaws are a great choice for those who want to avoid exhaust and won't mind having to plug in every now and again.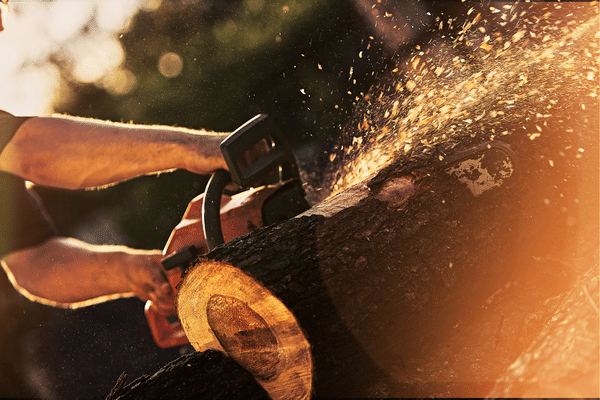 Knowing Its Purpose

Getting the right Husqvarna 18 inch chainsaw requires knowing exactly what you're hoping to use it for.
This will help you find the right saw with enough power to take on jobs that you're hoping to accomplish.
If you're still sticking to lighter jobs, but just want the option for bigger ones, there's no need to spend a lot of money to get more power.
You may also want to pay attention to weight depending on how you're using it.
A heavier saw is harder to use for longer periods of time, but often has more power.
A long day will be much more comfortable with a lighter saw in hand.
Maintaining The Saw
Sometimes you just don't want to do all of the maintenance that a lot of chainsaws can require.
From sharpening the chain to applying lubricant and staying on top of bar oil, it can add up to a lot of work. 
Chainsaw companies recognize this and have started to build in a lot of features that will self-sharpen your chain, make changing air filters a breeze, and overall improve the ease of maintaining a saw.
These do, however, come with a price.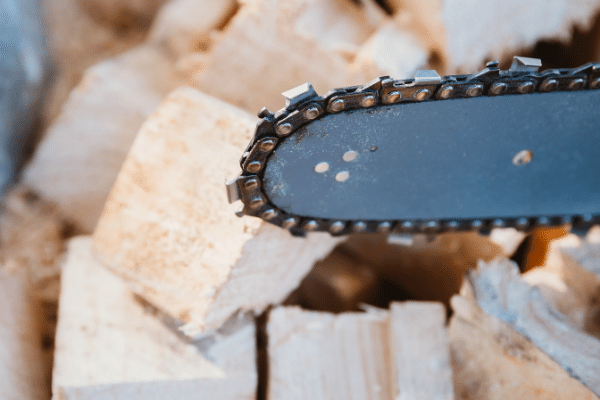 What's Your Budget?
As with everything else, you get what you pay for when looking at Husqvarna 18-inch chainsaws.
The higher end will have all of the cool new features with the best technology alongside them.
The cheaper models are going to stay true to how Husqvarna started out, with quality but also with simplicity. 
A budget can only be determined by you since it is a very personal decision.
Know what you want, and decide what it's worth to get that.
The Best Husqvarna 18 Inch Chainsaws
Power Axe 350i
The Power Axe 350i is a brand new model from Husqvarna that boasts an even higher cutting power than its gas equivalent at a much lighter weight.
The 350i comes in at a mere 7.7 pounds.
Another great feature is the newer battery.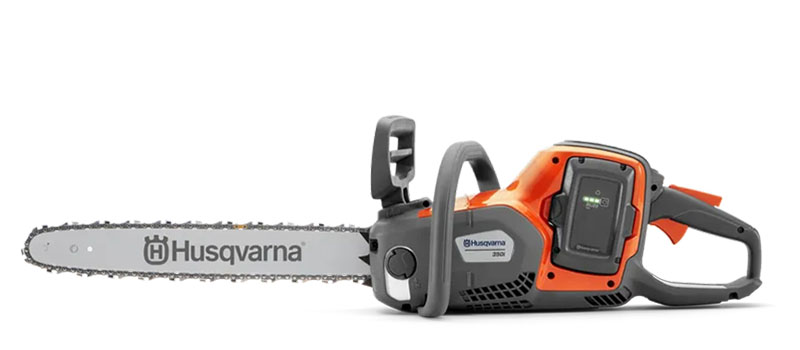 The new battery system allows you to use it longer, and swap between other electric Husqvarna tools. 

One thing that is unique about the 350i is its option for boost mode, where you can deliver even more power when you want it.
That helps save battery while operating at lower power, but gives you the extra 25% when you want it.
Husqvarna 445
The Husqvarna 445 is a fantastic 18 inch chainsaw for those just entering the world of a slightly larger bar length.
The design is meant for easier handling during long days in the yard.
It also uses Smart Start to help get the saw up and running in a breeze.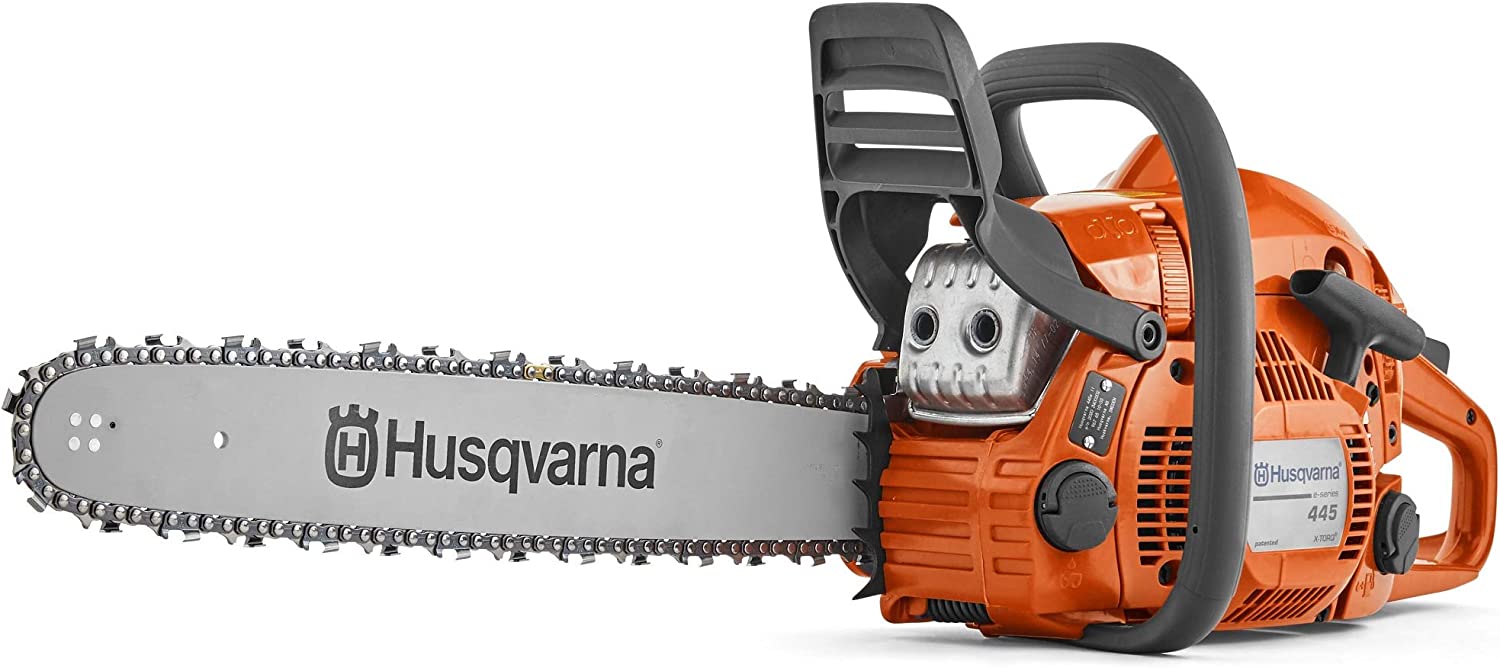 While this can be considered the "basic" model, it still uses the classic X-TORQ engine for a higher level of performance and lower emissions than competitors.

The Husqvarna LowVib technology makes using the saw all day even easier on your body.
Overall, this is a fantastic base level for those looking at 18 inch chainsaws.
Husqvarna 450 Rancher
The 450 Rancher is a step up from the 445 with more power and a few more features that can make its general maintenance a bit easier.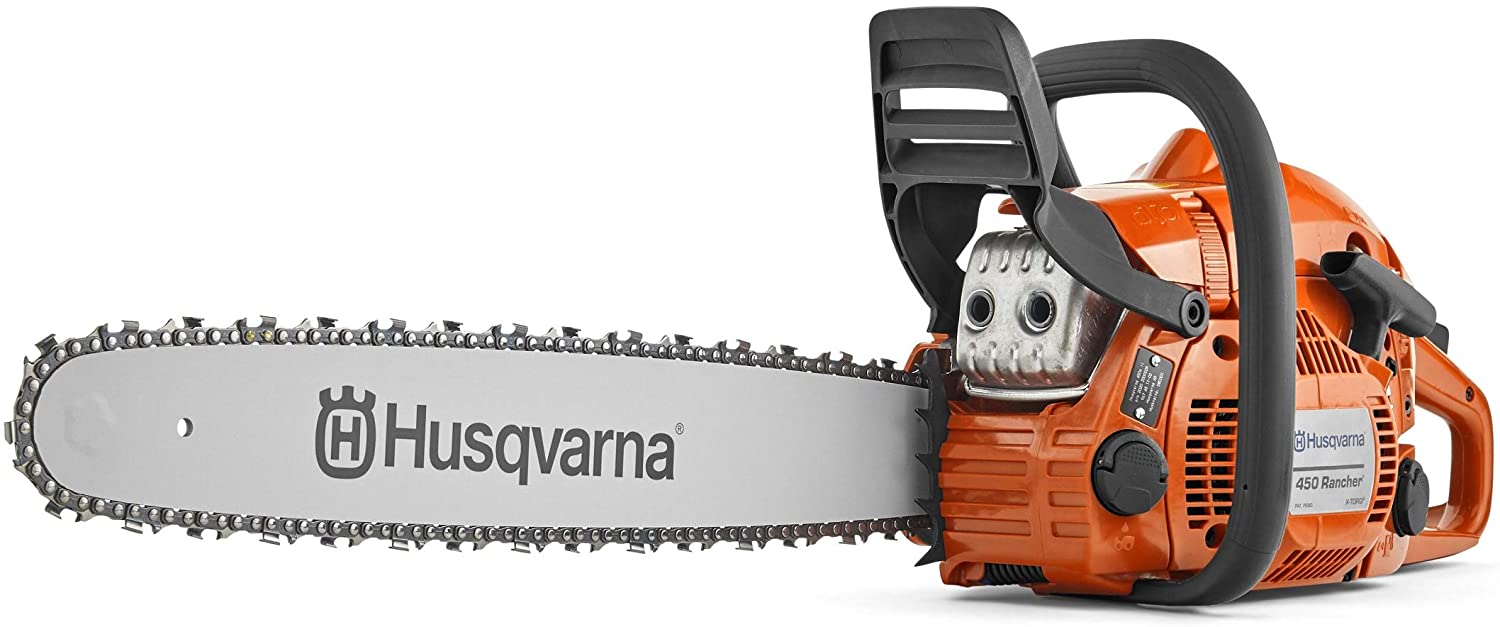 Husqvarna 450 Rancher Chainsaw
This saw also allows for you to throw on a 20-inch bar for when jobs get a bit bigger and you need the extra length.

550XP Mark II
The 550XP Mark II is one of the best for those looking to use it professionally.
The longer bar combines with the maximum power in the 50cc class to make the perfect Husqvarna 18 inch chainsaw for felling trees or dropping larger limbs.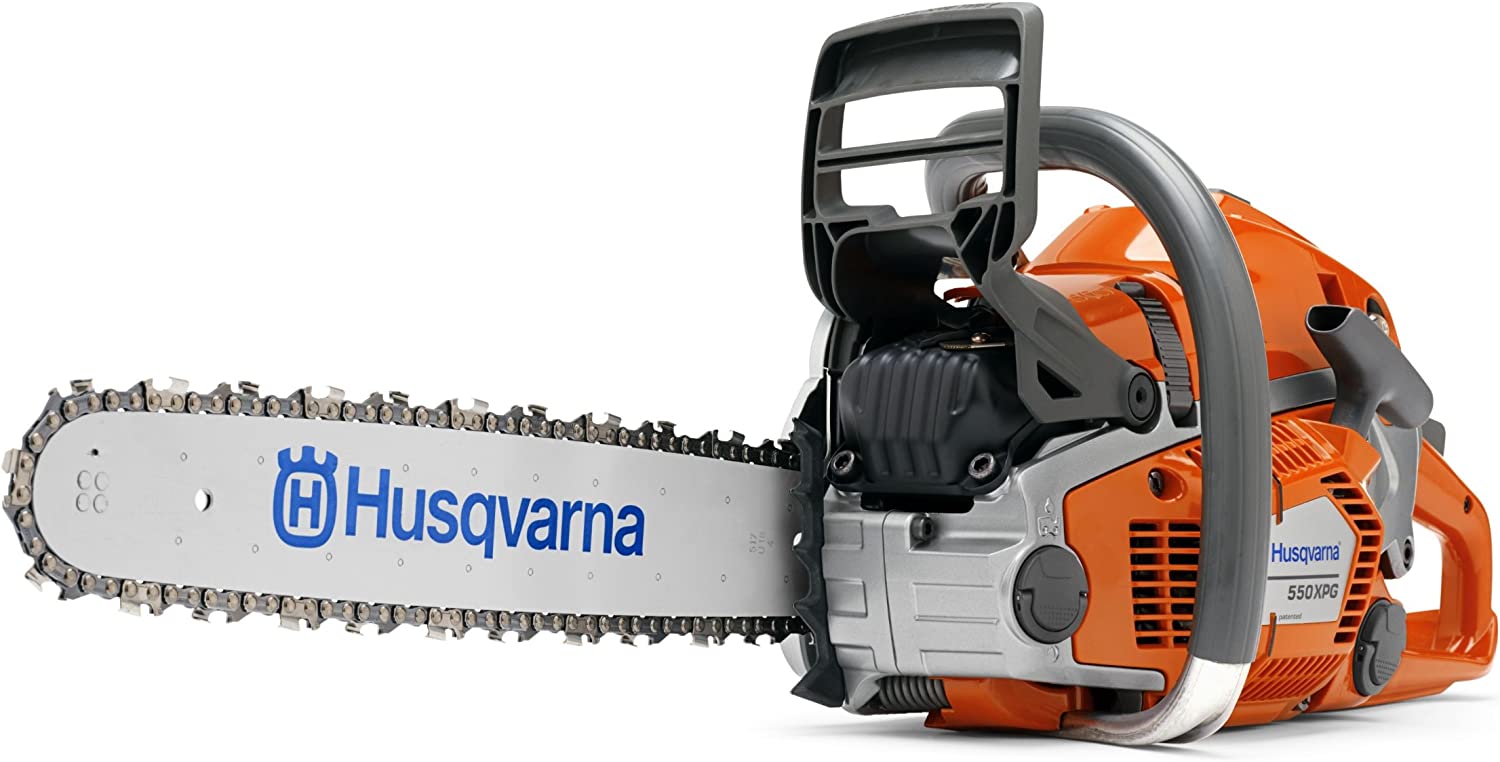 Husqvarna has added in a better cooling capacity that will extend the saw's lifespan significantly.

Combined with a felling sight molded into the saw, you can use this for professional jobs for the rest of your career.
Husqvarna 390XP
Looking for the saw to take on any large job you have?
The 390 XP is designed to be used with bars from 18 inches all the way up to 36 inches long.
This beast can take down the biggest trees you can find without hesitation. 
This Husqvarna 18-inch chainsaw is great if you're hoping to continue moving up with bigger and bigger projects.
It also has a massive amount of power so you can take down harder woods that may put up more of a fight against your other chainsaws that you've tried before.
Husqvarna 18 Inch Chainsaw - Overall
Husqvarna is a well-known and respected brand in the chainsaw industry, and their 18-inch chainsaws are popular among homeowners and professionals alike.
If you're looking for a reliable and powerful chainsaw that can handle a variety of tasks, a Husqvarna 18 inch chainsaw is definitely worth considering.