Husqvarna 16 Inch Chainsaw
Husqvarna 16 Inch Chainsaw
This post may contain affiliate links so I earn a commission. 

A Husqvarna 16 inch chainsaw is perfect for those looking to take care of small jobs at home without wielding a saw with a massive bar that can be too dangerous.
Chainsaw use is becoming more and more popular as people see their utility and usefulness in the day-to-day upkeep of their homes.
If you have bushes and small trees on your property, picking up a 16-inch chainsaw is going to help you any time you go outside to take care of debris or simple trimming and pruning.
Using a chainsaw reduces the time spent on lawn care and leaves you with a lot more time to focus on your other hobbies. 
A Husqvarna 16 inch chainsaw is going to be perfect to help you take down any small to medium trees and do a lot more.

If you have larger trees, you can still take them down with the right techniques and skills.
I find my Husqvarna 16-inch chainsaw is perfect for cutting up firewood as I prepare for the winter. 
How To Choose A Husqvarna 16 Inch Chainsaw
From afar, all of the Husqvarna 16-inch saws can look about the same to someone new to the market.
In reality, there are some drastic differences between models that can totally change how the saw operates and what you can manage with it.
Level of Experience
The first thing to know is your own level of experience and what you know about chainsaws already. 
There are a lot of features that come along with modern chainsaws like self-sharpening, auto-oiling, electric starts, and so much more.
And these features often will jack up the price of the chainsaw they come with.
So, if you already know how to sharpen a chain, you may not need to get a self-sharpening saw. 
It all depends on what you're comfortable with.
If you want to save money, you can always choose models without these features that will cost dramatically less because you have to do more work.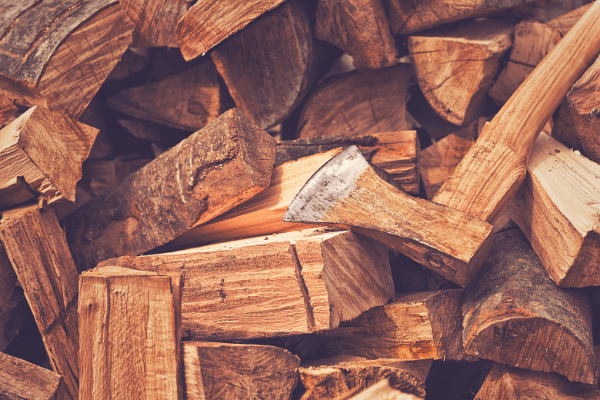 Knowing Your Projects

It's likely that if you're an experienced forester cutting down 24-inch diameter trees on the regular, you won't be looking at a Husqvarna 16 inch chainsaw for those jobs. 
Bringing down smaller trees, though, is totally possible for a 16-inch bar.
If you're hoping to clean up after storms and keep your stand of trees thinned out, you can manage all of that with a 16-inch saw. 
But, if you're looking for bigger projects, you'll need a bigger bar to handle the job.
Picking out a Price Range
Another big factor in buying a 16-inch chainsaw is knowing your price range.
This can change dramatically as you look at different models.
For example, you can buy a Husqvarna 16-inch chainsaw for under $300, or you can buy one for over $1,000. 
Your price range will determine all of the features you get with your chainsaw as well as the style.
Gas chainsaws tend to be less expensive while electric saws are more because they're newer to the market.
The Best Husqvarna 16-Inch Chainsaws
Husqvarna 120
The 120 is your run-of-the-mill, basic gas-powered chainsaw that Husqvarna puts out.
That means it still comes with all of the strongest baseline technology that Husqvarna is well-known for, but lacks all of the other features that you may look for in newer models. 
This Husqvarna chainsaw uses a 1.8 horsepower X-Torq engine to reduce emissions and increase fuel efficiency.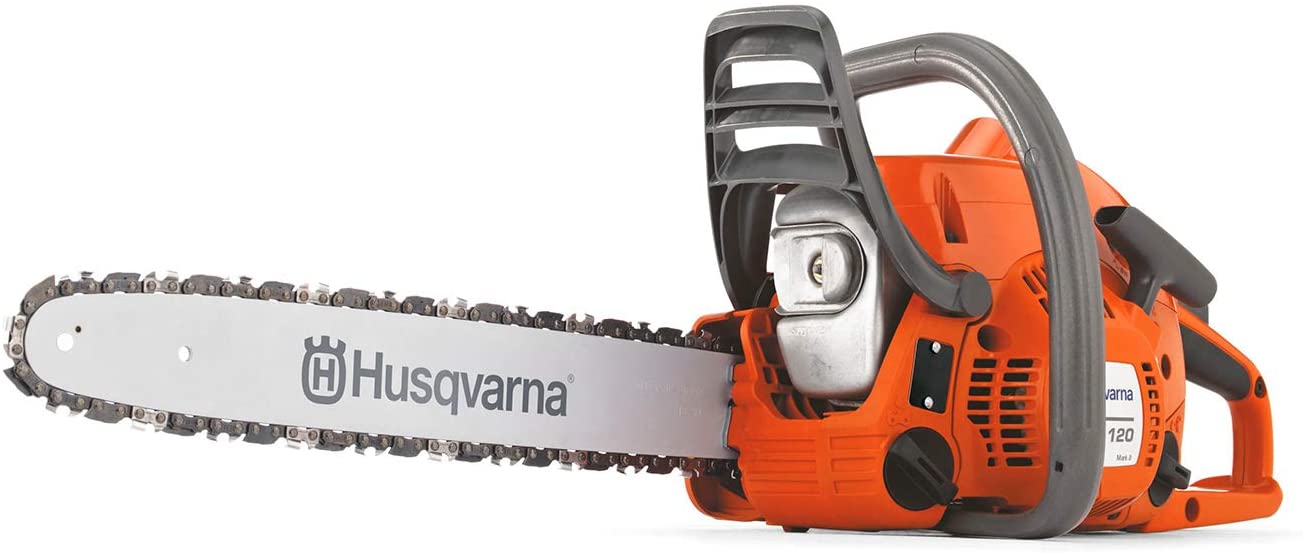 It also uses LowVib technology to dampen the vibrations, making it easier to handle for long periods of time. 

One of the most important features is the inertia-activated chain brake to help reduce injuries from any kickback that you may come across.
Husqvarna 435
For a stronger gas-powered 16-inch chainsaw, you may want to look at the 435.
It stays in a lower price range but brings 2.2 horsepower for the work you need to get done.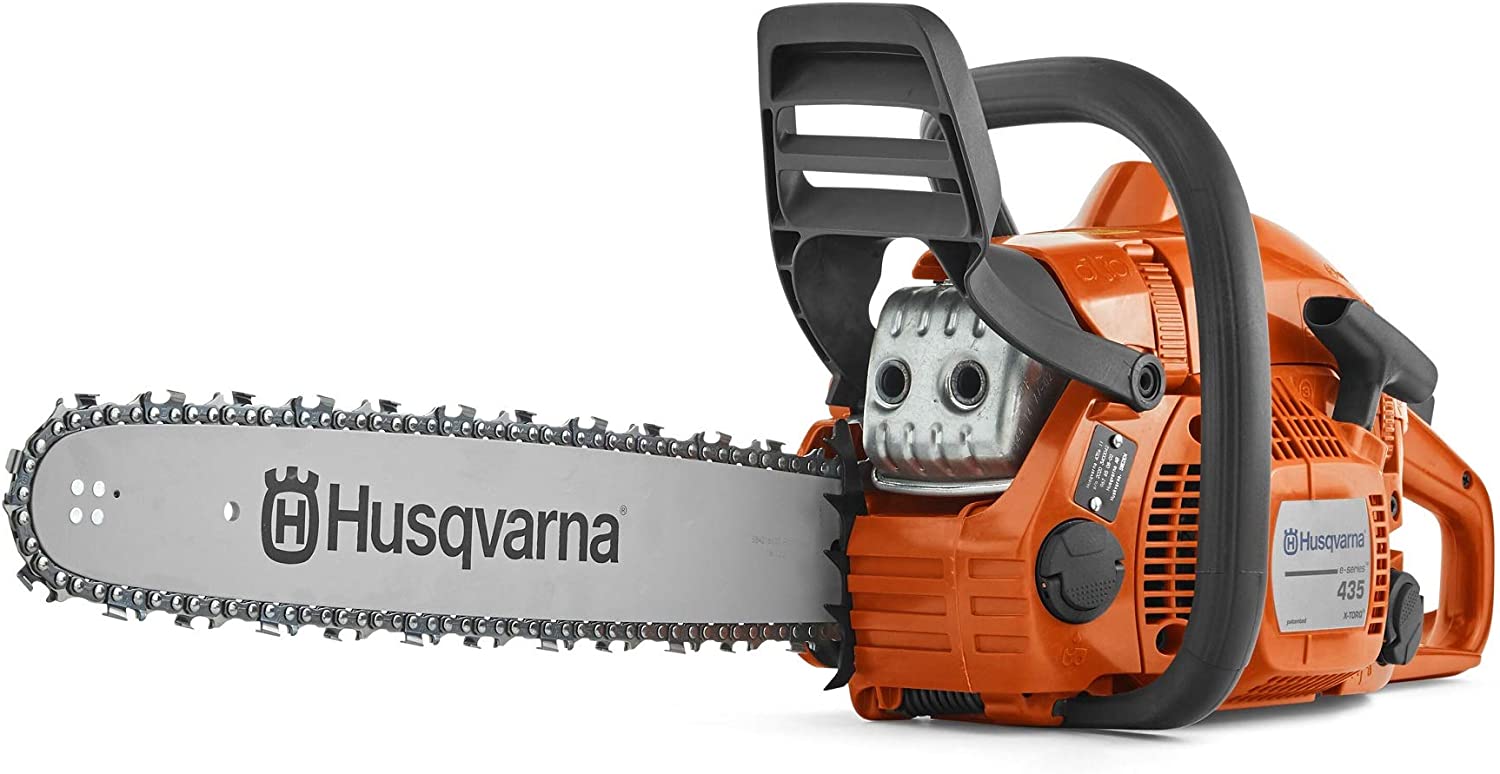 Even with more horsepower it weighs in a whole pound less than the 120 at 9.7 pounds. 

All of the other features on the 435 remain the same as the lower-tier 120, but it can handle a bit bigger jobs that require that extra horsepower.
Husqvarna 135 Mark II
The Husqvarna 135 Mark II is a big step up from the previous saws on our list when it comes to features.
This gas-powered saw boasts 2.1 horsepower at a crazy light weight of 4.7 pounds.
This makes it a big qualifier for all-day work as you're far less likely to tire out. 
Husqvarna 135 Mark II Chainsaw
The 135 Mark II is one of the lower-tier models that features automatic oiling and a side-mounted tensioning system so you can easily adjust slack on the go.

All of these features point towards a longer day, so if you're looking at more time behind the saw, this might be the right pick for you.
Husqvarna T540XP Mark II
For professionals, Husqvarna offers the T540XP Mark II as one of its top-end 16-inch chainsaws.
It brings together quality features like AutoTune that sets the engine right where it needs to be without your help.
It also has interchangeable grips and a belt eyelet for ergonomic use during a long day. 
This model comes with the highest horsepower on our list at 2.4 horsepower, meaning it's much more capable of taking on the bigger tasks you couldn't get done with a weaker engine. 

The T540XP also comes in an electric model, the T540i XP, a lighter version of the gas version.
It can get most everything done that the gas models on our list can, but without the emissions and noise that come along with a combustion engine.
Husqvarna 16 Inch Chainsaw - Overall
When searching for the perfect chainsaw, you'll find there's no shortage of options on the market.
Husqvarna has proven to be a leader in the chainsaw industry, providing quality construction at an affordable price.
Whether you're looking to purchase your first chainsaw, or you're simply updating an older saw that you've had for years, Husqvarna is brand you should definitely consider!