Husqvarna 460 Rancher Chainsaw
Husqvarna 460 Rancher Chainsaw
This post may contain affiliate links so I earn a commission. 

If you're in the market for a chainsaw, the Husqvarna 460 Rancher chainsaw deserves a place on your list of contenders.
This saw is built to tackle heavy-duty tasks, making it an excellent choice for professionals and homeowners who need a reliable and powerful machine.
In this post, we'll take a closer look at the Husqvarna 460 Rancher, exploring its features, performance, and overall value.
Husqvarna 460 Rancher Chainsaw Features And Benefits
Here are some of the key features and benefits to pay attention to with the Husqvarna 460 Rancher.
Engine Power

One of the standout features of the 460 Rancher is its engine.
It boasts a 60.3cc X-Torq engine that's designed to deliver ample power while also minimizing exhaust emissions.
With this chainsaw, you can expect to make quick work of large trees and dense logs without compromising your environmental footprint.
The engine also features the company's patented Air Injection system to ensure that the air filter stays clean, which translates into optimal performance.
Bar Size
The Husqvarna 460 Rancher chainsaw has a 20-inch bar (on average -it's recommended for use with bar lengths between 13 inches and 24 inches overall).
This length allows you to tackle sizable pieces of wood with ease.
It's ideal for homeowners who need a chainsaw to cut through branches and trees around their property, but it's also a great option for professional landscapers and loggers who need to take down bigger trees.
The blade's length and design also make it easy to maneuver around obstacles and tight spaces.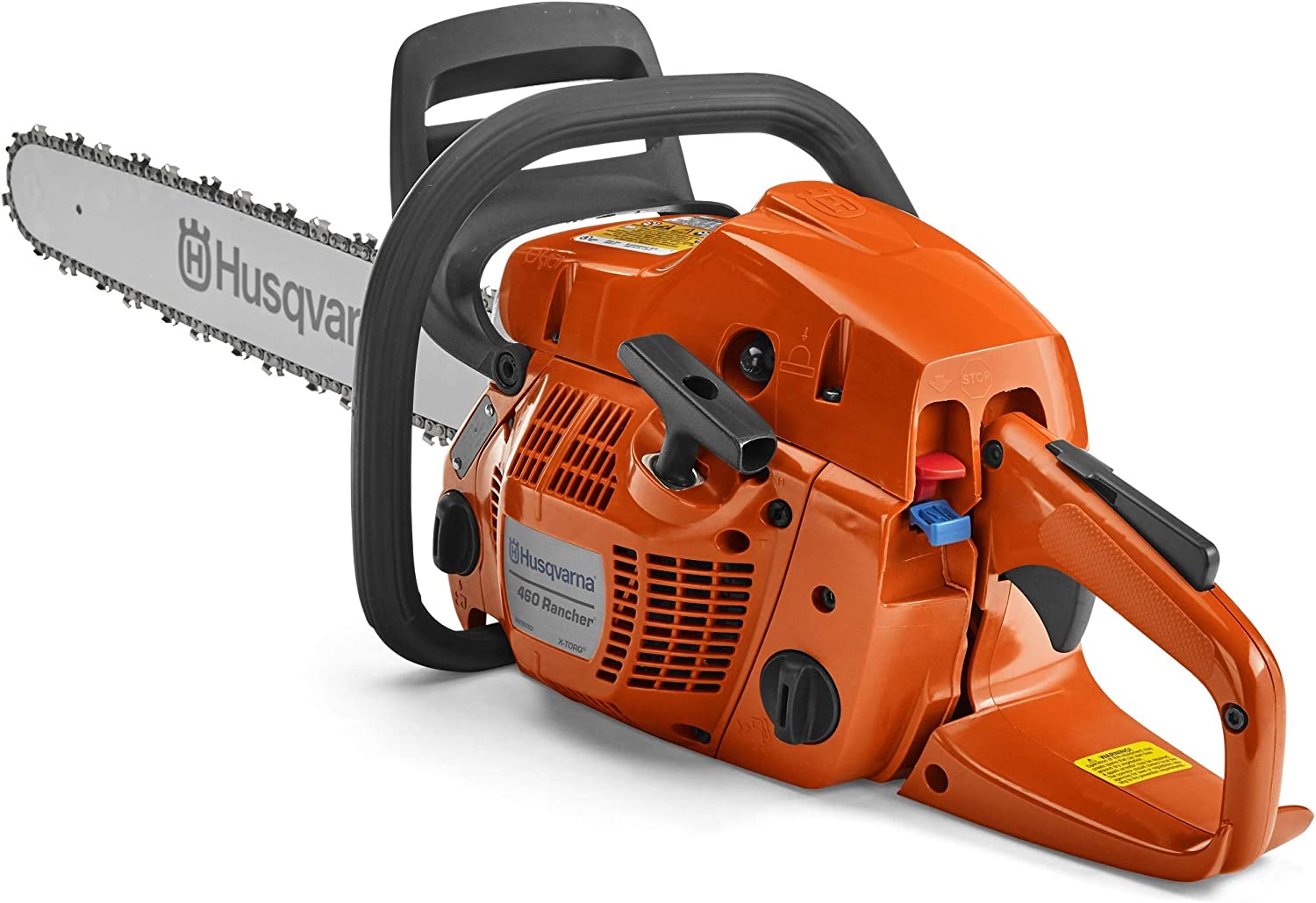 Durable Build

When you invest in a chainsaw, you want something that will last.
The Husqvarna 460 Rancher chainsaw is built to withstand heavy use and tough environments.
It has a lightweight magnesium body that can withstand harsh weather conditions, impacts, and mechanical stress.
The design also incorporates vibration dampeners to prevent excess strain on the user's hands and arms during prolonged use.
This chainsaw is designed to minimize vibration, making it comfortable to use for long hours.
With minimal vibrations, the machine is quieter and more effortless to control.
Safety Features
Safety should always be a priority, and the 460 Rancher takes this seriously.
The chainsaw features a safety brake that prevents accidental starts, a throttle lock to eliminate any chance of accidental acceleration, and a chain brake system to ensure user safety.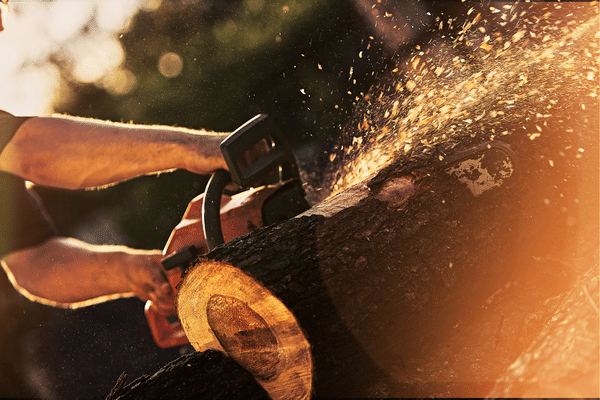 Ease Of Use And Maintenance

Using the Husqvarna 460 Rancher chainsaw is a breeze thanks to a range of intuitive features.
The saw features an ergonomic design that makes it easy to hold and maneuver.
It has an adjustable oil pump that allows you to control the oil flow, ensuring that the chain lubrication is optimal.
It also has Smart-Start technology that reduces resistance in the starter cord by 40%, making it easy to start the machine.
The Husqvarna 460 Rancher is designed to be easy to maintain.
It features air injection, which extends the lifespan of the engine, and flip-up tank caps, allowing for quick and easy refueling.
Husqvarna 460 Rancher Chainsaw Drawbacks
One of the most significant drawbacks of the Husqvarna 460 Rancher is its weight.
At 14.5 lbs, it's one of the heaviest chainsaws on the market.
This can make it challenging to use for extended periods of time, especially if you're not used to handling heavy tools.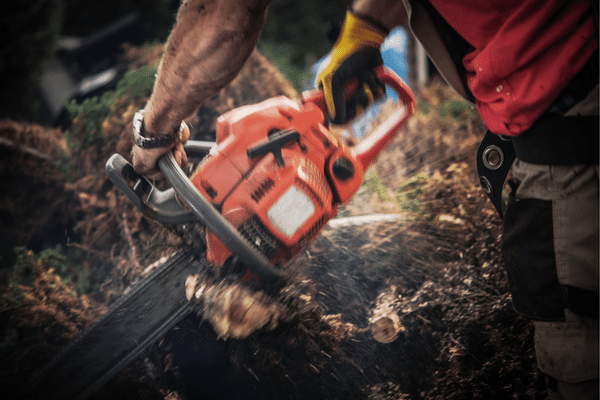 Furthermore, the weight can make it difficult to maneuver the chainsaw in tight spaces, such as when cutting up fallen trees or trimming branches.

Another common issue with the Husqvarna 460 Rancher is its difficulty to start cold.
While most users claimed that once warm it usually starts without much fuss.
However, during the start-up period, users have reported having to pull the start cord multiple times to get the chainsaw running.
This can be frustrating, especially if you need to get to work quickly.
Finally, the Husqvarna 460 Rancher is pricier than some of its competitors in the same class.
Though it's an excellent investment for those who need a professional-grade chainsaw, it can be a bit cost-prohibitive for the average homeowner who only needs to use it occasionally.
How Many CC's Does A Husqvarna 460 Have?
We mentioned earlier that the Husqvarna 460 Rancher chainsaw has 60.33 CC's.
But what does that mean?
Before we move forward, let's get an understanding of what CC means.
CC stands for Cubic Centimeter, which is a unit of measurement for the engine's displacement.
Husqvarna 460 Rancher Chainsaw
The higher the CC, the more power the engine produces.

So, what does the Husqvarna 460's CC mean for your cutting needs?
The 460's engine size and power make it an excellent choice for heavy-duty jobs, such as felling trees and cutting firewood.
Whether you're a professional logger or just someone who needs to do some yard maintenance, the Husqvarna 460 is more than capable of handling your cutting needs.
Is The 460 Rancher A Pro Saw?
The 460 Rancher is an excellent option that could work well for professional users due to its power and efficiency.
With a 24-inch bar and an impressive 3.62 horsepower engine, it is more than capable of tackling the most demanding jobs with ease.
That said, the maintenance of the saw is easy to follow, and the filters are easy to replace, meaning that this chainsaw could be an excellent option for a homeowner too.
Overall, the Husqvarna 460 Rancher chainsaw is an excellent investment for anyone who needs a machine they can trust to get the job done in the long run.
With its powerful engine, impressive blade length, and ease of use, this chainsaw is a reliable workhorse that can handle any job you throw at it.
Although the model may be on the heavier side, it's a small tradeoff for its excellent performance.
With proper maintenance, the Husqvarna 460 Rancher can last for years, making it a solid investment in your property, business, or trade.