Ryobi 40v Chainsaw Review
This post may contain affiliate links so I earn a commission. 

Battery powered chainsaws are first and foremost about convenience, or that's what everyone thought before the Ryobi 40v chainsaw was released.

Ryobi really set the bar high, exceeding expectations with its battery powered chainsaw.
After all, their aim is not just to offer a more dynamic small saw to give you more flexibility for simple projects.

Their intention is to replace your small gasoline chainsaw with this new, long lasting and powerful battery technology that delivers lots of torque and cutting power in a compact package.
What To Expect From The Ryobi 40v Chainsaw
The Ryobi 40v chainsaw is surprisingly powerful and capable for its price point.
The powerhead offers a chassis that is laid out like a traditional chainsaw.

That is what Ryobi is going for, this saw was designed to replace your small limbing saw, and with a 14" bar and chain speeds that rival its gas powered competition, Ryobi has made a strong case.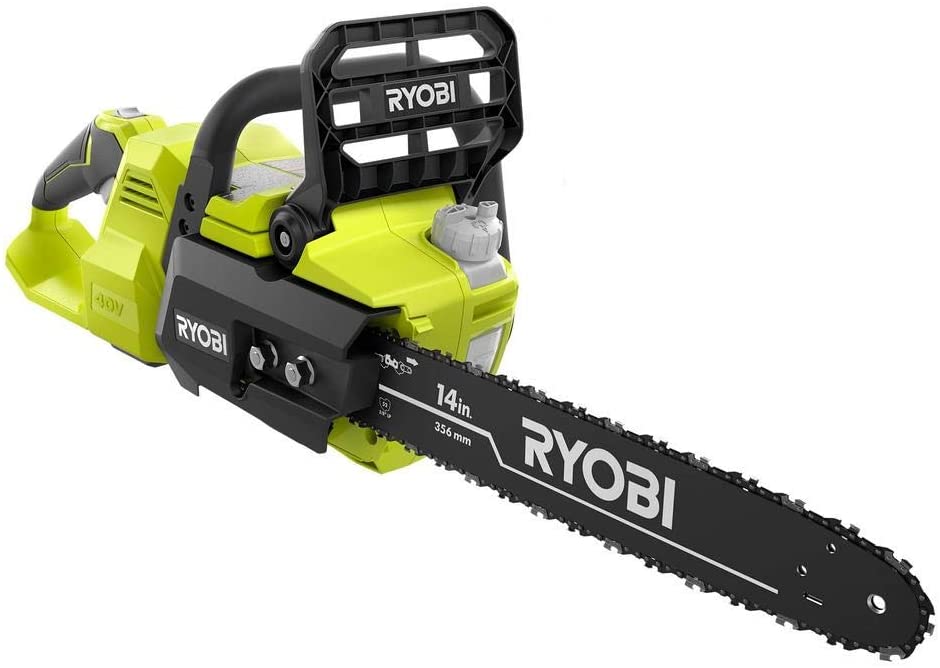 Ryobi 40V Cordless Brushless 14 in. Chainsaw
This is not a chainsaw that is made lightweight and sold as a powerhead and bar only to "complement" your other tools.

Ryobi knows that their tools might not be the first choice for every professional, so they sell their 40 volt battery powered chainsaw as a complete package.
It will use your other batteries if you have a 40 volt cordless Ryobi set, but even if you don't have other Ryobi tools they make it easy by selling the chainsaw with a battery and charger so it is ready to use right out of the box.
The bar attachment and chain tensioner are what you would expect from a more serious saw, not a homeowner special.
With a 5 year warranty on the powerhead and a 3 year warranty on the battery, Ryobi is serious about supporting the capability of this tool.
Why Choose A Battery Powered Chainsaw?
Not so long ago if you were seen trying to buck up a log pile with an electric chainsaw you would have gotten some side eye glances from the professional crowd.
I can imagine the uproarious laughter that would have accompanied me walking out for work carrying an electric chainsaw, just a few short years ago. 
My neighbors, all professional loggers, would have stopped to watch and laugh, thinking I was playing a joke on them and myself.
They would not have been wrong, older style electric chainsaws were not even good enough for the serious homeowner.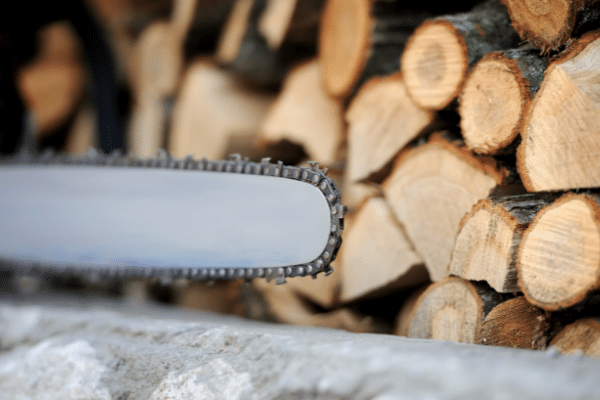 The battery powered tool revolution has changed all of that though.
We now live in a time where your contractor is just as likely to have a battery powered table saw as a plug in version.
Batteries have taken over everywhere.
In a way it is surprising that a chainsaw like the Ryobi 40v chainsaw hasn't broken into the market sooner.
Chainsaw users tend to be a conservative bunch though and it can be tough to change old habits that have served you well.
For the casual user the battery powered chainsaw is a game changer since it's ready to use right out of storage as long as its battery is charged.
Gas powered saws don't like storage that much.
Leave them too long and their gas might have spoiled or varnished the carburetor.
Gas powered saws are smelly and dirty compared to their battery powered competition.
They require you to keep mixed gas on hand, something the casual user has a hard time using up before it goes bad.
Am I ready to sell my gas powered saws and go fully electric with a Ryobi 40v chainsaw?
No, but I'm a professional logger and woodworker, replacing my quiver of saws with battery powered chainsaws isn't yet practical.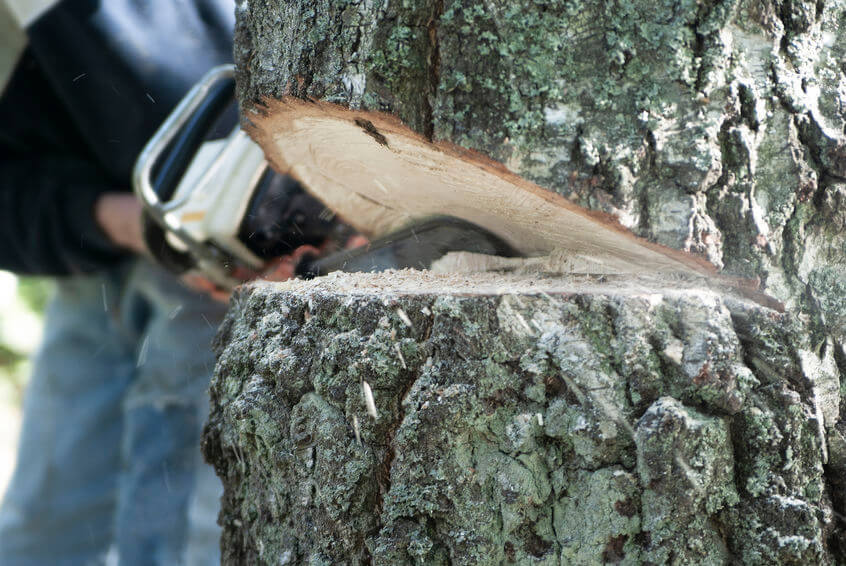 That's because I still need my bigger saws for felling and bucking up trees that need a 25" or bigger bar, and that takes a lot of saw.
Battery powered saws just aren't there yet, but the more of us who adopt them, the sooner they will be.
I'm in no way anti battery powered chainsaw.
Any opportunities where I can use one instead of a gas powered one, I would.
For short work or limbing jobs a battery powered saw can excel.
For carving or construction or demolition work a battery powered saw is perfect, with the added benefit of being able to use it inside with no danger from carbon monoxide.
For light road clearing, or to carry in a vehicle during emergencies, a battery powered saw is ideal and gives you the added benefit of being able to charge it in your vehicle with an inverter.
The Future Of Chainsaws And Battery Powered Tools
The future is already here.
Battery powered tools are taking over the workplace.
Everything from phones and computers, to table saws and hoists are expected to be stand alone powered with batteries.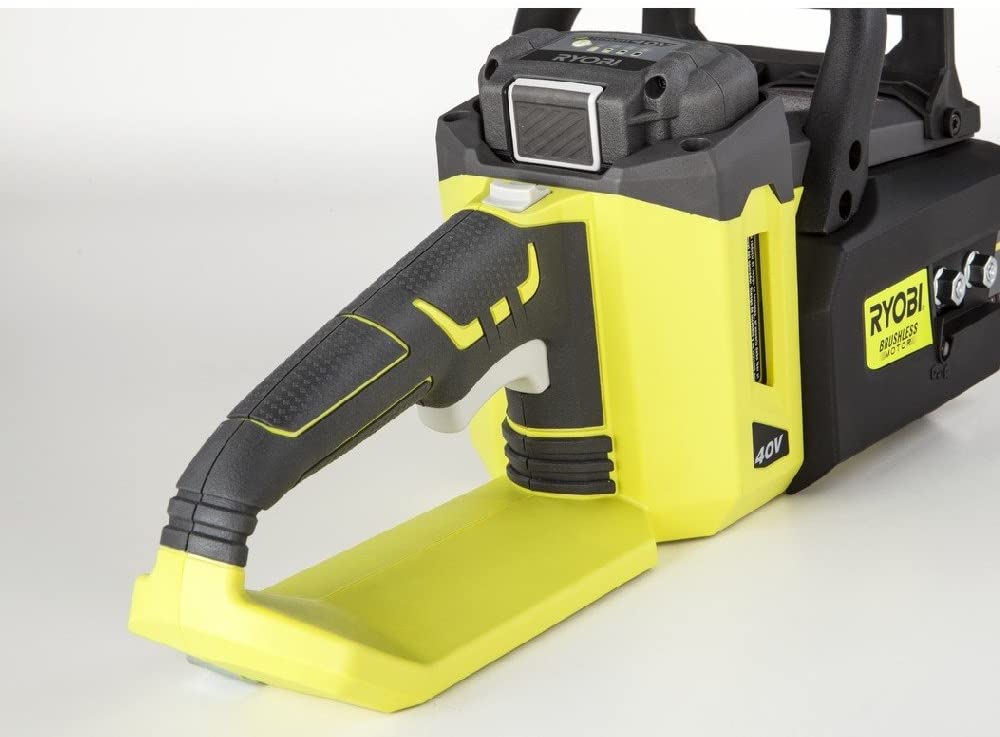 Ryobi 40V Cordless Brushless 14 in. Chainsaw
It is easy to see why batteries offer greater flexibility for the professional and the homeowner alike.

Battery powered tools as a rule require less maintenance than gas powered ones, they have fewer moving parts to break, and they don't give off carbon monoxide when used.
Noise ordinances and homeowners association rules make it increasingly difficult for people to go about their work like they have in the past.
Battery powered tools like the Ryobi 40v chainsaw help to get around restrictions by being quiet and clean.
It may be just what you need to make your work easier and your neighbors happy.