Dewalt Cordless Chainsaw
This post may contain affiliate links so I earn a commission. 

If you're thinking about upgrading to a new chainsaw, the Dewalt cordless chainsaw is one you need to consider.
Although it's on the smaller end of the spectrum, it's powerful enough to handle just about any household chore, storm cleanup, or simply cutting up some firewood.
In this post, we'll walk you through everything you need to know about this dynamic tool.
Does Dewalt Have A Battery Powered Chainsaw?
Yes! 
Dewalt does indeed have a battery-powered chainsaw among its very diverse line of power tools. 

Dewalt offers a battery-powered chainsaw featuring the 20V Max and Flexvolt 60V Max rechargeable batteries. 

The Flexvolt 60V battery system is very beneficial in that it is compatible with all tools using the 20V battery.
This ability to use the 60V in a 20V tool can increase the run time by up to 8x as compared to running a 20V battery - not to mention reduce the number of separate parts you need to have cluttering up your garage.
Dewalt Cordless Chainsaw Features And Specs 
The Dewalt cordless chainsaw is offered with a 12-inch cutting bar and chain. 
This particular model is powered with the 20VMax battery, giving you suitable cutting power for just about all of your needs. 
The cutting chain is a 0.043 gauge with a chain pitch of ⅜ inch. 
Chain speed is a very snappy 25.2 ft/sec. 
This Dewalt cordless saw comes in at a weight of only 9 lbs., making it a very lightweight saw.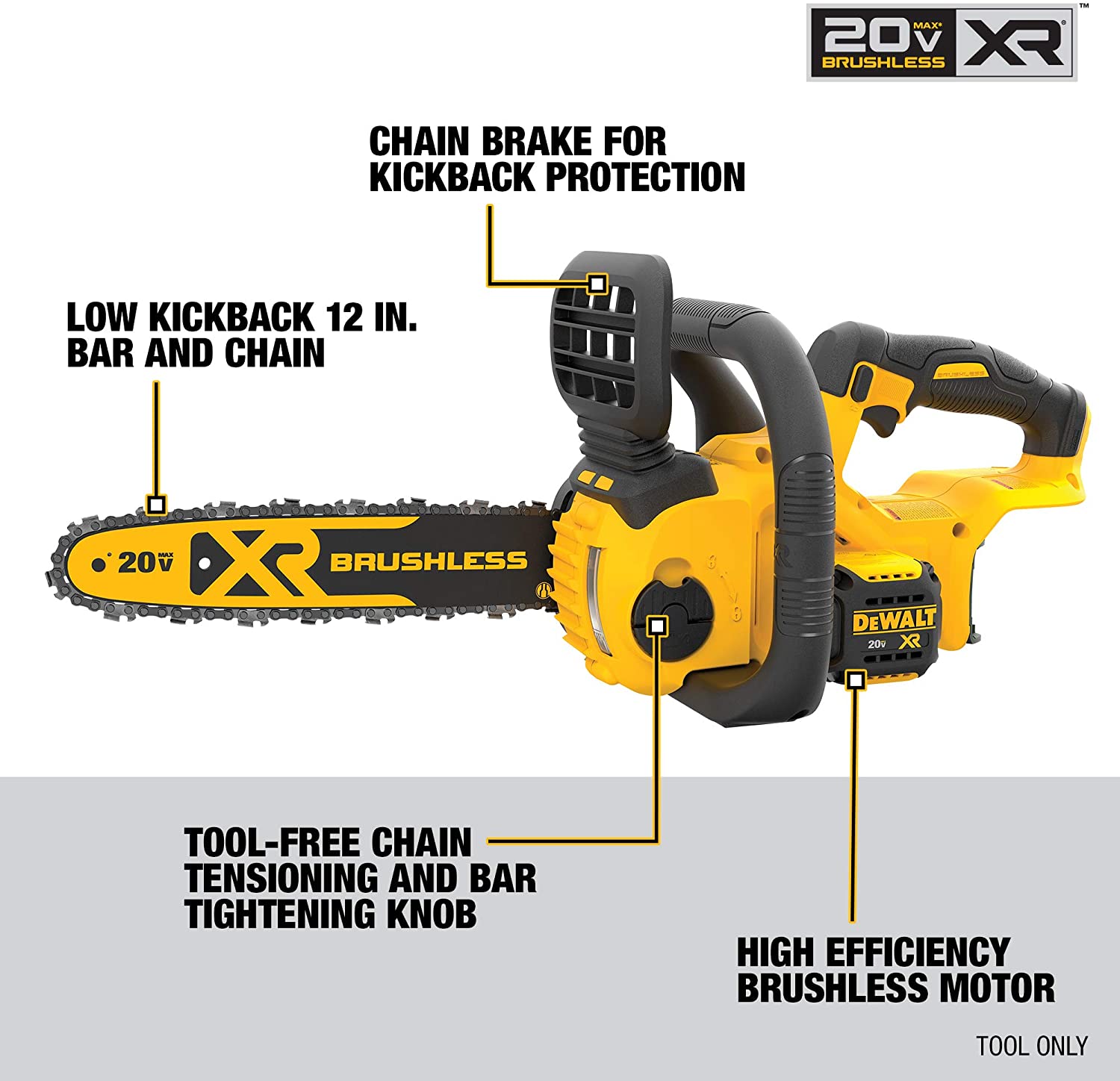 DEWALT 20V MAX XR Chainsaw Kit
Fatigue has always been and continues to be a leading factor in accidental mishaps while operating any tools - but you'll find that the lighter weight of this saw helps greatly reduce fatigue. 
Fewer accidents and more comfort while using this saw? 
We'd call that a win-win!
Dewalt also offers a line of larger saws.

There is a model available which comes with a 16 inch bar and chain for tougher cutting jobs. 
When complete with the Flexvolt 60 VMax battery, you will find a great deal more power.
The 3.0AH battery comes standard with this chainsaw.
DeWalt 60-Volt Cordless Chainsaw
A bit heavier than their lighter models, the weight of this saw is still only 12.2 lbs. making it still a very comfortable saw to operate. 
Other features of this particular Dewalt cordless chainsaw include tool-free chain tensioning and a high-efficiency brushless motor. 
This motor can maximize run time and the overall life and durability of the motor. 
This cordless saw and accompanying kit also comes with the 60VMax battery, which has backward compatibility to operate other 20VMax tools. 
Again, this is a very beneficial feature of this saw. 
How Much Is A Dewalt Cordless Chainsaw?
Pricing on Dewalt cordless chainsaws, of course, will vary depending on battery size, bar and chain length, and other available options that may be purchased along with the chainsaw.
For instance, one retailer offers the Dewalt cordless saw with a 12 inch bar and chain, tool-free chain tensioning and high efficiency brushless motor for $289.99 
At Home Depot, you can buy the 60V Dewalt cordless saw for $276.00, but the price will increase if you choose the additional battery and charger.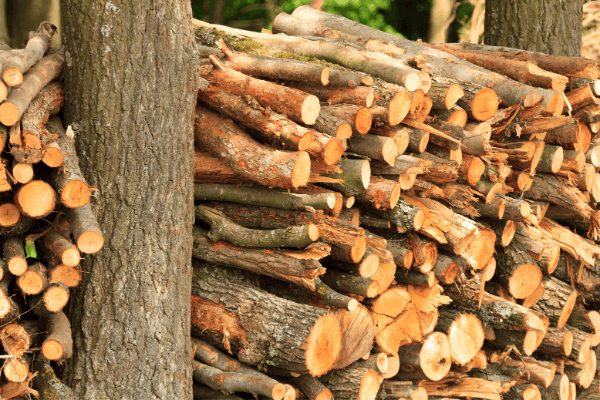 eBay also features new as well as used Dewalt saws.

One vendor we looked at in researching pricing offered the 60V with a 16 inch bar and chain for $244.95.
Vendor to vendor, the pricing on Dewalt cordless chainsaws remains fairly consistent.
Just remember you can purchase the saw with or without a battery.
This is important when comparing prices between vendors because the option of a battery and charger can make a big difference in price when just comparing the chainsaw without an included battery.
Why buy a chainsaw without a battery?
If you already have tools in the Dewalt lineup, you might not need to purchase an additional battery which can help save money.
Benefits Of The Dewalt Cordless Chainsaw
There are so many benefits of the Dewalt cordless saw that it would be difficult to name them all, but features that really stand out are the light overall weight of the saws. 
Being only between 9 and 12 pounds, these saws are extremely comfortable to operate. 
As mentioned before, fatigue is greatly reduced with the lighter weight, thus making it a much safer chainsaw, too. 
Plus, there are no messy fuels to deal with. 
Transporting gasoline is not only cumbersome but, in some cases, can also be hazardous due to combustibility. 
Another unique feature is the lack of pull cord.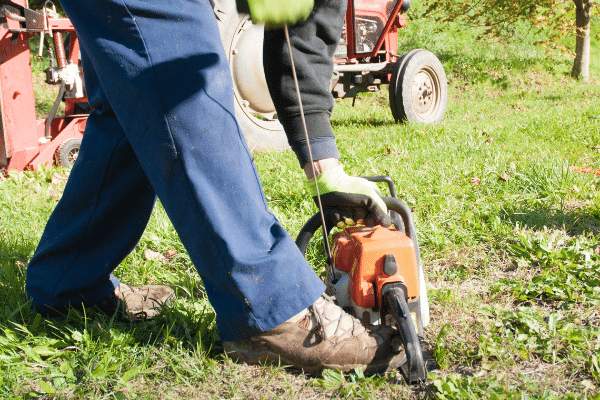 Dewalt saws do not have pull cords to start the motors with.

Cords often will wear out and break - or sometimes pull through the cord handle.
With battery operated saws, you need only to pull the trigger and you are cutting. 
Less maintenance is another great benefit with Dewalt cordless saws.
Always a factor in choosing a saw, maintenance is a time consumer.
Less maintenance = more work time! 
Finally, Dewalt saws, particularly the cordless ones, are quiet!
As with the weight of a saw, the noise level and vibrations of the motor can contribute greatly to fatigue and then again, your safety. 
Disadvantages Of The Dewalt Cordless Chainsaw
As with any cordless tool, there is always the problem of never having enough battery to finish the job at hand. 
Extra batteries can always help out with this problem but you may often run into situations where your day may be cut short. 
This is especially true if there is no access to electricity to charge up the batteries. 
It is also often said among users that cordless saws, even Dewalt, may not have the power found in gasoline saws. 
Typically a cordless saw, even the beefed-up versions, are unable to go cut-for-cut with their gas cousins. 
Gas powered chainsaws, especially in the larger models, will often offer a much stronger, more powerful motor.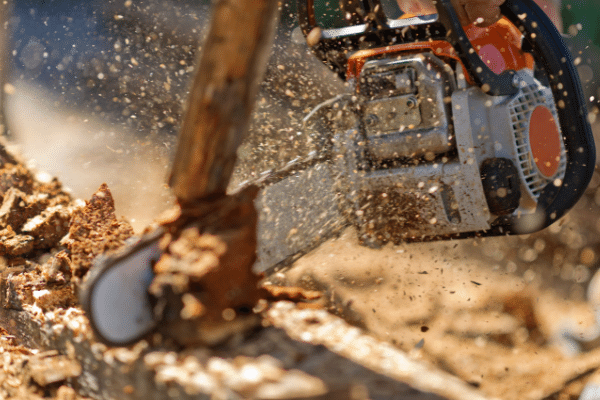 This is likely not an issue if you're a homeowner just needing to use the saw during day-to-day cleanup and simple tasks, like bucking up a bit of firewood here and there.
However, for professionals, a cordless electric chainsaw like the one offered by Dewalt probably isn't going to cut it.
Shorter bar and chain lengths can be a drawback to owning a cordless saw as opposed to a gasoline model.
Cordless saws often are equipped with a 12-16 inch bar and chain when gas-powered saws offer much longer bar and chains, sometimes reaching up to 24 inches or more. 
So many factors must go into the decision making process in buying a cordless saw.
Give very careful thought to your individual cutting needs and job size before selecting between a cordless or gas-powered chainsaw. 
What Is The Best Cordless Saw On The Market?
With technology rapidly advancing and moving forward, it is very important that you study and consider your particular needs when shopping for a cordless chainsaw. 
Do your homework! 
Dewalt brand tools have long been a leader in the field of cordless tools along with their chainsaws.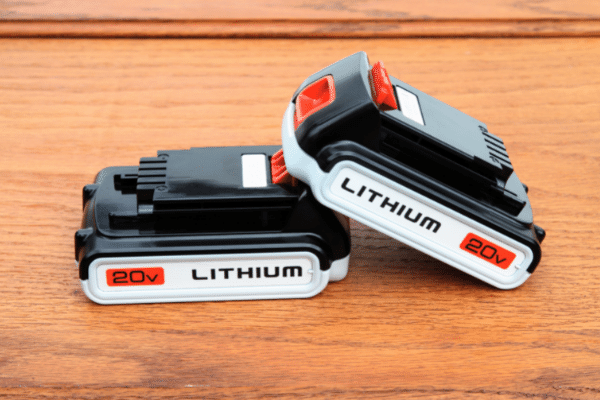 Durability, longevity and many other factors put them as a top contender in the cordless chainsaw market.

That said, it's not the only leader in the industry.
Ego, Worx, and Greenworks companies also offer cordless models of chainsaws with many beneficial features in pricing and design. 
In selecting any tool, the more research you are able to do, the closer you will be to the "perfect cordless saw" for you.