Makita Electric Chainsaw
This post may contain affiliate links so I earn a commission. 

The Makita electric chainsaw is one of the top electric chainsaw brands on the market today.
With a long track record of exceptional power tools produced by Makita, this chainsaw is no exception to the rule.
Whether you're a professional arborist, the average homeowner that heats with firewood, or simply someone who needs to prune some branches every now and then, chances are you've used a standard gas powered chainsaw.
Although a gas powered saw is very reliable and powerful, they also require a lot of maintenance to keep them running at their full potential.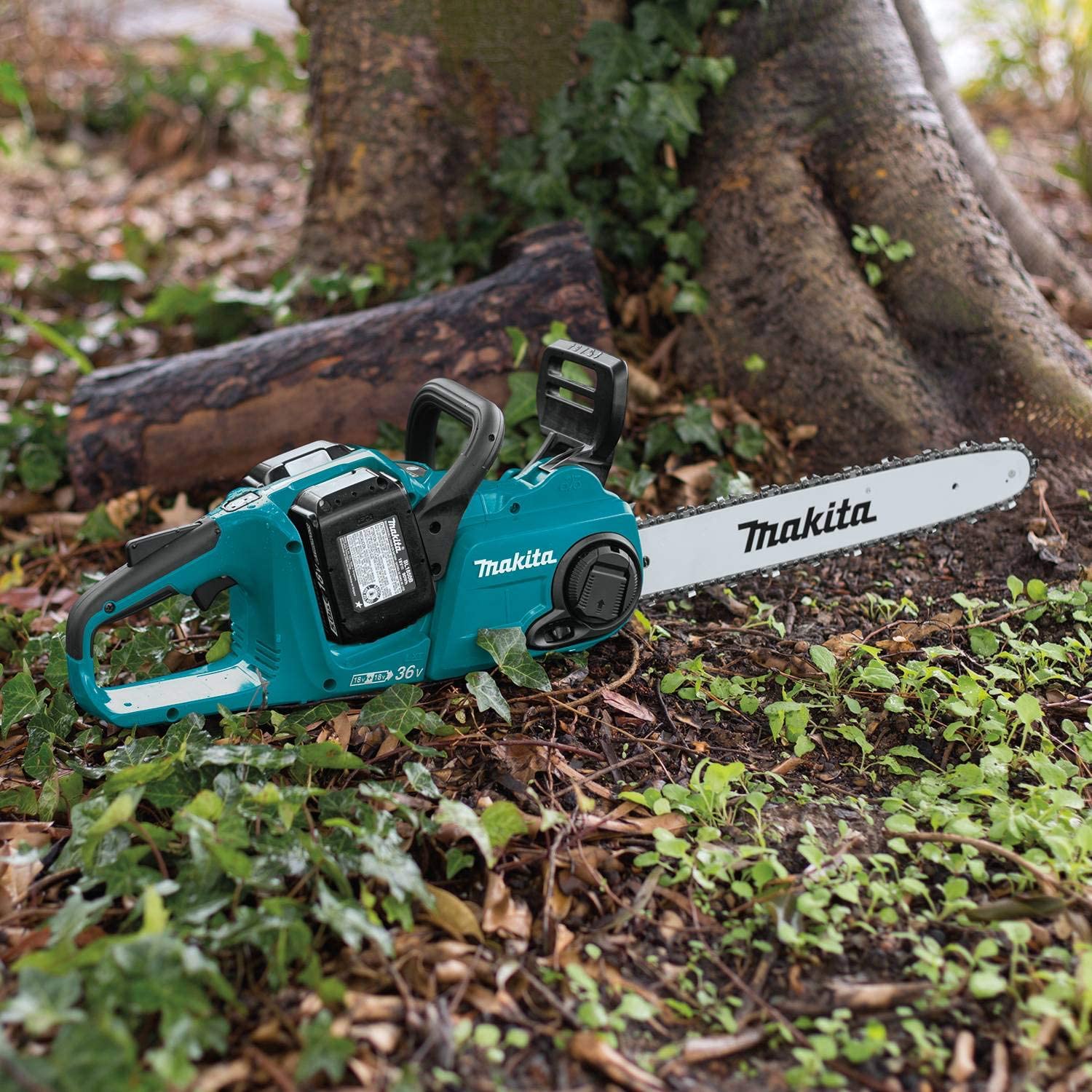 Mixing 2-cycle oil into gasoline, making sure your fuel is stabilized for the winter, cleaning out air filters and changing spark plugs can be a real chore, especially if you only need to use your saw a few times throughout the year.

As modern technology evolves, many well known companies like Stihl, Husqvarna and Makita (along with others) have realized the convenience of battery powered equipment.
It's really no different than using a string trimmer to manicure your lawn or using a leaf blower to clear off your sidewalks or blow out your garage.
You really only need the string trimmer or blower for a few minutes.
Why mess with all the headache of keeping an engine running if you can simply slide in a fully charged battery, pull the trigger and presto......instant power.
However, before you dive right in and purchase a new chainsaw, let's take a closer look at the Makita electric chainsaw to see if it's the perfect saw for you.
The Benefits Of A Battery Powered Electric Chainsaw
All of the battery powered or electric chainsaws produced by Makita are compact, lightweight and feel great in your hands in terms of balance and comfort.
Two 18 volt batteries on each side of the saw power its 36 volt motor without a lot of extra weight, compared to your typical 14 or 16 inch gasoline powered chainsaw.
The Makita electric chainsaw has all of the safety features you would find on a traditional chainsaw, but it does seem to be a little longer in length than a typical gas powered saw.
Although the extra length may not matter if you're cutting up some brush on the ground, you'll want to consider Makita's top handle design for any pruning or limbing off the ground.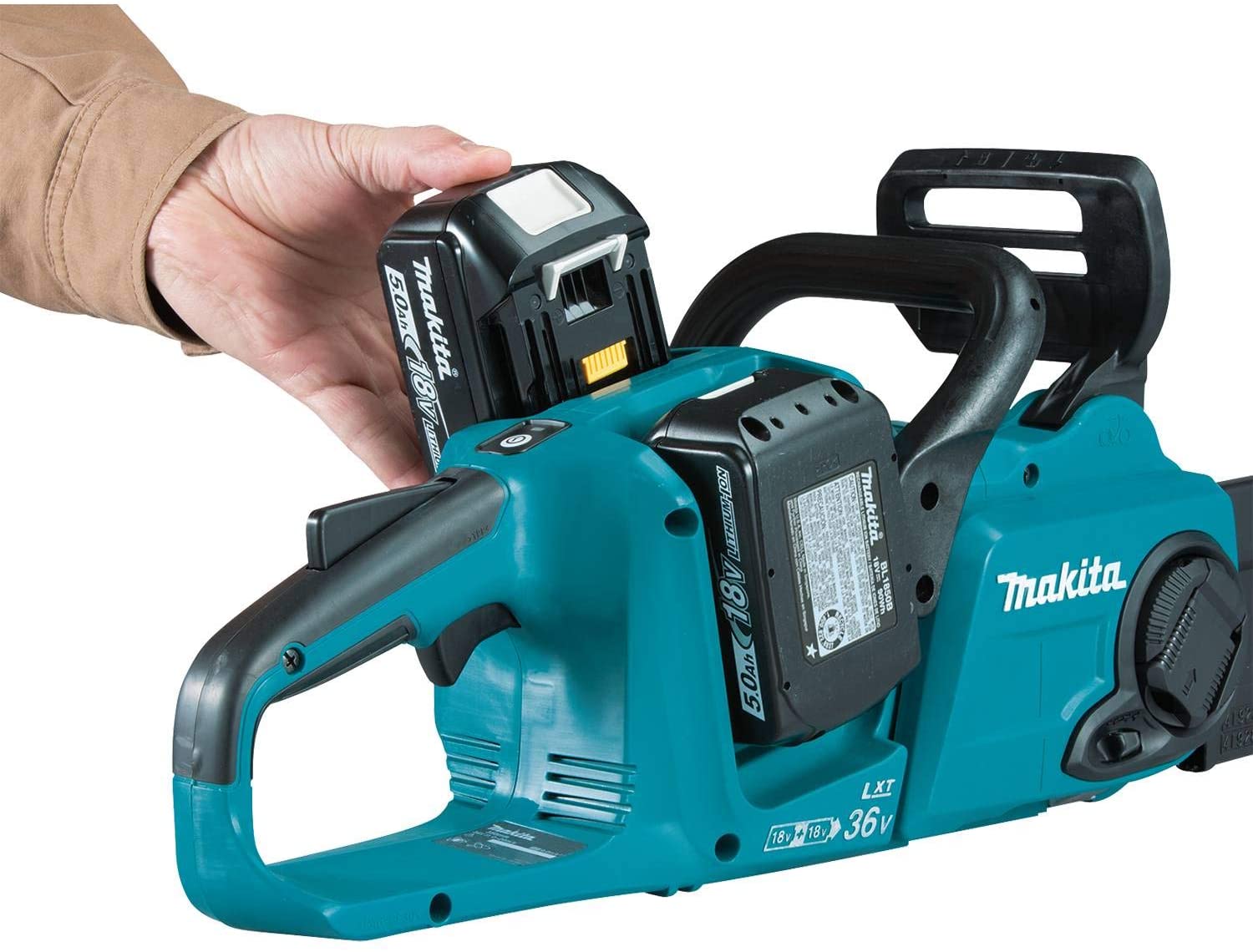 If you need to make hundreds of cuts on large diameter logs, an electric chainsaw probably won't fit your needs.

However, if you need to run a saw for about an hour to cut some averaged sized firewood or clean up a few limbs that blew down in a recent storm, an electric chainsaw is a great choice.
Plus, electric chainsaws are quiet and don't have a lot of the obnoxious vibrations and fumes like you get with a gasoline powered engine.
This makes electric saws perfect for urban environments!
So which model should you choose?
Let's take a closer look at some of the best selling Makita electric chainsaws to see which model is perfect for you.
The Best Makita Electric Chainsaws
Just like every other tool manufacture, Makita has a large variety of battery powered and corded chainsaws to choose from.
Depending on your needs and expectations, here are the top 3 Makita electric chainsaws to consider:
Makita XCU03PT1 36v Lithium-Ion 14" Chainsaw
The Makita 36v 14" cordless chainsaw uses a 36v brushless motor to provide amazing power and torque to its small, lightweight design.
With a variable speed trigger and high chain speed, the saw cuts with the power of a 32cc gas powered chainsaw.
It has a convenient chain tensioning adjustment that eliminates the need for special tools and it has a window on the bar oil reservoir so you can keep an eye on the oil to make sure you don't run out.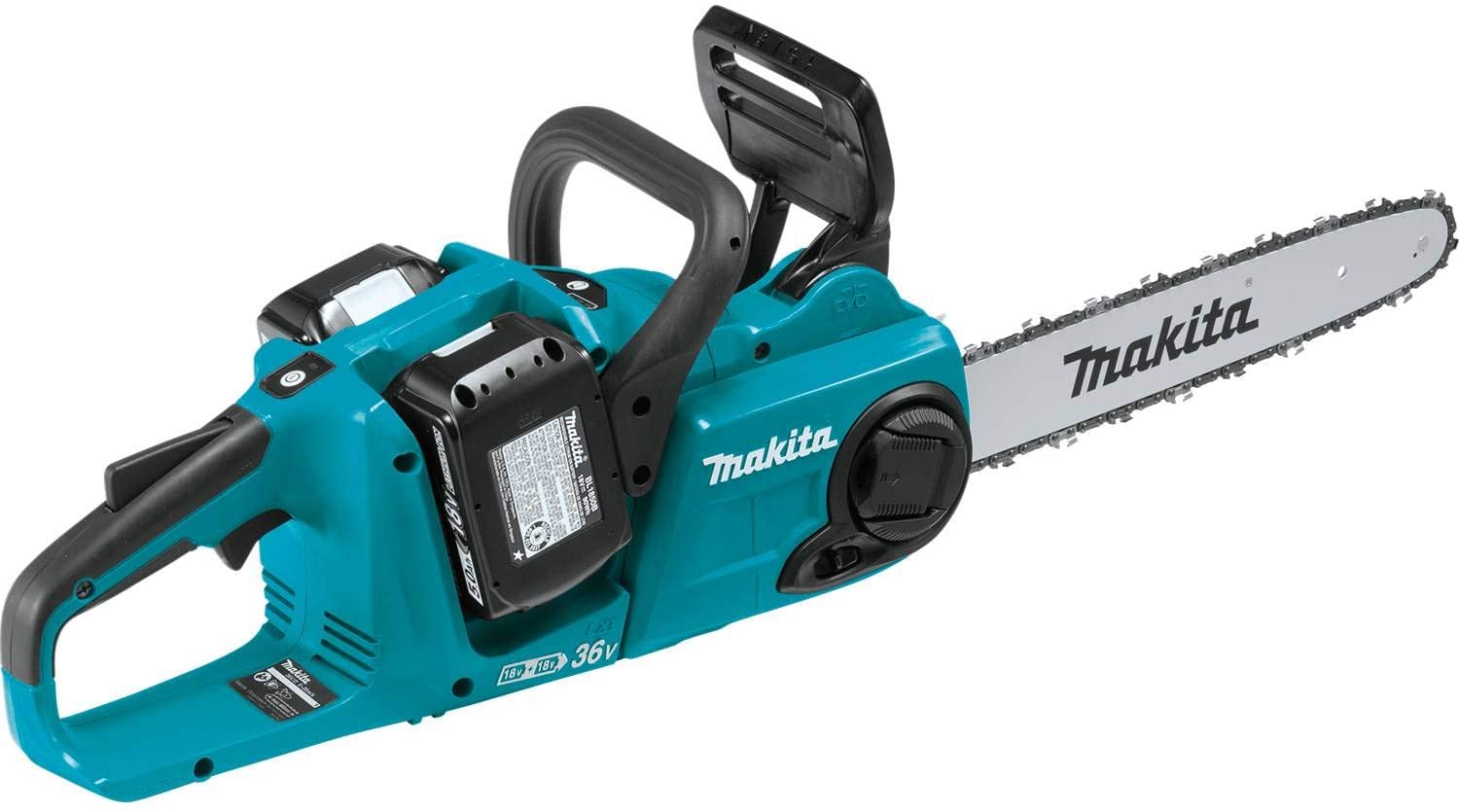 Makita XCU03PT1 14" Chainsaw Kit
If you're used to running a gas chainsaw, keeping an eye on the amount of bar oil remaining in an electric saw is sometimes hard to remember.
Typically with a gas saw you just refill the bar oil when you refill the gas.
It's pretty hard to run out of oil when you use this logic.
However, with an electric saw that never needs refueling (aside from changing the batteries) you'll want to keep an watchful eye on your oil level to make sure you don't run out and cause any unnecessary damage to your saw.
Makita XCU04PT1 36v Lithium-Ion 16" Chainsaw
The Makita 36v 16" battery powered chainsaw is similar to the saw listed above, however it's designed to handle the longer 16 inch bar.
Its lightweight design is well balanced and reduces the amount of fatigue on your body when running the saw.
If you've ever cut for several hours with a gasoline powered saw, you know how physically draining it can be.
Once you're tired, accidents can easily happen.
This is why the lightweight features of an electric saw, along with the added safety features are so important, especially if you're not used to running a chainsaw everyday.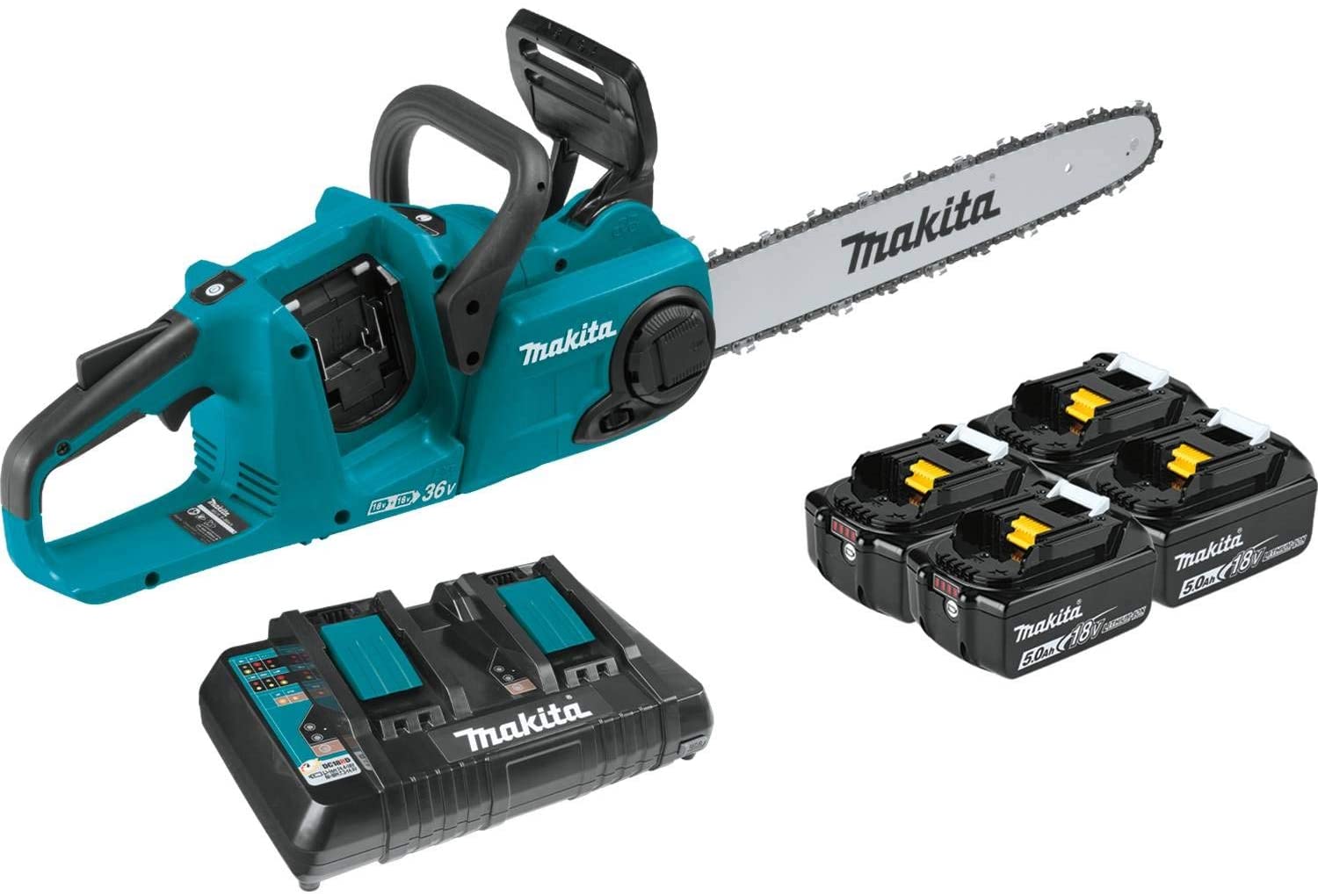 Makita XCU04PT1 16" Chainsaw Kit
This is a great saw with a lot of power.
As long as you keep the chain sharp it can handle nearly any task around your home.
Anther great feature of the electric chainsaw is that you completely eliminate the need to pull a starter cord to use it.
As many of us get older, or even deal with shoulder issues, pulling a starter rope on a chainsaw might not be as easy as it used to be.
The electric motor simply powers on by pressing a button and you're ready to cut!
Makita XCU06T 18v Lithium-Ion 10" Top Handle Chainsaw
The Makita top handle chainsaw with its 10 inch bar is designed for arborists who need a lightweight and compact electric chainsaw when you're elevated in a tree.
It's great for pruning or limbing and the brushless motor direct-drive system delivers the power of a 22cc gas chainsaw.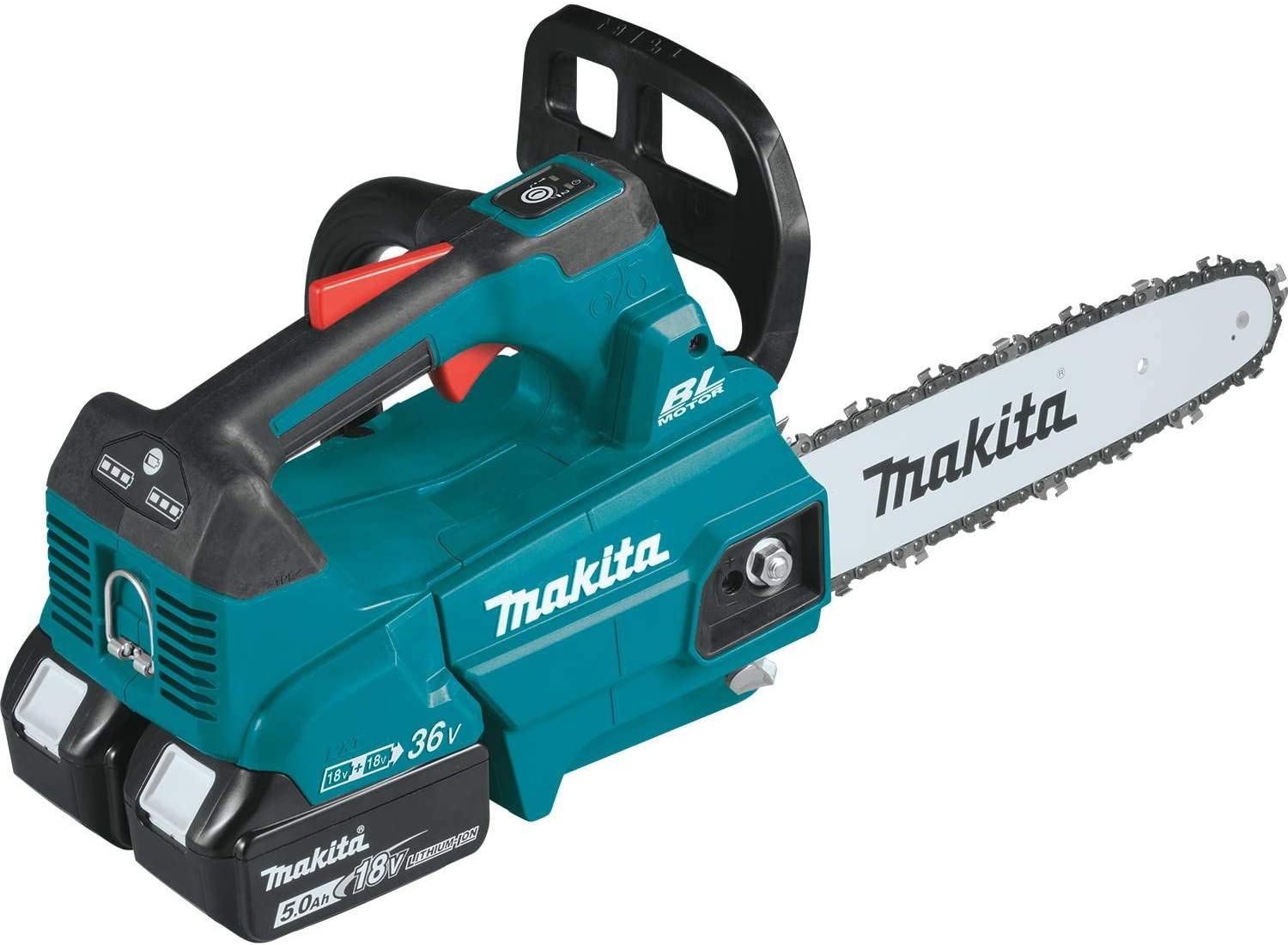 Makita XCU08PT Top Handle Chainsaw
As with the other Makita chainsaws, there's a torque boost mode on the saw that allows you to achieve higher chain speeds for cutting dense material.
Using this mode all the time will cause the battery to wear down faster, but it's a nice feature when you need it occasionally.
The top handle design of this saw is generally sought after by professional arborists looking for a battery powered chainsaw.
The compact style of this saw is designed for one handed operation, which could be hazardous for someone who doesn't run a chainsaw on a daily basis.
How Well Is The Makita Electric Chainsaw Built?
Although the chain tensioning system could use some improvement (which we will dive into a little more below) the overall quality and internal parts of the Makita electric chainsaw are impressive.
First, if you need to dismantle the saw it's really easy and you don't need a lot of tools.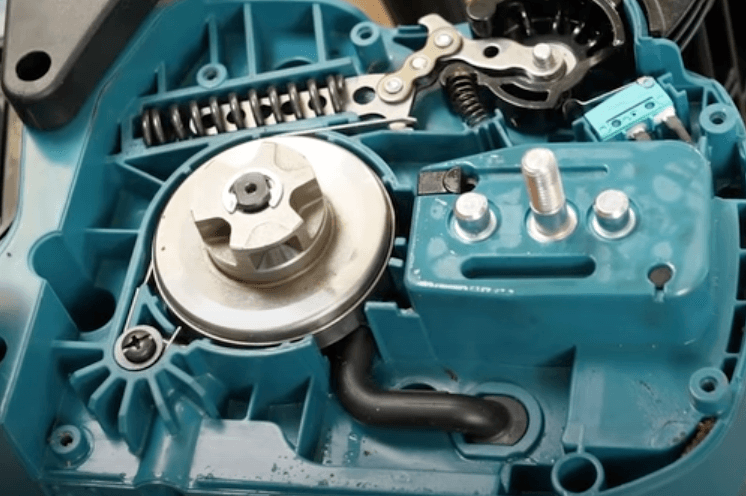 If you just remove a few screws you can easily access the clutch and sprocket which is very heavy duty with thick metal for such a lightweight saw.

This is a great feature because it's not uncommon to replace a chainsaw clutch or sprocket after several seasons of use.
Some Common Complaints With The Makita Electric Chainsaw
The saw has a tool-less chain tensioning system that allows you to tighten or loosen the chain without the need of specialized tools.
This is a really convenient feature, however the chain adjustment system is contained inside the clutch cover and it's made entirely out of plastic.
Sure, it's easy to use, but a lot of people have complaints about the chain tensioning system breaking due to its plastic components or the chain keeps falling off your Makita chainsaw because you can't get it tight enough.
In order to properly tighten the chain on the saw and prevent it from falling off, make sure you apply upward pressure on the bar of the saw when you tighten the chain.
Also, when metal gets hot it expands.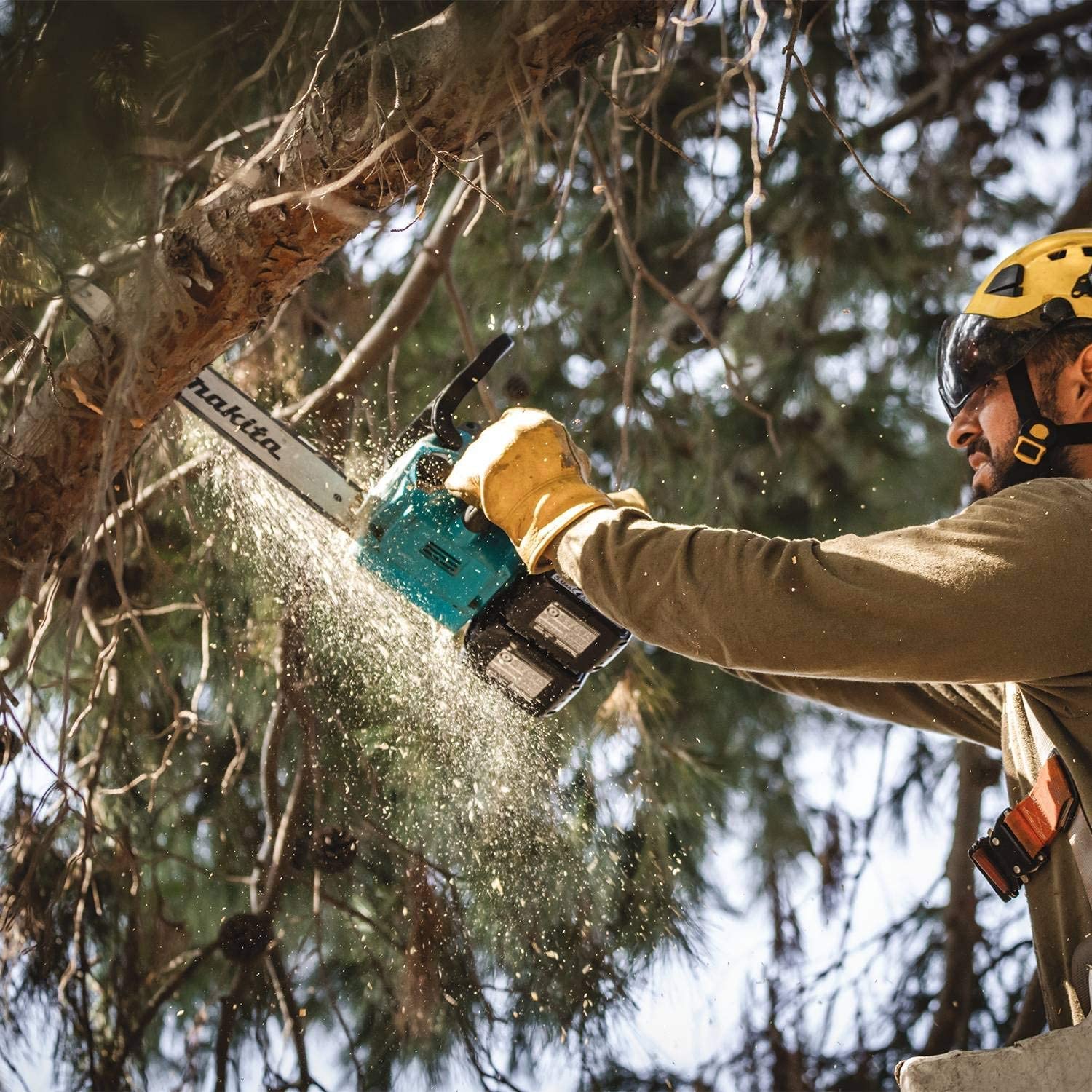 After you run the saw for a few minutes, the chain will get warm and expand.

This is a great time to inspect the chain and readjust it if necessary!
Another common complaint with the Makita battery powered chainsaw is the bar oil that leaks out.
You can adjust the bar oiler when it's not in use to reduce this possibly, but unless you completely empty the bar oil from the saw every time you use it, you'll always run the risk of bar oil leaking out of a chainsaw.
This problem is not specific to Makita chainsaws.
I've had it happen to me in just about every saw I've owned, gas powered or electric.
I've tried everything to reduce the chances of a oil puddle on my garage floor, from turning the saw on its side to keeping it upright.
It's just a common problem that you'll face with any chainsaw you own.
An easy fix is to either drain the bar oil from the saw when it's not in use, place an absorbent material under the saw when it's not in use, or buy a sealed plastic protective box to store your saw in.
Makita Electric Chainsaw - Overall
If you're looking to purchase an electric chainsaw for all of the convenient features that battery power has to offer, the Makita electric chainsaw is a great choice.
Often described as the best electric chainsaw on the market today, the Makita chainsaw lineup is sure to give you years of powerful and reliable use.