Husqvarna Battery Powered Chainsaw
Husqvarna Battery Powered Chainsaw
This post may contain affiliate links so I earn a commission. 

Welcome to our review of the Husqvarna battery powered chainsaw.
An amazing lineup of cordless, electric saws built for nearly any task.
As the world evolves and modern technology improves, these changes can benefit a lot of the tools we use everyday, including chainsaws.
Whether you're researching battery powered chainsaws due to their clean operation and zero-emissions, or you simply want a chainsaw that is ready to work with a pull of the trigger, battery powered saws are very impressive.
Let's face it, although a gas powered saw has incredible power, they're loud and require constant maintenance to keep them running smoothly.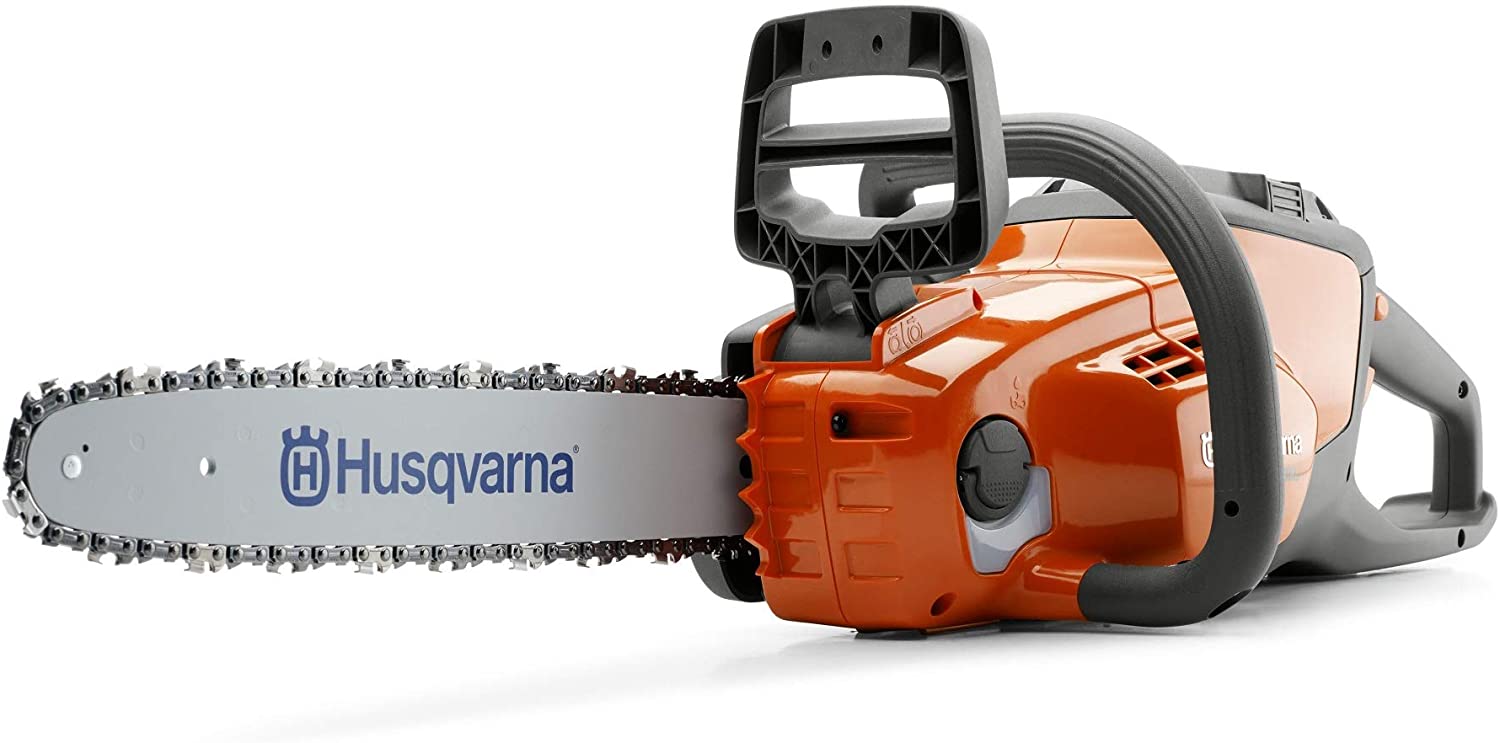 Sure, if you use the saw everyday that's not an issue, but what about the homeowner that needs to occasionally cut up some firewood or prune an ornamental tree in your backyard?

A battery powered chainsaw might just be the perfect choice.
To learn more, let's look at what the Husqvarna battery powered chainsaw has to offer and why it might be the best solution for your outdoor needs.
Husqvarna Battery Powered Chainsaw - Power and Performance
Just because you're considering switching to a battery powered chainsaw does not mean you need to sacrifice power or performance.
Husqvarna battery powered chainsaws offer high chain speeds, brushless motors for increased torque, and long lasting batteries.
When we think of a battery powered tool, we often relate back to the tools several years ago that lacked power and only ran for a few minutes before the battery died.
Today's battery powered tools are much different.
Not only do battery powered tools have the power and performance of a gasoline engine, they're quiet, have fewer vibrations and are perfect for residential settings.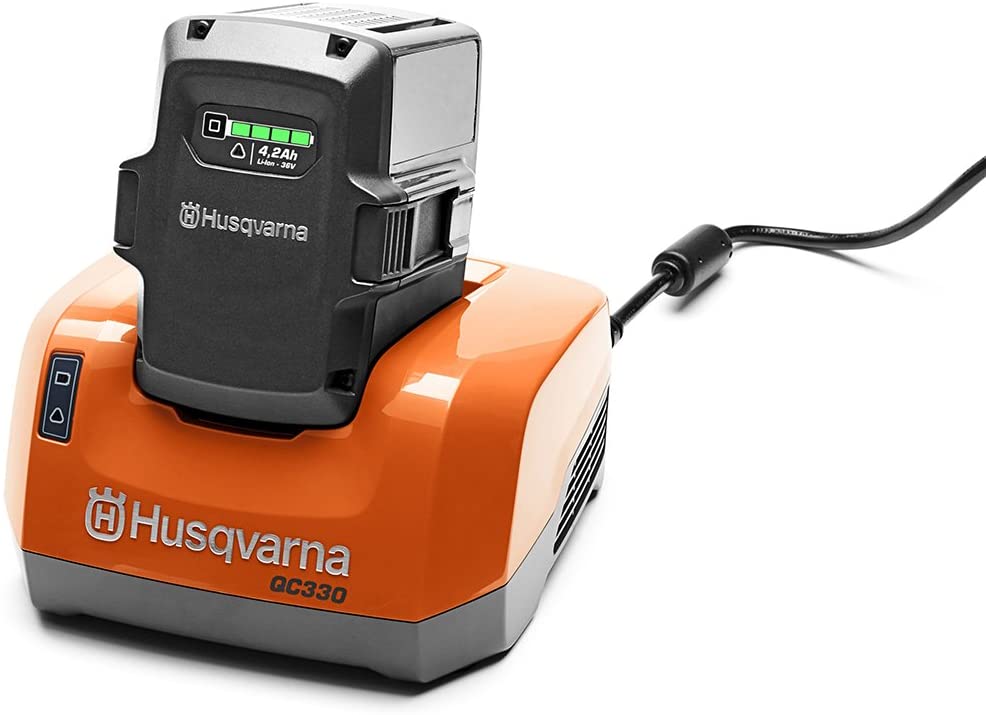 Husqvarna 40-Volt Battery Charger
With no loud engine to start and no gasoline to mix or carry with you into the field, battery power offers you the freedom to get the job done quickly and easily with just the push of a button.

So, which specific Husqvarna battery powered chainsaw model is best?
Let's compare the different models to see which saw is best for you.
Which Husqvarna Battery Powered Chainsaw Model Is Best?
Currently, Husqvarna has 5 different cordless, battery powered chainsaws in their lineup.
Ranging from small saws that are perfect for spring cleanup and pruning, to large powerful professional grade saws, you're sure to find a battery powered option that's perfect for you.
Husqvarna 120i Battery Powered Chainsaw
The Husqvarna 120i battery powered chainsaw is a great small chainsaw for general yard maintenance, cutting brush or even felling small trees.
A push button keypad on the top of the saw makes start up a breeze, and you can switch to an eco friendly mode that helps extend the battery life of the saw between charges.
There's a lot of safety features built into this saw that make it perfect for someone who doesn't operate a chainsaw every day.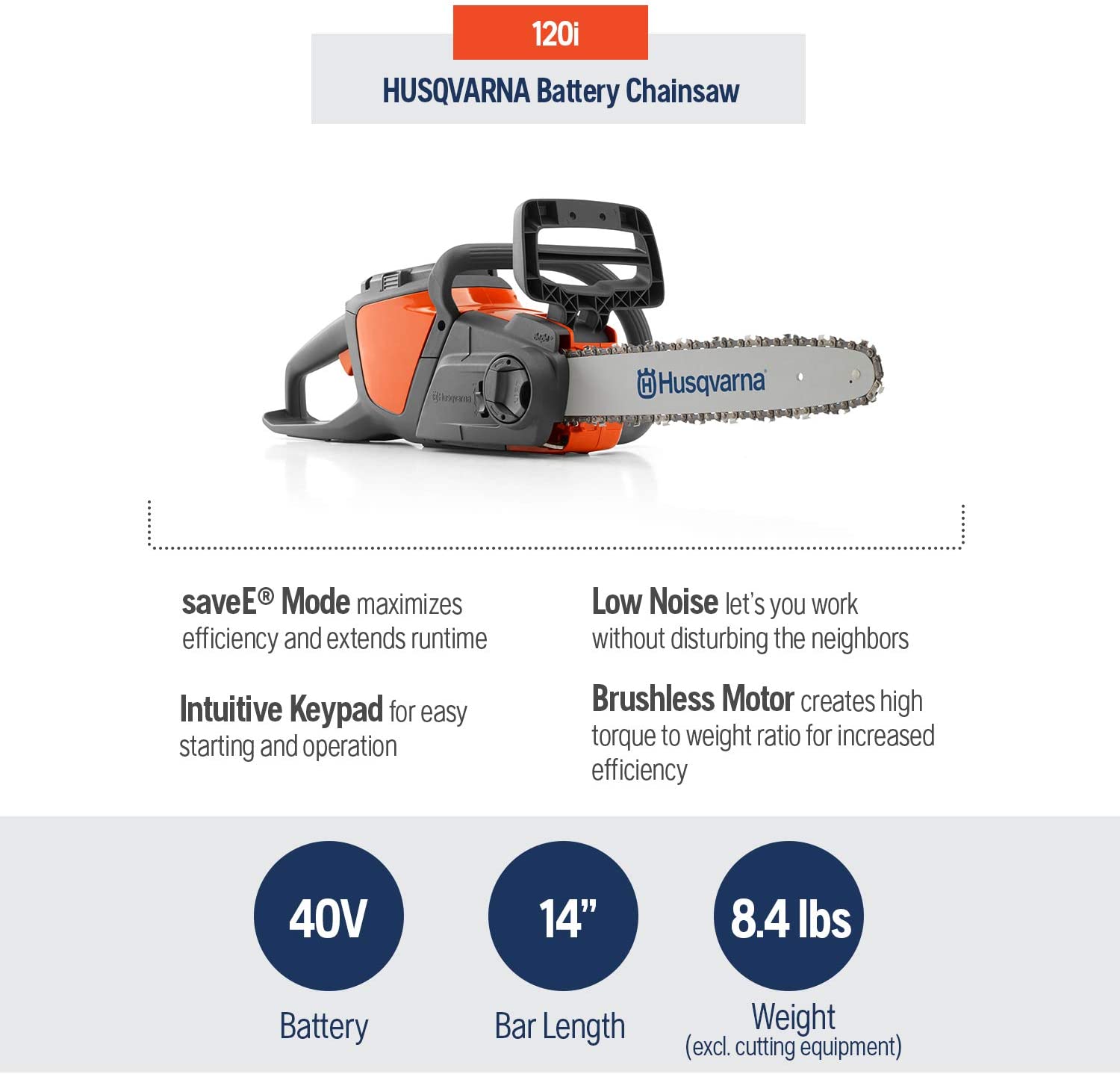 Husqvarna 120i Cordless Battery Powered Chainsaw
I do recommend reading the owners manual because there are features built into the saw that might be confusing if you don't take the time to read the instructions.

For example, if the saw sits idle for a certain amount of time you'll need to hit the power button again, or if you push too aggressively while making a cut, the saw chain will stop until you back off and try again.
An inertia activated chain brake and automatic chain oiler offer additional safety and user friendly performance.
I really like how the bar oil reservoir has a flip up cap which makes it easy to open.
A lot of Husqvarna gas chainsaws that I've used have gas and oil caps that are hard to grab and I'll resort to using my scrench tool to open the caps.
Speaking of scrench, you won't need any special tools to adjust the chain on the 120i because it comes standard with a tool-less chain tensioning system.
Husqvarna 535i XP Battery Powered Chainsaw
The Husqvarna 535i XP battery powered chainsaw uses the interchangeable battery to power a 14 inch bar.
Weighing just 5.29 pounds (without the battery and cutting equipment) the saw is surprisingly lightweight.
So how long will it cut on a single battery charge?
One fully charged battery will last about as long as a tank of gas on a gasoline powered chainsaw.
Unlike the 120i, this has a retained bar nut on the cover that requires the use of a scrench to loosen and adjust the chain tension.
After remaining idle for 3 minutes, the saw shuts off to preserve battery power and increase safety.
Once it shuts off, you'll need to power the saw up again before it's ready for use.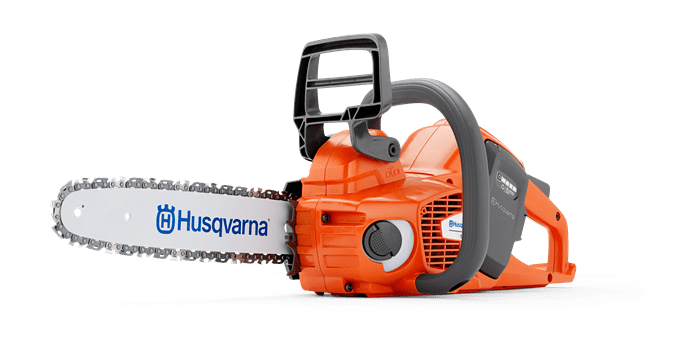 The brushless motor is 25 percent more efficient than a standard brush motor, which delivers more torque for better performance.

One thing I really like about the 535i XP is that it comes with bumper spikes (also called bucking spikes or dogs) where the chainsaw bar meets the body of the saw.
These spikes serve as a pivot between the bar and the engine body which acts as a safety precaution to prevent the saw from jerking back and injuring the operator.
You typically won't find this feature on some of the cheaper saws made by other manufactures.


Husqvarna T535i XP Battery Powered Chainsaw
The Husqvarna T535i XP battery powered chainsaw is similar to the 535i XP however instead of the rear handle design, the T535i XP has a top handle design.
The top handle is ideal for arborists who need instant instant power without trying to start a saw in the tree.
Like the other models, one fresh battery will last about the same duration as a tank of gas, so you'll get plenty of cutting time between charges.
This lightweight, quiet saw is perfect for pruning trees because it has tons of torque while being easy to handle.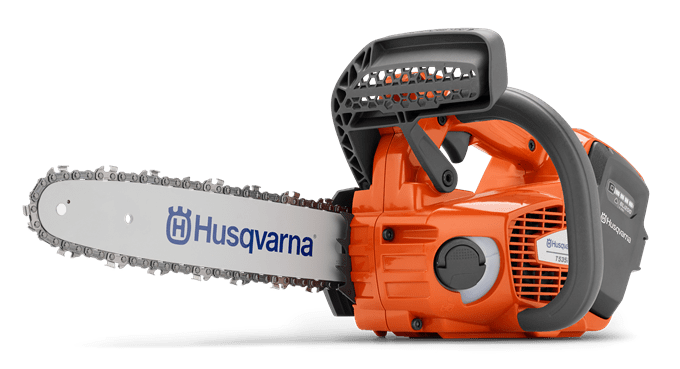 All of the Husqvarna battery powered chainsaws seem to use less bar oil than a gasoline powered saw.

To test the chain oiler, you can run the saw with the tip approximately 8 inches away from a blank sheet of paper.
After a few seconds, the oil should create a distinctive mark on the paper indicating oil is being added to the chain.
Husqvarna 540i XP Battery Powered Chainsaw
The Husqvarna 540i XP battery powered chainsaw is a rear-handle saw that has the power of a 40cc gasoline powered saw.
It comes with all the safety features of the previous Husqvarna battery powered chainsaws, and it's designed to effectively cut small to medium sized trees.
This lightweight saw is a must have if you're into tree work, with the ability to make precise cuts without the hassle of starting a noisy gas engine.
With the ability to choose between a 14 inch or 16 inch bar, the saw is unbelievably powerful.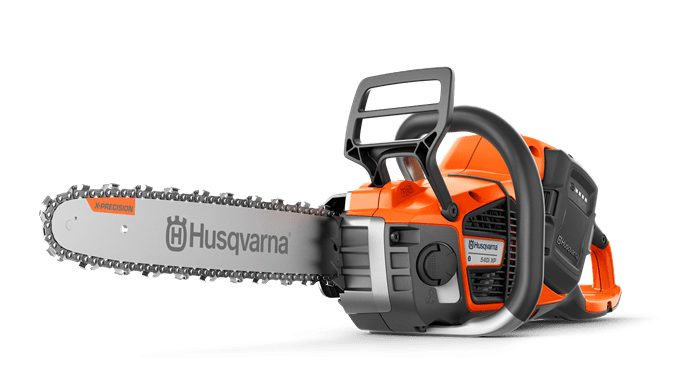 As the largest Husqvarna battery powered chainsaw available with a rear handle, the quality and craftsmanship of the 540i XP lives up to the Husqvarna brand name as a leader in the chainsaw industry.
Of course, with an increase in size and power, the price tag is also higher than the previous models.
However, if you're in the market for a professional quality electric chainsaw, this is a must have!
Husqvarna T540i XP Battery Powered Chainsaw
The Husqvarna T540i XP battery powered chainsaw is similar to the 540i XP however it has the top handle design, making it idea for professional pruning and tree work.
It's the most powerful top handle battery powered saw that Husqvarna offers, and its power is equivalent to a 40cc gasoline powered chainsaw.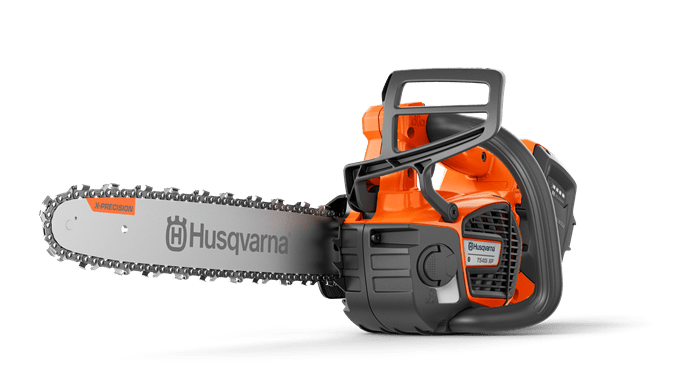 Available in a 12, 14 or 16 inch bar, you can customize the saw for your specific needs while still enjoying its lightweight design.
The T540i XP has all of the safety features you would expect from a professional grade chainsaw and it's prized by arborists who need a top handled chainsaw for limbing, without the hassle of starting a gas engine while up in the tree.
Husqvarna Battery Powered Chainsaw - Overall
As technology improves, battery powered chainsaws are now becoming the top choice for many homeowners who need a saw without all the maintenance of a gas engine.
With their instant power design, top notch safety features and a battery that can last as long as a tank of fuel, Husqvarna battery powered chainsaws are definitely some of the best cordless chainsaws on the market today.