Remington Electric Chainsaw
Remington Electric Chainsaw
This post may contain affiliate links so I earn a commission. 

The Remington electric chainsaw is durable, easy to use, and affordable.
This chainsaw is perfect for homeowners who need to do light-to-moderate cutting around their property. 
In this guide, we will outline the features of the Remington electric chainsaw and provide tips on how to use it safely and effectively. 
So, whether you are looking to trim branches or cut down small trees, this chainsaw produced by Remington is a great option!
Does Remington Still Make Electric Chainsaws?
Remington does still make an electric chainsaw! 
This is not a brand that's going away any time soon.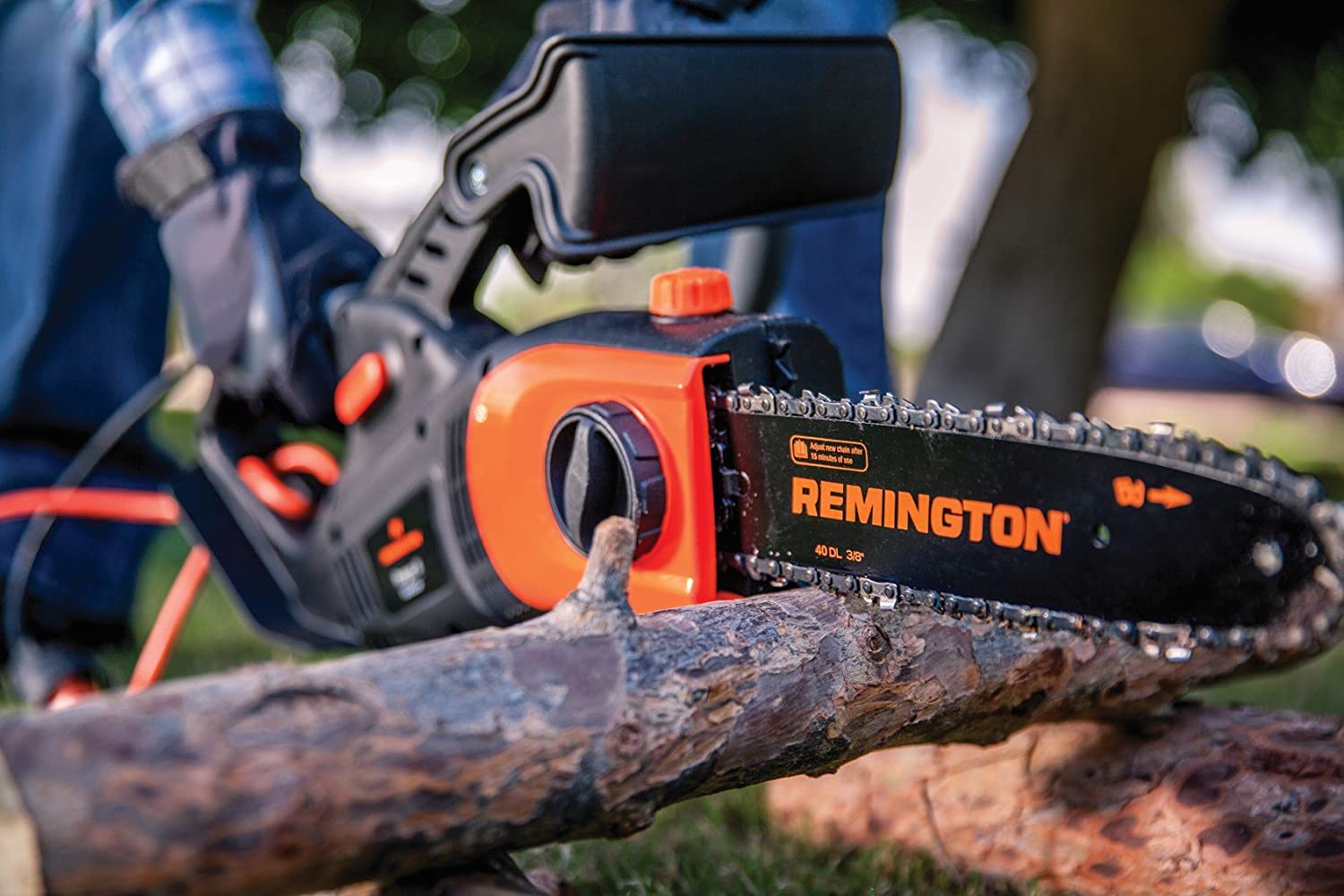 Remington Electric 2-in-1 Pole Saw
Remington offers a very quiet and strong running electric saw.

Designed with various options such as bar and chain length, it is a strong choice for many homeowners.
Affordably priced, this saw is a must for just about every backyard cutting need. 
Remington Electric Chainsaws Features And Specs 
This chainsaw is considerably lightweight, coming in at only 10.5 lbs on a model with a 16-inch bar and chain. 
This is one of the biggest attractions of this saw for many homeowners.
However, the benefits don't end there. 
On some models, the bar oiler is a manual feature requiring the user to maintain the proper amount of oil to keep the bar and chain lubricated during use. 
Other Remington models feature an automatic bar and chain oiler. 
This does not require the user to have to pay attention to bar and chain lubrication, as these built-in features deliver a proper amount of oil.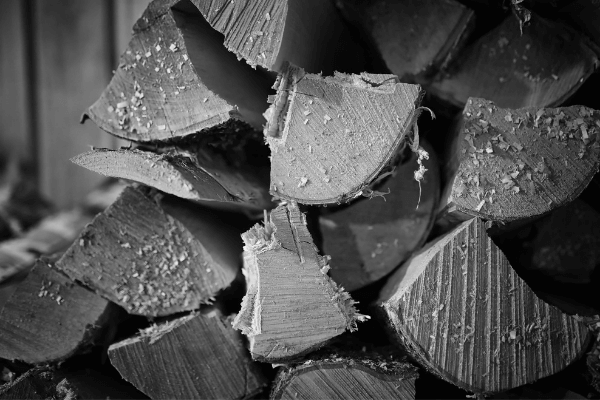 The motor size is 11.5 amps, which is compatible with most common home electrical systems.

There is very little chance of an overloaded electrical circuit in any properly wired system. 
The bar size and chain are 16 inches on some models, allowing users to cut larger diameter limbs and trees. 
The oil reservoir is easily visible and very easily filled.
Finally, the external chain tensioner is positioned in plain view.
This can help you easily keep your chains at desired tensions for proper cutting speed and safety.
How Much Is A Remington Electric Chainsaw
Remington, as a company, offers a wide range of electric chainsaws with varying features and available options and accessories.
Because of this, the pricing will vary depending upon the model you choose and available options. 
In looking into the pricing of Remington electric chainsaws online, most vendors seemed fairly consistent.
eBay offers several of these saws ranging in price from $27.00 to as much as $49.00 usually with an added delivery charge of $20-30 dollars.
Typically, the saw would average about $65.00 delivered to your door. 
New Remington corded chainsaws from various vendors seemed to range in price from $74.99 to $94.99.
Remington seemed to be a fairly well-circulated product and is easy to find in most stores, which helps greatly in finding a new saw with a decent warranty in place.
How Do You Adjust A Remington Electric Chainsaw?
One of the most commonly asked questions about this saw is how to adjust it. 
Adjustment of the cutting chain on a Remington electric chainsaw is fairly straightforward and a must-know factor.
That's because the proper cutting chain tension reduces wear and tear on the bar and lets the chain cut at proper speed. 
First, loosen the bar retaining nuts on the cover that is over the bar.

Do not remove this cover as it is not necessary and adds more work to the task.

The next step is to turn the tensioning screw clockwise to desired tension.
Proper tension will actually vary depending upon the temperature of the chain.
When tensioning a cold chain before cutting, the chain should fit snugly against the bottom side of the bar. 
A warm chain, after having been used for cutting, should be tensioned so that approximately 1/16 in of chain should hang below the bar. 
Once you have reached the desired tension, hold the end of the bar up as you retighten the bar retaining nuts.
This is an important step to keep the chain properly adjusted as you use the saw.
Benefits Of The Remington Electric Chainsaw
There are countless benefits of the Remington electric chainsaw.
For starters, the easy chain tensioning feature allows the user to adjust the chain quickly to return back to cutting. 
The noise level is super low with Remington's saw. 
Chainsaw noise is a very large factor in user fatigue. 
Fatigue is a leading factor in many accidents involving chainsaws and their use. 
Plus, there are never any messy fuels to deal with. 
Unlike the gas counterparts, Remington saws require no gas to mix or dump into chainsaws. 
There are also no pull cords to deal with.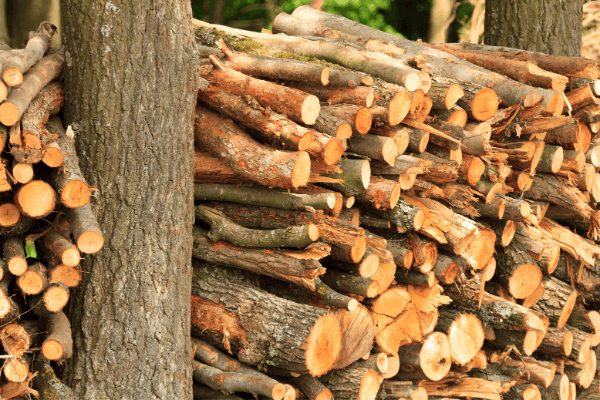 Starter cords frequently wear out and need constant replacement.

To start cutting with a Remington electric saw, you need only pull the trigger. 
There is very little maintenance with the Remington electric chainsaw.
Lack of spark plugs, gas motors, and other factors associated with gas saws all give the Remington electric chainsaw a huge advantage in maintenance time and costs. 
The weight of the Remington saw is also hugely beneficial.
Of all chainsaws, the corded saws will always be the lightest to manage and operate. 
This feature greatly reduces the fatigue that comes with running any chainsaw and greatly increases the safety value of this saw. 
Finally, Remington electric chainsaws come with top and bottom handle guards.
This safety feature helps to eliminate bruised knuckles and provides excellent protection to the hands.
Disadvantages Of The Remington Electric Chainsaw
When comparing chainsaws, there are always going to be drawbacks to any product, whether it be a corded, battery, or gas-powered saw. 
Power seems to always stand out as a constant when comparing chainsaws. 
Electric chainsaws are unable to match power levels obtained with gas chainsaws. 
Electric motors used in these saws are able only to attain a certain level of power.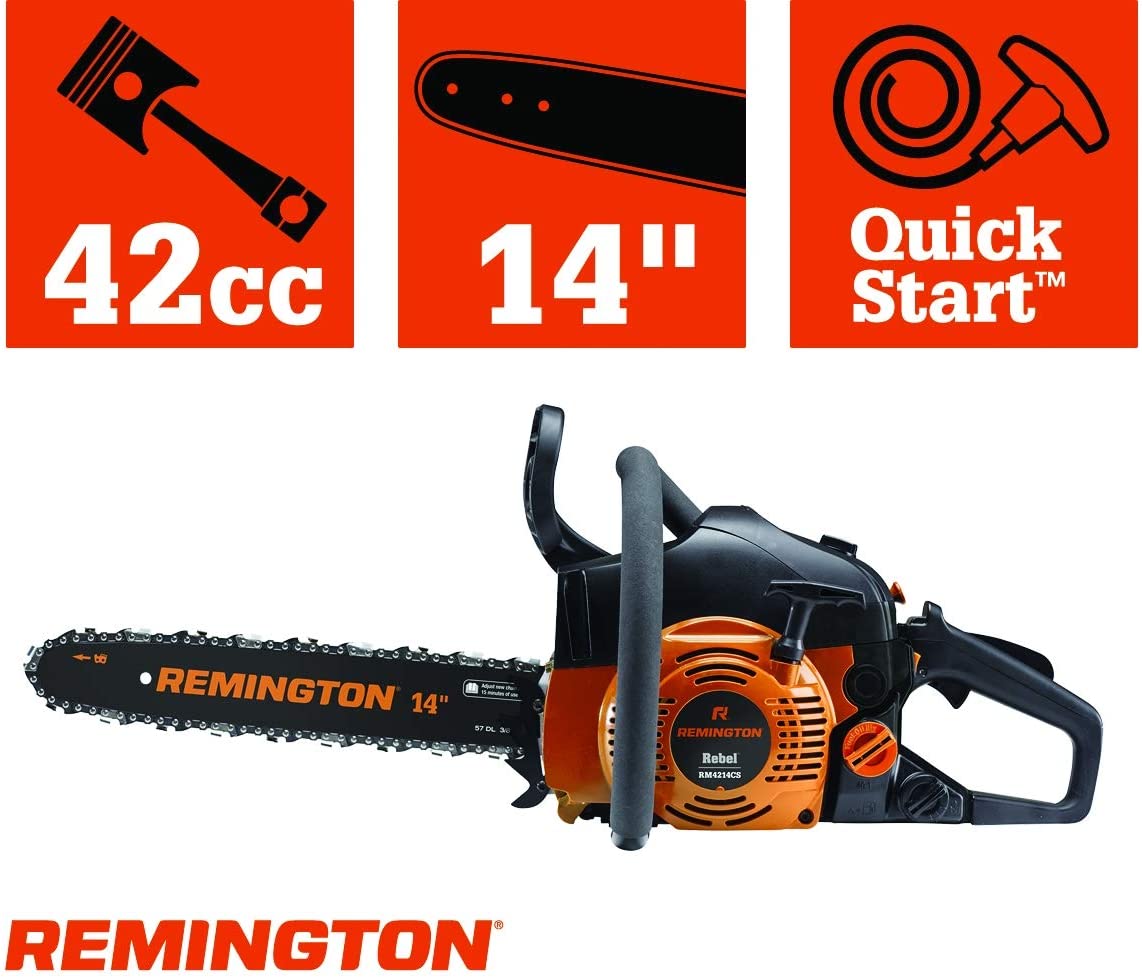 Remington Gas Powered Chainsaw
This can be a major disadvantage if your particular job or cutting needs involve larger trees and branches. 

Having to be constantly hooked to electricity can also be problematic.
There are extreme limitations when having to rely on a lead cord to do your cutting. 
Staying aware of the saw cord and the lead cord is another disadvantage of a corded chainsaw.
It becomes one more thing to watch.
What Is The Best Electric Chainsaw You Can Buy?
When it comes to finding the best electric chainsaw, there's never going to be a consistent winner.
It all comes down to individual needs and preferences. 
Remington electric chainsaws do stand out in their field.
The brand offers value, durability, longevity, and performance, making them a top contender among the many brands of electric saws offered. 
Many other companies offer their own version of electric chainsaws.
Makita, Oregon, Dewalt, Ivation, and Kobalt are just a few examples of the suppliers in this market.
Companies such as these bring their own benefits and disadvantages in the line of corded chainsaws. 
As with any power tool, it is always wise to consider your project when making a final selection.
Give some thought to your must-haves and needs!