Are Electric Chainsaws Any Good
Are Electric Chainsaws Any Good?
This post may contain affiliate links so I earn a commission. 

Are electric chainsaws any good or should you stick with using a conventional gasoline powered 2-stroke engine?
Modern technology has changed the items we use on a daily basis and the chainsaw is no exception.
Today's Lithium-Ion batteries are a strong, long lasting source of clean and hassle free power.
Plus, when you consider the option of interchangeable batteries between multiple outdoor power tools, a single battery and charger can handle just about any outdoor task.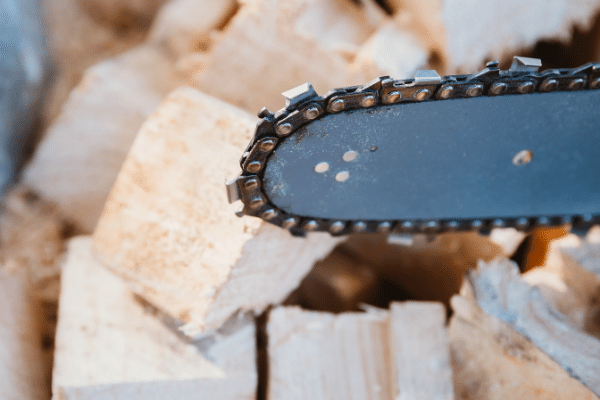 However, before you make a full commitment to a battery powered or electric chainsaw, let's compare a few different options to make sure you're making the best decision.

Battery Powered vs Electric Chainsaws
Although we somewhat use the words interchangeably, some "electric" chainsaws run off of battery power while others require an electrical connection to an outlet.
The model you choose should ultimately fit your needs, but in my opinion a Lithium-Ion battery powered chainsaw is much more versatile compared to a corded chainsaw.
Unless you're going to prune some branches right next to an electrical connection, a corded chainsaw really limits where you can use it.

Chances are you'll need to use your chainsaw in the woods, along a driveway or maybe even a fence line, all places that will make plugging in your chainsaw difficult.
If you're going to stray away from the gasoline models, I recommend purchasing a battery powered saw.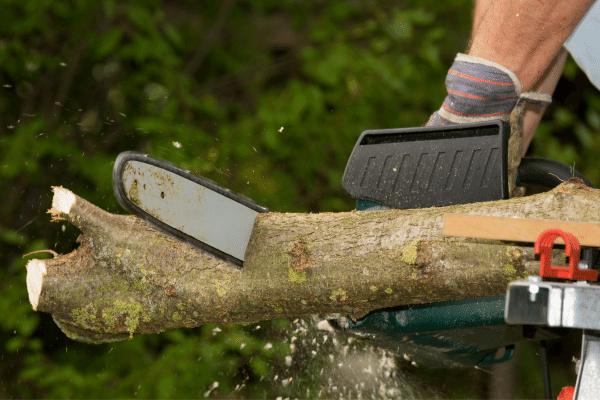 Are battery powered electric chainsaws any good for making multiple cuts?

Yes, surprisingly most models can make up to 100 cuts on a single battery charge which is usually more than enough to clear up a fallen tree or prune your favorite shrub.
Plus, a lot of the saws have a built in battery meter which allows you to monitor the amount of battery power you have left.
The Best Battery Powered Chainsaws
Chainsaws are a topic of many opinions.
Just like it's hard for people to agree on the best gasoline chainsaw brand, the same goes for electric chainsaws.
To make things easier, we've broken down the saws into specific categories.
Best Battery Powered Chainsaw For Felling Trees - Stihl MSA 220 C-B
Stihl makes an exceptional product from string trimmers to leaf blowers, and their chainsaws are no exception to the rule.
The MSA 220 C-B is the largest battery powered chainsaw Stihl offers.
They have 4 smaller saws that they produce, but if you're looking to cut large diameter wood, this is a great choice.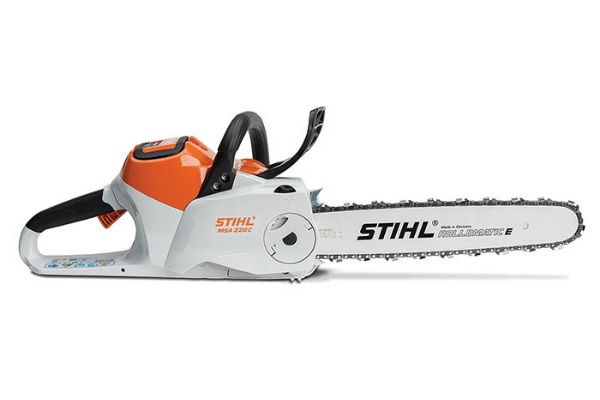 With a large, 16 inch bar it's powerful enough to fell trees and limb branches.
If you're interested in purchasing any Stihl product, you'll have to visit an authorized dealer since you won't be able to find one at your local department store.
Best Electric Chainsaw For Landscaping - Greenworks 40v Pole Saw and Chainsaw
Having access to an electric pole saw to prune tree branches is really handy.
Whether you need to cut a shooting lane for deer hunting, or remove a sagging branch near your house, the Greenworks 40v 8 inch cordless pole saw is a great tool.
When purchased as a package deal, you'll also get the Greenworks 16 inch cordless chainsaw.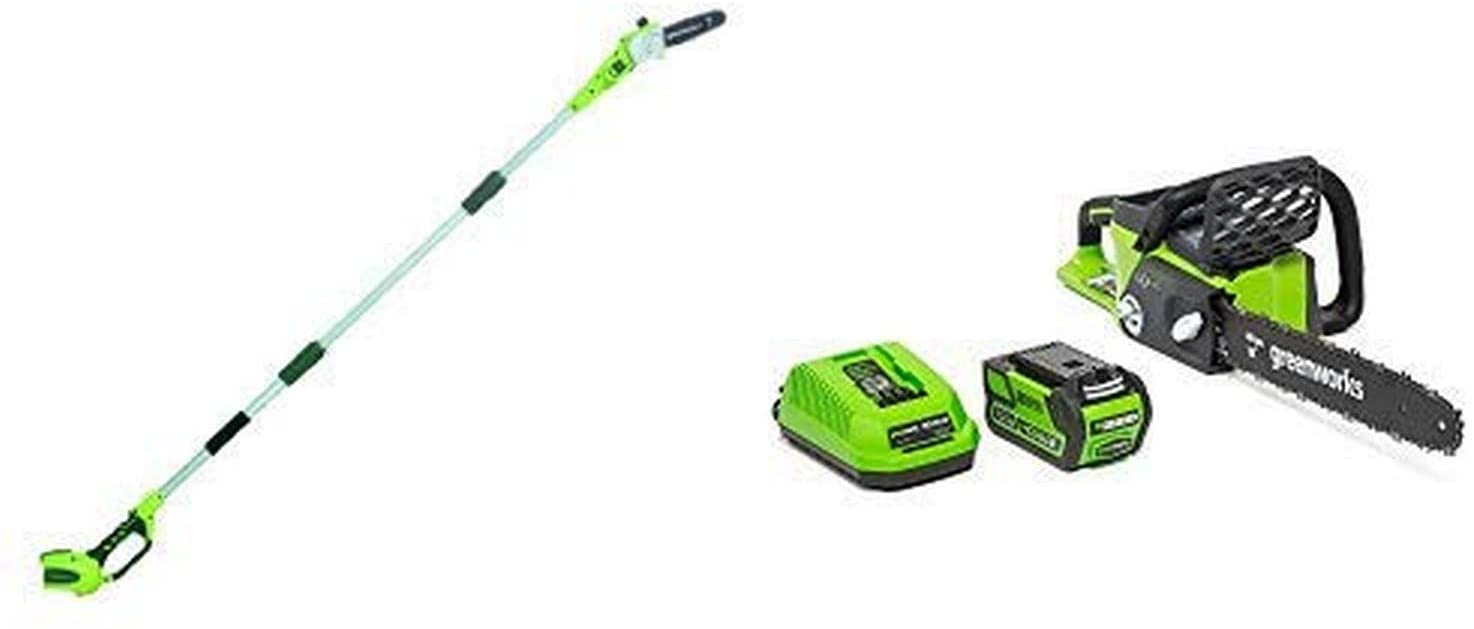 Greenworks 40V Cordless Pole Saw and Chainsaw
The brushless motor design on the saw delivers exceptional power and performance to make up to 90 cuts on a single battery charge.
You'll also love the added safety features like the low kickback chain and electronic chain brake to make running the saw as safe as possible.
If you're looking for a couple of inexpensive tools that can make storm cleanup and general yard maintenance a breeze, you should definitely look into the Greenworks lineup of tools.
Best Electric Chainsaw For Small Projects
Topping the list as the best electric chainsaw for small projects is the Dewalt 20v Max XR chainsaw.
Although it only has a 12 inch bar, which will limit the diameter of wood you can cut, the saw has exceptional power for its size.
The saw includes a low kickback chain and chain brake for safety, as well as a high efficiency brushless motor for power and reliability.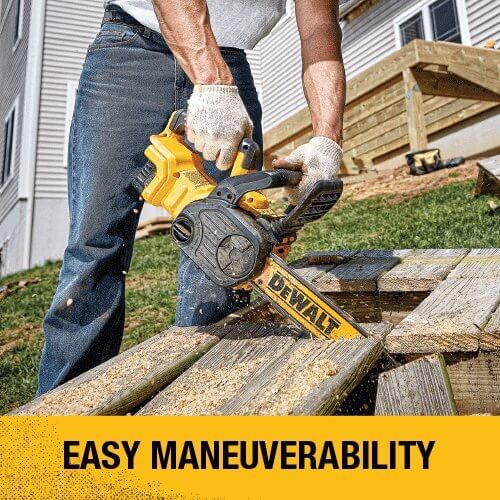 DEWALT 20V MAX XR Chainsaw Kit
Weighing just 9 pounds with the battery installed, the saw is very light and can make up to 90 cuts on a single charge.
Don't let the size of this electric chainsaw fool you.
It a great saw with a surprising amount of power to tackle almost any job around your house.
Are Electric Chainsaws Any Good For Cutting Firewood?
If you heat your home with wood, you're probably wondering are electric chainsaws any good for cutting firewood?
After all, if you're going to switch from a heavy gasoline powered saw to lightweight battery operated version, you want to make sure the saw can keep up with the amount of wood you'll need to make it through the winter.
While almost any battery powered saw will keep up with pruning limbs and brush, only the larger models will effectively cut firewood.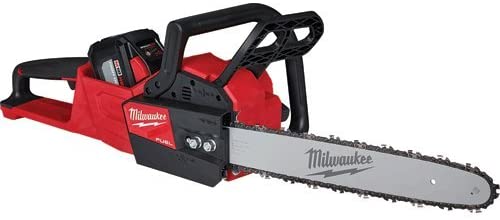 Milwaukee M18 16 Inch Cordless Brushless Chainsaw
If firewood is high on your list, I recommend purchasing one of the larger battery powered chainsaws like the Milwaukee M18 which has the power and performance of a 40cc gasoline powered chainsaw, or the Stihl MSA 220 C-B, their largest battery powered saw made for felling and limbing trees.

Are Electric Chainsaws Any Good - Overall
Are electric chainsaws any good for your specific needs?  
Well, only you can answer that question because it really depends on how often you plan on using your saw and for what purpose.
Lithium-Ion batteries have come a long ways and they're revolutionizing outdoor power equipment.
As long as you choose an electric chainsaw that fits your specific needs, I think you'll be very happy with them especially for small, quick jobs because you don't need to mix any gas or try to start a saw that hasn't been run for months.
Simply slide in a new battery, pull the trigger and you're ready to work!