Greenworks Chainsaw
This post may contain affiliate links so I earn a commission. 

Looking for a chainsaw that's environmentally friendly? 
Check out the Greenworks chainsaw! 
This saw is designed to give you plenty of power without hurting the planet in the process.
If you're in the market for a new chainsaw, you may be wondering if a battery powered chainsaw is the right choice for you.
As is the case with many battery-powered chainsaws, Greenworks offers a variety of options related to battery, bar and chain size to fit your individual needs.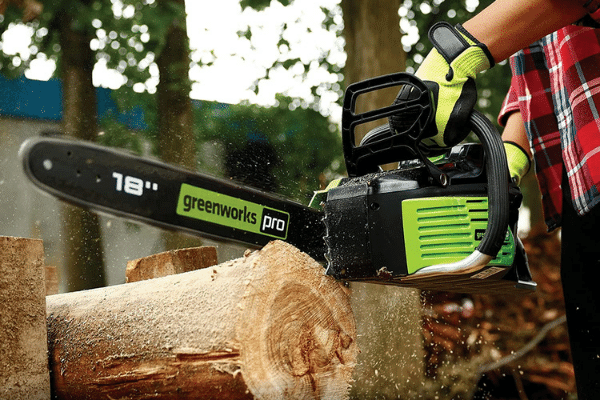 There are models designed specifically for homeowners as well as those intended for professional use in the company's extensive product line.

Here, we'll take a look at what makes battery powered chainsaws produced by Greenworks so popular, as well as some of the pros and cons of choosing one.
Keep reading to learn more!

Features Found On A Greenworks Chainsaw
Greenworks carries many options and accessories to round out its line of battery powered chainsaws. 
Bar and chain lengths come in 12 inches up to 18 inches to accommodate the size of the timber you need to fell, as well as to meet other needs like property maintenance and construction.
Pro-series Greenworks saws are equipped with 60V batteries, which develop power compared to a 42cc gas powered chainsaw. 
Greenworks offers saws with options on battery size from 2.5Ah up to 4.0Ah. 
A unique feature offered by Greenworks is the 48V saw, which comes complete with two 24V batteries. 
This has the potential to provide the equivalent of the 48V power without leaving the 24V platform.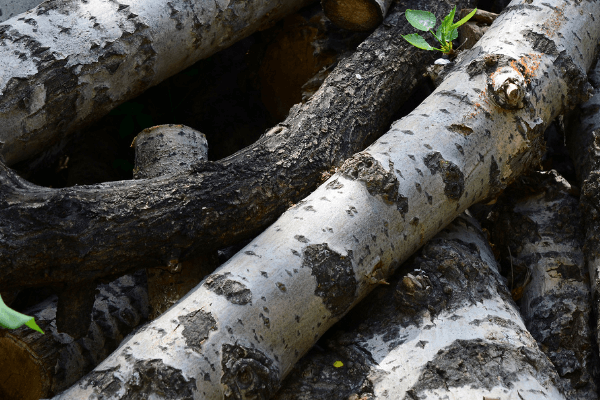 This option is exceptional in that it allows the use of the 24V batteries in other tools.

Batteries are often fairly pricey so some may see this option as a cost-saving feature. 
Side mount chain tensioning is a very nice feature with a very easy and accessible method of keeping the cutting chain at a proper tension. 
Automatic oiling of the bar and chain adds value to this chainsaw as well.
Automatic oiling of the chain automatically delivers the proper amount of oil to the bar and chain at the proper time. 
This feature will prolong the life of your bar and chain many times over, especially as opposed to manual oilers.
Greenwork chainsaws come with brushless motors which offer more durability and increased torque as compared with brush-style motors. 
How Much Is A Greenworks Chainsaw?
The cost of a Greenworks chainsaw is varied depending upon bar and chain size, battery size and what you purchase in various options.
For those who may already own a Greenwork saw or other outdoor products, they "tool only" packages which are offered with substantial savings. 
This is ideal if you already have batteries. 
The Greenworks Pro 80V GCS80450 Cordless Chainsaw can be picked up at approximately $179.
Greenworks Pro 80V 18-Inch Brushless Cordless Chainsaw, Tool Only
As you might expect, this is a very inexpensive way to add to your tool inventory. 

A more extensive kit is the Greenworks Pro 80V GCS80420 saw that comes complete with battery and rapid charger, an 18 inch bar and chain and a 2.0Ah battery. 
A nice, powerful and complete saw kit at only $294. 
The model CS80L01 is an 80V saw complete with 16 inch bar and chain, but without an included battery or charger. 
Greenworks Pro 80V 16 inch Cordless Chainsaw, Tool Only
With a low cost of $135, this is a great value if batteries are already sitting in your toolbox. 

For the much more serious logger, Greenworks offers the GCS80420 chainsaw with an 18 inch bar and chain. 
In this advanced package, you will receive a 2.0Ah battery but also a Pro 80V, 4.0Ah lithium-ion battery GBA80400. 
This particular saw and its associated options is beginning to reach the power offered by gas-powered chainsaws with up to 42cc in motor size.
This more advanced saw comes at a cost of about $534. 

The pricing on Greenworks battery powered chainsaws will show a fair amount of variability, as you can see, but the options and accessories are quite varied as well. 
It just comes down to what the user may wish to spend depending upon individual needs.
Benefits Of Using A Greenworks Chainsaw
Greenworks battery operated chainsaws carry with them many benefits, most of which you will find in other battery-powered chainsaws. 
The biggest benefit of this kind of saw is that it's lightweight. 
A lighter saw weight is a huge advantage of battery-powered saws. 
Greenworks saws, like the rest, weigh a lot less than a gasoline powered chainsaw. 
This is a very important factor to consider as reduced saw weight will bring about a reduction in user fatigue. 
Fatigue is one of the most common factors in chainsaw accidents. 
Greenworks saws are powered exclusively by their batteries, eliminating the mess and inconvenience of mixing gas/oil fuels like you would have to do with gas chainsaws. 
The wrap-around handles and hand guards provide exceptional safety in the protection of your hands and fingers. 

Many models of Greenworks chainsaws come with an inertia activated chain brake.
This feature is a must for any chainsaw.
Should the chainsaw kickback, this brake will activate immediately as the handle makes contact with your wrist.
This is a feature that can potentially save you from serious injury while running your saw, especially if you're not someone who operates a chainsaw everyday. 
Finally, Greenworks offers three to four-year limited warranties on the vast majority of their products, including these battery-powered chainsaws.
The warranty offers protection on the saws themselves and the batteries as well.
Disadvantages Of A Greenworks Battery Powered Chainsaw
As with any cordless or battery operated chainsaw there are drawbacks. 
Batteries will need to be charged fairly often. 
Projects that take you away from the electricity you need to charge can be problematic. 
Having additional, fully charged batteries will eliminate much of this issue. 
However, it is always something to be considered when you are heading into the woods for a full day of cutting. 
Power is another factor that comes to the forefront.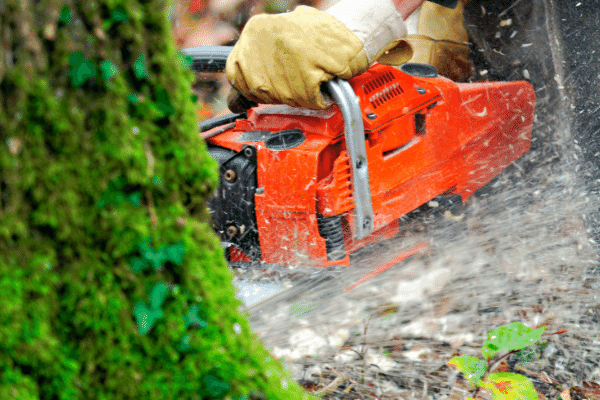 Battery operated chainsaws, although advancing in their power, often are not as powerful as gas-powered chainsaws.

Gas saws, having been around for decades, have advanced to very fast and powerful cutting tools. 
Cutting bar and chain length is also something to be considered when thinking of your needs in a chainsaw.
Gas chainsaws offer much longer lengths in bars and chains allowing the user to cut much larger diameter firewood, branches and logs. 
Is a chainsaw with limited amounts of cuts per charge going to be right for you?
Greenworks chainsaws offer 100-150 cuts of material comparable to a 4x4 timber per charge.
While that number of cuts may be right for some folks, it certainly would not be compatible with the needs of others.
Where Can You Buy A Greenworks Battery Powered Chainsaw?
Vendors who participate in the Greenworks chainsaw market are numerous.
eBay, Amazon, and Northern Tool all are among the top sellers of Greenworks products. 
Of course, you can always buy directly from Greenworks as well.
Rather not shop online?
Visual buyer?
Check out the inventory of Greenworks chainsaws at your local home improvement store, like Lowes or Home Depot. 
If you choose to do this, you'll be able to look at the saws and interact with them more closely.
You can see all the benefits of the Greenworks battery-powered chainsaw in person!

Now that you have this information, the only thing left to do is to make a decision for yourself.
Although Greenworks certainly isn't the only manufacturer of quality battery-powered chainsaws, it's definitely a top contender and I don't think you'll be disappointed with what this tool has to offer!