Best Small Chainsaws
This post may contain affiliate links so I earn a commission. 

Are you on the hunt for one of the best small chainsaws?
You'll have plenty of options to choose from - so many in fact, that the long list of choices might be intimidating.
Here are some tips on what to look for.
What Is Considered A Small Chainsaw?
A small chainsaw is the ideal pick for someone who only occasionally needs to prune small branches or trees (typically those with narrow, thin branches).
Most people consider a saw with a bar that's less than 15 or 16" to be small.
These are ideal for home use and can be powered by gas or electricity.
Also considered a light-use chainsaw, a small saw will be one that's under 14 inches long.

It's ideal for pruning ornamental trees and shrubs without thick branches.
If even that sounds too big, you might want to look into even tinier options like pole saws (with shorter cutting bars) or handsaws.
What To Look For In The Best Small Chainsaw
When you're shopping for your next chainsaw, there are several questions you should ask yourself.
First, what exactly will you be using your saw for?
If you're going to be pruning bushes and trees and little else, then a small chainsaw might be the perfect choice.
However, for any work that is more heavy-duty in nature, you might want to size up.
Depending on the type of work you are doing, you may want to look into an attachment for your chainsaw.
If you are going to be pruning trees or bushes that are difficult to reach, then buying a small chainsaw with a pole attachment is an option to consider.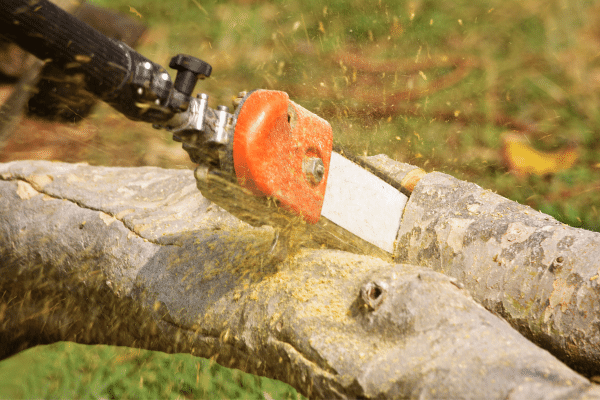 You'll also need to make the decision between gas and electric saws.

A gas chainsaw will offer a bit more power, while a battery-powered or plug-in electric model will be lightweight and perhaps quieter to use.
What Is The Best Small Chainsaw to Buy? 5 Options
Husqvarna 120i Battery-Powered Saw - #1 Best Small Chainsaw Choice
Husqvarna is one of the most reliable chainsaw manufacturers out there.
It has built a solid reputation as one of the oldest companies in the industry - but unfortunately, it has always specialized primarily in gas-powered chainsaws.
If you're looking for a smaller chainsaw, rejoice - the Husqvarna 120i is a battery-powered saw (one of the few offered by this company) that is remarkably easy to use which is why we ranked it as the number one best small chainsaw.
It is loaded with all kinds of features that will make felling small trees and pruning branches simple and easy.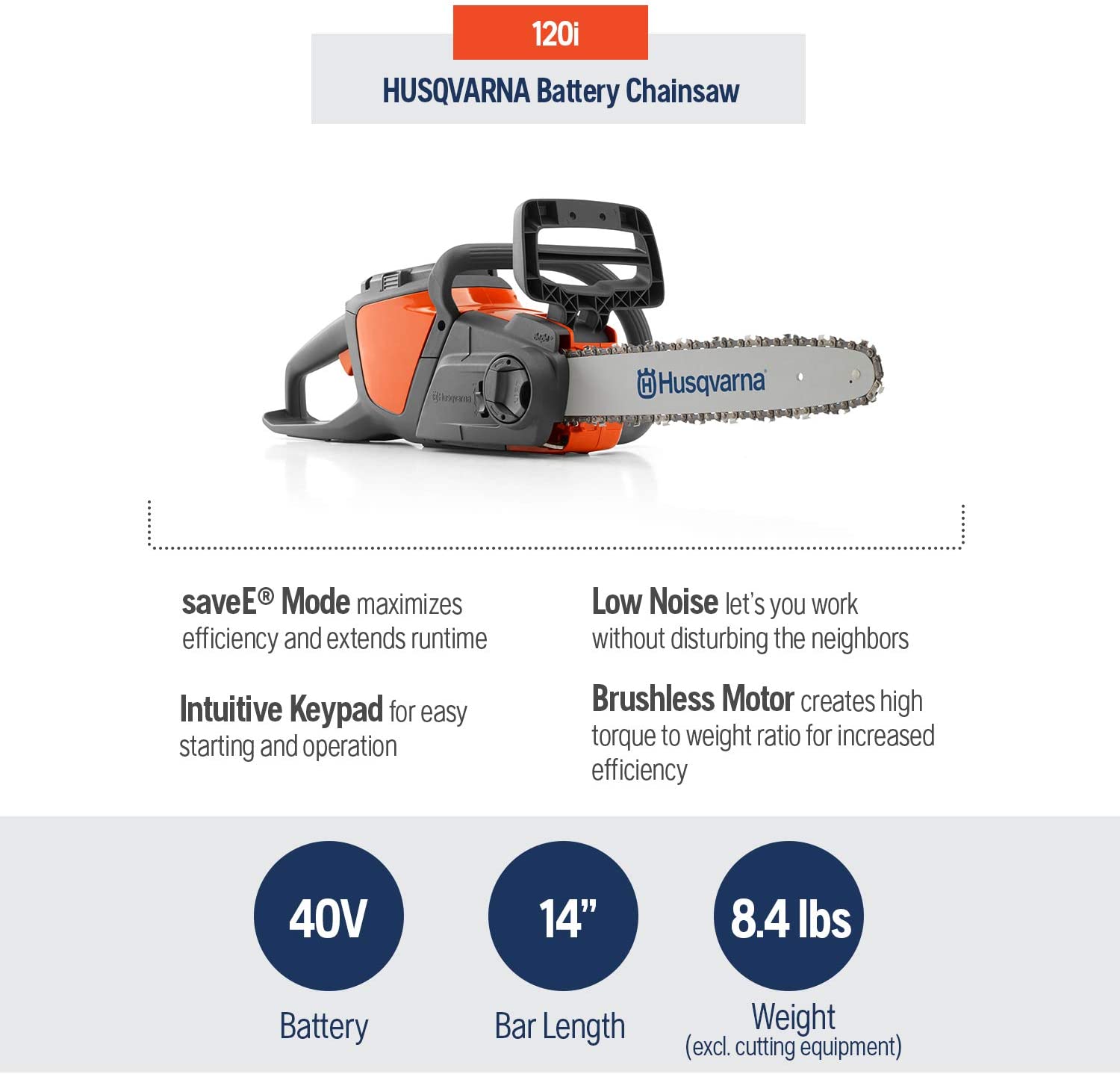 Husqvarna Cordless Battery Powered Chainsaw
It has a unique, intuitive keypad to help you start the saw along with an inertia chain brake for stress-free use.

Pros:
Has a power-saving mode to make sure your battery never runs out
Minimal noise levels
Brushless motor for maximum efficiency
Cons:
Battery and charger must be purchased separately
WORX 20V PowerShare 10" Cordless Electric Chainsaw
Another electric chainsaw to put at the top of your shopping list is the WORX 20V PowerShare.
At 10" this saw is a bit on the larger side of what I'd considered a small chainsaw - but it's still a quality, cost-effective pick.
The battery and charger are included in your purchase, with the included battery being compatible with all other 20V and 40V tools made by Worx.
Worx 20V Power Share 10" Cordless Chainsaw
The saw comes with all sorts of helpful features, including automatic chain lubrication, automatic chain tension, and more.

Pros:
Weighs less than six and a half pounds
Fast chain speed for reasonable power at a smaller size
Batteries compatible with other tools
Cons:
Chain tensioner isn't always reliable
Oregon 603348 CS1400 Corded Electric Chainsaw
This electric chainsaw by Oregon is another pint-sized pick, tipping the scales at less than 13 lbs.
It can be fitted with a guide bar that's 16" or smaller.
It has a unique PowerSharp chain that lets you sharpen it directly on the saw - in just three seconds or less!
It stays oiled with the built-in Lubri-Tec oiling system.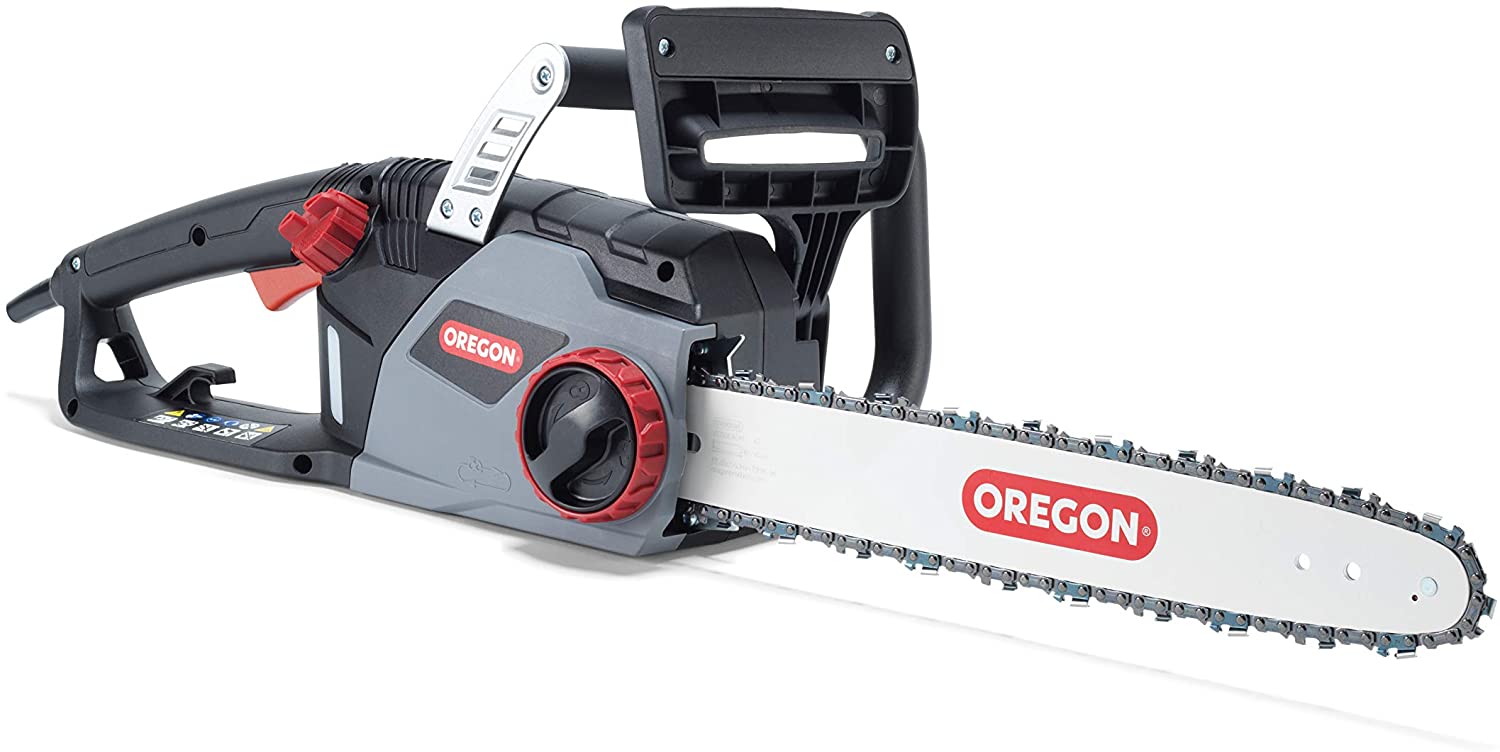 Oregon Corded Chainsaw
With minimal noise and all kinds of added safety features, this chainsaw is a top choice if you're looking for a teeny tiny saw.

Pros:
Easy to assemble
Chain can be tightened and sharpened right on the saw
Instant start capabilities
Cons:
Not the smallest saw on the list
Remington RM4214 Small Gas Powered Chainsaw
This gas-powered chainsaw will help you attack all kinds of smaller, hard-to-reach branches and trees on your to-do list this weekend.
It is one of the few small gas-powered chainsaws out there, but it offers steady power with its low kickback 14" bar and chain.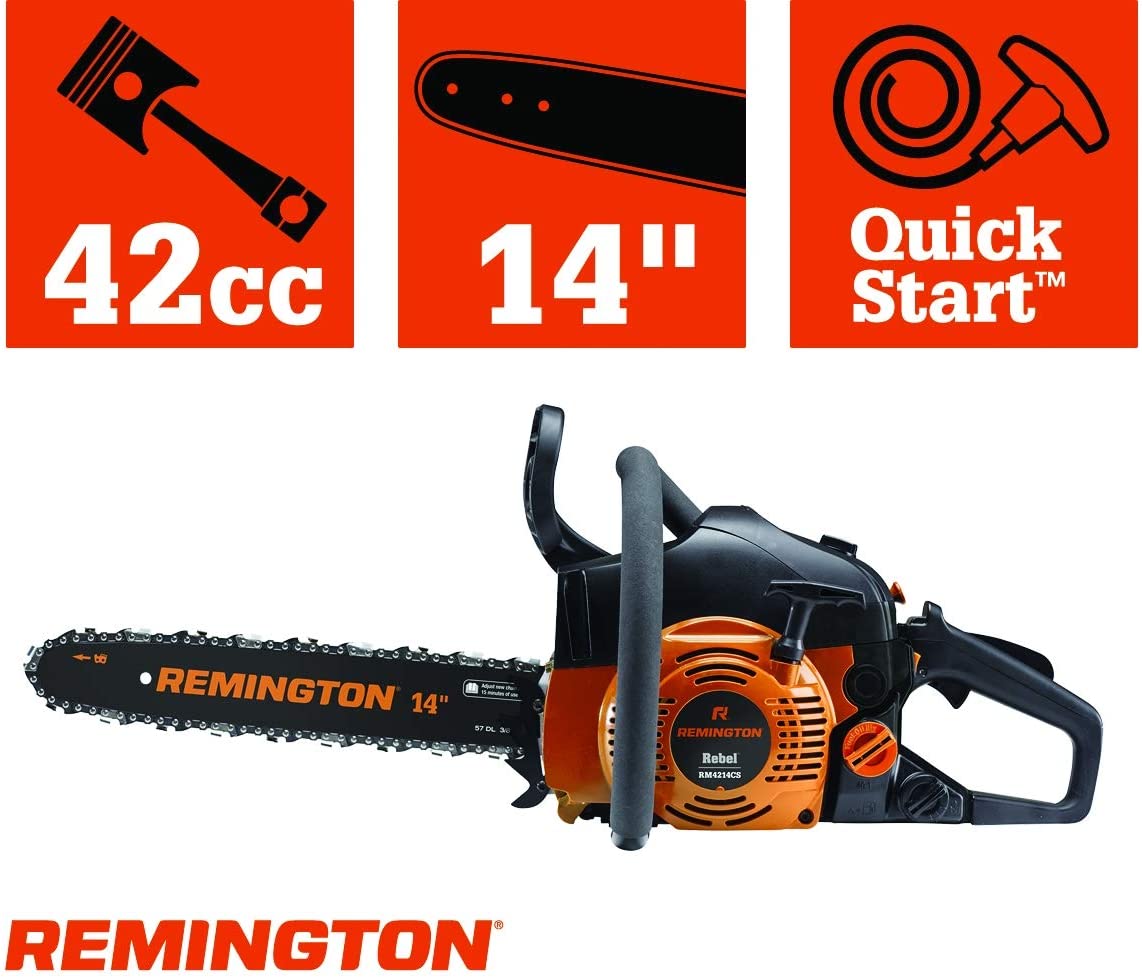 Remington 2-Cycle Gas Powered Chainsaw
It has an ergonomic design with a cushion wrap handle, making it easy to use and comfortable to operate.

Pros:
Gas-powered for a bit more gusto
Reliable and steady power
Ergonomic design
Cons:
Clip-on style primer bulb is cumbersome
Makita XCU07PT Chainsaw
One final option to consider is this Makita chainsaw, a small chainsaw that's powered by lithium-ion batteries.
It offers easy chain adjustment, making it fast and convenient to operate.
It has a 14" guide bar, so it's not the smallest chainsaw you can buy but certainly not the largest, either!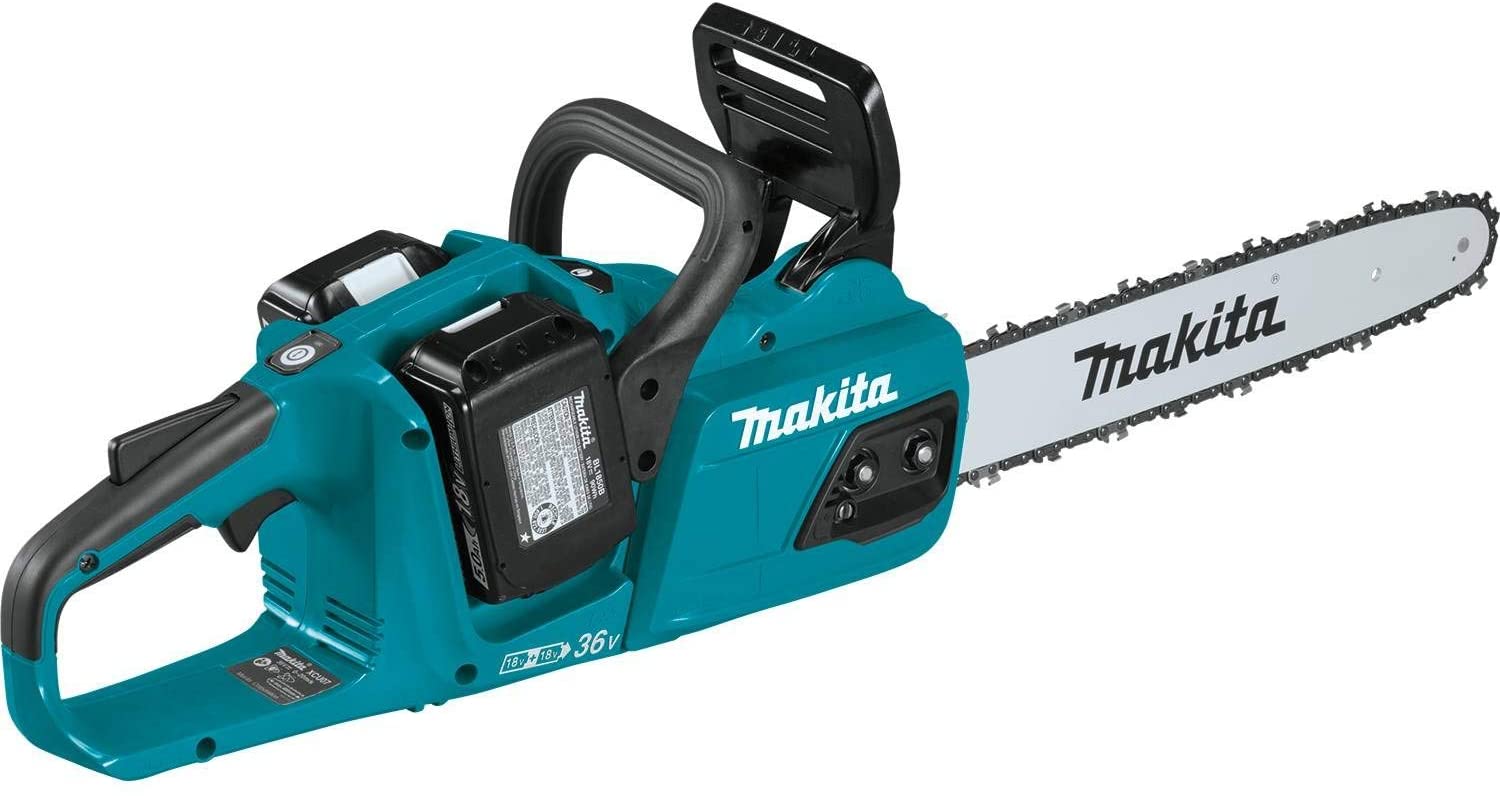 Makita 18V X2 (36V) LXT Lithium-Ion Brushless Cordless 14" Chain Saw
It runs quietly and smoothly with a variable speed trigger and 940 FPM chain speed for quick, efficient cutting.
Pros:
Zero emissions
Quiet operation
Lightweight and maneuverable
Cons:
Who Makes The Best Small Chainsaw?
There are countless advantages to choosing the best small chainsaw.
They are often less expensive than their larger counterparts.
The engines are smaller and the bars are shorter, so they're lightweight and easier to use.
Plus, owning a smaller saw often means you'll have less maintenance to do - that can be a huge benefit.
While you'll still need to change air filters and spark plugs (on gas models, anyway), a small saw will typically have a shorter chain that is easier to sharpen.
So which one of these chainsaws should you pick?

All of the manufacturers mentioned above make great saws - you can't go wrong with any of them.
However, we know that woodcutting can be challenging work - so you shouldn't have to spend hours agonizing over which chainsaw is right for you.
When in doubt, trust Husqvarna - this is our top brand when you're shopping for chainsaws of all kinds.
No matter the shape, style, or yes, the size, you'll find that this chainsaw maker meets your needs each and every time.