Best 16 Inch Chainsaws
This post may contain affiliate links so I earn a commission. 

What are the best 16 inch chainsaws you can buy?
Finding the right make and model for your needs can be challenging, but it's important to equip yourself with the top gear.
After all, if you're out in the woods and need to cut down a tree, you'll need a saw that has the power and ability to cut through wood like it's butter.
You don't want to monkey around with a cut-rate model that rarely starts!
Here's a quick guide to help you figure out what to look for - and some of our top picks to consider as you begin your search.
What To Look For When Shopping For The Best 16 inch Chainsaw
There are a few variables to consider as you start shopping for the best 16 inch chainsaw to fit your needs.
Before you begin the search, think carefully about what you'd like to use the saw for.
Will you be bucking up firewood?
Cutting down large trees?
Pay attention to customer reviews to get an idea of what the best uses are as well as any issues related to mobility, weight, or overall power.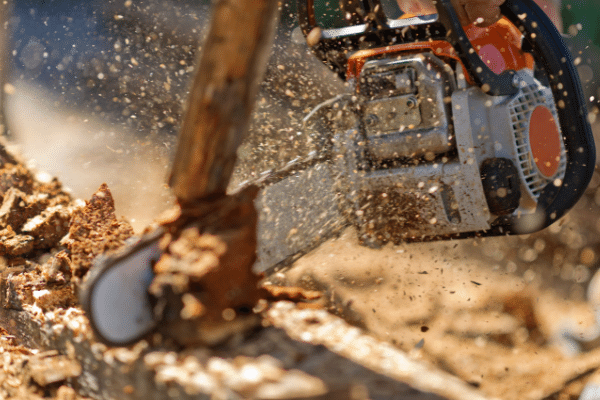 You'll also need to consider whether a gas-powered or electric-powered chainsaw is right for you.

While gas-powered chainsaws offer significantly more power, they also require more maintenance.
They also tend to be much louder than electric chainsaws.
There are plenty of other features that might factor into your decision-making process, too.
Does the chainsaw come with any bonus features?
How does it feel in your hands - is it comfortable to use?
Does its price fit within your budget?
Be sure to ask around for advice and recommendations from friends and family.
They'll be able to tell you which saws to consider - and which to avoid.
Best 16 inch Chainsaws You Can Buy: Top Models Reviewed
If you're in the market for the best 16 inch chainsaw but not in the mood to shop around, consider these top models.
Best Overall Gas Powered:  Husqvarna 440e II 16" Chainsaw
You'll find Husqvarna at the top of many rankings for quality chainsaws.
The 440e II 16" is a rugged pick that is a true workhouse.
This brand has been around for centuries and is well-regarded by tree-cutting professionals.
This saw is remarkably lightweight at less than ten pounds and comes with all kinds of features to make maintaining and using your saw much easier.
Husqvarna 16 Inch 440e II Gas Chainsaw
It has flip-up tank caps, a quick-release air filter, and even an automatic oiler for hands-free oiling.

With plenty of power and guts, this chainsaw is great for the professional and homeowner alike.
Pros:
Lightweight and maneuverable
X-Torq engine dramatically reduces emission and fuel consumption
Inertia-activated chain brake makes it safer to use
Cons:
Best Overall Electric: Greenworks 16-inch 40v Cordless Chainsaw
While we generally prefer gas-powered chainsaws to electric ones, there are certain situations in which an electric saw is going to be more efficient (and a better choice).
If you just cut occasional bits of brush around your property and don't want to deal with the cumbersome maintenance and oil-gas mixing of a gas-powered chainsaw, then investing in the Greenworks 16-inch 40v Cordless Chainsaw is the smartest choice you can make.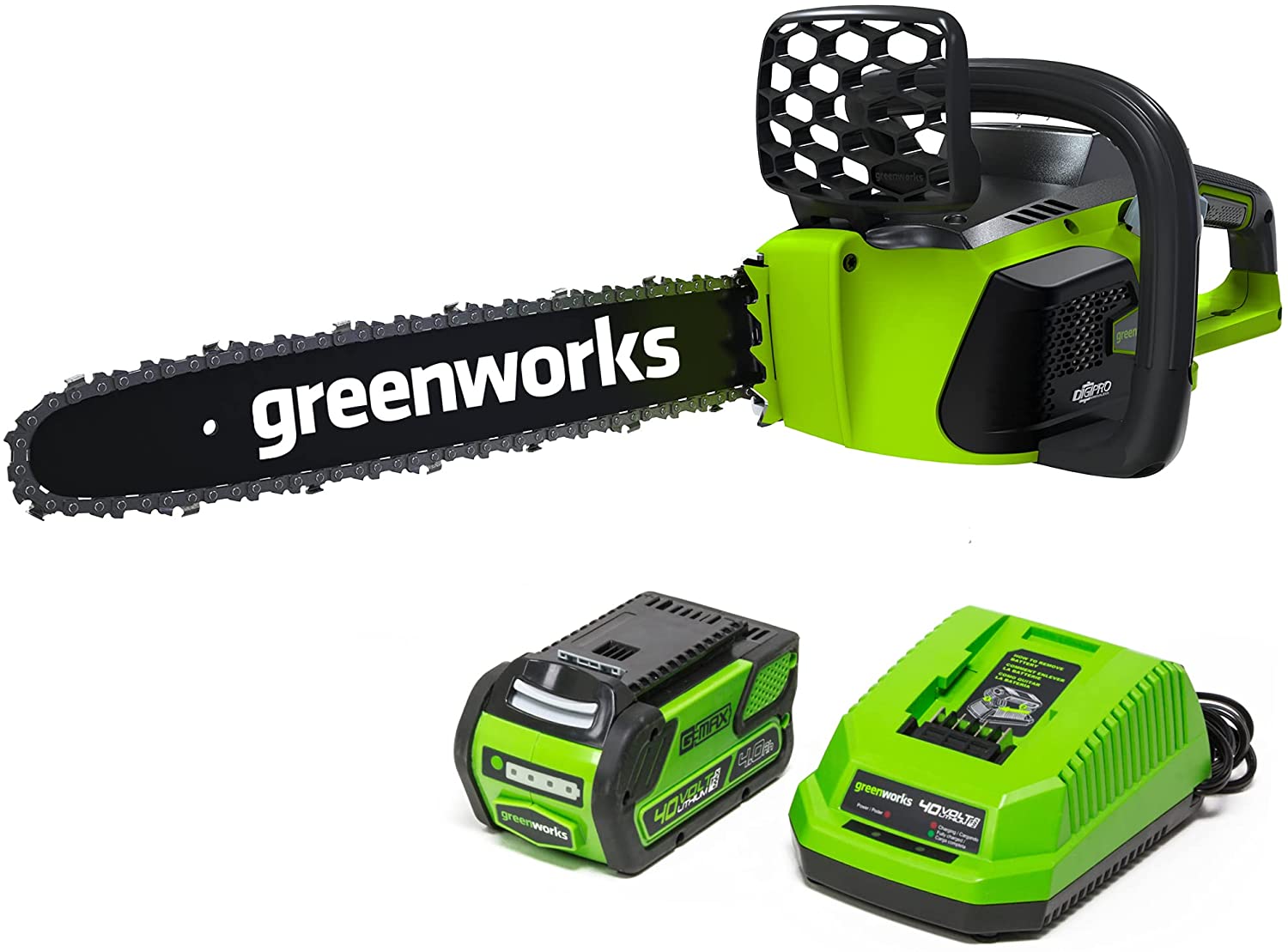 Greenworks 16-Inch Cordless Chainsaw
Although this brushless motor has maximum torque and can handle heavier loads of wood, it's best for small jobs. It has a rechargeable lithium-ion battery that can power up to 150 cuts.
Pros:
Lightweight and easy to maneuver
Electric chain brake and low kickback design with vibration reduction
Runs quietly and smoothly
Cons:
Won't last more than a couple of years of regular use
Best For The Professional: Husqvarna 120 Mark II 16-inch Gas Chainsaw
Another Husqvarna saw to consider is the 120 Mark II 16-inch gas saw.
Designed both for domestic use as well as for everyday professional tasks, this chainsaw has a unique customizable tensioning system that will enable you to replace the guide bar with a larger or smaller one, if you choose.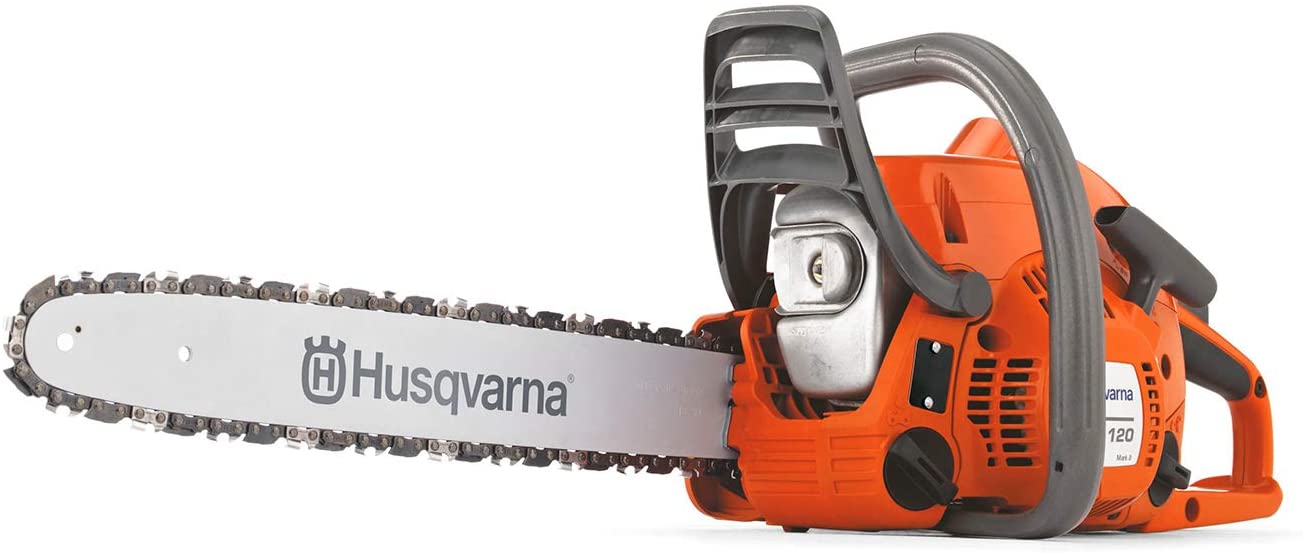 Husqvarna 120 Mark II 16 in. Gas Chainsaw
After all, a 16-inch bar isn't always the right tool for the job!
It has a low vibration system and offers reduced fuel consumption, letting you save money and stay comfortable while you go about your work.
Pros:
Low fuel consumption
Able to be fitted with different guide bars
Comes with oil and bar cover
Cons:
Can be difficult to start
Best 16 Inch Chainsaw For The Homeowner: Craftsman 16-inch Gas Chainsaw
If you're a homeowner just wanting to cut some brush or firewood every now and again, then you'll want to consider the Craftsman 16-inch gas chainsaw.
This model is lightweight and easy to use, equipped with a sturdy 16-inch guide bar that offers both stability and power.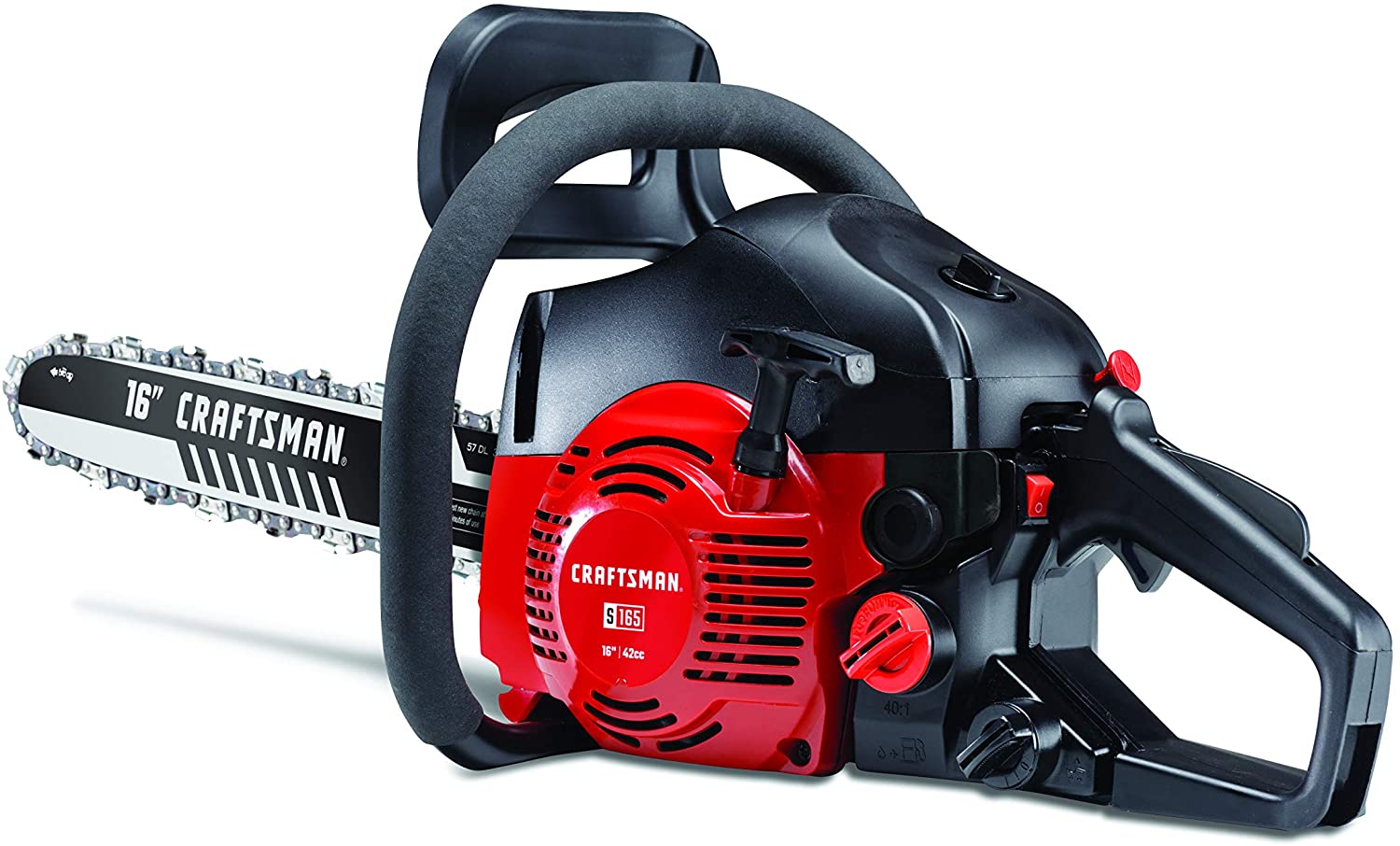 CRAFTSMAN 16-Inch Gas Chainsaw
It has a chassis made out of durable polymer plastic and is equipped with a soft polyester cover so you don't have to worry about getting blisters or calluses on your hand.
It's easy to start and oil, with an automatic flap that keeps your chain lubricated at all times.
Pros:
Plenty of ergonomic features to enjoy
Lightweight and easy to start
Comes with an automatic oiler
Cons:
Included softcover isn't the most durable
Why You Should Go With A 16 Inch Chainsaw
Whether you're the DIY type or just want to cut occasional loads of firewood, a 16-inch chainsaw can help you get the job done.
In general, you should choose a chainsaw bar length that is about two inches longer than the diameter of whatever it is you need to cut.
Therefore, a 16-inch chainsaw will make quick work of trees with trunk diameters up to 14 inches.
This kind of chainsaw will make quick work of any kind of wood you have lying around.
Whether you want to trim and clean up trees and shrubs, need to cut firewood for the winter, or need to clear out an acre of land in a hurry, a 16-inch saw will fit the bill quite nicely.
Follow these tips for shopping for the best 16 inch chainsaws and you'll find the perfect saw for your firewood or household needs.