Best Gas Chainsaws
This post may contain affiliate links so I earn a commission. 

Are you thinking about buying a new saw?
If so, consider this guide to the best gas chainsaws as you begin your search.
Benefits of a Gas-Powered Chainsaw
All chainsaws, regardless of whether they're powered by gas or electricity, are incredibly handy tools.
There are saws of all shapes and sizes, but the best options for tree trimming and felling, especially heavy-duty work, will be powered by gas.
Gas-powered chainsaws are much more powerful than electric models.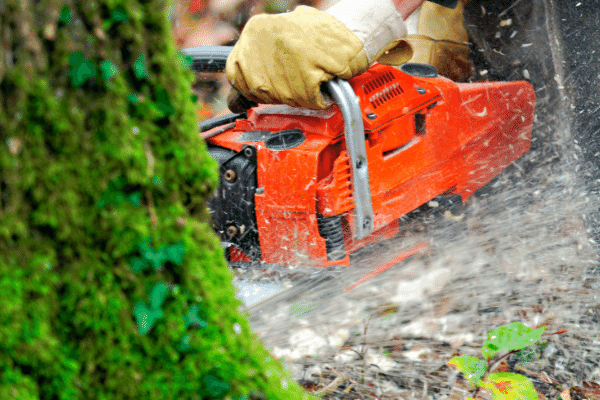 This means they can drive the longest bar length and cut down large trees or limbs.

They tend to work faster and longer with less wear and tear on the chain.
Of course, there are disadvantages to using gas-powered saws, too.
In addition to being more expensive and usually a bit heavier to lift, they also require a bit more maintenance.
Fueling a gas-powered chainsaw isn't as simple as pouring gasoline into a fuel tank - you'll have to mix oil into the gas first.
Gas powered chainsaws can be noisy, too, and the engine requires more maintenance.
That said, if you want a chainsaw you can count on to tackle any job, large or small, professional or just around the house, a gas-powered chainsaw is the way to go.
What To Look For In A Gas-Powered Chainsaw
One of the biggest considerations you need to make when shopping for a chainsaw is whether you want to buy a saw that's gas-powered or electric.
Fortunately, we can assume you've already made that decision by stopping to read this article - so we will move on to the next set of decisions to make!
Think about the ideal bar length for your chainsaw.
Bar length is a good way to judge a saw's size and the level of work it can handle.
Saws with longer bars can cut larger-diameter wood in just one pass.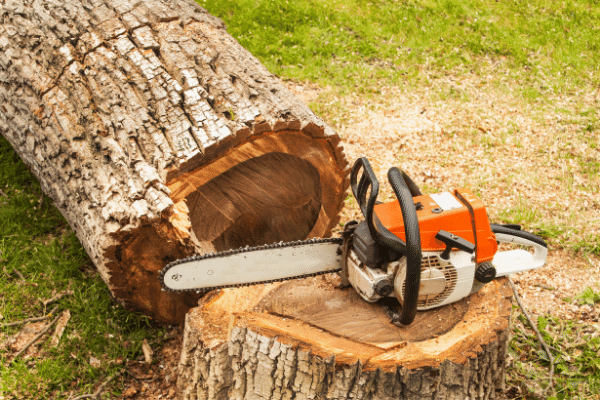 Generally, chainsaws that are meant for home use will have bar lengths that are less than 20 inches.

Professional-grade saws used by loggers, arborists, and other experts can have bar lengths in excess of 20 inches.
Consider the horsepower of your gas-powered saw, too.
Paired with a longer bar, a larger engine can mean increased weight but also will let you handle larger tasks.
You should look for additional features in your chainsaw to make it easier to operate and maintain.
Anti-vibration features can make your saw more comfortable to use while spring-assist starting will reduce the pulling force needed to get a gas-powered saw going.
You might even consider things like an automatic oiler, which lubricates the chain as you cut - this way, you don't need to remember to activate it.
Other things to look for include tool-less chain adjustment capabilities, air-cleaning features, chain brakes, and low-kickback chains.
All of these can make your chainsaw safer, more comfortable, and more efficient to use.
5 Best Gas Chainsaws of 2021
Now that you know what to look for while you are shopping, here are some of our top picks to consider as the best gas chainsaws of 2021.
Best Gas Chainsaw Overall - Stihl MS 251 18 Inch Chainsaw
With an 18 inch bar, this chainsaw from Stihl is a good fit for just about anyone.
Also known as the Wood Boss, this saw is designed to offer you all the power you've come to expect from a brand as reputable as Stihl.
The saw is comfortable and ergonomic to use, perfect for felling small trees, thinning, pruning, and even cutting firewood.
It offers exceptional fuel savings and 50% fewer emissions.
You'll enjoy a longer run time on this comfortable, easy-to-use, and easy-to-maintain machine.

Pros:
Lightweight and easy to use
Made in the USA
Easy to use single lever that operates choke, on-off positioning, and starting throttle lock
Cons:
May not be best for some professional tasks
Best Gas Chainsaw For Professionals - Husqvarna 455 Rancher Chainsaw
The Husqvarna 455 Rancher is another excellent pick.
It can be paired with an 18 or 20-inch bar, with the 20-inch bar getting top marks from professionals who rely on power and precision in their gas chainsaws.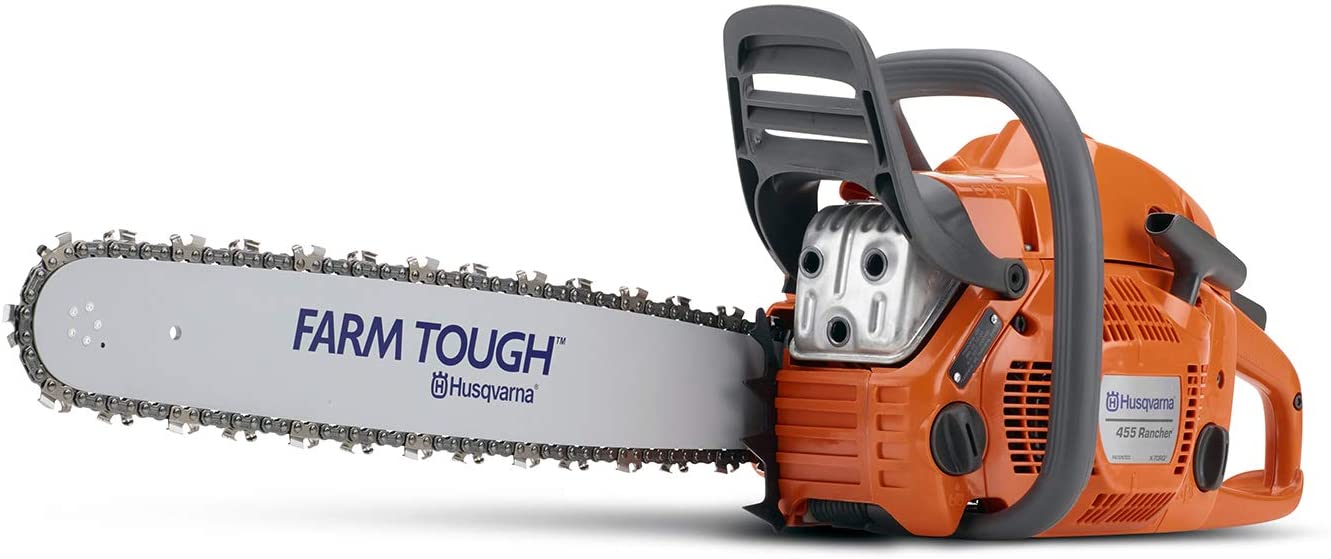 Husqvarna 20 Inch 455 Rancher Gas Chainsaw
The saw is packed to the brim with all kinds of helpful features, such as an inertia-activated chain brake and an automatic chain oiler.

It even has an easy-to-use side-mounted chain tensioning system that makes it easy to make quick adjustments without having to stop working.
Pros:
Easy to replace the air filter
The 2-cycle engine is easy to maintain
Best heavy-duty option
 Cons:
Not the best customer support
Best Homeowner Gas Chainsaw - Husqvarna 120 Mark II 16" Chainsaw
Another top gas-powered chainsaw from Husqvarna is the 120 Mark II.
This 16" chainsaw is ideal for homeowners who just have small tasks to complete here and there.
It's a lightweight and efficient tool with a state-of-the-art X-Torq engine.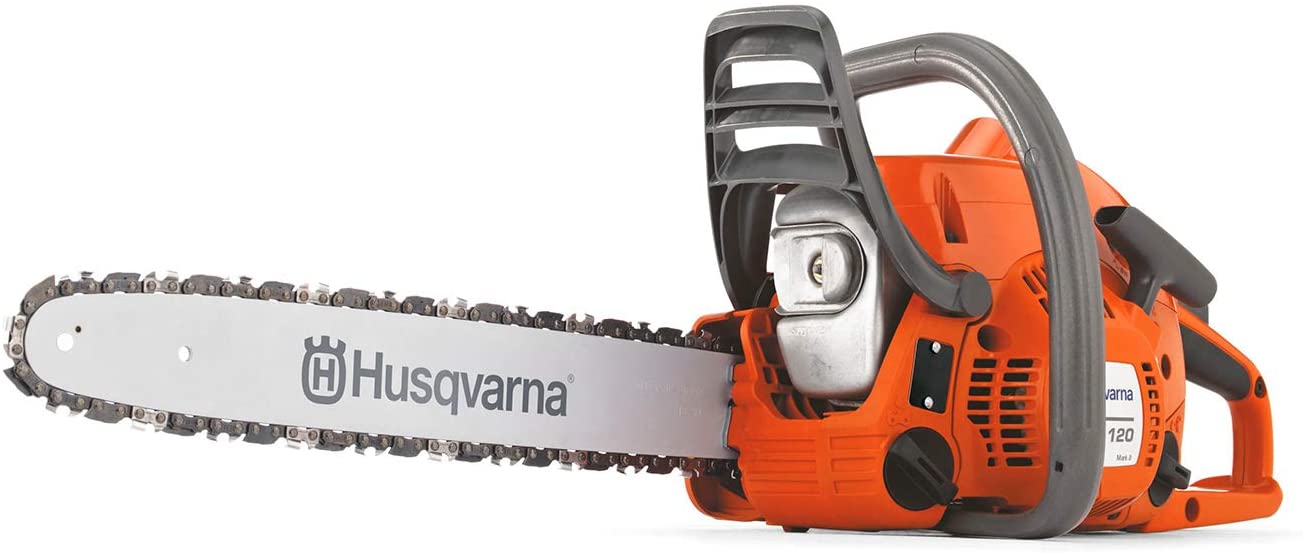 Husqvarna 120 16" Gas Chainsaw
This engine reduces your overall fuel consumption and gasoline missions.

It's ideal for tasks like tree pruning and hobby work with its simple tensioning system that allows for quick adjustments on the fly.
Pros:
Comes with an automatic oiler
Compact and maneuverable
Low-kickback safety features included
Cons:
Customer service reportedly lacking
Best Gas Chainsaw for Small Jobs - Remington RM4214 Rebel Gas-Powered Chainsaw
If you don't find yourself in need of a chainsaw very often, the Remington RM4214 Rebel is the way to go.
This small saw will help you reach hard-to-reach or tight areas.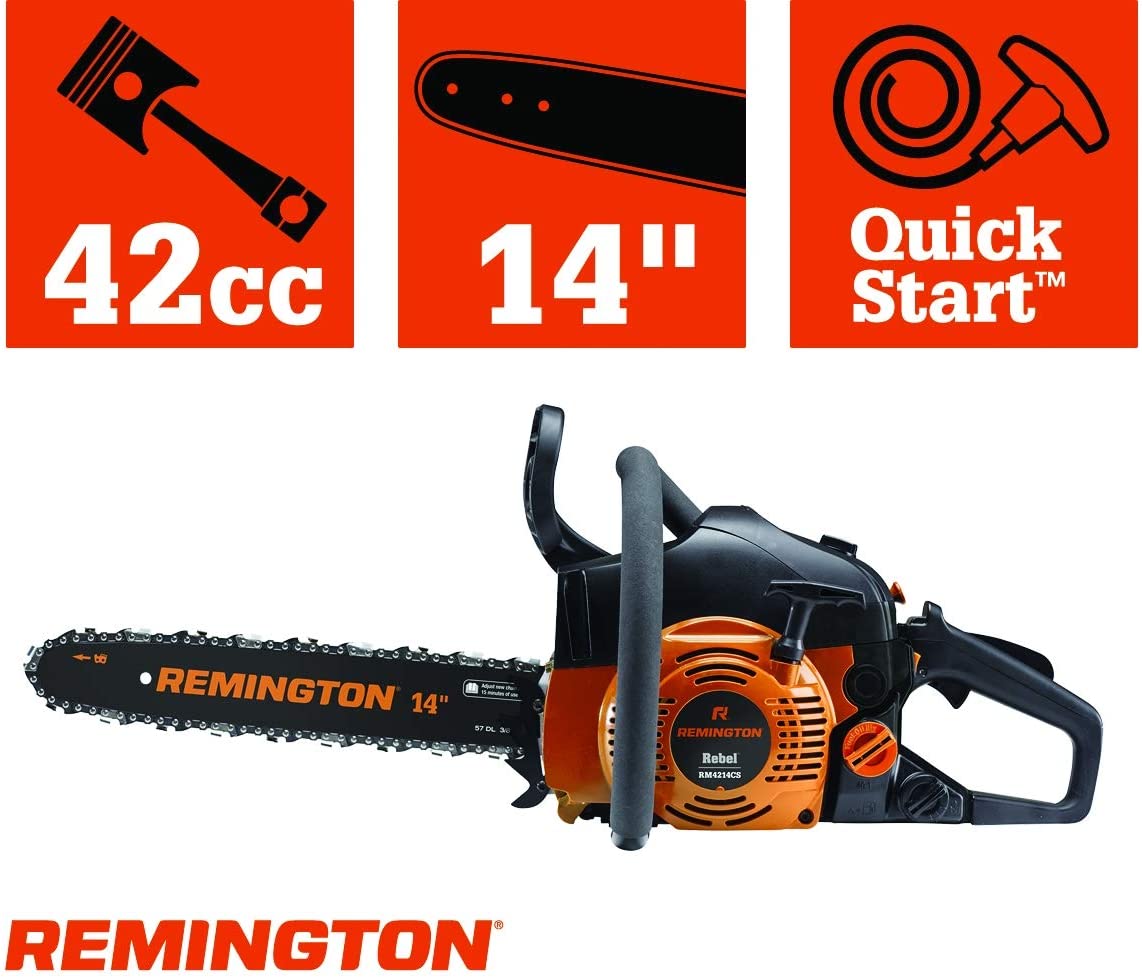 Remington 42cc Gas Powered Chainsaw
It comes with all kinds of features that make it easy to use.
It has a 14-inch bar and chain and a powerful 42 cc engine.
Pros:
Comes with an automatic oiler
Packs a powerful punch yet is still ergonomic and easy to use
Tool-free access to spark plug and filter
Cons:
Can't handle larger tasks
Which Brand Of Chainsaw Is The Best?
Any of the gas-powered chainsaws on this list will serve you well, regardless of whether you're a professional or a homeowner who just needs to use a chainsaw every now and then.
For quality, value, and performance, you can't beat Stihl.
This company (along with other top contenders like Husqvarna) repeatedly makes the top of our rankings with its top-notch products.
You'll get great customer service and chainsaws that last a lifetime- so if you're looking for the best gas chainsaws, this should be the first place you shop.