Best Homeowner Chainsaws
This post may contain affiliate links so I earn a commission. 

If you're hoping to find some information on the best homeowner chainsaws, you've come to the right place.
This can admittedly be a daunting task.
As a homeowner, there's a good chance that you probably don't want to spend thousands of dollars on a professional-grade saw, especially if you are only going to be using your chainsaw every now and then.
However, you also don't want to sacrifice the quality of your saw - it's impractical to be running to the shop every five minutes to have your saw fixed.
So you don't have to sacrifice quality, convenience, or anything else in your search, here are some of the best homeowner chainsaws to consider (as well as a few tips on what to look for).

Choosing The Right Homeowner Chainsaw
Consider these features and make a list of what you want to get out of your chainsaw as you begin your search for the perfect make and model.
Intended Use
How do you plan on using your chainsaw around your home?
If you only need it to cut brush and trim small trees, you can likely get away with a small chainsaw with a bar that's less than 12 inches.
A light-duty motor, even a battery-powered one, will likely do the trick.
However, if you're cutting down large trees, you'll need something more substantial.
Regularity of Use
In addition to considering what the chainsaw will be used for, it's also a good idea to consider how often it will be used.
If you plan on using your chainsaw often and for a variety of tasks, then a gas-powered chainsaw might be the best bet.
With a gas-powered saw, you'll get more power, and you also won't have to worry about charging any batteries.
However, these models do require more maintenance and upkeep (you'll have to mix oil and gas, clean air filters, and so on - these tasks need to be done regularly to keep your saw running in tip-top shape).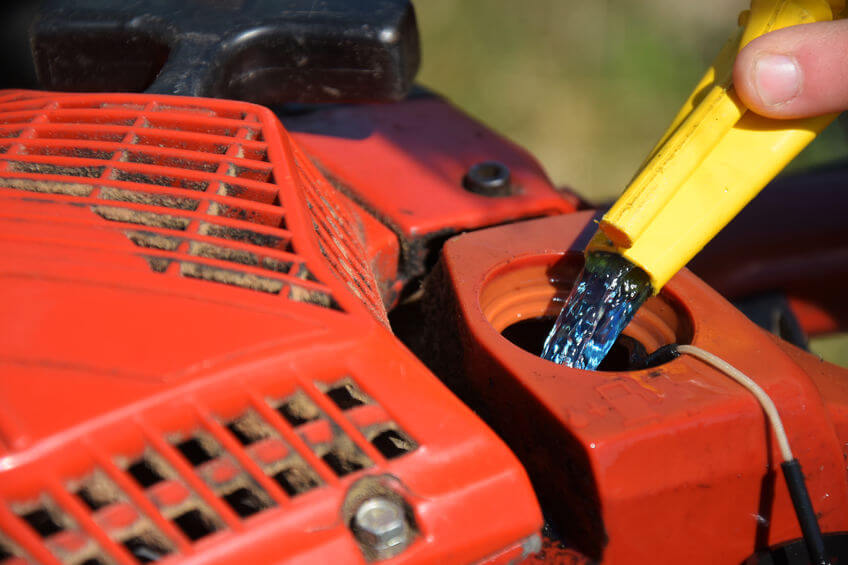 Noise Level

Consider your surroundings in the areas where you will be operating your chainsaw.
If you are surrounded by neighbors, you might want to opt for an electric-powered saw so it will be a bit quieter.
You also need to research whether you have any noise ordinances in your area, as these can limit the type of chainsaw you buy, too.
Comfort And Experience Level
Last but not least, consider your own physical limitations when you're shopping for a chainsaw.
If you lack upper body strength (be honest with yourself here!) or if you don't have a lot of experience with a chainsaw, choosing one that is lightweight and equipped with lots of safety features can be a good idea.
What Is The Best Homeowner Chainsaw On The Market?
Now that you know what to look for, we'll give you some ideas on the best homeowner chainsaws you can buy.
1. Husqvarna 455 Rancher - Best Homeowner Chainsaw
We've featured the Husqvarna 455 Rancher on a few other chainsaw rankings we've written.
Although it's a repeat performer, it's here for good reason.
This saw is ultra-reliable and without a doubt, one of the best on the market for homeowners and professionals alike.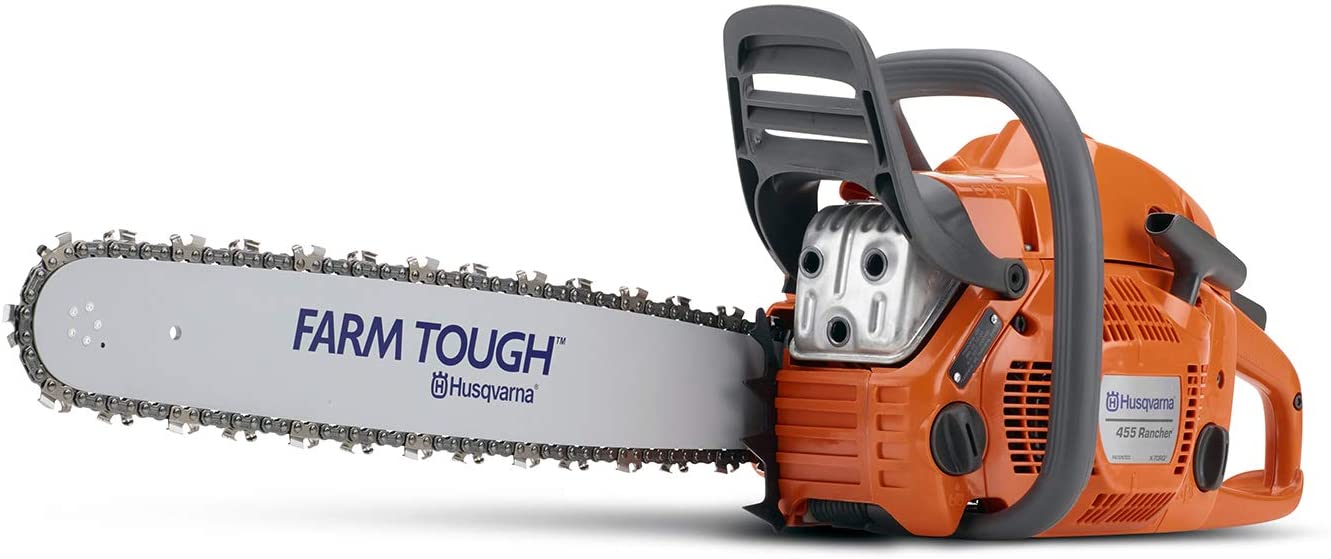 Husqvarna 455 Rancher Gas Chainsaw
It's a heavy-duty saw that is equipped with a 20-inch bar, a large 3.5 horsepower gas engine, and superior X-Torq technology.
This technology offers the best torque and power to help you operate the saw with zero stalling.
It comes with all kinds of other features to help you get your chores done, big or small, around the house.
Some of the most important ones to mention include an automatic adjustable flow oiler and an automatic tool-less chain tensioning system.
This saw is big enough to tackle just about any job - but also a reasonable size for just about any homeowner to handle.
Pros:
Smart Start and anti-vibration technology
Low kickback
A lightweight, well-balanced chainsaw
Cons:
Can be on the pricier side
2. Poulan Pro PR5020

Here's another excellent chainsaw for the homeowner, this one is offered at a reasonable price that will make it easy for anyone to say yes.
Like the Husky pick above, it has a 20-inch bar.
Poulan Pro 50cc 2-Cycle Gas Chainsaw
It has a 50 cc engine size that offers the perfect amount of power, making it ideal for bucking up logs, felling trees, or cutting firewood.
It offers low fuel consumption and a user-friendly combination choke/stop control that makes this chainsaw easier, quieter, and more efficient to operate.
Pros:
Easy to start with an effortless pull system
70% fewer emissions
Comes with an inertia-activated chain brake
Cons:
Does not come with an adjustable flow oiler
3. Makita UC4051A

The Makita UC4051A is a good option if you're looking for an electric saw.
This corded pick has a humble 16-inch bar that's perfect for cutting through small logs and large limbs.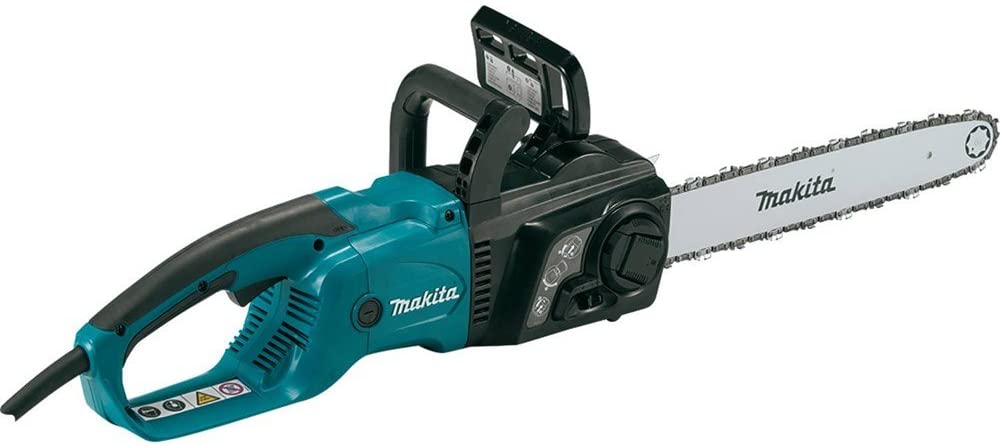 Makita Chainsaw, Electric, 16 in. Bar
It has an ergonomic handle and a lightweight feel (it's less than 13 lbs) that makes it a great choice for the homeowner who only needs to use a chainsaw every now and then for lighter-duty tasks.
Pros:
Easy to start
Electric chain brake and automatic chain oiler
Backed by a one-year warranty
Cons:
Requires the use of an outdoor-rated extension cord, which can be cumbersome
4. Stihl MS 251 C-BE
This gas-powered chainsaw from Stihl is one of its most lightweight models.
It has a chain-tightener so you won't have to lug around an additional tool, and it's also easy to start.
Equipped with a 16- to 18-inch bar, depending on your preferences, it's a bit better for heavy-duty tasks than some of the other choices we've profiled - yet its 45.6 cc engine has impressively low emissions for its size and design.
Pros:
Built-in tension adjuster
Lightweight and reliable
Powerful yet efficient
Cons:
Who Makes The Most Reliable Chainsaw?
When you're shopping for chainsaws, you'll quickly discover that each brand has its own fan club.
Some people are proud Husqvarna owners, others prefer Black+Decker, and still more prefer Stihl as the best homeowner chainsaw.
There's no single best brand that's better than the rest, but we like Hsuqvarna's offerings.
This is one of the oldest chainsaw manufacturers out there - so you can rest assured that they know what they're doing.
When you buy one of the best homeowner chainsaws from Husqvarna like the 455 Rancher we told you about earlier, you'll be rewarded with a high-power, high-performing pick that can handle anything that comes your way.