Best Chainsaws for Cutting Firewood
Best Chainsaws For Cutting Firewood
This post may contain affiliate links so I earn a commission. 

Are you looking for the best chainsaws for cutting firewood?
You've come to the right place - and you're smart to seek expert advice before making your purchasing decision.
Not all chainsaws are made alike and having the right tool for the job will not only make your chores much easier - but you'll be safer, too.
Here's what you need to know to help you find the right tool.
Best Chainsaws for Cutting Firewood: Top 5 Picks
#1 Choice - Stihl MS 362
The Stihl MS 362 is top on our list for several reasons - but first, a disclosure. 
It's not the cheapest chainsaw you can buy.
However, when you're looking for a saw that will last you for many years to come, this is the one to turn to.
It's a gas-powered saw that weighs less than 13 lbs.

It's easy to start, easy to carry, and despite being a pro-rated saw, it's great for the average Joe, too. 
It can be used for tree felling, delimbing, bucking, and other operations. 
It has a reduced weight and a larger fuel capacity than many other options offered by Stihl. 
Plus, it has advanced engine technology that reduces exhaust and offers a cleaner, more dependable experience. 
It's easy to maintain and designed for professionals - but also perfect for the homeowner, too.
#2 Choice - Husqvarna 460 Rancher Gas Chainsaw
With a 20 inch bar and all kinds of bonus features, like an adjustable oil pump, LowVib, and Air Injection technologies, the Husqvarna 460 rancher is another gas-powered chainsaw that's great for cutting firewood.
It has anti-vibration technology that makes it safer and more comfortable to control.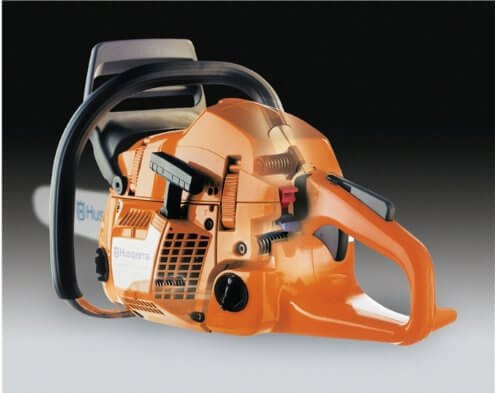 Husqvarna 24 Inch 460 Rancher Gas Chainsaw
Plus, its X-Torq engine offers reduced emissions and fuel consumption. 

It is not a budget saw by any means, but it's lightweight and comfortable to use, making it perfect for a long day of bucking up firewood in the backyard. 
#3 Choice - Stihl MS 271 Farm Boss
The Farm Boss is another gas-powered saw that is one of the best chainsaws for cutting firewood. 
It has a variety of features to pay attention to, including an engine that provides 20% longer run times between refueling.
Again, this isn't the cheapest chainsaw on the list. 
However, you'll likely find significant cost savings just in the fact that you'll burn far less fuel while cutting firewood with this saw.
Not only that, but it has a pre-separation air filtration system that will add more life to the filter along with the engine. 

A comfortable saw to use, it weighs less than 13 lbs and has a 16-20" bar length.
#4 Choice - Poulan Pro PR5020 Chainsaw
This chainsaw is less expensive than many of the other options on this list but still offers a lot of benefits.
It's heavier, at around 17 lbs, but has a revolutionary OxyPower engine technology that will help give you the extra boost of power you need to get through any job. 
That's all with 70% fewer emissions and 20% less fuel consumption, too. 
Poulan Pro 20 in. Gas Chainsaw
It has a maintenance tool integrated into the rear handle, and is easy to start and work with.

It is equipped with a user-friendly choke-stop control that will let you start the saw quickly and reliably while reducing the risk of engine flooding.
#5 Choice - Makita-UC4051A Chainsaw, Electric, 16 in.
The Makita UC4051A is another inexpensive option for the homeowner just wanting to cut a bit of firewood here and there.
It's the only electric chainsaw on our list because, in our humble opinion, gas-powered saws tend to be more reliable for most tasks, including the best chainsaws for cutting firewood.
However, there will always be people for whom an electric saw is more practical - so we wanted to include one of these options in our ranking, too.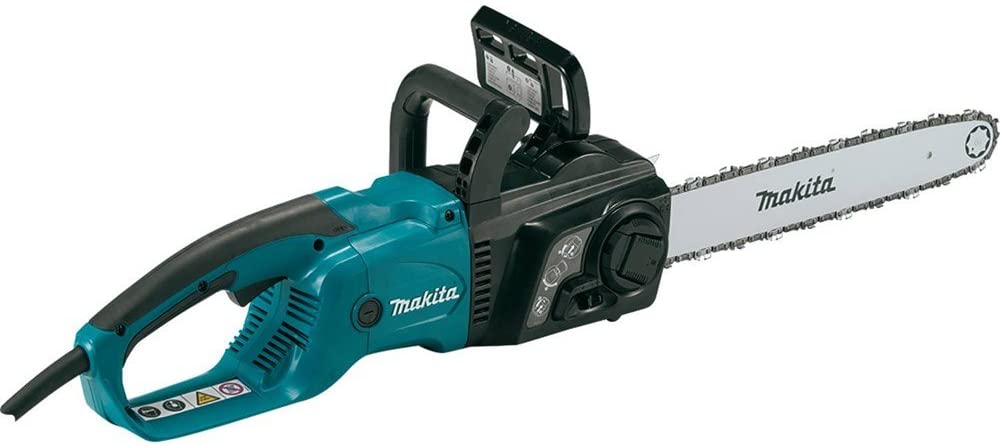 Makita Chainsaw, Electric, 16 in. Bar
This one is affordable and comes with "tool-less" blade and chain adjustments, making it easy for you to maintain and operate your saw. 
It's one of the most comfortable saws to use, too, with a large trigger switch and rubberized grip handles. 
While it might not have the longest lifespan compared to some of these other saws, it's a good option for the homeowner who doesn't want to spend a ton of money on a chainsaw - or spend tons of time mixing oil and gas!
What To Look For In The Best Chainsaws For Cutting Firewood
Not sure what to look for as you're shopping? Here are a few things to keep in mind.
Gas vs Electric
The biggest decision you'll have to make when buying a chainsaw for your firewood project is whether you want to go with gas or electric.
Most of the models included in our ranking are gas-powered since they are more powerful. 
The best chainsaws for cutting firewood that use gas are faster and are more effective for all types of trees. 
That said, they do require more maintenance than electric chainsaws, which can be corded or cordless.
Bar Size And Chainsaw Weight - Best Chainsaws For Cutting Firewood
When you see the phrase "chainsaw size," this is a vague term that's usually in reference to the cutting bar's length. 
You should have a chainsaw bar that is at least two inches longer than the thickness of the material you are cutting.
Therefore, if you are cutting an eight-inch thick piece of firewood, you will want to have a chainsaw with a bar that is at least 10 inches. 
Most saws have bars ranging from 12 to 20 inches on average. 
Paying attention to the saw weight is important, too, especially if you own a firewood processing business in which you'll be processing large volumes of wood on a daily basis.

The lighter the saw is the better - but sometimes, you just can't get around the fact that your saw is going to be a little heavy. 
Gas-powered saws, for instance, tend to be much heavier than electric versions - but they're also more powerful.
Type And Size Of The Wood You're Cutting
What kind of wood will you be cutting?
Gas chainsaws will be more effective on hardwood species such as hickory, oak, maple, and birch, while an electric chainsaw simply won't be up to the task. 
Other Features To Consider When Buying A Chainsaw For Cutting Firewood
Of course, there are plenty of other factors you'll have to take into consideration when buying the best chainsaws for cutting firewood, too.
For example, does the manufacturer matter to you?
While buying a chainsaw from a reputable brand might not seem important, there are some manufacturers that have a significantly better reputation than others.
Pay attention to the saw's price, but don't settle for a bargain-basement chainsaw.
You'll want one with enough power to get the job done along with safety features, minimal noise levels, as little exhaust as possible, and any accessories that might be important to you.
That said, it's possible to find a chainsaw that meets all of your desired specifications and falls within your budget - so don't be afraid to shop around!
You'll be bucking up your firewood with your dream saw in no time.