Oregon Chainsaw Sharpener
Oregon Chainsaw Sharpener Review
This post may contain affiliate links so I earn a commission. 

This Oregon chainsaw sharpener review is designed to give you a full, detailed description on one of the highest quality sharpeners on the market today and what the product has to offer both professionals and homeowners.
Finding the right chainsaw sharpener can be tough, particularly if you are looking for a durable and high-performing product.
Oregon is a company that makes a variety of products in forestry and tree care, outdoor power equipment, and lawn and garden niches.
The company's motto is that "it's not just about what we make - it's about what our customers accomplish."
You can rest assured that when you purchase the Oregon 410-120 Bench or Wall Mounted Chain Grinder, you'll be able to accomplish much more than ever before.

Here's what you need to know.
Oregon Chainsaw Sharpener Overview
Oregon is a leading name in the outdoor products industry, manufacturing all kinds of equipment for people who need to get the job done outdoors.
From saw chains to guide bars, trimmer heads to lawn mowers, the company is known for its products for professional landscapers, loggers, and even homeowners.
Many of their products are offered under the Oregon brand - you can buy self-sharpening chainsaws, blowers, pole saws, trimmers, and other equipment under that moniker.
However, the company also sells equipment (like chainsaw sharpeners!) that are not brand-specific and can be used with many makes and models of chainsaws and other products.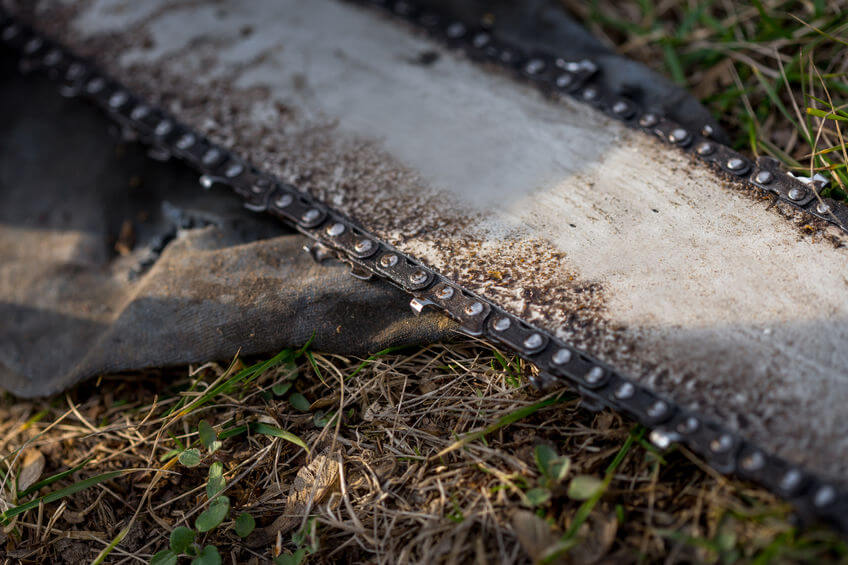 The Oregon Saw Chain Manufacturing Corporation first opened its doors in 1947, home to just a handful of employees and a single product - but today, Oregon is part of Blount Inc., a company with thousands of products on the market.

The Oregon 410-120 chain grinder is just one of many Oregon chainsaw sharpeners produced by this company.
It ticks off all the boxes when you're searching for a basic chainsaw sharpener.
Though perhaps not the best if you're looking for professional-grade results, as long as you don't run a chainsaw sharpening or maintenance shop, you'll find that this chainsaw sharpener offers everything you need. 

Oregon 410-120 Bench/Wall Mounted Chain Grinder Benefits And Features
The Oregon 410-120 Bench or Wall Mounted Chain Grinder isn't the only chainsaw sharpener sold by Oregon, but it's one of our favorites.
As you might guess by the name alone, this chainsaw sharpener can be mounted to either a bench or a wall, making it a convenient product to use regardless of the space you have available.
It can sharpen a chain with up to a .404" pitch. It's considered a mid-sized bench or wall grinder, perhaps not the most heavy-duty bench grinder you can buy but also not the lightest, either.
This Oregon chainsaw sharpener has all kinds of built-in features to help make it safer and easier to use.
From its simple adjustment dials to its built-in light, this chainsaw sharpener takes a lot of the guesswork out of getting the perfect degree of sharpness on your chainsaw chain.
Oregon 410-120 Bench or Wall Mounted Grinder
It comes with three separate grinding wheels for sharpening: a ⅜" low profile, .325", ¼", .404", ⅜", and ¾", pitch chain and depth gauge grinding, and even a dressing brick and quick template to help you get moving quickly.
It has a one-way motor operation for added safety as well.

This product has also recently been redesigned.
It has a longer nose life and offers superior performance with its redesigned sprocket nose system. It can sharpen any kind of chain, including a chisel and semi-chisel chain.
It is incredibly versatile and easy to use.
Mount it on the wall, and it will free up valuable bench space so that you can go about your sharpening tasks quickly, efficiently, and most importantly, safely.
Mount it to the bench, and you'll have it right at waist-level, exactly where it's easiest for you to use.
Either way, setup takes only a few minutes and you'll have a finely sharpened chain in a matter of mere minutes.

Oregon Chainsaw Sharpener - Pros vs Cons
There are plenty of advantages to buying the Oregon 410-120.
Not only can it be wall or bench mounted, allowing for maximum customization, but it's affordable and equipped with all kinds of safety features to help set your mind at ease, too.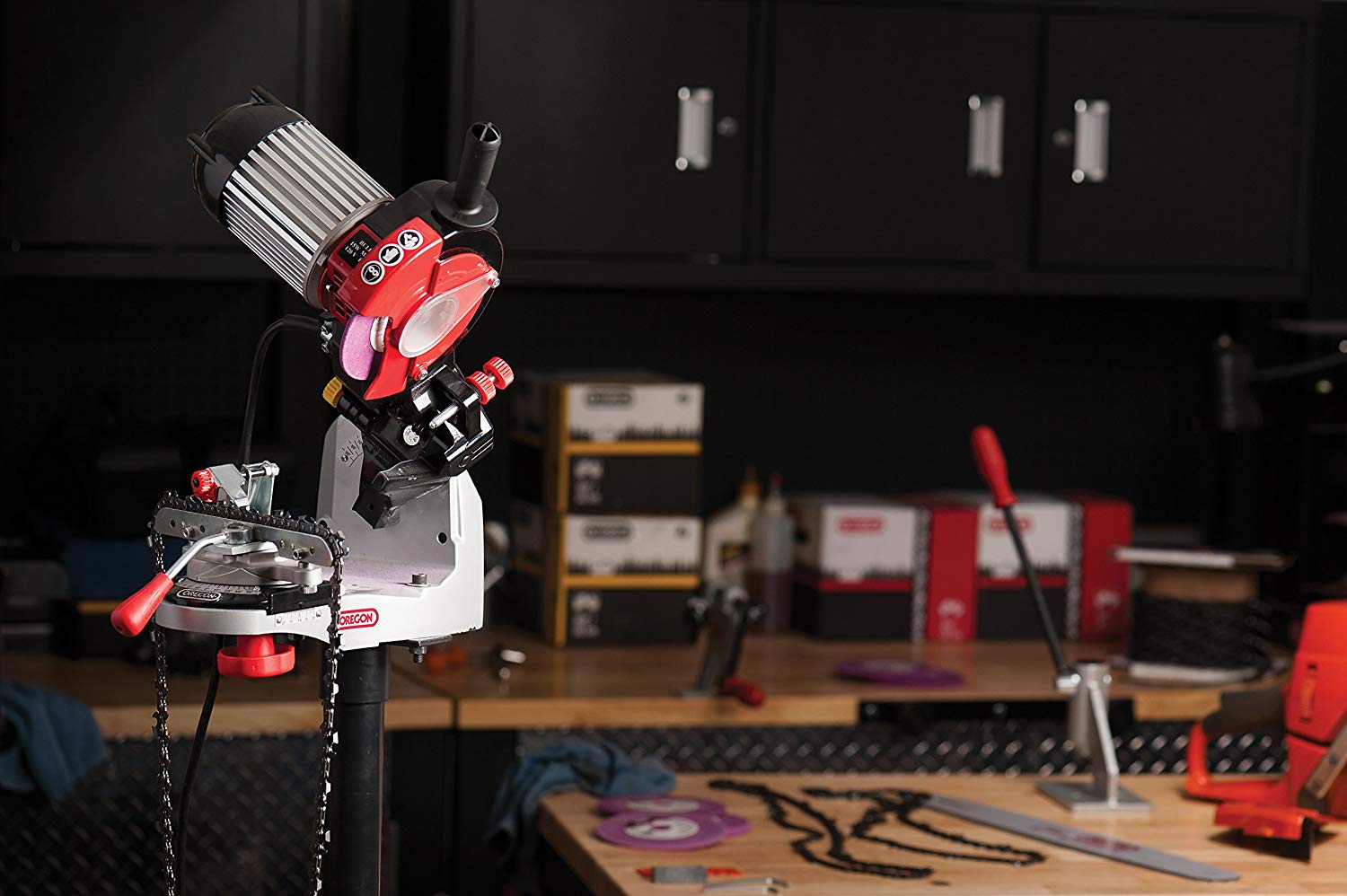 There are very few cons associated with this product - read any other review for this Oregon chainsaw sharpener and you'll likely find the same thing.

It might not be the best chainsaw sharpener if you are looking for a sharpener for professional use.
What Customers Say
Customer reviews for the Oregon 410-120 chainsaw sharpener are overwhelmingly positive.
Most reviewers stated that the sharpener was hefty, easy to use, and versatile for all kinds of chainsaws (including Stihl, Husqvarna, and more).
There are a few limited negative reviews, however.
Some reviewers claimed that the sharpener was a bit difficult to set up the first time.
Although there are instructions for assembly included with this product, many state that it would be helpful to have a video accompanying those instructions as well.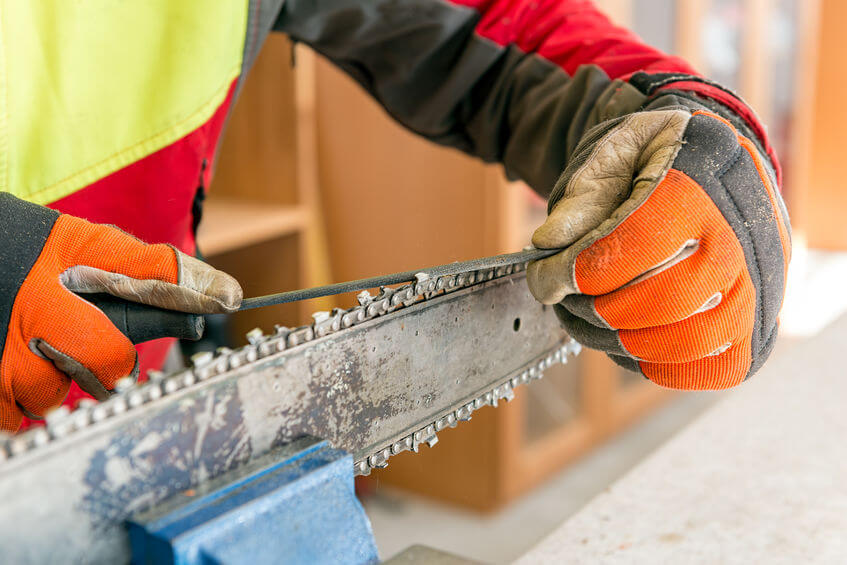 Other negative reviews had very little to do with this actual chainsaw sharpener and were related more to personal preference as it relates to using a file compared to an electric sharpener.

Who Would Benefit From A Bench Grinder?
As a midline bench grinder, this Oregon chainsaw sharpener is perfect for anybody who is looking for a high-quality electric chainsaw sharpener at a price that won't break the bank.
It's also good for homeowners who are short on space and don't want to dedicate their entire garage or woodshop to a bench grinder!
If you're looking for something a bit more heavy-duty, you might want to consider some of Oregon's other products, like the 620-120 Hydraulic Assist Bench Grinder or the 520-120 Bench Grinder.
These heavy-duty workhorses are best for people who have a bit more space (and budget) to spare, but as a homeowner or logger, you'll get everything you need out of the smaller 420-120 (and if you still find this one to be a bit overkill, consider the 310-120 Light-Duty Bench Grinder).
Although this chainsaw sharpener is not the fanciest you can buy, it offers excellent performance without all the unnecessary bells and whistles.
It's definitely worth a try!