Electric Chainsaw Sharpener
Best Electric Chainsaw Sharpeners
This post may contain affiliate links so I earn a commission. 

An electric chainsaw sharpener could be just the tool you need to help keep your chainsaw sharp and cutting like new.
Whether you use a chainsaw every day or just occasionally, having a sharp saw is essential.

Chainsaws can lose their cutting edge quickly, but when you have a high-quality sharpener, you won't have to worry about the extra labor and injury risk that accompany a dull blade. 

For a long time, sharpening a chainsaw meant having to do so by hand.
An electric sharpener, often referred to as a grinder, makes quick work of chainsaw sharpening.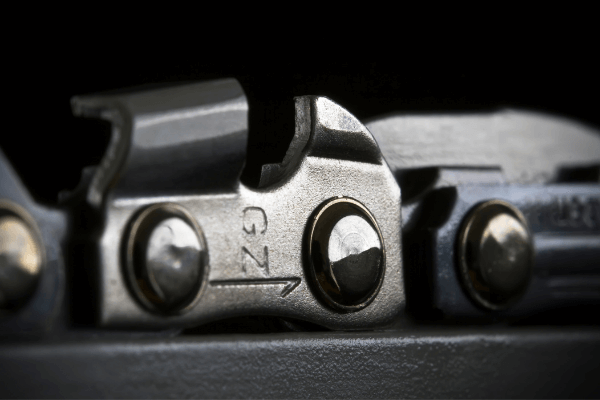 There are all kinds of electric sharpener options out there - do you know which one is right for you? 
This article will give you more information on what to look for - as well as a few of our top picks.
What To Look For In An Electric Sharpener
Not all electric chainsaw sharpeners are built alike - you need to consider the following attributes as you begin shopping for the right product for your needs.
Intended Use
Do you plan on using your chainsaw every day - or just now and then?
Knowing this will give you a better idea of what kind of chainsaw sharpener you need.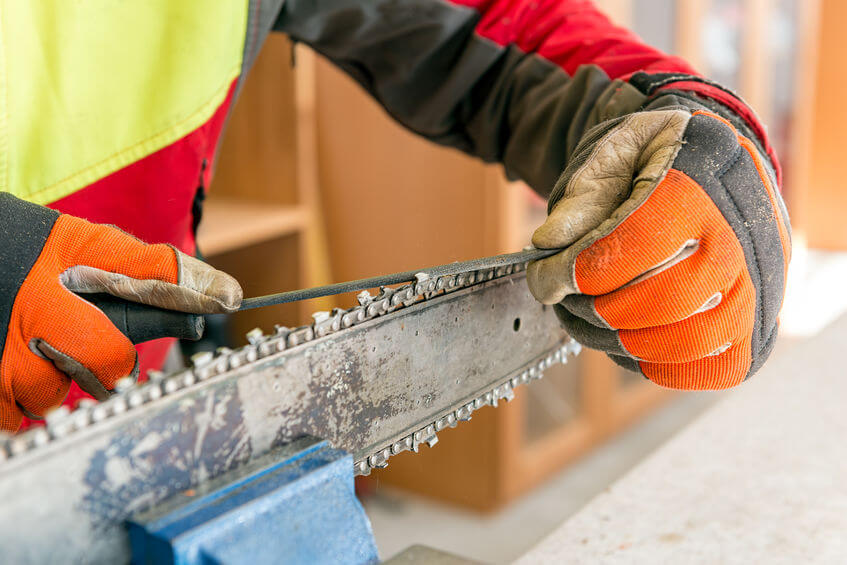 If you're just a weekend hobbyist or casual homeowner, you can probably get by with a good manual sharpener or a basic electric sharpener.
However, if you're a professional who plans on using his saw every day, you'll want to splurge for something a bit more long-lasting and versatile.

This will also help you determine the ideal power and RPM for your chainsaw sharpener.
As you might expect, the higher the voltage, the more powerful the motor and the higher the RPM.
The higher these two numbers are, the better they are for professional users.
Portability
Most chainsaw sharpeners are meant to be mounted to walls or benches in your workshop, but there are some that can be brought to the job site.
If you plan on using your saw on a regular basis, you might want to invest in a dedicated workbench mounted sharpener.
If you're short on space, a wall-mounted unit might be better.
The portable chainsaw sharpener is a good option, but keep in mind that it usually won't have quite as much power as one that remains static.
That said, it's a good idea if you're away from your workshop frequently and constantly find yourself needing to sharpen your chainsaw. 
Gauge and Pitch
Also pay attention to the gauge and pitch of your electric chainsaw sharpeners.  
It's not a one-size-fits-all affair.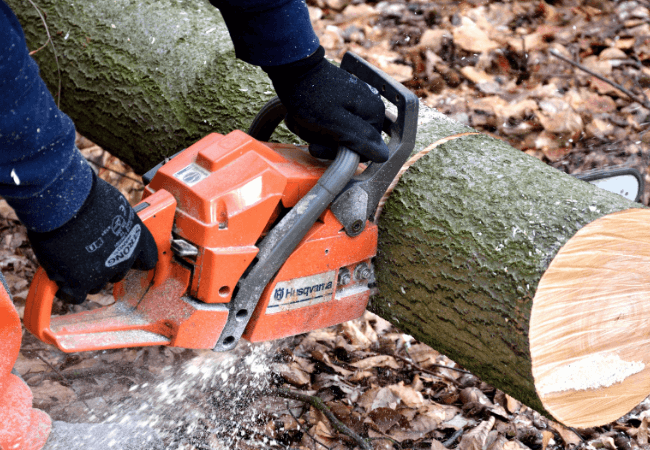 In fact, there are multiple variations to consider, and you'll want to make sure the electric chainsaw sharpener is compatible with the kinds of blades you are using.
Most chainsaw sharpeners cater to the common pitches -  ¼", .325", ⅜", low profile, and .404".

How To Use An Electric Sharpener
You might find that there is a bit of a learning curve involved when it comes to using your electric chainsaw sharpener.
You may have to practice a bit before you perfect the art!
First, check what angle your blade needs to be sharpened at, then adjust the sharpener accordingly.
Attach your sharpener to a sturdy workbench by using the holes on the base of the sharpener.
Make sure you can still access the locking wheel during this step.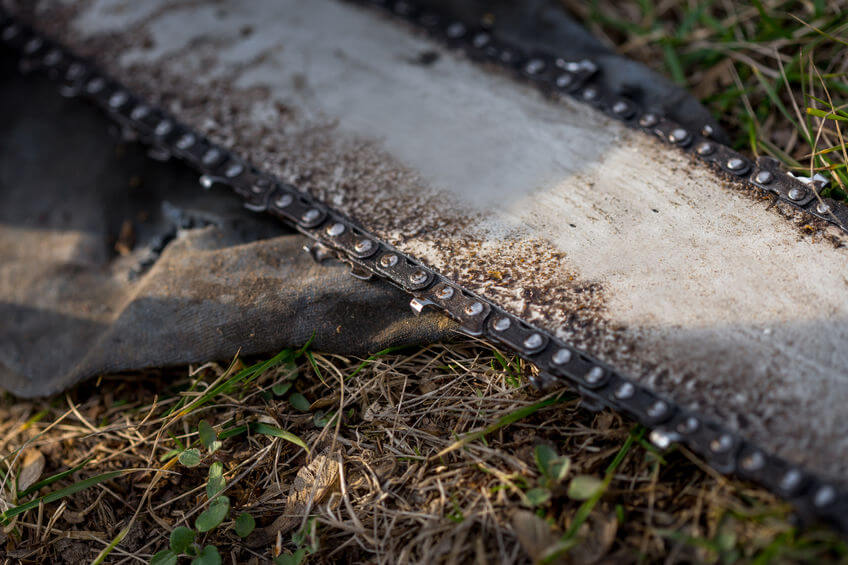 Then, mount your grinding wheel or sharpening stone.
Remove the chain from your saw and clean it thoroughly.
Let it dry completely before lifting the chain stops and sliding the chain onto the sliding tracks.

Lock your chain in place, with the stop resting on the tooth of a chain.
This is where you will start sharpening.
You will need to then rotate the locking wheel to the correct degree and tighten it from the bottom.
Lower the top housing so the sharpening stone lightly skims the blade, then tighten.
Lock the chain track, plug in the sharpener, and sharpen!
When your chain is adequately sharpened, the teeth will look shiny and razor-sharp.
Top 3 Electric Chainsaw Sharpeners
1. Oregon 520-120 Chain Grinder:  Best For Professionals

This electric chainsaw sharpener is one of the many high-quality products offered by Oregon.
A professional-grade product, it is best for people who require a precise and dependable sharpener for everyday work. 
Powerful and effective, this chainsaw sharpener is prized for its efficiency and versatility.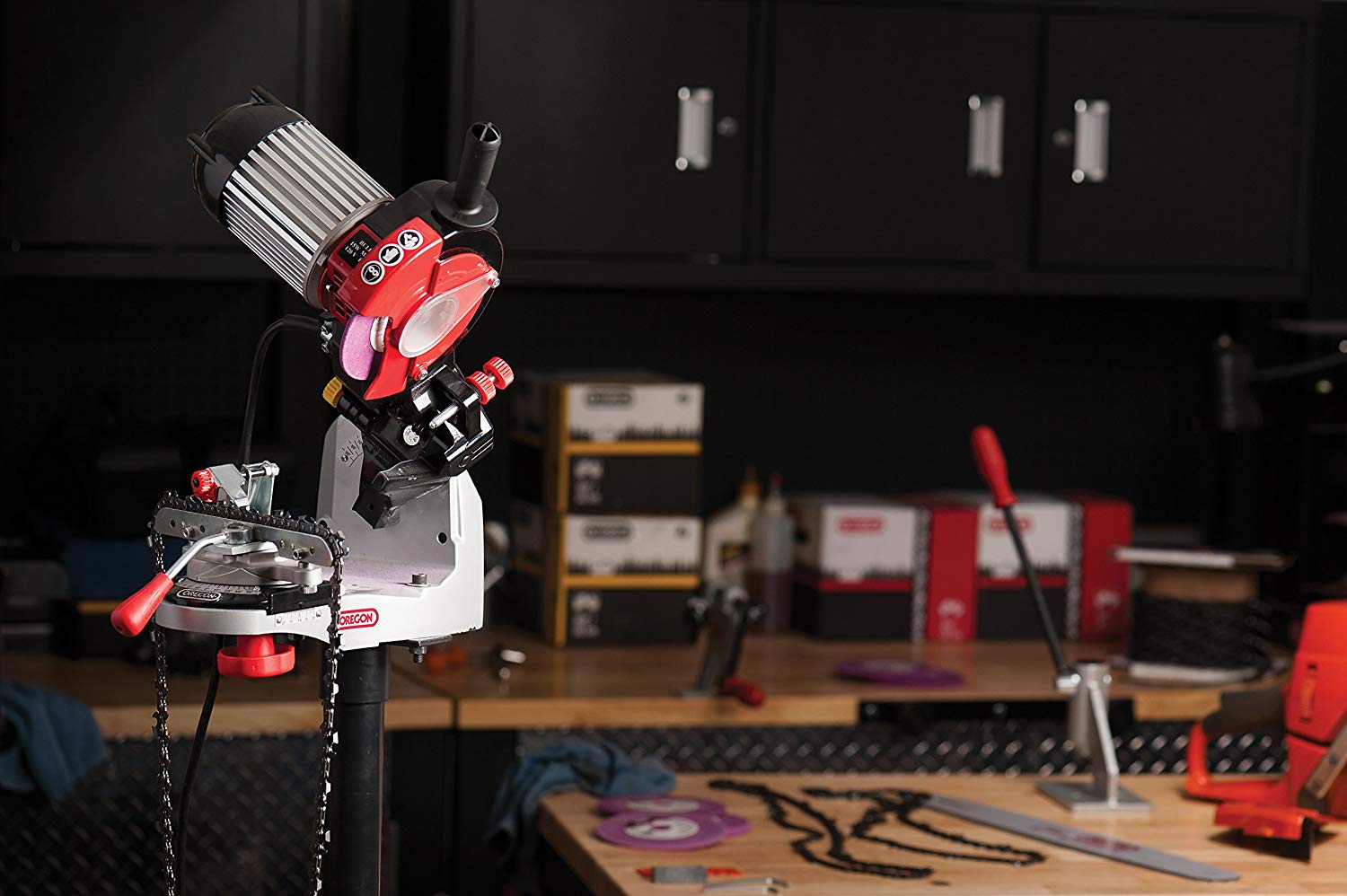 Oregon 520-120 Bench Chain Grinder
It comes with three different grinding wheels and a dressing brick, plus it has top plate and angle down settings.
It's praised by reviewers for its customizable handle position, too, which makes it more comfortable and also safer to use. 

2. Buffalo Tools Electric Chainsaw Sharpener:  Best For Bargain Hunters
This chainsaw sharpener is one of the most cost-effective options you will find. 
It's functional and affordable, and while it's not ideal for people who require an electric chainsaw sharpener for professional use, it will do just fine when it comes to sharpening the occasional blade.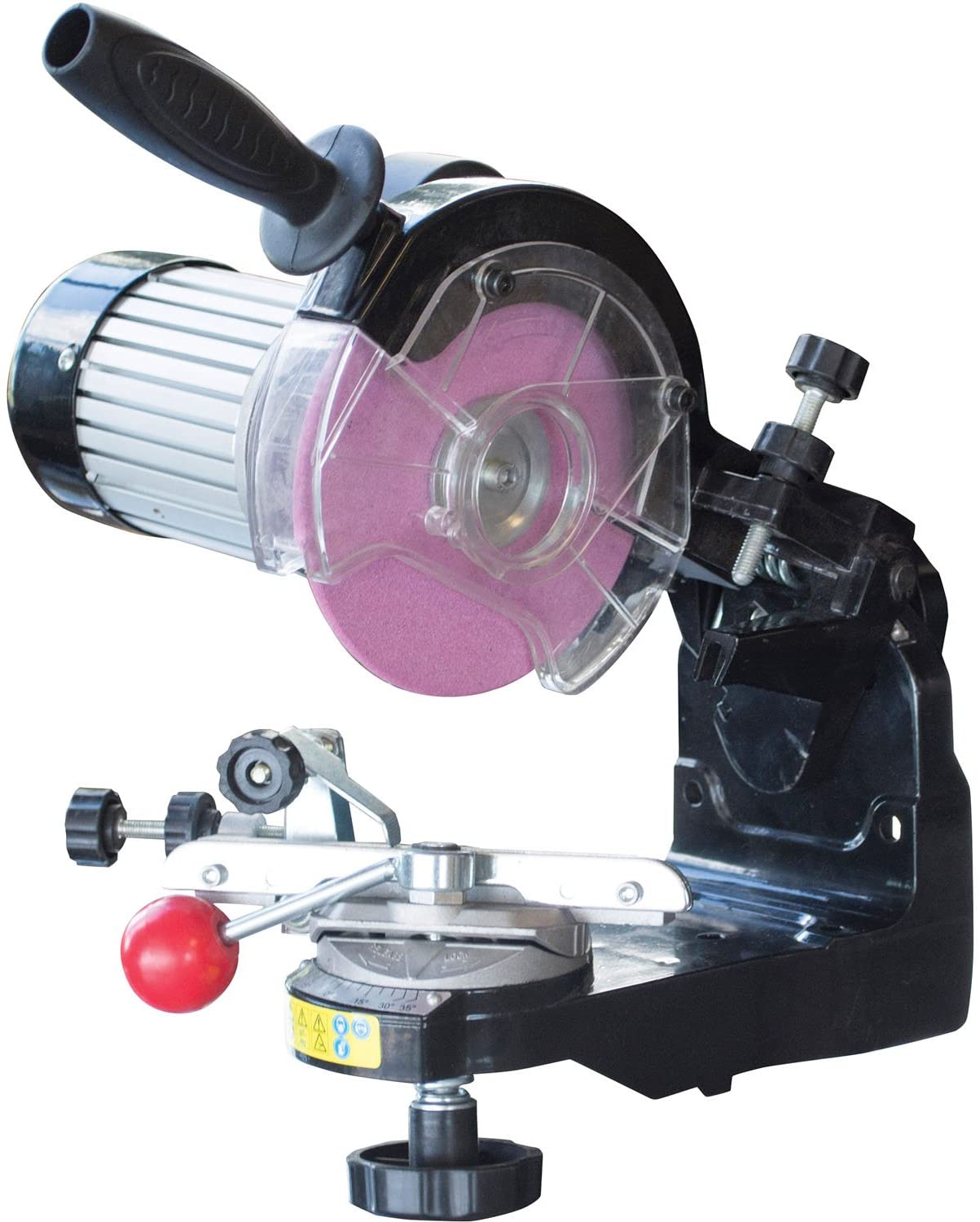 Buffalo Tools Mountable Chainsaw Sharpener
It's equipped with numerous mounting options so that it can be affixed to a bench, vise, or wall, and it's compatible with the vast majority of designs. 

3. SuperHandy Battery Powered Electric Chainsaw Sharpener:  Best For Portabiltiy
This electric 18 volt Lithium Ion chainsaw sharpener is very unique because it offers power on the go.   
With a grinding angle of 35 degrees left to right, it comes with a 23mm grinding wheel and it also has an LED light to make sharpening your chain easy in all lighting conditions.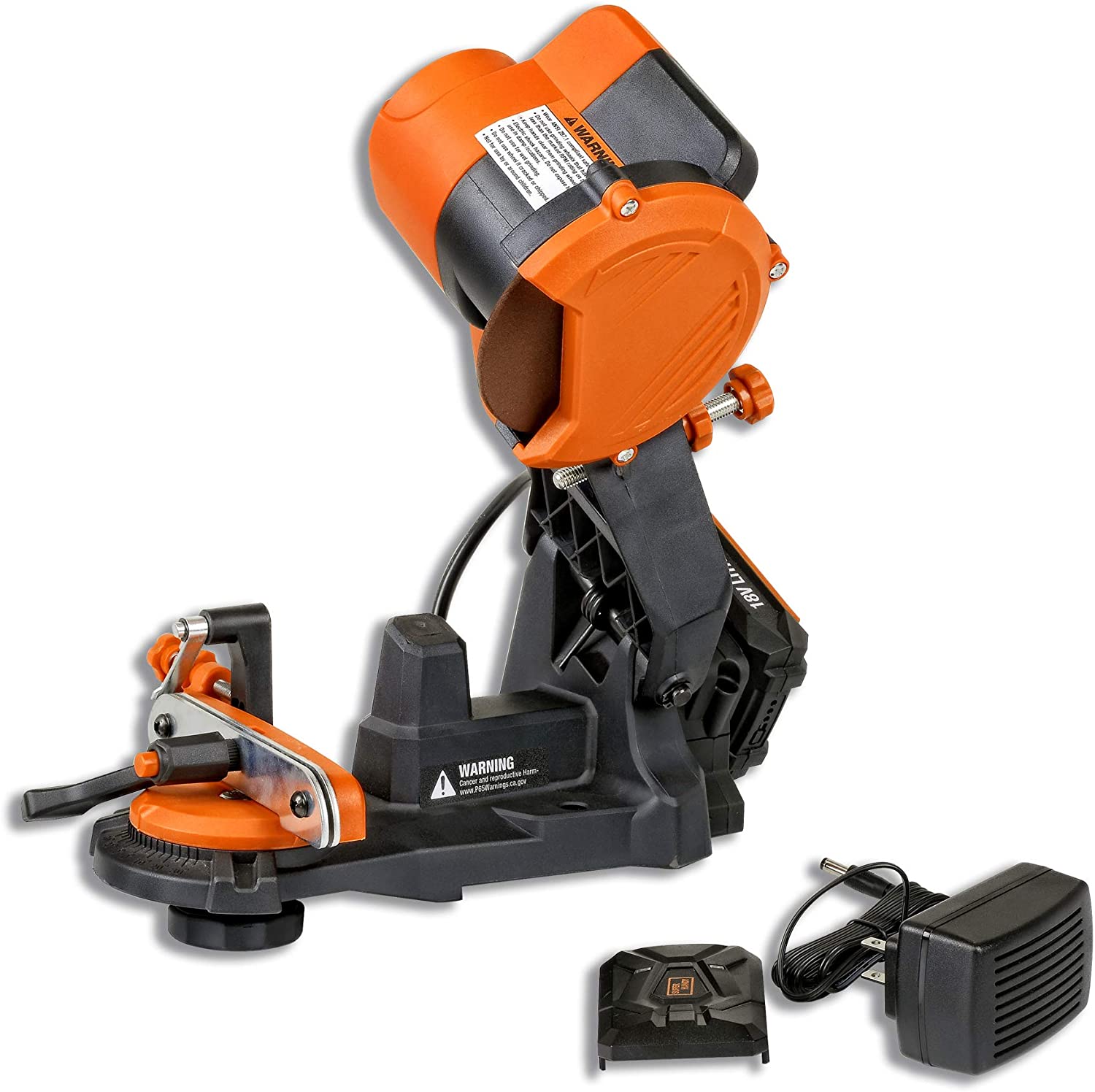 SuperHandy Chainsaw Sharpener Portable Cordless 18V DC
For the price and the added option of being able to take the grinder into the woods with you, this is a really nice sharpener.  
At under $100 it's very affordable and many users rave about its performance compared to more expensive, non-portable models.
Why Use An Electric Sharpener?
When you're working on a project - or better yet, in the middle of cutting a large tree - you don't want to have to stop every five seconds to stop and restart your saw, making sure it's as sharp as possible.
Electric chainsaw sharpeners take a lot of the fuss and hassle out of sharpening a saw, so even if you happen to chip or catch a blade, you'll be able to fix the problem in no time.
Time is of the essence when you're sharpening a chainsaw - as always.
Consider these tips as you shop for your first (or next!) electric chainsaw sharpener.