Timberline Chainsaw Sharpener
Timberline Chainsaw Sharpener
This post may contain affiliate links so I earn a commission. 

In this article, we'll tell you everything you need to know about the one-of-a-kind Timberline chainsaw sharpener.
Did you know that a chainsaw dulls over time and becomes less effective at cutting through wood?
For safety reasons, it's important for your chainsaw to have a sharpened chain so you don't run the risk of getting hurt while using it. 
The Timberline chainsaw sharpener is a portable chainsaw sharpening tool that allows you to sharpen your chainsaw blade wherever you are.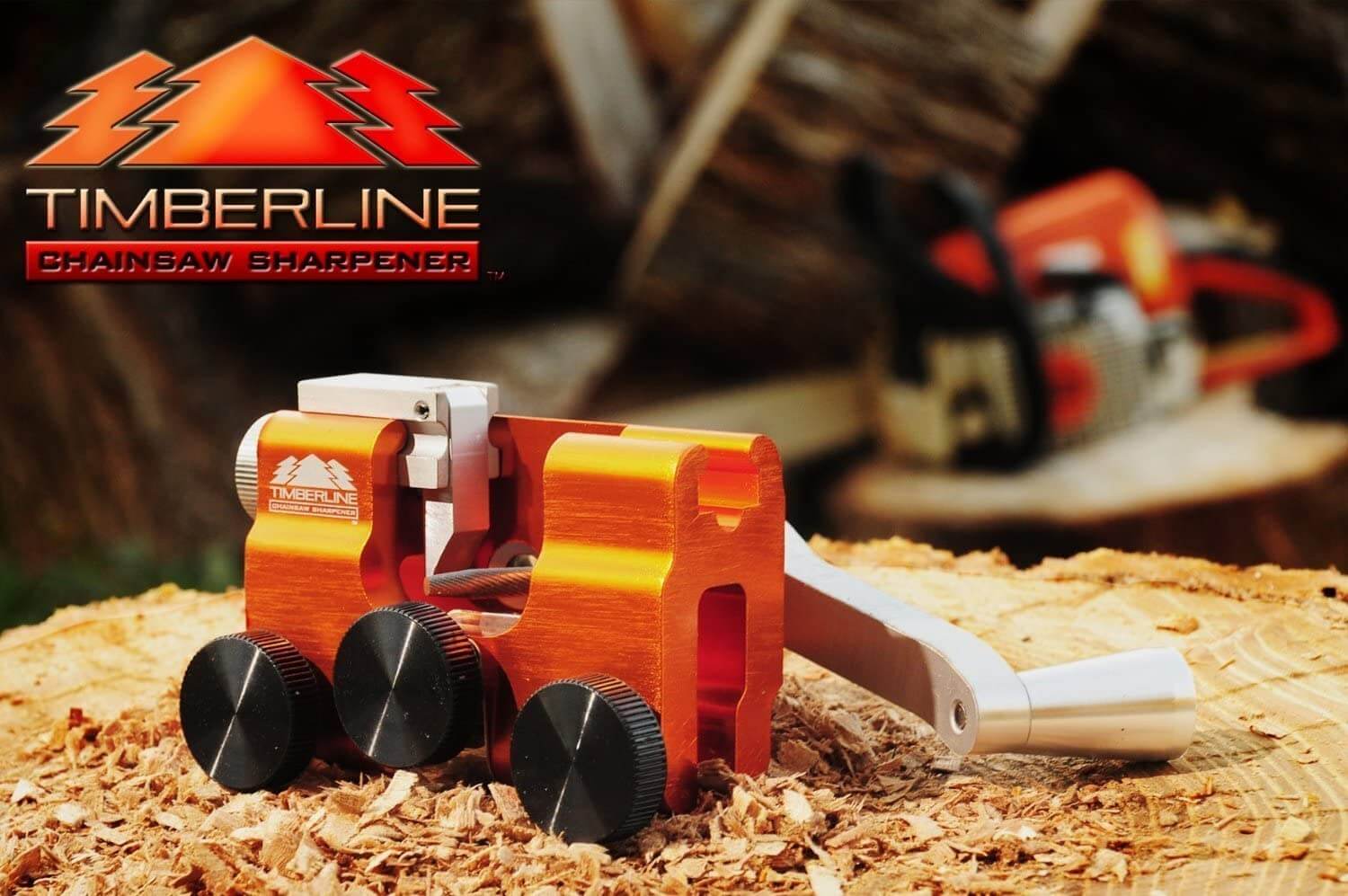 It's designed for use in the field, and it can be used with any size or style of chain. 
Here's what you need to know.
Timberline Chainsaw Sharpener Review
If you're sick of having to head out of the woods and back into the garage or shop to sharpen your chainsaw between uses, then it's time you consider the sharpener made by Timberline. 
This product is meant to be done on the job so that you can work smarter - and much faster, too. 
You'll get everything you need to sharpen your saw when you buy this product.
You'll have to purchase the carbide cutters separately, but these are interchangeable and are available in different sizes (hence why they need to be purchased separately). 
When you purchase this tool, you can buy the bare tool or you can get it with a 5/32" cutter, a 3/16" cutter, a 13/64" cutter, or a 7/32" cutter.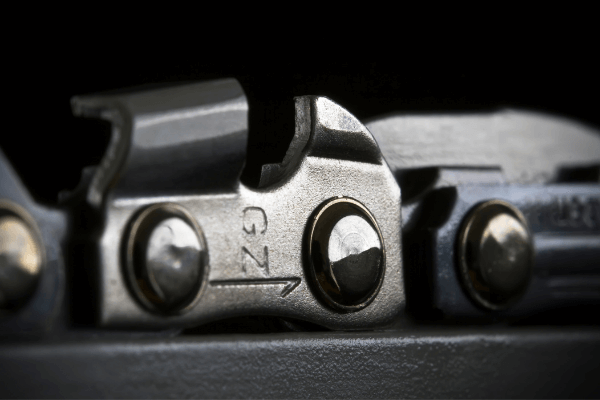 This chainsaw sharpener can be used on virtually any type of chainsaw.

It sets up quickly and will help you sharpen your chainsaw's teeth to a factory edge. 
Product Highlights 
Weighs less than 1 lb (0.95 lbs or 15.25 oz total)

Sizing determined by pitch - labeled on the bar near the motor 

Carbides last a minimum of 40+ sharpenings, often longer with careful use 

All carbide sizes fit the same tool 
Pros
Much faster than a stone grinder or file 

Restores a factory edge to your chainsaw teeth 

Takes less than half an hour to file 

Offers excellent consistency 
Cons
Can be tricky to get the back and front arches set so that both pass the chain

Does require some practice to get the hang of it

Chain must be on the saw to sharpen it
How Do You Sharpen a Chainsaw with a Timberline Chainsaw Sharpener? 
Before you start to sharpen your saw, make sure you are working on a relatively flat surface. 
However, know that the beauty of the Timberline chainsaw sharpener is that it offers a solid platform that won't flex, bend, or move in any other way while you're sharpening. 
It will serve as a fixed guide to sharpen every single cutting tooth with minimal deviation. 
You'll sharpen each tooth individually with the included carbide cutter - this cutter is fitted on an easy-to-use hand crank. 
The chain will be pushed forward into the cutter by an adjustable stop, or a pawl. 
This will set the length of the cutting tooth. 
Here's how to use it.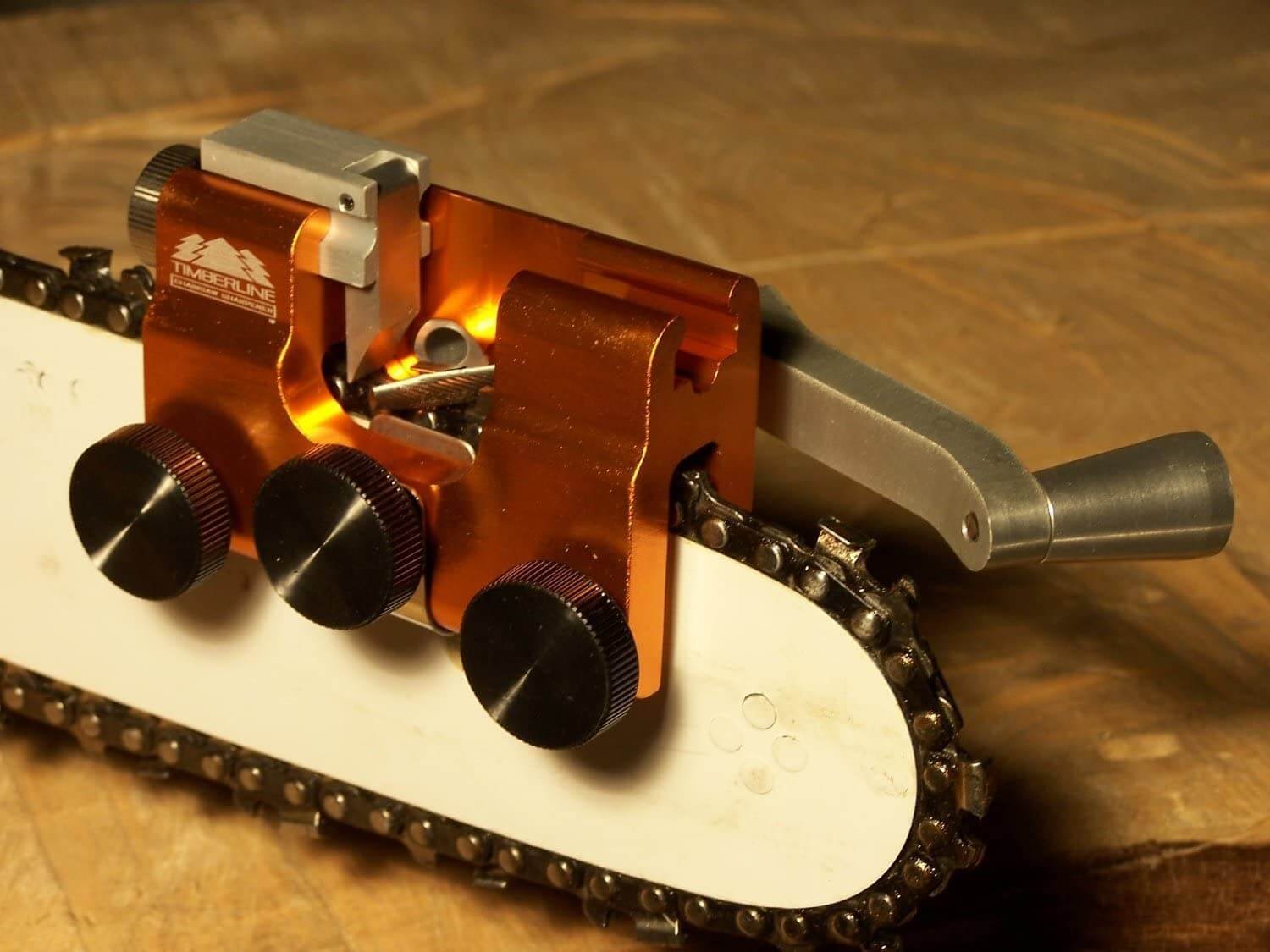 First, start by positioning your sharpener onto the saw. 

Then, adjust the height and insert the carbide into the guide and the chain.
Tighten the outside knobs, then pull the carbide out.
Pull the chain forward to the next tooth. 
Next, you will remove the carbide and insert it into the other guide.
Loosen the outer knob to let the carbide slide freely.
Retighten and move the stop forward by retightening the rear thumbscrew. 
Now, to sharpen an individual tooth, turn the handle clockwise.
As you turn the handle, the Timberline chainsaw sharpener will produce a razor-sharp edge for your tooth.
You can sharpen each tooth individually - when you are done with each, you can pull the carbide back out and pull the chain through to the next tooth and continue sharpening right on down the line.
You'll do this for each side. 
It's important to note that the angle is set automatically at a standard 30 degrees.
However, if you have more experience sharpening a saw, you may want to adjust your angle to 25 or 35 degrees depending on what kind of wood you are cutting.
How Much is a Timberline Chainsaw Sharpener?
The good news about buying a Timberline chainsaw sharpener? 
It's definitely not going to break the bank. 
Buy directly from the manufacturer, and you'll get all kinds of bonus features, like a carrying case and belt loop, along with a shoulder strap, for a total price of $125.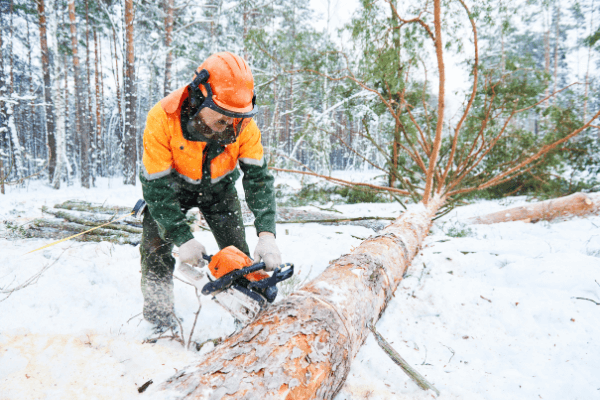 You can also shop with a third-party retailer.

This can offer some inconvenience, as buying from Timberline will allow you to get one carbide cutter with the sharpener.
You can select the size to fit your saw - all carbide sizes fit the exact same tool.
You can buy extra carbide cutters separately if you choose. 
By itself costs right around $110, not counting shipping, handling, or tax.
If you choose to purchase the sharpener with a set of cutters, you'll tack on only another $10 for a total of $120.
Of course, you may not receive the warranty options or bonus features that you would get if buying directly from the manufacturer. 
While that might sound like a lot, experienced chainsaw operators know that is not the case.
After all, bringing a single chain to a professional shop will cost around $15 per chain - the Timberline chainsaw sharpener will pay for itself in no time. 
What is the Best Chainsaw Sharpener?
When it comes to finding a chainsaw sharpener that's perfect for sharpening your tool quickly, it's easy to see that the market is flooded with options.
From electric sharpeners to bar-mount sharpeners, you'll have no shortage of options.
But which one is the best chainsaw sharpener to help you get the job done quickly and efficiently?
If you're trying to sharpen your saw on the go and don't want to head inside to address a dull, poorly-cutting saw, then the Timberline chainsaw sharpener should be at the top of your list.
It is a durable, easy-to-use tool that will help you get your saw's teeth back to factory sharpness in mere minutes.