Fireplace Mantel
This post may contain affiliate links so I earn a commission. 

A few weeks ago we started searching for a new fireplace mantel to give our living room a "finishing touch" after a renovation project.  
Since our old mantel was accidentally damaged I figured it would be easy to just go to the local hardware store and purchase a pre manufactured mantel.
After searching all of the big box stores and even some local fireplace accessory stores, I quickly realized it was not going to be an easy task.
Since there isn't a standard size for a mantel above your fireplace, a majority of stores do not have them in stock.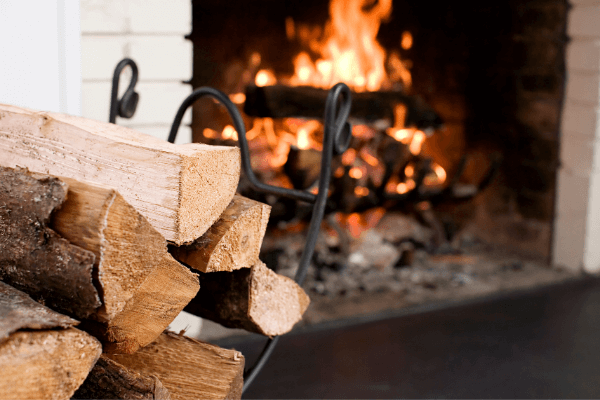 Sure, you can have one special ordered but it was too expensive for me and since we were in the middle of a renovation project I didn't want to wait. 
So, I decided to make one myself and I think it turned out really nice.  
It's unique, somewhat rustic and best of all it was cheep and easy to install!
Materials Used
After considering a variety of different materials we decided to use cement Tranquil Chiselwall Retaining Wall Caps instead of building one out of wood.  
The blocks were 12 inches long, 2 inches tall and had a depth that fit our fireplace perfectly.
Since the color was a little off we also bought a can of textured spray paint to paint the blocks.
Finally, to secure the blocks to the brick fireplace we purchased some construction adhesive.
Fireplace Mantel Construction Begins
To begin, lay out the blocks the top of your fireplace to get a rough idea how they will fit.
The blocks we chose had a chiseled face so I also used a hammer and chisel to bust up the edges of the end blocks to give them that same chiseled look.
Next, paint each block with your choice of spray paint.  
We used a textured paint to give the block a more natural look.  
Once the blocks are dry you can arrange them one last time before you glue them in place.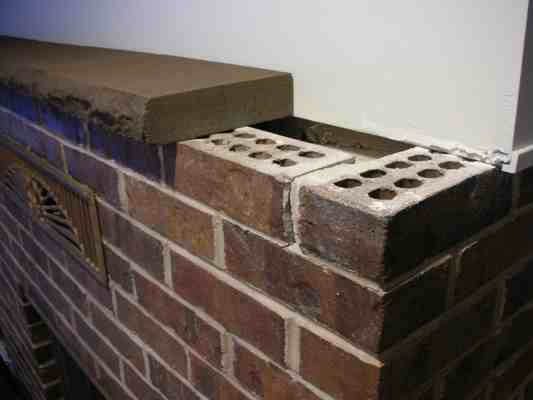 Using some construction adhesive, place a generous amount on top of the brick to hold it in place.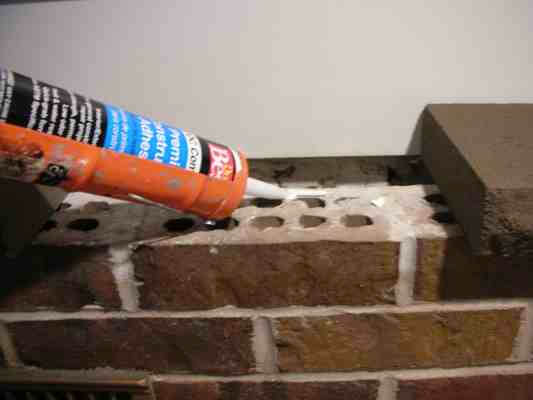 Here's a side view after all of the blocks have been painted and glued in place.
You can see in this view how I chiseled the sides of the block to make it match the front.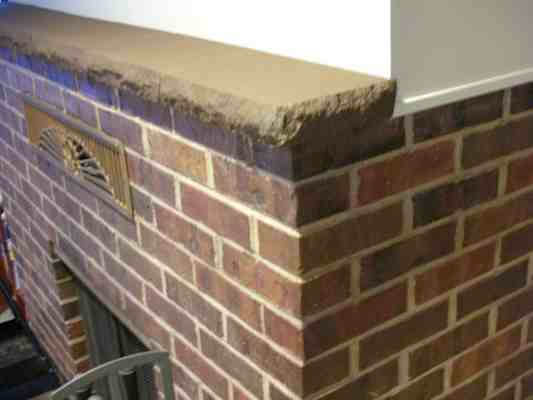 Once the construction adhesive dries you're done!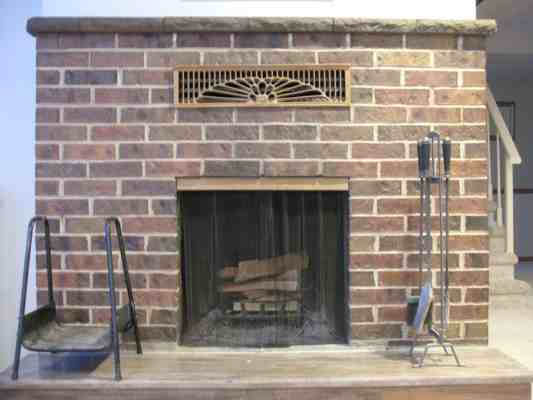 Using the cement blocks to build the mantel worked great and I really like how the project turned out.
It was cheep to build and it didn't require the woodworking experience needed to build one out of lumber.
So…..the next time you need to build a mantel and you're looking for a functional design without spending a lot of time or money, consider using paving stones or retaining wall caps!
Barn Beam Fireplace Mantel
Another great option for a fireplace mantel is to use a reclaimed and rustic barn beam.
This option works great when you're building a new fireplace and you have the opportunity to rest the beam on supports.
Since these old beams are heavy, you'll want to make sure you securely fasten it using long screws or lag bolts and construction adhesive to make sure it's solid.
As you can see from the photo below, we installed this beam at the beginning of a new fireplace insert when we could access the beam from all sides.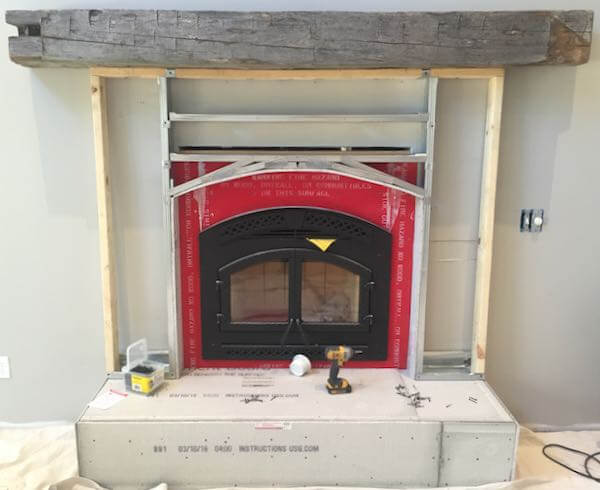 Once the beam was securely fastened, we then finished the fireplace by adding decorative stone around the fireplace to give it a great look.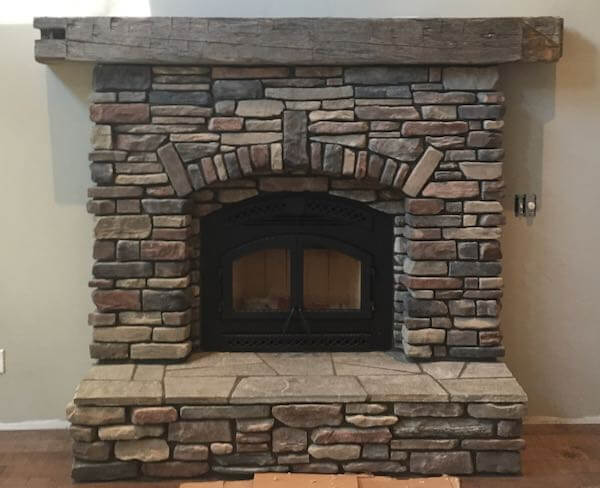 The easiest way to find an old barn beam is to simply look at an online marketplace or classifieds to locate one in your area.
This hand hewn barn beam is about 8 feet long and cost about $100.
You can finish the beam with a sealant if you want, but I just left it untreated since it was inside and would not be exposed to any moisture.  
Overall - Fireplace Mantel
Whether you're updating an old fireplace with a new mantel, or installing a brand new unit, choose an option that is solid and goes well with your home's decor.
Since a fireplace is often the focal point of a room where family and friends gather, you'll love the new addition and the benefits it will add.