Campfire Can
Build The Perfect Campfire Every Time!
This post may contain affiliate links so I earn a commission. 

The Campfire Can has everything you need to build the perfect campfire. 
Plus the decorative 1 gallon clear plastic paint can design is not only water resistant, it makes the perfect gift for anyone who loves camping, bonfires, or just likes to make lighting a fire as easy as possible.
The portable and easy to use kit contains enough premium fire starters to light over 40 fires!
The functional can also keeps all of your essential fire starters in one, easy to carry location making it ideal for camping trips, fireplaces and wood stoves.
Shown With Contents Of Can
Only $24.95 - Lights Over 40 Fires!
Plus a 30 day money back guarantee!  If you don't love your Campfire Can simply return it and we will refund your total purchase price.

Buyer is responsible for return shipping costs.  We do not ship to Alaska or Hawaii.

Have you ever struggled with lighting a fire using crumpled up paper only to find it takes forever? 
Lighting a fire should not be time consuming. 
You don't need to get on your hands and knees and blow on the fire over and over only to get a face full of smoke.

Using this fire starter kit to light your next fire will not only make it easier.....it's safer! 
Simply take one of the 3 different fire starters included in the can, use the included matches to light your fire and you're done. 
The only thing left is to sit back, relax and enjoy a hot burning fire with minimal effort.
Plus, when you're done you can just store the can until you're ready to build your next fire knowing it's all conveniently located in one place. 
No more matches to forget, or newspaper to pack away.  Just grab the can and go!
Remember....when lighting any fire always use dry, seasoned firewood.  Wet firewood simply does not burn.

Campfire Can - Here's What's Included
Every Campfire Can fire starter kit contains the following:
Approximately 2 pounds of premium Fatwood fire starters

6 Cedar Fire Starters (each can be broken into 4 individual pieces)

2 Fatwood Fire Bags

3 Books of matches

1 Decorative can to keep everything dry and stored in one easy place



Premium Ocote Pine Fatwood
Harvested by hand from non-living and non-endangered Ocote Pine trees in Mexco, these Fatwood fire starters are rich in resin and will light even when wet.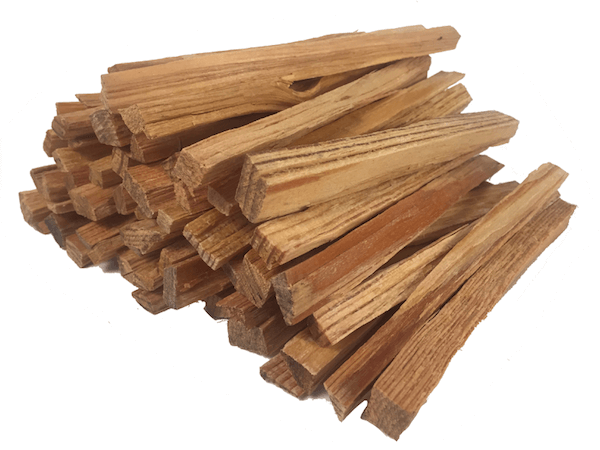 Fatwood
When a tree is cut down or damaged, the roots of the tree continue to produce sap which is sent to the stump for protection. 
These resin filled stumps, which are hand split into useable pieces, are completely natural and make some of the best fire starters nature can offer. 

Capable of being lit with a single match, using just 2 or 3 Fatwood sticks will make lighting your next campfire a breeze. 
Fatwood is completely natural with no fumigation or additives. 
Cedar Fire Starters
Made from cedar sawdust and highly refined wax, a single disk shaped fire starter will burn for up to 30 minutes. 
Cedar Fire Starters
Safe for BBQ's, campfires, wood stoves and fireplaces, our Cedar Fire Starters can be lit with a single match. 
Plus, each disk can be broken into 4 useable pieces to light up to 4 fires per disk. 
Simply break the disk apart using the score lines on the Cedar Fire Starter.

Fatwood Fire Bags
Made from the same premium Ocote Pine Fatwood, these unique and decorative burlap bags are filled with small chunks of Fatwood to create the prefect fire starter.
Fatwood Fire Bags
The bags are cotton lined to prevent dust and wood from falling out, they smell amazing and they're simple to light. 
Simply place the Fatwood Fire Bag under your firewood, light the corner of the bag and you're done.

Easy To Carry Container
All of the items come conveniently stored inside a decorative and reusable water resistant 1 gallon can. 
The lid can be sealed and easily opened with the included lid pry tool keeping the moisture out and the contents safely stored inside.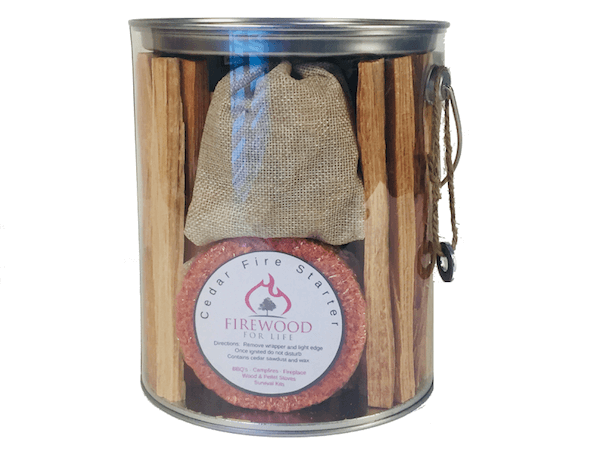 Easy To Carry Water Resistant Can
Whether you want to display the fire starter kit on your hearth or mantel, or you want to just grab it by the handle and go camping, you're sure to love this unique and useful idea.

Do You Want To Create The Perfect Fire?
If you're looking to create the perfect fire every time with virtually zero hassle, the Campfire Can is a must have. 
Starts Over 40 Fires!
Just $24.95
Plus a 30 day money back guarantee!  If you don't love your Campfire Can simply return it and we will refund your total purchase price. 

Buyer is responsible for return shipping costs.  We do not ship to Alaska or Hawaii.
Perfect for the occasional camper or serious fire enthusiast, the Campfire Can makes starting your fire safe, simple and most of all.....enjoyable!