Harbor Freight Chainsaw Sharpener
Harbor Freight Chainsaw Sharpener
This post may contain affiliate links so I earn a commission. 

The Harbor Freight chainsaw sharpener is truly one of a kind because the unit, before coupons and other specials, only retails for about $45.
This low cost price tag compared to other chainsaw sharpeners on the market like an Oregon 410-120 bench mounted grinder which will run about $200 could be alarming.......but don't let the low price fool you!  
Whether you heat with firewood the entire winter, or you just need something that can touch up dull chain, the Chicago sharpener sold by Harbor Freight is a great investment.
To learn more, let's take a closer look at this electric grinder and see what it has to offer.
Chicago Chainsaw Sharpener Sold By Harbor Freight
The first electric bench mounted sharpener I bought was the Harbor Freight chainsaw sharpener.  
I bought it about 15 years ago and I still use it today.
The sharpener is actually made by Chicago Electric Power Tools which is a company that produces a lot of different entry level power tools.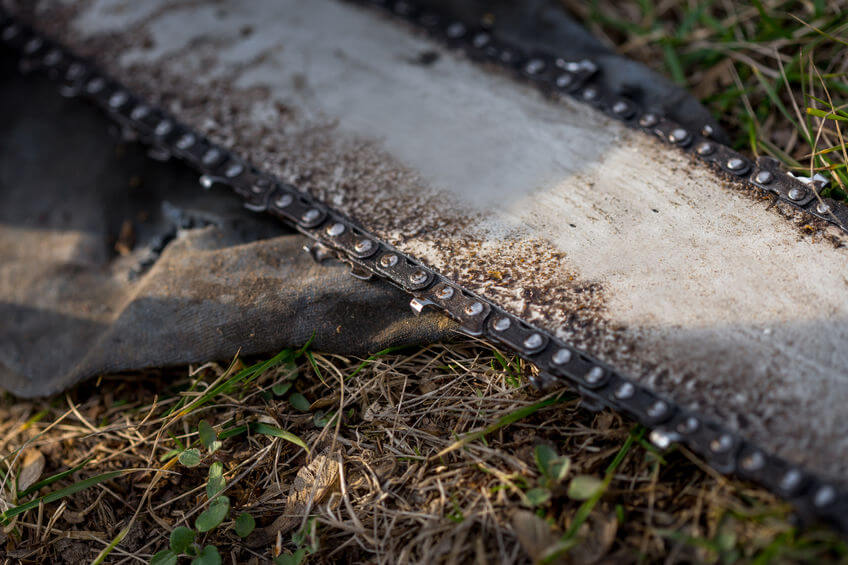 Just like a lot of other power tools, the low cost of their chainsaw grinder accompanied with great performance makes this sharpener well worth the money.

Most homeowners who don't cut a lot of firewood do one of three options to keep a sharp chain.  They either:
Take it to a local shop to have it sharpened which can cost about $10 each time
Use a chain until it's dull then just buy another one
As you can see, the above options are clearly a waste of time and money.
These are some of the things I did when I first started cutting firewood.  
I would rotate about 3 chains and when all three were dull, I'd take them to the local sharpening shop and spend almost $30 to get the three chains sharpened.
It didn't take me long to realize I could buy the Harbor Freight chainsaw sharpener for the same price and never have to rely on someone else to sharpen my chains again!
Harbor Freight Chicago Chainsaw Sharpener - Pros
Aside from the low $45 purchase price, the Harbor Freight chainsaw sharpener has a lot of really nice features.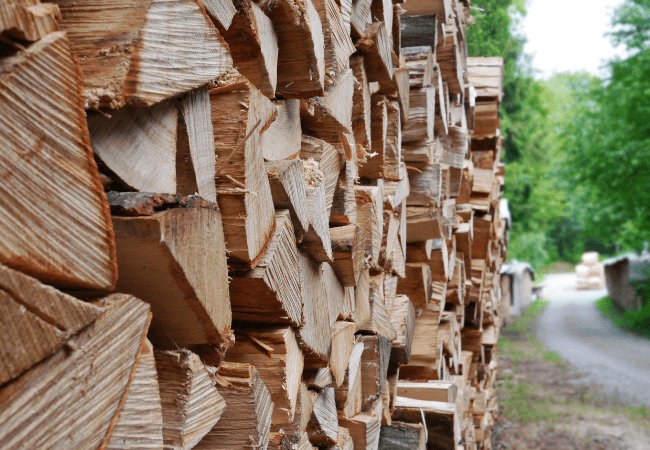 Just remember though, this is a $45 grinder and is intended to be used by the average homeowner and it's not a commercial sharpener.  
If you have these expectations in mind......you'll love this machine.

Long Lasting Grinding Wheel
First, the gridding wheel that comes with the machine lasts a long time.  
I have sharpened hundreds of chains with this sharpener over the past 15 years.
Heating with an outdoor wood furnace, we would burn firewood by the semi load and this grinder has never let me down.
Plus, replacing the grinding wheel is very affordable.  
I believe I've only had to change it out once after all these years.
Easy To Use Sharpening Adjustments
The grinder has angle adjustments up to 35 degrees in each direction which can accommodate just about any chain.  
Plus the design is very simplistic and doesn't have a lot of adjustments which actually makes it easier for the average homeowner to use because there's not a learning curve every time you use it.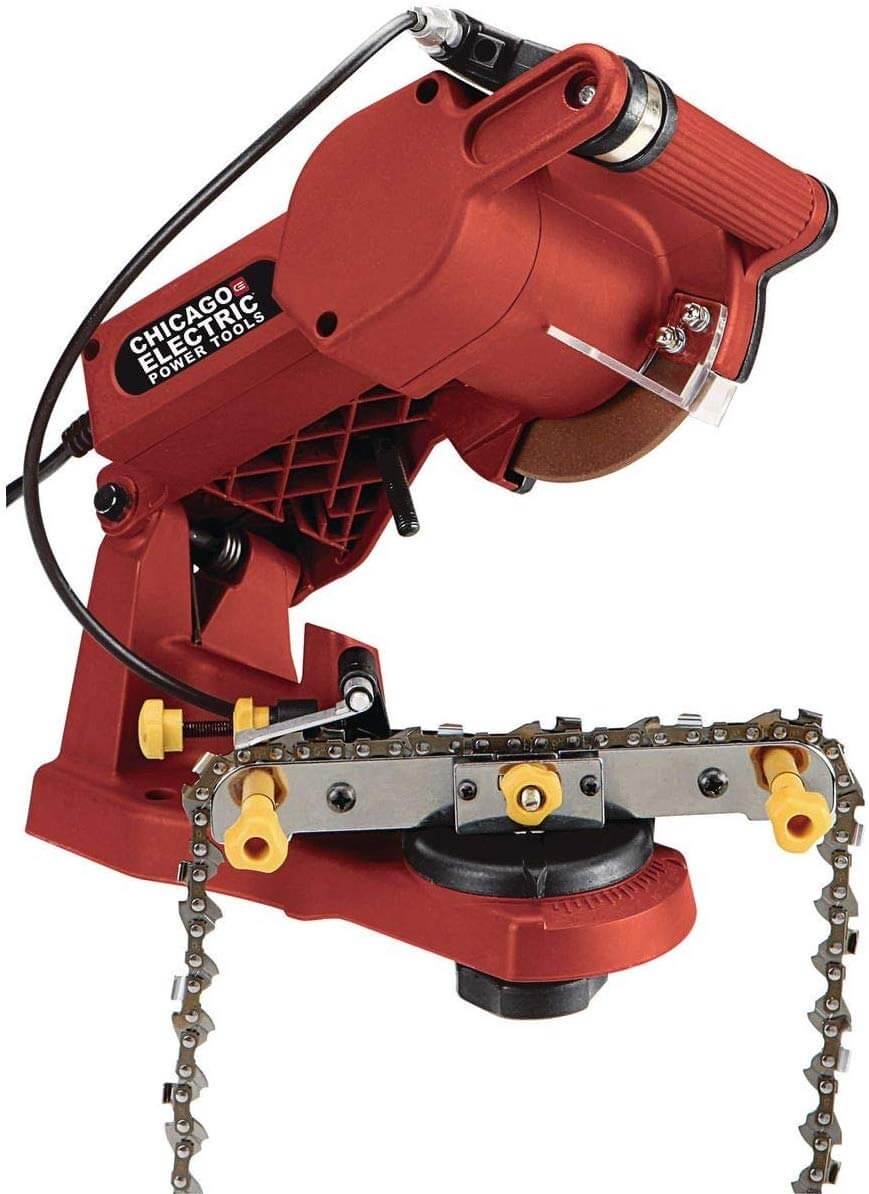 Chicago Electric Chainsaw Sharpener
There's a couple of different adjustments that allow you to adjust the depth of your cut and how much material you remove from the cutting tooth.  
If you take your time, being careful not to remove too much material, you can sharpen a chain many times before it needs to be replaced. 
PRO TIP - Only grind off a small amount of material from the cutting edge of the tooth.  
Taking off too much material will not only pre-maturely wear down your chain, but it will cause the steel on the chain to turn blue from overheating, which can have negative effects on the chain. 
Fast And Accurate Way To Sharpen Multiple Chains
Right out of the box I recommend reading the directions and becoming familiar with the machine.  
Although there are some issues with the amount of "play" in the chain vice and moving components (which we will address later) once you come up with a consistent movement with the gridding wheel, sharpening a chain is easy.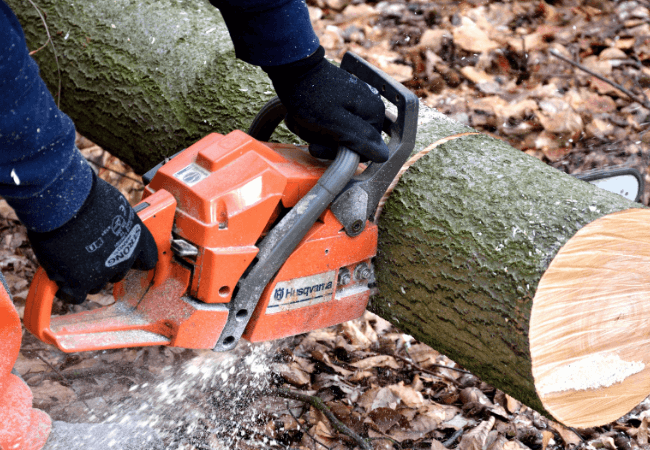 You can expect your first chain to take bout 15-20 minutes to sharpen.  
If you go slow and keep the same downward movement with the gridding wheel, it will turn out great.  
Then, once you get a little more comfortable, each chain will take 5-10 minutes to sharpen.
I like to have about 2-3 chains that I rotate out.  
Once dull, I place them in a specific spot and once all the chains are dull, I sharpen all three at once.  
It just seems easier to do them all because I get into a grove and can knock them all out in about 20 minutes.  
Then, if I hit a rock or something when I'm cutting firewood I don't need to stop everything and go back to the Harbor Freight chainsaw sharpener.  
I just grab a pre-sharpened chain and I'm back cutting in a few minutes.
Harbor Freight Chainsaw Sharpener - Cons
No matter which tool you use, you'll always find a few things you don't like.....or think could be improved on.
Here are a few things I don't love about the Harbor Freight chainsaw sharpener.  
Although these issues are minor, especially when we are talking about a $45 machine, it's something to be aware of so you can make your own adjustments when using the machine.
Swiveling Chain Vice Does Not Lock Into Place
Most of my chains are sharpened at a 30 degree angle, however, different chains have different angles.  
To accommodate this, the base of the Harbor Freight chainsaw sharpener swivels back and forth up to 35 degrees in each direction.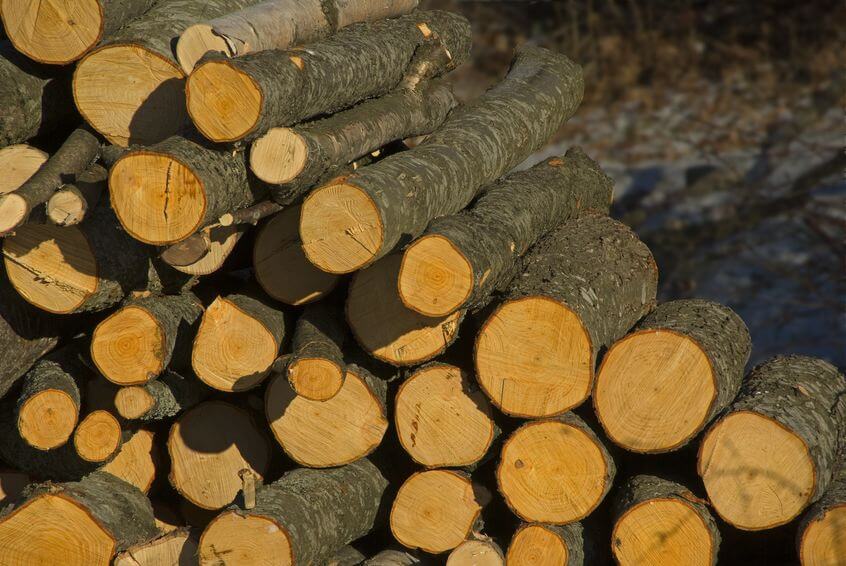 However, the common degrees (such as 30 degrees) do not have a lock spot to them, meaning you have to eyeball the degree marker on the base to make sure you're at the right degree.  

It would be better if there was a factory made notch to lock the grinding wheel into the 30 degree mark which would take out a little bit of user error.  
There Is Play In The Chain Vice And Grinding Arm
There's a little bit of extra movement in the vice and chain stop that holds and locks the chain in place when you sharpen it.  
Sometimes when you activate the lock, the chain will ride up a little bit.  
Also, as you move the grinding wheel down towards the chain, there is a little bit of side to side movement in the arm which can essentially change the angle of your grinding wheel when it hits the chain.
To fix this, you just need to use the same arm movement with every stroke.
You'll get the hang of it within a couple of strokes and as long as you're consistent, you won't have an issue.  
Again, this is a $45 machine that will save you $100's in sharpening costs so it's not going to be perfect.
Chicago Electric Chainsaw Sharpener - Overall
If you cut firewood and need to sharpen an occasional chainsaw chain, the Harbor Freight chainsaw sharpener is a great choice.  
I've had mine for 15 years and it still works like new.  
Yes, it's not as good as an Oregon chainsaw sharpener but for the money, it's well worth the investment. 
There's always going to be a disagreement between sharpening a chainsaw chain by had as opposed to using a bench grinder.  
If you don't sharpen chains everyday by hand, an inexpensive grinder like this one made by Chicago Electric Power Tools is a great choice!