Dremel Chainsaw Sharpener
Dremel Chainsaw Sharpener
This post may contain affiliate links so I earn a commission. 

The Dremel chainsaw sharpener might be just the tool for the job if you're looking for a fast and easy way to sharpen your chainsaw.
Ideal for professionals and homeowners alike, this product is great for the DIYer who wants to be able to both sharpen and grind an assortment of tools, and not just chainsaws.
It's a multipurpose option that can save you time, money - and storage space.
Here's what you need to know.
What Is A Dremel?
Dremel is an American company that specializes in making power tools for home improvement and hobby purposes. 
Its rotary tools are perhaps the most famous but it also offers other tools like versatips, powered screwdriver, scroll saws, and most importantly, attachments to help you sharpen a chainsaw.
The Dremel A679-02 is an attachment kit that is ideal for outdoor gardening and landscape maintenance.

Buy this package deal, and you'll get everything you need to sharpen a lawn mower, chainsaw, shears, shovels, hoes, and more. 
The Dremel chainsaw sharpener is an excellent tool that is both versatile and affordable.
Though perhaps not as suitable for someone who needs to use a chainsaw on a daily basis, like a logger or arborist, it's a great tool for someone who needs to do just occasional cleanup of brush and trees around the home. 
Dremel Chainsaw Sharpener Review
When it comes to finding the right chainsaw sharpener, you'll have plenty of options to choose from - even just within the Dremel family of products. 
The Dremel chainsaw sharpener is meant to be used with Sharpening Kit #A679-02, a kit that will allow you to sharpen hoes, shovels, shears, lawn mower blades, and of course, your chainsaw.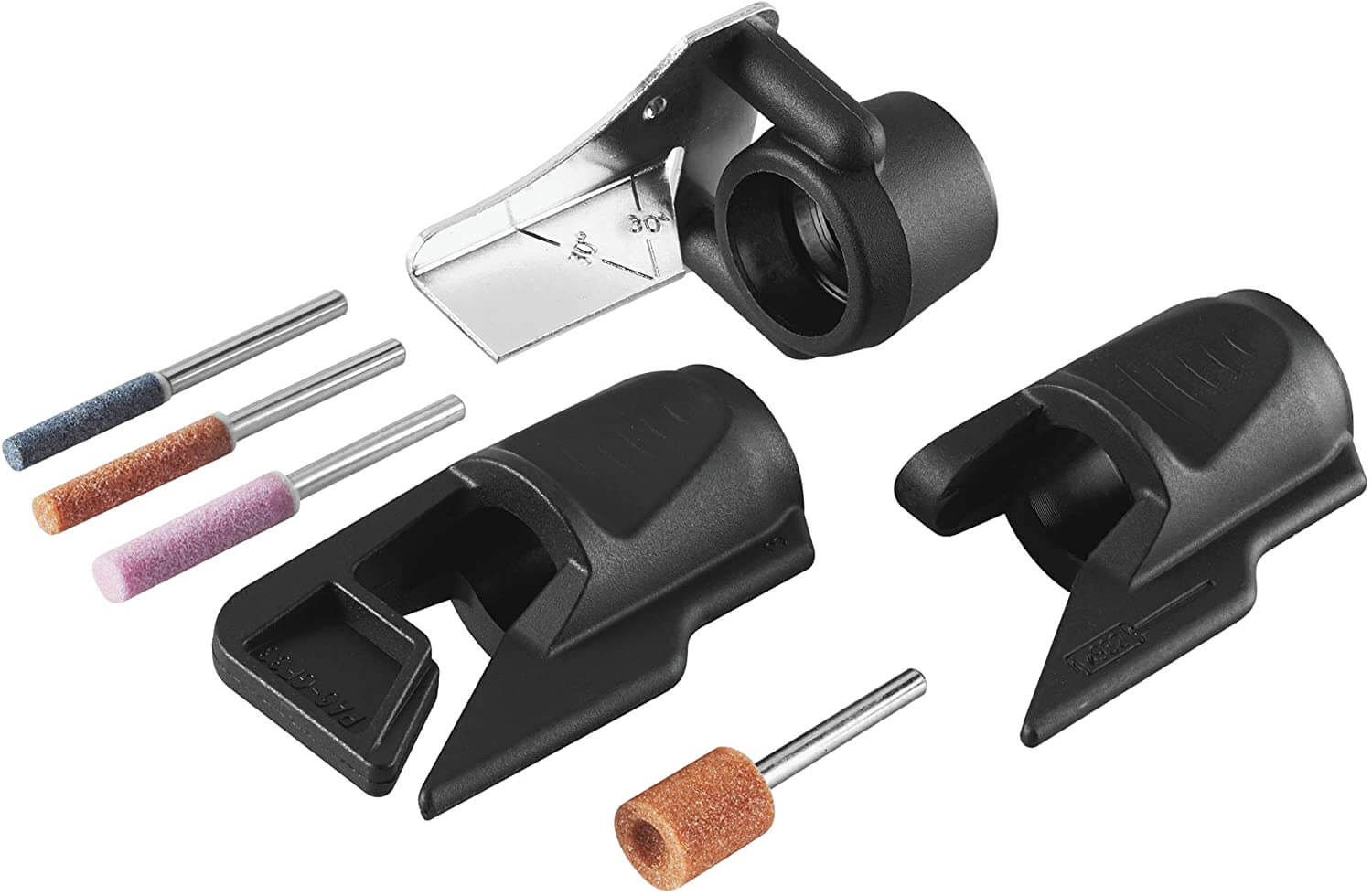 Dremel A679-02 Attachment Kit
There are multiple attachments with this kit, including separate ones for your lawn mower, chainsaw, and other tools.
The kit also comes with gauges, spacers, wrenches, and sharpening stones so you'll have everything you need for an efficient job. 

Product Highlights
10 rotary tool attachment kit 

Made out of sturdy aluminum oxide and precision ground abrasive stone

Backed by a one-year manufacturer's warranty

⅛" shank and 3/16" cutter diameter
Pros
Rotary tool easily screws into place

Lets you sharpen dull chainsaw blades quickly and easily

Everything you need for effective and cost-efficient home landscape maintenance 

Budget friendly option for homeowners 
Cons
Takes a while to sharpen individual cutter teeth

Not ideal for someone who needs to sharpen a chainsaw frequently (such as a professional arborist or logger)
How Much Does A Dremel Chainsaw Sharpener Cost?
You have a few different options when buying a Dremel chainsaw sharpener. 
We recommend buying the chainsaw sharpener within the home and garden maintenance package - the Dremel A679-02 attachment kit for sharpening outdoor gardening tools. 
This package will provide you with other sharpening tools for tending to an assortment of landscaping equipment, like hoes and shovels, lawn mower blades, and shears.
This combination deal costs just under $20, making it a budget-friendly option for the efficiently-minded homeowner.

Of course, you can always just buy the chainsaw sharpener if that's what you have in mind - this will run you around $7 or $8.
How Do You Sharpen A Chainsaw with A Dremel?
First, make sure your chainsaw chain is actually dull! 
All kidding aside, it's a good idea to sharpen your chainsaw chain each and every time you top off the tank with gas. 
While your chain might not be super dull when it's time to refill, getting into the habit of resharpening is a good way to make sure you're working with the most efficient (and safest) tool possible.
Remember, a chainsaw that is dull is more likely to kick back on you and cause serious injury. 
Plus, it's harder to use. 
You'll know your chainsaw chain is ready to be sharpened if it's producing dust rather than wood chips while it's cutting.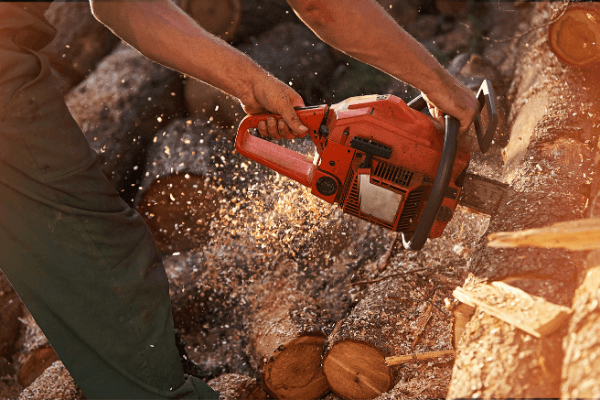 If it's hard to physically push the saw against the wood to cut, that's another telltale sign that a sharpening is necessary.

Using a Dremel to sharpen a chainsaw is one of the easiest ways to do so.
Buy a sharpening kit and you'll receive a guide that will help keep the tool level and at the right angle while you are sharpening. 
You'll want to make sure you are using the appropriate sharpening bit for your chainsaw - you can use the table included with your Dremel kit to figure out which bit is best.
Then, attach the sharpening guide and bit to your Dremel. 
Mark the tooth on the chain where you plan to start.
Put on a pair of gloves to protect your hands, then use the sharpening guide to keep your Dremel tool level and at the perfect angle.
Turn your Dremel on and slowly sharpen that tooth.
Once you're finished the first tooth, you can move onto the next one.
It's important to sharpen each tooth for the same amount of time (counting to ten can help!) so that the teeth are sharpened evenly - even teeth are best for producing consistent cuts.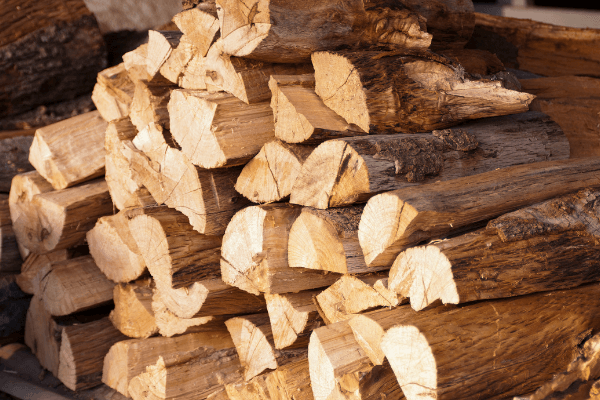 Remember, too, that every other tooth is positioned in the same direction with the others needing to be sharpened in the other direction. 

Pay close attention to the direction while you sharpen and keep going until you've sharpened every single tooth.
Can A Dremel Sharpen Tools Besides Chainsaws?
Yes.
If you buy one of the Dremel attachment kits like we described above, you can sharpen everything from shears to hoes, shovels to lawn mower blades.
Of course, you can also buy just a special chainsaw sharpener tool that isn't contained within a package deal.
These are meant solely for sharpening just chainsaws.
What Is The Best Chainsaw Sharpener?

Although the Dremel chainsaw sharpener may not be the best option for someone who has to cut a lot of wood every single day, it's a great chainsaw sharpener for the casual saw user who just needs to sharpen every now and then.
One of the cheapest options you can find and also easy to use, the Dremel chainsaw sharpener is one of the best chainsaw sharpeners for the weekend warrior!