Best Cheap Chainsaws
This post may contain affiliate links so I earn a commission. 

It's not a good idea to be extremely cheap when you're buying power tools like chainsaws, but when you shop for some of the best cheap chainsaws from the most well-respected brands, you don't have to sacrifice quality for price.
In fact, you can often purchase a great budget chainsaw for less than $200. 
To make sure you're getting the best product for your money, consider these tips - and our choices of the best cheap chainsaws to shop for.
How To Find The Right Chainsaw For Your Dollar
When you're shopping for a chainsaw of any kind, there are inevitably going to be non-negotiables that you consider in your search.
These vary depending on the person doing the shopping. 
For some people, the price point is the single most important factor. 
You care about the bottom line and nothing else.
While it's important to consider your budget when you're shopping (and truth be told, there are plenty of quality chainsaws out there that cost as little as $70), you shouldn't let financial concerns get in the way of finding a truly great saw.

Instead, ask yourself a few other questions before you start shopping. 
In addition to thinking about how much money you want to spend, consider what sorts of projects you will be using the chainsaw for.
Are you planning on cutting down trees, trimming limbs, or cutting logs for firewood?
Is it just a homeowner's saw, or are you planning on using this chainsaw as a professional?
What are some features you are interested in?
Would you prefer a gas-powered saw or one that requires a battery?
Do you want a manual chain brake for added safety?
What about an automatic chain oiler?
Think carefully about which attributes are the most important to you as you begin your search for the best cheap chainsaw.
That way, it will be easier for you to find the perfect saw that falls within your budget.
What Is The Best Affordable Chainsaw?
If you're in the market for an affordable tool, consider these top picks for the best cheap chainsaws.
1. Husqvarna 240 Gas-Powered Chainsaw - Best Cheap Chainsaw
This chainsaw isn't the largest one you can buy, but it's a good selection for the homeowner who wants to just do some hobby work, prune trees, or cut up firewood. 
It's equipped with all kinds of features, including an ergonomic design and an X-Torq engine that offers reduced emissions and fuel consumption.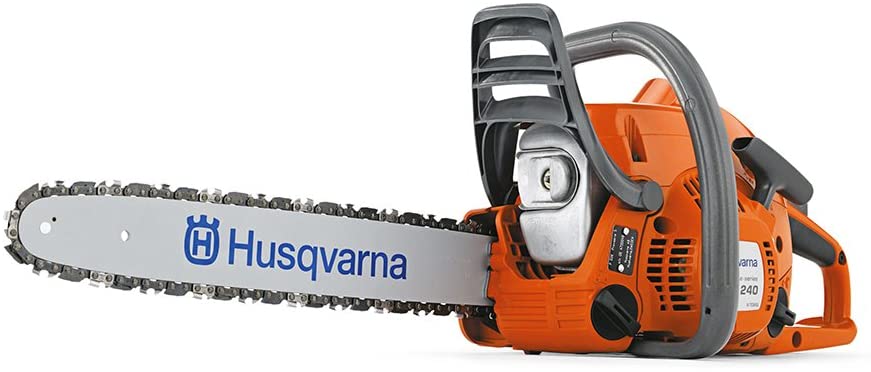 The Husqvarna 240 is easy to start with a highly intuitive combined choke and stop control.

You won't have any trouble using this lightweight chainsaw for any of your home and garden tasks - and it's affordable too, with a price tag that comes in at less than $180. 
Pros:
Comfortable and easy to use
Reduced emissions and fuel consumption
Air injection system extends the life of the motor and air filter
Cons:
Not ideal for large, professional jobs
2. Stihl MS 170
This is another small chainsaw designed for casual use around the home. 
It's a gas-powered saw that is incredibly lightweight.
Even with its great, super-low price (less than $190!) It is loaded with features that make it easy and fun to use.
It has just the right amount of power for cutting small trees and fallen limbs, yet is still compact enough to make it a cinch to store.

It's equipped with an anti-vibration system along with an automatic lubrication system that will allow you to reduce bar oil consumption by up to 50%. 
Pros:
Lightweight and easy to handle

Starts quickly

Quality carburetor system reduces wear and tear
Cons:
3. Black + Decker LCS1020 Chainsaw
This cordless chainsaw runs on batteries and is one of the most multidimensional (yet affordable) chainsaws you can buy.
You can tackle all kinds of small jobs, from pruning branches to cutting firewood.
BLACK+DECKER Lithium Ion Chainsaw
It's lightweight at just seven pounds and remarkably easy to maneuver. 
Plus, it costs just over $120!
Pros:
Has a tool-less chain tensioner and manual oiler
30-45 minutes of cutting time per two-hour battery recharge
Great tool for quick jobs
Cons:
Doesn't come with a lot of advanced features
4. Worx WG305.1 Electric Chainsaw
If you'd rather buy an electric chainsaw instead of a gas-powered one, this chainsaw by Worx is the way to go. 
It comes with an optional 18-inch bar and chain and is ideal for heavy-duty cutting jobs when you don't want to have to keep stopping to refuel. 
Once it's plugged in, this tool can run forever!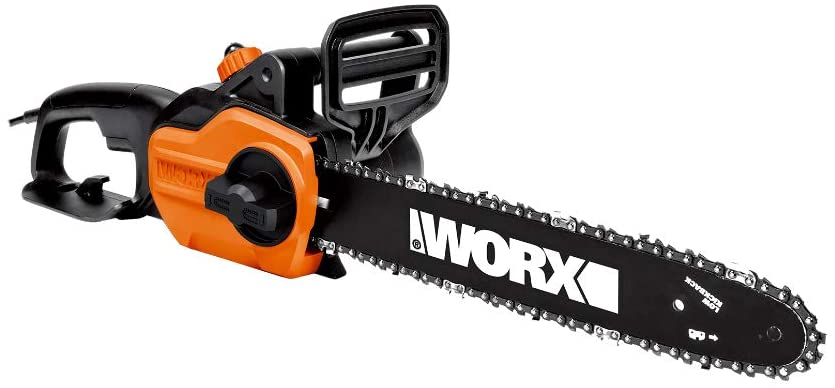 Worx Electric Chainsaw
It includes a patented auto-tensioning system that will make it easier for you to properly adjust your chain. 
It also has an automatic fixed flow oiler and a manual chain brake to make your work in the woods even simpler.
Pros:
Costs about $100
Lots of automated features that make it easy to use
The 18-inch bar can handle larger tasks
Cons:
You have to plug it in while in use, requiring the use of an outdoor-rated extension cord
5. Greenworks Battery Pole Chainsaw
A pole saw might not be exactly what you had in mind - but if the price is your biggest concern while shopping, then this Greenworks battery-powered pole chainsaw, the 20672, is your best bet.
It has a small 8-inch bar and chain and runs exclusively on battery.
It has a telescoping pole that requires just a few simple twists to enable you to reach branches high in the air.
At just eight pounds, it's lightweight and easy to carry.
Pros:
Full battery charge offers one hour of cutting
Comes with an automatic oiler and tool-less chain tensioner
The battery is interchangeable with other Greenworks power tools
Cons:
Can't be used for things like cutting firewood
What Is The Best Cheap Chainsaw On The Market For The Money?
As you can see, there are plenty of cheap chainsaws you can buy if you're on a budget - and this list barely scratches the surface!
There are lots of options to choose from based on what kinds of tasks you need to do, what features you are looking for, and of course, what your budget might be.
We like the Husqvarna saw as our top pick, but it might not be the right pick for everyone.
Consider which features matter most to you as you shop for one of the best cheap chainsaws out there!