Best 18 Inch Chainsaws
This post may contain affiliate links so I earn a commission. 

If you're looking for the best 18 inch chainsaw, you'll likely find that you have tons of options to choose from.
Depending on your needs and preferences, you can buy saws with bar and chain lengths as low as 10 inches or as much as 59 inches in length.
However, most homeowners and professionals will choose saws in the middle of that range - making the 18 inch saw a great option for newbies and experts alike.
There are a few factors you'll want to consider when you shop for the right chainsaw.
Here's what you need to know.
Tips For Selecting The Best 18 Inch Chainsaw
Keep these things in mind when you start shopping for your next chainsaw, regardless of whether you're the casual user cutting firewood on the weekends or a professional logger working in the woods every day.
Electric vs Gas - Best 18 Inch Chainsaw
You can buy 18-inch chainsaws that are powered by either gas or electricity.
Those that are powered by gas have two-stroke engines that are meant to provide constant power to your saw.
Although these require more maintenance, they offer a significantly higher level of power  - making them ideal for cutting down trees.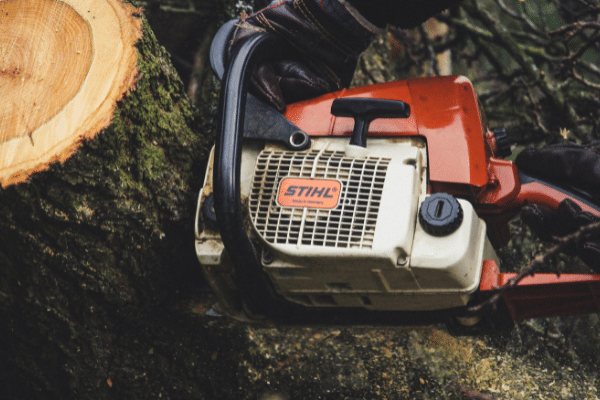 Electric saws are just fine if you're only planning on bucking up small amounts of firewood.

They are much quieter than gas saws and while they aren't as powerful, they are lighter because they tend to be battery powered.
They also have few maintenance needs.
Potential Use
Before jumping into a purchase, think carefully about how you plan to use your saw.
You'll want to consider what users say in their reviews - is this saw meant for cutting up firewood?
Knocking down trees?
What are any issues that users have encountered?
Maintenance
Knowing how to maintain a chainsaw is another integral component of owning one.
Pay attention to the maintenance requirements for the saw you select - again, gas-powered saws require more maintenance but they offer much more power.
Even with electric saws, there will be some maintenance required - and unfortunately, it is very difficult to service most engines of electric saws yourself.
You'll need a repair shop to do it for you.
Best 18 Inch Chainsaws For Any User - Top Models Reviewed
While there are dozens of 18-inch chainsaws out there that you can choose from, here are some of our top picks for the best 18 inch chainsaws.
Best Overall Gas Powered: Stihl MS 251 C-BE
This gas-powered chainsaw by Stihl gets top marks for several reasons.
Not only is it easy to start, easy to maintain, and easy to repair, but it's also lightweight without lacking power.
You'll find that this chainsaw gets rave reviews from just about everyone who's bought it, and it can be fitted with a 16 to 18-inch bar, depending on your preferences.
Like most new chainsaws on the market, it comes with an included chain tightener so you don't need to lug around a separate tool.
This saw is a true classic - while also being the saw of the future.
It offers lower emissions and has reduced vibration so you'll be able to use it for hours on end without feeling your hands go numb from all those unpleasant shakes that most power tools give you!
Pros:
Easy to start
Has a built-in tension adjuster
Lightweight with low emissions
Cons:
Best Overall Electric: Greenworks Pro 18-Inch Cordless Chainsaw
At just under 11 lbs, the Greenworks Pro 18 Inch Cordless Chainsaw is another excellent saw to consider if you're looking for a lightweight pick.
This one, however, is electric.
We don't usually recommend electric saws as gas saws tend to be far more powerful (and preferred for heavy-duty tasks like cutting down large trees) but for some tasks, an electric saw can do the job just fine.
Greenworks 18-Inch Brushless Cordless Chainsaw
Plus, this saw runs a lot quieter than similar 18-inch models and it starts up quickly.
With every charge, you'll get 150 cuts.
One charge takes half an hour and each saw comes with a built-in battery life indicator so you'll know just how much power you have left.
Pros:
Offers many of the benefits of gas saws but with no gas engine maintenance
Excellent battery life
Quiet and lightweight
Cons:
Uses up bar oil quite quickly
Best 18 Inch Chainsaw For The Professional: Husqvarna 455 Rancher 18 Inch Chainsaw
If you're a pro looking for a chainsaw that you can bring out on the job, the Husqvarna 455 Rancher is the best choice.
It offers professional results for a reasonable price.
This company has a solid reputation for building the top-quality gas-powered chainsaws you can buy.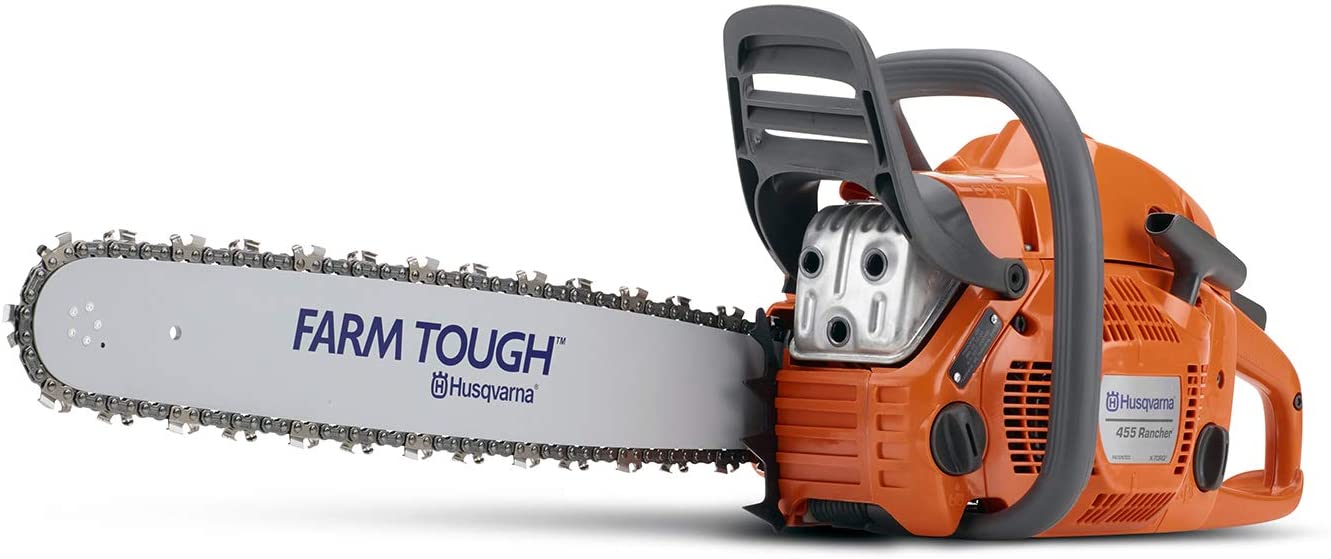 Husqvarna 18 Inch 455 Rancher Gas Chainsaw
It has an upgraded engine that offers 60% fewer emissions and reduced fuel consumption of 20%.
You'll be able to save money on fuel while cutting for longer periods of time.
It also has an interior-activated chain brake to help keep you safe and an automatic oiler to help you automatically oil the chain and bar.
At just 11 lbs, this lightweight chainsaw is about half the weight of other pro chainsaws of this kind!
Pros:
Great for professionals
Has a centrifugal air cleaning system to keep dust out of the air filter
Reduced likelihood of kickbacks
Cons:
Not the easiest for the novice to operate and maintain
Best 18 Inch Chainsaw For The Homeowner: Husqvarna 450R 18-Inch Gas Powered Chainsaw
Another Husqvarna saw to consider is the 450R.
This 18-inch model is perfect for the homeowner because it weighs around 14 lbs and is easy to maintain.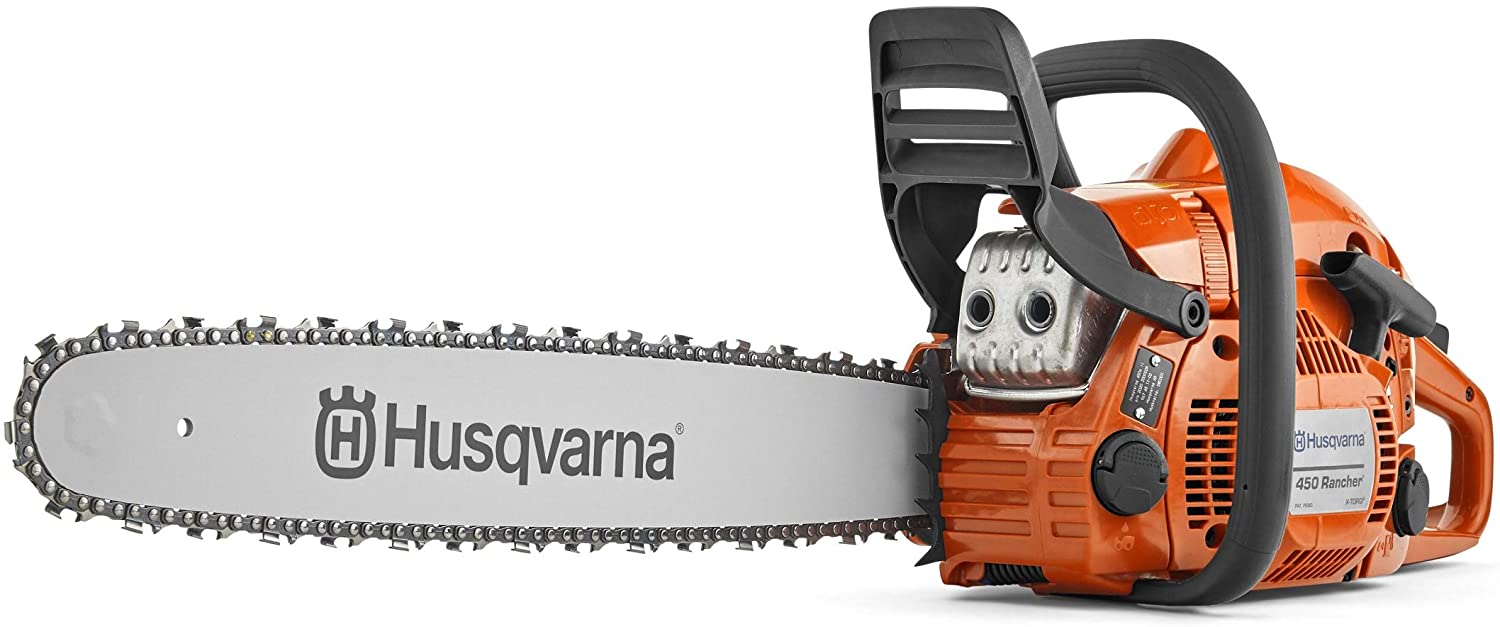 Husqvarna 450R 18" Gas Chainsaw
Its 3.2-HP X-Torq engine is efficient and powerful yet quiet - ideal for the person cutting a few blocks of firewood in the suburbs.
It has a ton of built-in safety features that also make it a good option for the weekend warrior without a ton of chainsaw experience.
It has an inertia-activated chain brake and other features to help keep you safe while cutting up firewood.
Pros:
Maintenance is easy with cylinder cover for access
Lightweight yet powerful
Makes smooth and efficient cuts
Cons:
Does not come with an adjustable oil flow
Why Choose An 18 Inch Chainsaw?
Whether you're cutting down trees or just blocking up a bit of firewood for your weekend campfire, an 18 inch saw is a versatile tool that will suit most people just fine.
Although you may want to upgrade to a larger saw if you plan on using one every day (and conversely, you can probably get by with a smaller one if you will rarely use it), an 18 inch chainsaw is the perfect fit for most tasks.
Shop around and be sure to read reviews to find the best 18 inch chainsaw for your needs - there's something out there for everyone!