Cast Iron Chiminea
This post may contain affiliate links so I earn a commission. 

A cast iron chiminea can bring years of enjoyment to almost any backyard or garden, but are they the perfect choice for you? 
Chimineas come in three basic types.....clay, cast aluminum and cast iron. 
Each type of chiminea will have their own unique qualities so it's important to choose the best type for your landscape or intended use.
The cast iron models are made from molds, allowing them to come in almost any shape or size.  
If you choose a cast iron model remember one thing......cast iron is heavy.  
If you plan on finding that perfect spot for your chiminea and never move it, the weight may never be an issue.  
However, if you plan on moving your chiminea every fall and storing it inside for the winter the weight could definitely be a problem.
Campgrounds, parks and other public areas usually choose the cast iron type because they're study and hard to move.
Their weight alone will help prevent any unwanted movement and their sturdy construction will hold up to rough or abrasive use year after year.

If you're looking for a chiminea for a public place that won't "walk away" on its own a cast iron model will probably work best.
Chiminea vs Fire Pit
Although a cast iron chiminea is considered an outdoor fire pit, they're different from the standard metal ring you'll find at your traditional campsite.
In the end, it's really just a matter of preference when choosing to install a cast iron chiminea or a fire pit in your backyard, but a chiminea has several advantages over a fire pit.  
Since a chiminea stands tall and includes a chimney, the smoke from the fire is carried up and away from everyone who is sitting nearby.  
With a chiminea, there's no more smelling like smoke after a few hours by the fire.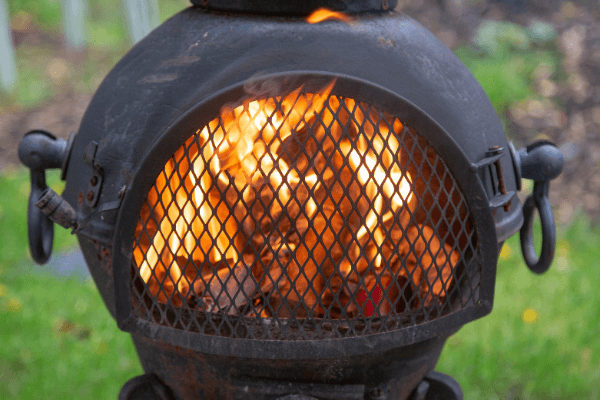 Also, a lot of chiminea's have a built in grilling plate so you can cook a delicious campfire meal.
With a standard fire pit you would have to purchase a campfire grill in order to cook a steak or hamburger over the open fire.

You will find there's a little more maintenance needed for your chiminea compared to a fire pit, like purchasing a chiminea cover if you plan on leaving it outdoors, but for someone who is looking to dress up their backyard with a functional and decorative item, a chiminea is a great choice.
Chiminea Maintenance - Things To Consider
A cast iron chiminea requires quite a bit of maintenance.  
The iron construction tends to rust when they're continuously exposed to moisture.
To prevent the rust, they need to be frequently touched up with a special heat tolerant paint.
Do you have an idea of the perfect spot for your new chiminea?  
Before you set it up, here are a few things to consider.
Cast iron will get extremely hot.  
This is great for warmth but it can be dangerous if you set up your chiminea near a flammable or combustible material.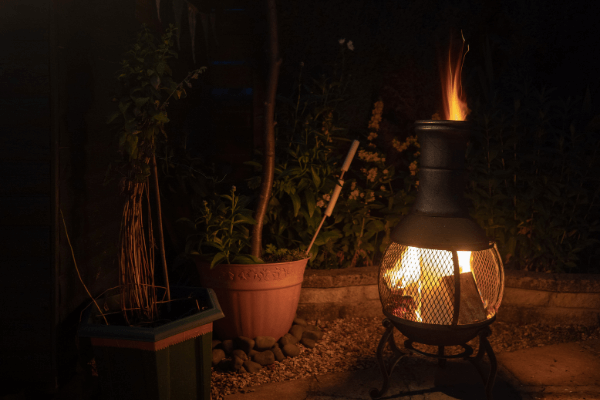 Never set up your chiminea on a wooden surface and make sure you remove any low handing branches from above.
Do you have children?  
The cast iron will be hot on all sides and even the slightest touch could severely burn you. 
Your chiminea should come with a 3 or 4 legged stand to hold the chiminea off the ground.  
Even on the stand, the surface underneath the chiminea will probably rust.  
A dark surface made from cement or brick under the chiminea is usually a good choice.

Setting Up And Seasoning Your Cast Iron Chiminea
Because these chimineas are so heavy, they are usually shipped in two separate pieces.  
It will probably take several people to help carry, move and set up your chiminea.  
To start, prepare a solid level surface for the chiminea to sit on.
Have this area prepared prior to delivery.  
A cement or brick surface is probably the best surface to set up your new chiminea on because the cement or brick is both solid and fire resistant making it an excellent choice.
After the chiminea is level and set up on the stand, place around 3 or 4 inches of sand or small stones in the bottom of the bowl.  
This provides a barrier and prevents the fire from resting directly on the bottom of the chiminea.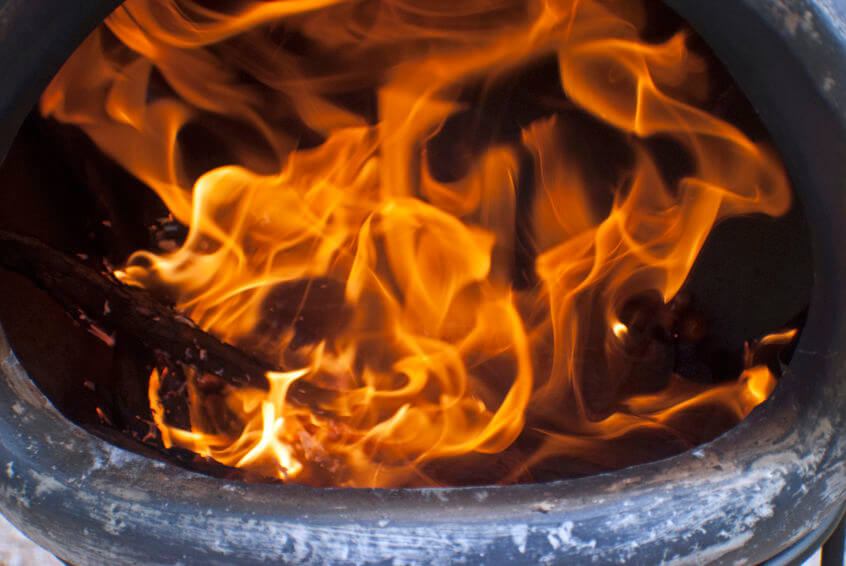 Fire Inside A Chiminea
Some users like to add a couple of bricks on top of the sand or gravel.
The wood is stacked on top of the bricks allowing a gap to form underneath.  
This gap allows increased air flow around the wood, creating a better fire.
Seasoning the cast iron chiminea helps the paint cure.  
To season your chiminea, build several small fires and allow each fire to burn completely out.  
After about 5  small fires, build a slightly bigger fire while the chiminea is still warm.  
Always allow the fire inside your chiminea to burn out on its own.  
Never use water to douse the fire because it could damage your chiminea.
Cast Iron Chiminea - Overall
A cast iron chiminea can be a welcome addition to any backyard or campground.  
They are sturdy, generate a lot of heat and can last many years with the proper maintenance.  
For the general homeowner, the cast aluminum chiminea is usually the most popular choice because they are lighter and require a lot less maintenance.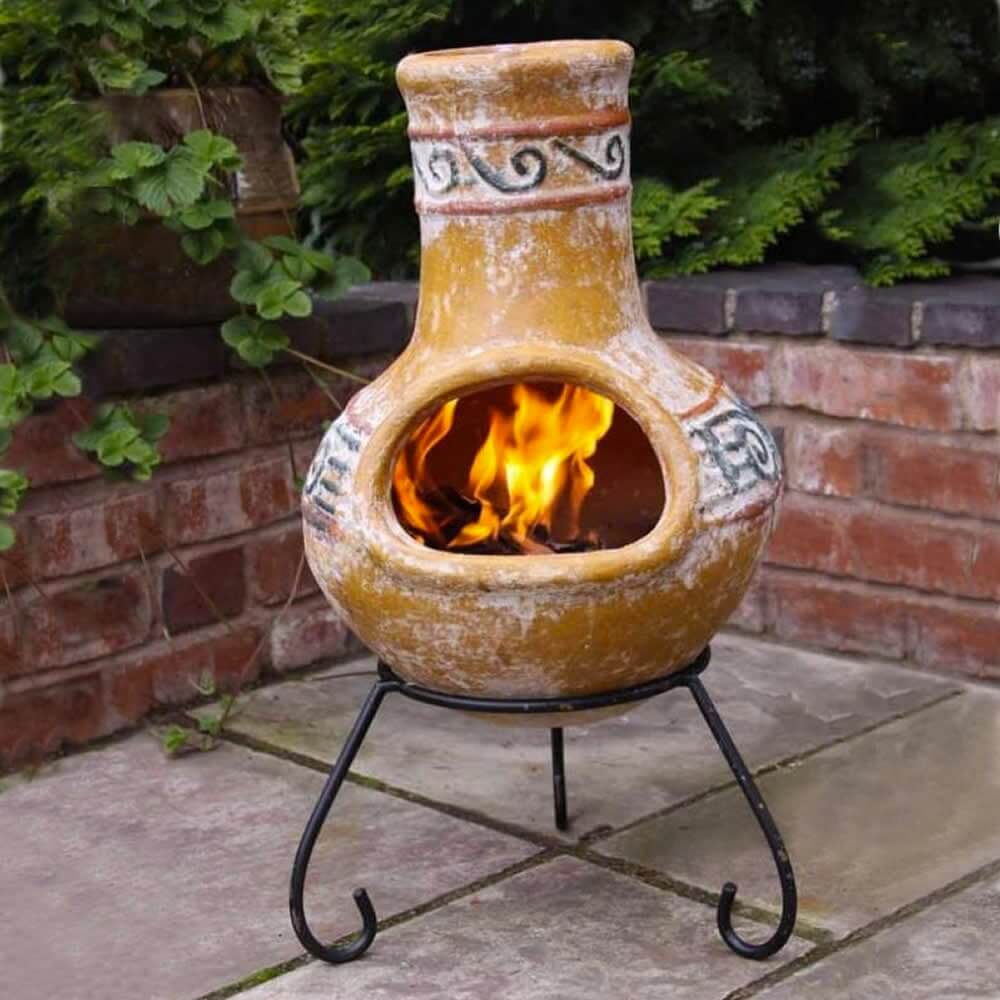 Clay Chiminea
If you like the more traditional look, a clay chiminea might be what you're searching for.  
The clay models give the traditional look of the chiminea that has been around for hundreds of years.  
Just remember, clay is brittle and can easily crack or break.
The chiminea type you choose ultimately depends on your intended use and expectations.
Chimineas have become very popular and can add excitement and character to almost any setting.