Electric Wood Stove
This post may contain affiliate links so I earn a commission. 

Over the last few years, electric wood stoves have become very popular.
Their sleek designs and almost realistic fires make them a welcome addition to any room.
While they're not a solution to heating a large home, they do offer great options for heating small rooms like a back bedroom that's always cold, or even a small cabin.
An electric stove has a lot of benefits.  
First, they don't require a chimney and can be plugged in anywhere you have an outlet.
Second, they mimic the look and feel of an actual wood burning stove without the mess and timely maintenance of a real fire.  
You can even turn the flames on without the heat, which is a pretty "cool" feature.

Third, they're cheap.  
For around $100-$300 you can get a really nice stove which is considerably less than a wood burning stove which can cost thousands.
Also, some of the nicer models are thermostatically controlled meaning you just plug it in, turn it on, set your desired temperature and you're done.  
Plus they even have an automatic shut off timer so you're not wasting energy while you sleep.
What Are The Benefits Of An Electric Wood Stove?
If you can't tell by now, I'm a huge fan of electric wood stoves.  
However, just like anything else they have their benefits along with their drawbacks. 
For example, they're great for small rooms, back bedrooms or a basement where you're looking to supplement a little bit of heat.
They're not ideal for heating a home since they only heat about 1000 square feet or less. 
It's simply too expensive and they won't supply enough heat without some kind of other heat source like a furnace or wood stove to pick up the slack.  
However, they work great for zone heating.  
How Much Does It Cost To Run An Electric Wood Stove?
In comparison, it's cheaper to run your homes central heating unit as opposed to putting multiple electric heaters around your house.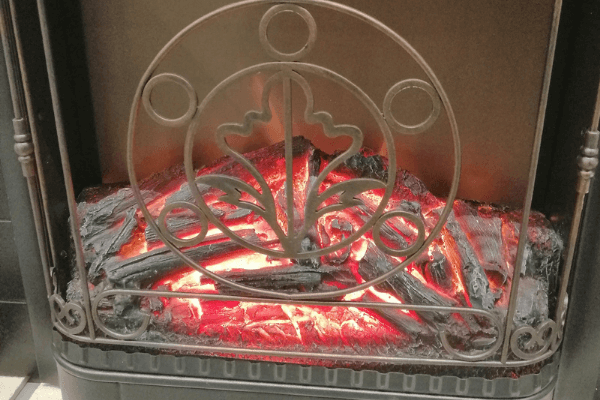 However, electric heaters are nearly 100 percent efficient which means almost all of the heat that goes into the stove is released into the room.

This is why they're perfect for small rooms or back bedrooms where the heat from your wood stove might not reach.
How much can you expect to spend when running an electric stove?
Although electricity rates can vary, a 1500 watt heater will cost about $3.80  to run for 24 hours.
Duraflame Electric Wood Stove Review
A few years ago I decided to buy a Duraflame electric wood stove for my back bedroom which was always cold. 
Although the wood stove in my family room supplied plenty of heat, it just didn't travel down the hallway to my back bedroom.  
In this situation, an electric stove was the perfect solution.  
Now, I simply turn it on a few minutes before I go to bed and the room is nice and warm.
Duraflame Electric Stove
The thermostat on the Duraflame is a nice feature so it doesn't get too hot, plus I like to set the timer so I'm not wasting energy as I sleep.  
Overall I'm really happy with my purchase and the actual Duraflame unit sits inside an entertainment stand giving a finished look to the stove.

The stove also features Safer Sensor which helps prevent the heater from being accidentally blocked or covered resulting in unsafe conditions.
Basically if you place an object too close to the heater when it's running, it will shut down.
So far I've had zero issues with the unit after 3 years of use.
Free Standing Infrared Quartz Stove
If you're looking for the traditional wood stove appearance without the TV stand, the Duraflame infrared quartz free standing stove is a great option. 
It features five adjustable color, brightness and speed settings along with a digital thermostat which is really helpful.
This 5,200 BTU heater can be an effective zone heater for rooms up to 1,000 feet and the flame effects are very realistic.

Duraflame Infrared Quartz Fireplace Stove
The look and feel of this portable electric stove, accompanied by the affordable price makes it a welcome addition to any home that needs to add some supplemental heat to a room inside your house.

Electric Wood Stove- Overall
I'm very happy I decided to buy a Duraflame electric wood stove to take the chill out of my back bedroom.
Depending on the layout of your home, you may find that getting heat from a fireplace or wood stove to travel down hallways or into the basement isn't easy.
I have found that running the fan setting on your central heating unit definitely helps to spread around the heat, but it sometimes isn't enough.
This is where a electric heater works really well.
With so many different styles on the market, you're sure to find something that fits perfectly in your home and keeps you warm in the process.