Mountain Log Carrier Review
Mountain Log Carrier Review
This post may contain affiliate links so I earn a commission. 

This Mountain Log Carrier review is intended to give you a full, honest description of a product that makes moving firewood faster and more importantly, easier.
Cutting firewood is a lot of work and a process that involves several steps.
By the time you cut the log, split the wood and stack the individual pieces, chances are you're pretty much tired of handling the firewood.
When the time finally arrives to enjoy your hard work and light a cozy fire inside your fireplace or wood stove, you shouldn't have to make 10 trips to your stacked firewood.   
No one likes carrying armloads of wood into their home.....especially if there's 2 feet of snow on the ground.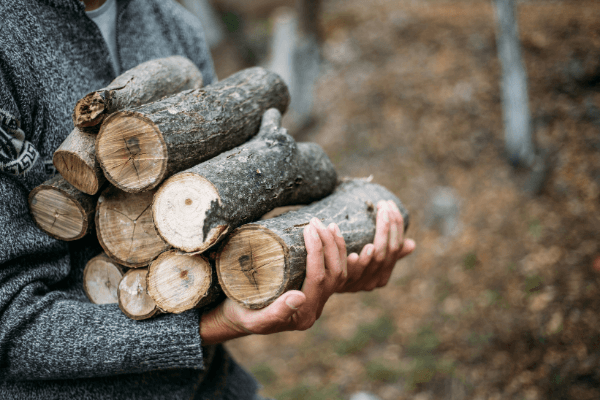 Plus, carrying armloads of wood not only takes longer, it also creates a mess on your living room floor as bark, snow or debris falls from the wood.

So, what can you do to make carrying the split firewood easier and more efficient while keeping the dirt off your floors and clothing?
Consider using a Mountain Log Carrier to carry several pieces of split firewood at one time while using a fraction of the energy.  
Plus, the large capacity tote with enclosed ends keeps the wood debris inside the carrier so you can easily dump it into a garbage or outside when you're done.  

Product Details - Mountain Log Carrier Review
The sides of the carrier are 24 inches long and 21 inches high.  
The ends measure 10 inches wide by 12 inches tall creating a large pocket to hold a lot of firewood.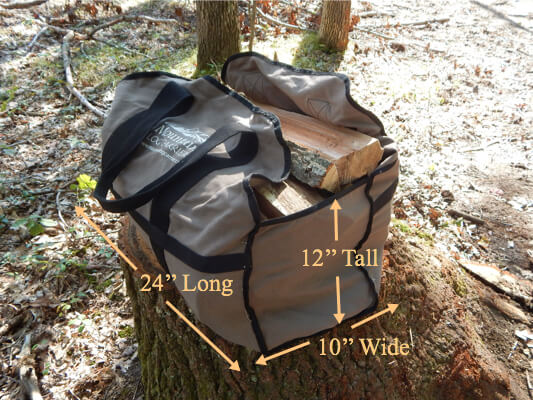 Since it's made from a heavy 16 ounce woven cotton canvas with 2 inch double stitched webbing that wraps around the entire tote, it can handle just about any weight you want to carry.  
Plus, it has 1 inch cotton side webbing and additional X-pattern stitching for extra support. 

The functional tote works great for carrying firewood but it's very versatile.
Laundry, tools, garden equipment and many other things can fit into the tote and be carried without a lot of effort.
Mountain Log Carrier Review
I'm a big fan of any device that makes processing firewood easier and more enjoyable.  
In the past I've used log carriers that worked okay, but the carrying compartment and handles were just too small.  
When you use a log carrier with short handles and a small carrying compartment the handles don't close together requiring two hands to hold on to the bag.  
I'm sure in the past I've overloaded the carriers but I like to carry more than just a couple pieces of firewood at one time.
When I use the Mountain Log Carrier I really put a lot of wood inside of it.
In fact, it holds about all I can carry plus the handles are long enough to comfortably wrap around the load and fit into one hand.
The fabric is also soft and pliable, yet extremely strong.  
I like it because I can fold it up flat for storage.  
The carriers I've used in the past were much stiffer and wouldn't stay folded making them much harder to store.
Since I've owned my Mountain Log Carrier I've intentionally loaded it to the max with firewood, trying to get the product to fail.  So far it's been great.  
The stitching is not coming out and the canvas tote looks flawless!
Overall - Mountain Log Carrier Review
If you're looking for an easy and efficient way to carry multiple pieces of split firewood from your wood rack to your home, consider purchasing a Mountain Log Carrier.  
With its strong construction, extra large carrying capacity with enclosed sides and long handles, it's a really nice product.  
Plus, it allows you to make fewer trips to your wood rack and it keeps all the mess inside the carrier, not on your living room floor.